Family Matters: A Flag for the Fallen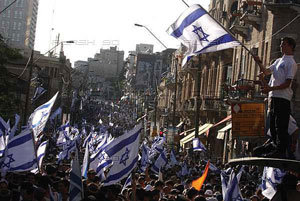 Independence Day in Israel is a time for family celebrations and barbeques, honoring past sacrifices and festive parades. But most of all, it's an opportunity to wave the old blue and white.
About a week before Israel's Independence Day, one of the large banks supplies Israeli flags to everyone who buys a Friday weekend newspaper. The nylon flag is compressed into a neat square and packed in a plastic wrapper inserted into the middle of the paper's magazine section.
During the next week, all these flags, and many others, appear all over the country, hoisted on balconies, fluttering from windows, cars, fences and garden walls.
Last year, early on Sunday morning, I unfolded my flag from Friday's Jerusalem Post and went outside to hang it on the blue bars that surround my windows. There is a little rectangular stone box there that I call my "garden." The white amaryllis that I waited for a whole year to flower was in full bloom. I attached the flag to the bars, and it fluttered proudly over the garden.
As I stood there admiring it, I realized how much my attitude to flags had changed. When I was growing up in Connecticut, my nonconformist Quaker-Jewish parents made it a point to impress on me and my four siblings that flags were only shallow symbols and that saluting the flag was a superficial act that should not be encouraged. Not only that, but the Pledge of Allegiance clearly contradicts the Society of Friends' (Quakers) historical refusal to take oaths.
One Quaker thinker, Thomas Farquhar, wrote on behalf of Westtown School, "Our allegiance is to God, and we believe that God's truth can be learned better through inward reflection than through outward ritual." A key belief of Friends is that the presence of God exists in each person, and Friends have historically sought to honor God before honoring human institutions.
I took the best from my Quaker upbringing—simplicity and honesty, nonsectarian acceptance of everyone as God's children, quiet meditation on spirituality in everyday experience—and later graduated to modern Orthodox Judaism with a proud measure of Zionism mixed in. I threw my lot in with Israel 20 years ago and came to live here with my family.
And somehow, over time, that blue-and-white symbol had twined itself around my heart, and I no longer had any objection to it at all.
The day before Independence Day, I was summoned to my post in the volunteer civil guard to attend the Remembrance Day ceremony at the Rehavia Gymnasium in Jerusalem. This was Israel's second modern high school, built in 1928 during British Mandate times. The ceremony was to begin with a nationwide two-minute siren at 11 A.M. Wrapped in luminous yellow-green vests, with "Citizen Police" splashed across our backs, my fellow volunteer, Israel, a recent immigrant from Venezuela, and I positioned ourselves near the school's parking lot and watched as the entire high school assembled under a blue-and-white awning in the schoolyard for the ceremony. The siren sounded and everyone stood silently. Then the principal spoke, followed by the sweet voices of the choir raised in sad song. Afterward, a girl and a boy alternately read out the names of all the former students of the school who had fallen in Israel's wars or in terrorist attacks throughout the school's 80-year history. Every name struck me like a blow. It seemed as though the rain of names would never end.
Later in the day, my son and my daughter came to visit with their families. I asked them what my two little granddaughters made of Remembrance Day for Israel's fallen soldiers. My son told me that his 5-year-old had marched him through her kindergarten class's exhibition of photos of young soldiers on a background of somber black velvet among the ubiquitous blue-and-white flags, and she excitedly pointed out each one, saying, "This one fell, and this one fell, and this one fell." Then she stopped and looked puzzled. Turning to her father, whom she clings to for dear life when he's not doing his month of Army reserve duty each year, she asked, "Abba, what does it mean, they fell? Why didn't they look where they were going?" Relating this to me, my son pointed out that explaining Yom HaShoah, Holocaust Remembrance Day, had been even more difficult.
My daughter, a psychotherapist, had another answer for her 2-year-old, who was curious about the siren that had torn through the morning calm at her play group. "Everyone stands very quietly and thinks about all the people who have petsas [injuries]," her mother explained. Little Maya was thoughtful for a while and then looked at her mother and replied, "We need to hug them."
The "hug" comes a few hours later, when Remembrance Day wanes and leads us into the joy of celebrating Israel's Independence Day.
That evening, after sunset, we headed over to Jerusalem's Great Synagogue for a festive prayer service and dinner. There was much spirited singing and dancing with large flags and small flags. The synagogue was honoring 44 young soldiers who were in the process of converting to Judaism. They danced with us all and, during the dinner, a guest speaker reminded us that even though it was always possible to find plenty of things wrong with the modern State of Israel, we had to remember what a great miracle it is that we have this state and how much we have to be thankful for and to be proud of.
At the end of the week, when I went outside to take down the flag and put it away until next year, I thought about all the emotion that is attached to a flag. The strange fact that a yard's length of blue-and-white nylon cloth can move me to tears and overturn all my previous self-righteous feelings about symbols and loyalties of the heart is just another mystery that goes along with the many paradoxes of living here.
And I wouldn't change this for anything. H
Wendy Dickstein is an American poet and writer who lives in Jerusalem.