Commentary: Tale of Two Cities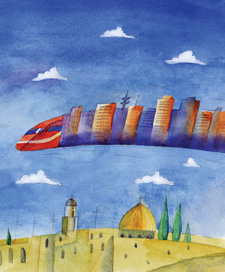 Tel Aviv and Jerusalem: They define themselves as much by their opposition to each other as do lowland and mountain, earth and sky, wet and dry, new and old. They are Israel's two great urban centers and cultural poles. Less than an hour apart by car, they have different natural settings, different urban landscapes, architecture, populations, values. A different pulse and pace. Do they have different literatures, too?
As a matter of fact, they do. Take the 20th century's two greatest and most influential Hebrew authors of prose fiction, the novelists and short-story writers Yosef Chaim Brenner (1881-1921) and Shmuel Yosef Agnon (1888-1970). Agnon is the arch-representative of what might be called the "Jerusalem school" of Israeli literature. His work is ironic, enigmatic, delicately playful, linguistically and culturally conservative, suffused in Jewish tradition. Brenner, who could be labeled the founder of the "Tel Aviv school," is blunt, down-to-earth, transgressive, politically and aesthetically radical, in conscious rebellion against Judaism and the Jewish past.
When he came to Palestine as a young man in 1908, Agnon lived in Tel Aviv's first neighborhood, Neve Tzedek, in which many of his early stories are set; only after returning to Europe and re-immigrating in 1924 did he settle in Jerusalem for good. Brenner, who came to Palestine in 1909, tried Jerusalem, where his novelBreakdown and Bereavement takes place, before making his home in Tel Aviv. In the end, each man picked the city that suited his temperament and sensibility and was molded by it in turn.
Many other important 20th-century Hebrew writers did the same. The greatest of Jerusalem's literary figures after Agnon, the poet Yehuda Amichai (1924-2000), wrote frequently about the city, of which he once said that "God made it like an old sailor who builds a ship in a bottle," constantly playing off the grandeur of its sacred history and spiritual aspirations against the small change of its everyday life. For the Tel Aviv school, everyday life is what there is. Its most interesting novelist after Brenner, Ya'akov Shabtai (1934-1981), has the main character of his major work of fiction, Past Continuous, cynically say: "If God lived in Tel Aviv, there would be someone to talk to—but even the devil has ditched it and left it to a rabble of animals and crazed dogs who call themselves Jews and will be taught a lesson by the sand."
Despite its title, Past Continuous, whose 300 pages have not a single paragraph break, takes place entirely in the present. It begins with a funeral and ends with a suicide, and its Tel Aviv is a place of grit, sweat, humidity, human appetites and intimacy, changing relationships, restless movement, constant seeking and endless disappointment—a great, yeastless batter of Jews that never rises to the slightest transcendence. It is also a place of tender moments and sudden mercies, under whose "marvelous blue dome of sky" comfort can be found in the simple satisfaction of human needs. Although this sky offers no illusions of anything beyond it, as does Jerusalem's, it is precisely its cosmic emptiness that makes everything below it come to seem as infinitely precious as it is infinitely petty. What meaning life has in such a Tel Aviv is that which human beings, in all their transience and frailty, are able to give it and no more. This is the view that Tel Aviv has symbolized and embodied in Hebrew letters. It stands for the moment, as Jerusalem stands for the timeless. One can, of course, be a "Tel Aviv writer" in Jerusalem and a "Jerusalem writer" in Tel Aviv. But Tel Aviv's distinctive style of literature is as opposed to Jerusalem's as now is to forever. H
Hillel Halkin is a writer and translator living in Israel.