The Jewish Traveler: Toronto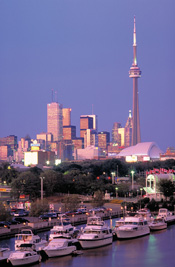 Canada's capital of culture, commerce and the arts is home to the nation's largest—and possibly most diverse—Jewish population.
Downtown Toronto's massive skyscrapers and bustling streets give way to miles of sleepy suburbs to the north. The Canadian city's unique flavor is found in its multiculturalism—dozens of languages can be heard on street corners—and it is usually only a short drive from one immigrant enclave to another.
Though many of Toronto's Jews didn't arrive in a city that warmly welcomed newcomers, their hard work and influence contributed to making Toronto the ethnic haven—and worldwide capital of business and culture—that it has become.
History
The story of Toronto Jewish history is one of false starts: When scores of Jews in the early 1830s were settling in Montreal and the United States, only a few trickled into Toronto. Many of the earliest settlers eventually moved to other, prosperous Jewish communities.
Merchants and tradesmen who arrived in the 1840s from England and Germany largely comprised the first permanent Jewish community. They opened shops on King Street and did reasonably well, but numbered only a few dozen by 1850. As their numbers increased, the need arrived for a house of worship, and by 1856, two shuls were functioning. The second, now called Holy Blossom Temple, still thrives to this day.
In the last decades of the 19th century, Toronto's Jewish population exploded along with the city's growth. Many Jews came from the United States in the 1870s and from Eastern Europe in the 1880s and 1890s. In the early 20th century, most new immigrants lived in the inner city area called St. John's Ward, which came to be known as St. John's shtetl and was bounded by Yonge and University Streets on the east and west and by College and Queen Streets to the north and south. But as Jews prospered, the community began migrating northwest, to what is now Toronto's most historic center of Jewish life—Kensington Market.
The many fraternal societies and landsmanshaften fostered strong communal support; almost half of all men belonged to one. These societies united members through their heritage or political affiliations, such as the Farband, which attracted men of Latvian and Lithuanian heritage, and the Jewish National Workers' Alliance.
By the 1920s, Jews were the most populous minority group in Toronto, and many European émigrés arrived with skills that made them relatively successful before the Great Depression.
After World War II, Toronto's Jews moved farther north in search of larger, more affordable housing, transplanting their synagogues to the north as well. In the suburbs, community members were soon joined by a substantial number of Holocaust survivors.
Community
In the last several decades, Toronto's Jewish community has grown to 200,000—the largest Jewish population in Canada—thanks to the arrival of a substantial number of Sefardic Jews and an influx of young people from Montreal. Some scholars have tied the migration of these federalist Anglophone Jews to Quebec's unsuccessful 1980 and 1995 referendums on secession from Canada.
In the 1980s and 1990s, Jews continued to move north out of the city proper and into suburban Thornhill. Their numbers swelled with the arrival of thousands of Russian Jews, many with minimal Jewish affiliation, as well as close-knit, highly affiliated South African Jews.
Toronto Jews are somewhat culturally distinct from Americans, most notably in the major denominations, which usually adopt right-leaning religious positions. In the last few years, a number of Toronto's Conservative synagogues have distanced themselves from the American umbrella United Synagogue, and Canadian Conservative rabbis are less likely than their American counterparts to conduct gay marriages (which are legal everywhere in Canada). Similarly, many Reform rabbis are unlikely to sanction intermarriages.
Toronto boasts two Jewish community centers. The Miles Nadal JCC is downtown at Bloor and Spadina Streets (416-924-6211; www.milesnadaljcc.ca) and offers athletic facilities, a coffee shop that sells sealed kosher sandwiches and a 288-seat theater.
If you're already "up north"—as Toronto Jews call it—the Bathurst JCC (416-636-1880; www.bjcc.ca) also has athletic facilities, a cafeteria and a kosher Second Cup (the Canadian equivalent of Starbucks) as well as the Koffler Centre for the Arts, a theater, Holocaust center and the Jewish Discovery Museum. The complex is undergoing a major, multiyear redevelopment.
Toronto is home to Canadian Hadassah-WIZO (416-630-8373; www.chw.ca), a national center with 45 chapters across the country that is affiliated with Hadassah International.
Hillel of Greater Toronto (416-913-2424; www.hilleltoronto.org) provides services to Jewish students at York University and the University of Toronto as well as to a number of smaller local colleges. Hillel also maintains the Wolfond Centre for Jewish Campus Life at 36 Harbord Street, just north of Kensington Market, at the University of Toronto.
A substantial listing of kosher restaurants, stores, sights and upcoming events is regularly updated at www.jewish into.com. Also worth visiting is the UJA Federation's Web site, www.jewishtorontoonline.net.
Sights
Toronto's location has shaped the city's destiny and character: Originally a marine hub, the downtown core is built around Lake Ontario. With the city itself now claiming 2.5 million inhabitants, and the Greater Toronto Area counting double that population, the city has sprawled northward. The Jews of Toronto, along with their accompanying synagogues, shops and businesses, are today primarily found along the central artery Bathurst Street, spanning more than 10 miles.
Downtown, which is organized in a grid system, is easy to navigate by streetcar, subway or on foot, and Toronto's waterfront is pleasant to visit for its shopping and tourist attractions or for strolling, biking and rollerblading.
For a bird's-eye view of the city, travel to the top of the 1,815-foot-tall CN Tower (www.cntower.ca). Nearby, the Air Canada Centre and Rogers Centre offer sports fans and concertgoers kosher hot dogs from Olde Spadina Ave. catering. Hockey enthusiasts can extend their sports-themed travel to the Hockey Hall of Fame (www.hhof.com), not far from the two downtown arenas.
Art lovers will appreciate the vast exhibits of the Art Gallery of Ontario, also downtown (877-225-4246; www.ago.net). The museum's Frum Collection of African Art was donated by Dr. Murray Frum in 1999. Though prominent himself, Dr. Frum is best known as the husband of journalist Barbara Frum and, in the United States, as father to David Frum, an author and speechwriter for President George W. Bush.
Just a short walk from the gallery is the Royal Ontario Museum, which is hosting the Dead Sea Scrolls until January 2010 (416-586-8000; www.rom.on.ca).
One mile north of the waterfront is Kensington Market, one-time center of Jewish life. The most obvious signs of change are the signs themselves—today, Chinese characters decorate plaques and billboards. But there are still large old shuls in the area catering to a now tiny community.
The red-brick, modern Orthodox Kiever Shul (416-593-9702; www.kievershul.com), built on the corner of Bellvue Avenue and Denison Street in 1917 and now a national landmark, was originally home to East European émigrés. Its stained-glass windows still flood the sanctuary with soft light, and the walls are hand-painted with biblical animals and Zodiac symbols, as were the walls of the houses of worship congregants had left behind in the Old Country. The synagogue opens for Shabbat and holidays.
Nearby, the Orthodox Anshei Minsk shul offers daily services in its restored Russian Romanesque building as well as Shabbat meals and can assist travelers in finding Shabbat accommodations (10 St. Andrews Street; 416-595-5723;www.theminsk.com).
Yorkville, Toronto's high-end shopping district, was once a hot spot of hippie and bohemian culture: folk icons Gordon Lightfoot and Joni Mitchell got their starts playing local coffeehouses. The area is also home to the Village of Yorkville Park, at Cumberland and Bellair Streets, designed by landscape architects Martha Schwartz and David Meyer.
Around the turn of the 20th century, East European Jews also settled in a west-end neighborhood known as the Junction. It is there that the city's oldest surviving synagogue stands, Congregation Knesseth Israel, built in 1912 at 56 Maria Street (416-961-5556, ext. 216; www.junctionshul.org). Though the area no longer claims enough Jews for weekly services, the synagogue is open for weddings, bar and bat mitzvas and holidays.
Knesseth Israel's simple red-brick façade belies its richly decorated interior. The oak Ark and bima were most likely hand-carved by early congregants who worked as cabinetmakers for the local Heintzman piano company. Exquisite murals applied to the walls after World War I include images of the Zodiac, musical instruments and, most impressively, a scene above the Ark from Pirkei Avot: painted, parted red curtains reveal a majestic stag and lion in a nod to the quote, "Be as bold as the leopard, light as an eagle, swift as a deer and strong as a lion to do the will of your Father in Heaven."
If you're heading up Bathurst from downtown, just a few blocks west of Yorkville, you can't miss Honest Ed's (www.honesteds.sites.toronto.com), a discount store that stretches for a full block and has become a landmark because of its marquee lighting and massive signs with silly puns. Located at 581 Bloor Street West, the store was opened in 1948 by the late "Honest" Ed Mirvish.
Jewish settlement thickens two miles north of Honest Ed's. The Conservative Beth Tzedec Congregation (416-781-3514; www.beth-tzedec.org) is located at 1700 Bathurst and houses the Reuben and Helene Dennis Museum, which has substantial Judaica holdings including the personal collection of Jewish historian Cecil Roth. Items range from traditional Judaica—Torah shields, ketubot and bookplates—to a portrait of Roth and a Moritz Nagel painting of the Terezin concentration camp; Nagel was a prisoner at the Czechoslovakian camp from 1942 to 1944, when he was transported to Auschwitz and murdered by the Nazis.
At 1950 Bathurst is the Holy Blossom Temple's current building, an immense Byzantine edifice with a central dome erected in 1938. Though it was originally Orthodox, Holy Blossom (416-789-3291; www.holyblossom.org) adopted liturgy and ritual changes beginning in the 1880s and has been Reform for over a century.
Toronto's Holocaust Memorial is located off Bathurst in Earl Bales Park, just south of Sheppard Avenue. The memorial—a bronze and granite pillar many stories high—was dedicated in 1991 and is lit every year on Yom Hashoah. Even when not lit, the memorial's engraving is spectacular, with figures of people below and flames above. A Holocaust Wall of Remembrance was added in 2001.
At the northernmost end of Bathurst is Thornhill, home to one of the city's largest Orthodox shuls—Beth Avraham Yoseph of Toronto (613 Clark Avenue West; 905-886-3810; www.bayt.org)—founded and sustained by the Tanenbaum family. BAYT congregants are served by the nearby Sobey's grocery store (441 Clark Avenue West; 905-764-3770) with its kosher bakery, deli and wide variety of prepared kosher foods.
Culture 
Every spring, the Toronto Jewish Film Festival (416-324-9121; www.tjff. com) showcases dozens of Jewish and Israeli movies, including feature films, documentaries and classics. The movies are screened in multiple theaters, including the Al Green Theatre at the Miles Nadal JCC.
A unique hybrid of traditional Yiddish culture and contemporary cultural influences, the biennial Ashkenaz festival (416-979-9901; www.ashkenazfestival.com), held at the downtown Harbourfront Centre around Labor Day weekend, is a weeklong extravaganza that draws 50,000 to its programs of music, dance, movies, shopping and a parade.
Much of the theater in the city owes its existence to Ed Mirvish, who refurbished the Royal Alexandra Theatre, built the Princess of Wales Theatre and whose company runs two other theaters. Visit www.mirvish.com to find current and future productions of traveling Broadway plays at these venues.
In the spring and summer, drive two hours north to Stratford, Ontario, for the Stratford Shakespeare Festival (519-271-4040; www.stratford festival.ca).
For those who trek to Niagara in the summer, the Shaw Festival in Niagara-on-the-Lake offers a tribute to playwright George Bernard Shaw by showcasing his, and others', plays (800-511-SHAW; www.shawfest.com).
Side Trip 
Toronto is a two-hour drive from Niagara Falls, Canada. Tour the falls on a Maid of the Mist boat ride (www.maidofthemist.com), visit Casino Niagara or spend Shabbat at the Doubletree Fallsview Resort & Spa (905-358-3817;www.niagarafallsdoubletree.com), where nonelectric key locks are available. Chabad Lubavitch of Niagara (905-356-7200; www.jewishniagara.com) runs Shabbat services and meals at the Doubletree.
During Passover, Niagara Falls teems with Jews, including some who day trip from Toronto as well as those staying at local hotels' Passover programs. Upscale Getaways (877-895-3210; www.upscale-getaways.com) takes over the entire Queens Landing Hotel for the holiday.
Reading
Toronto's Russian Jewish immigrant experience is chronicled in Natasha: And Other Stories (Picador) by David Bezmozgis, himself a child immigrant from Latvia. Bezmozgis also wrote and directed the movie Victoria Day, which was featured at the 2009 Sundance Film Festival and then later at TJFF.
In her critically acclaimed novel Basic Black With Pearls (House of Anansi Press), Helen Weinzweig shares brief but haunting snapshots of immigrant life in Toronto's Kensington Market during the Great Depression, part of her tale about a woman's search for the lover she thinks is a spy.
Personalities 
Superman cocreator Joe Shuster was born in Toronto but moved to Cleveland at age 10.
Barenaked Ladies singer Steven Page, whose genealogical search for his Jewish roots was chronicled on Canadian television, is Toronto born.
Though they currently live in the United States, Hollywood film director Ivan Reitman and comedic actor Rick Moranis both hail from Toronto.
In 2004, Rosalie Silberman Abella became Canada's first female Jewish Supreme Court justice; she had been the country's youngest judge when she was first appointed in 1976. Abella, who was born in a displaced persons' camp in Germany, immigrated to Canada as a child.
The Tanenbaum family has become one of Toronto's major sources of Jewish philanthropy; its beneficiaries include the Anne and Max Tanenbaum Community Hebrew Academy of Toronto and the Baycrest Centre for Geriatric Care. Patrons of the arts as well, the Tanenbaums and their children have donated art to and sponsored lecture series at the Royal Ontario Museum and the Gallery School at the Art Gallery of Ontario.
Rabbi Elyse Goldstein is the director of Kolel, the Adult Centre for Liberal Jewish Learning in Toronto, but her influence in the world of feminist Torah study has international reach. Her latest book is New Jewish Feminism: Probing the Past, Forging the Future (Jewish Lights).
Recommendations
Whether you are heading to one of the community's downtown festivals or just in the mood to walk around, Queen's Quay is a top waterfront hub of attractions for visitors. Shopping, boat tours and concert events all operate nearby.
Jewish food downtown is available at the Oasis Café and Oasis Kosher Deli, located at 130 King Street West (416-368-8805).
For Sabbath observers, the centrally located Grange Hotel (888-232-0002;www.grangehotel.com) is relatively inexpensive, in walking distance to the Minsk or Kiever shuls and offers nonelectric locks.
Outside of downtown Toronto, a visitor will need a car to get around, though the No. 7 bus does run up Bathurst Street from Bloor Street to Steeles Avenue (a trip of about nine miles that can take over an hour since the bus stops frequently). For a singular kosher dining experience on Bathurst Street, visit Omni 2: Jewels and Java, a combination jewelry store and café (877-OMNI-101;www.omnijewelcrafters.com).
Toronto spends much of the year buried in snow. However, the city's dramatic rebirth in spring and summer brings blooming flowers, bustling outdoor events and showcases a community substantial in both size and commitment to the Jewish faith. H
Aliza Libman grew up in Toronto, where she wrote for the Canadian Jewish News. Today, she lives in Brookline, Massachusetts, and is a freelance writer and middle school teacher.