Letter from Jerusalem: Putting Settlements on the Map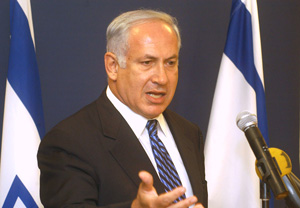 American policies have taken a turn to the left, while Israel's government has moved to the right. How does this affect one of the pivotal issues in the Middle East peace process?
August 9
If an editorial cartoonist wanted to depict Israeli-American relations this past summer, she would draw President Obama and Prime Minister Netanyahu arm wrestling, perhaps as giants, their arms resting on the red-tile roofs of a West Bank settlement. Obama would look calm. Netanyahu would have a drop of sweat on his forehead.
No one should be surprised. The summer's diplomatic tussling is the result
of the election dance of fall and winter. America stepped leftward; Israel stepped right. Pundits predicted Obama would put aside his campaign pledge to push for a two-state solution to the Israeli-Palestinian conflict because presidents don't take on such high-risk tasks their first year. He proved them wrong by appointing veteran negotiator George Mitch-ell as his Middle East envoy almost before the inauguration crowds had dispersed. Netanyahu, on the other hand, took office wanting to postpone peace negotiations and unwilling to speak of two states.
In his June 14 policy speech, Netanyahu responded for the first time to American pressure, saying he would accept a Palestinian state, albeit with a long list of preconditions. That left West Bank settlements as the key subject of contention. The Obama administration wants Israel to fulfill the requirement of the 2003 road map: Stop all construction in settlements.
The road map explicitly bars building for "natural growth," such as new homes for settlers' adult children. Nonetheless, Israeli officials say the Bush administration had agreed to some building inside major settlements. Except for hawkish ex-National Security Council staffer Elliott Abrams, current and former American officials firmly deny this. United States former ambassador to Israel Daniel Kurtzer has written that there were United States-Israel talks on the subject, but no agreement.
These disputes on details can be a distraction. For Obama and Netanyahu, the argument is a matter of basic principles. Since 1967, America has opposed settlement in the territories. But most administrations avoided a fight over the subject. When peace talks were in progress, old State Department hands have told me, Washington preferred to avoid a crisis over settlements—and construction continued. Obama believes that today, Israel must fulfill its road map obligation to create the trust needed to renew talks. The statement made by building cranes in settlements is that Israel does not intend to give up West Bank land.
Netanyahu, for his part, has been a consistent settlement advocate. In his policy speech, he rejected the idea that "our presence in Judea, Samaria and Gaza" is the cause of Arab hostility and that settlers are "the enemies of peace." While speaking of a Palestinian state, he gave no indication that he would be willing to evacuate settlements.
Domestic politics have made each less likely to budge. Netanyahu is in the weaker position. To form a government without sharing power with Tzipi Livni's centrist Kadima Party, he built a right-wing coalition. His own Likud has become more hard-line since party moderates left in 2005 to create Kadima.
Meanwhile, Obama has enjoyed backing on Capitol Hill. "The level of Congressional support for the president's policies is substantial, and that is reflected by public statements of prominent members of Congress," Rep. Robert Wexler (D-FL), one of Israel's most dependable supporters, told me in early July. A foreign policy aide to a key senator gave the same assessment. Sources who spoke off the record made clear that, in Congress today, defending Israel does not mean defending settlements. When Netanyahu visited Washington in May, Jewish members of Congress asked him sharp questions about his settlement policy.
That said, neither side wants the dispute to drag on. For Obama, this issue is only a prelude to peace talks. Netanyahu knows that tension with the United States is not popular in Israel. So what game-changing moves are available?
Obama Lets It Go: The president could agree to a compromise. For instance, Israel promises no new housing starts in return for permission to complete projects already under way. It would be a significant American concession. According to Israeli media reports, as many as 3,000 units are currently being built.
The Obama administration could also decide to downgrade the issue: Stop announcing it as the topic of meetings between Mitchell and Israeli leaders; stop inserting it in public statements. With the economy, health care, Iraq and Afghanistan demanding attention, the administration may choose to leave Israeli-Palestinian peace for another time.
But these are not appealing options. The media would keep showing hardhats at work in Ma'aleh Adumim and Ariel. Having taken a strong stand initially, the administration would lose credibility in the Middle East and beyond, harming other foreign policy initiatives.
Netanyahu Stops the Building: The prime minister could quietly order officials to stop approving new construction projects. Legal precedents indicate that the government can also stop construction in progress—but that would be a more public move. Contractors and homebuyers would protest, and would be entitled to financial compensation.
But any form of a freeze could crack Netanyahu's coalition. Three parties—the ultra-Orthodox Shas, the National Religious Habayit Hayehudi and Foreign Minister Avigdor Lieberman's Yisrael Beiteinu—would threaten to quit. Netanyahu's record shows that such threats move him. Since this term began, he has dropped a series of economic moves under coalition pressure.
Netanyahu Changes Coalitions: The prime minister can form a new middle-of-the-road coalition, bringing in Kadima and keeping just one current partner, the Labor Party. That would give him a reasonable majority of 68 Knesset members out of 120.
But Netanyahu already invited Livni to join his coalition after the election. Livni wanted a commitment to seek "agreements with the Palestinians based on the principle of two states," and Netanyahu refused. In a recent interview on Army Radio, she asserted that the prime minister has yet to undergo a "significant change in worldview."
It is worth noting that when Kadima was in power, it continued settlement construction. Livni has argued that Washington would allow building in major settlement blocs if Israel were energetically seeking an agreement with the Palestinians—if, that is, the government adopted her positions. So far, Netanyahu isn't giving her a chance to test this thesis.
Obama Goes to the (Israeli) People: When Obama spoke in Cairo on June 4, his primary audience was the Muslim world. The goal was to influence leaders by changing public opinion. He could decide to make a similar appeal to Israelis—making the case that peace is achievable and that a settlement freeze is necessary to getting there. Obama's reported comments at a mid-July meeting with American Jewish leaders suggested he was planning such a speech. If Israeli polling figures show a shift as a result, politicians might look for ways to adjust their positions.
Arab Countries Offer a Quid Pro Quo: The Obama administration has been urging Arab governments to take steps toward normal relations with Israel in return for a settlement freeze. For instance, Israel might be able to open the lowest level of diplomatic representation—an interest section inside another country's embassy—in Arab capitals such as Riyadh. Israeli civilian planes might be allowed to fly through Arab airspace en route to East Asian destinations.
Such steps would provide evidence that peace with the Palestinians would end Israel's isolation in the region. More immediately, they would change the political meaning of a freeze. Instead of a concession, it would become a bargaining chip traded for tangible benefits. Even with the current coalition, Netanyahu might be able to agree.
Obama Presents a Peace Plan: Rather than remaining stuck on the settlement issue, Obama might present his own framework for a peace agreement. Both in Israeli and Palestinian politics, the new debate would be about how to respond. There have been persistent rumors in recent weeks that an Obama plan is in the offing.
The Wild Card: In November 1977, Egyptian President Anwar al-Sadat decided to come to Israel. At the time, President Jimmy Carter was trying to convene an international peace conference and making little headway. Sadat's surprise move broke the diplomatic deadlock. In 1993, the announcement of the Oslo Accords, after months of secret talks between Israel and the Palestine Liberation Organization, again stunned the public.
The lesson is that much more may be going on diplomatically than makes it into the news. At the moment, the arm wrestling between Netanyahu and Obama seems like the main event. A few weeks or months from now, looking back, we may realize that it was merely a sideshow. H