Profile: Art Spiegelman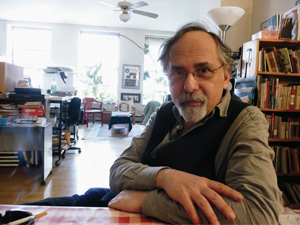 Talk balloons and cartoon panels become adult, intelligent and graphically creative
means of expression in the imagination of one of comics' leading lights.
Among serious artists, illustrators, comic-book mavens and critics, there is near-universal agreement: Art Spiegelman, through his two brilliantly original Maus books and other works, challenged traditional thinking about comics in the United States and led to a revolution in the way Americans—adult and young—view the genre.
Over a lifetime, Spiegelman has almost single-handedly brought comic books out of the toy closet and onto the literature shelves. It has not been easy, and Spiegelman is frank when explaining how he reached that goal.
"Narrative informs my work," Spiegelman says. And at age 61, he has ample accolades, books, museum shows and a Pulitzer Prize for Maus to prove his talent. He claims he owes it all to the comics. "I learned to read from Batman. I learned about sex from Archie's friends, Betty and Veronica. I learned politics fromPogo and everything else from Mad magazine."
Steve Heller, a former art director for The New York Times and a frequent commentator on graphic art, calls Spiegelman "the godfather of sophisticated literary, autobiographical comics. Art is the form-giver of a significant shift in comics and visual literature. Maus altered the way most people view comics, but more than that, Art's passion for the medium and expertise as a graphic storyteller has helped raise the consciousness of the art while engaging a larger audience."
On the road to achieving this renown, Spiegelman rode a roller coaster of ups and downs. A child of Holocaust survivors, he endured the suicide of his mother, a serious mental breakdown as a young adult, wanderings in the hazy drug, sex and rock 'n' roll world of the 1960s and 1970s, the underworld comics industry and commercial world of Topps gum, among other things, before his breakthrough in 1992 with Maus.
Nowadays, despite his intensity and puckish art, Spiegelman seems to have mellowed. Fit and agile with flaps of graying hair over his ears, he wore his trademark vest to our interview at last year's Miami book fair. (He lives in New York.) He has two new books out, the autobiographical Breakdowns: Portrait of the Artist as a Young %@&*! (Pantheon), an expanded edition of a book he first published in 1978; and Be a Nose! (McSweeney's).
The second edition of Breakdowns has a new introduction and a lengthy afterword and presents, in a sometimes for-adults-only format, the seminal works that changed how comics are made and understood today. It is also a chronological, visual anthology of experimental comics, a venue that historically was rarely considered anything more than a low-art form.
Douglas Wolk, writing about the book for The New York Times Sunday Book Review, noted that in the 1970s Spiegelman's work was "years ahead of art-comics trends," and that he drew his characters with "a frantic intensity, as if his pen were about to slash through his drawing board and crack his table in half." But, he notes, the "new material feels muted and slightly too assured alongside the fuming, raw energy of the original Breakdowns."
Be a Nose! is a collection of three Spiegelman black-and-white sketchbooks, from 1979, 1983 and 2007, the few years when he kept an organized series of sketches. The title comes from the Roger Corman film Bucket of Blood, about a busboy in a coffeehouse who is envious because the patrons are all artists and writers who get "the hot chicks," Spiegelman says. After sweeping out the coffeehouse, he goes back to his room with a giant lump of clay, where he begins pounding it, yelling, "Be a nose! Be a nose!" That moment of screaming, "Be a nose!" at a lump of clay, Spiegelman affirms, "describes my work process really perfectly."
Spiegelman's oeuvre is not limited to adult material or even self-examination. Since the spring of 2008, he and his wife, Françoise Mouly, art director at The New Yorkermagazine, have produced a series of comics for young readers based on fairy tales and folklore. The books—written and/or illustrated by well-known artists such as Maurice Sendak—are now used in K-2 classrooms throughout Maryland as part of the Comics in the Classroom initiative. Among the latest books in the Toon Book series, as it is known, is Luke on the Loose (Raw Junior) by Harry Bliss.
Kids are all ages," Spiegelman says. "they change all the time. My wife and I learned to read from comics. So did our kids [Nadja and Dash]. We want to return the favor." He believes that comics are better for learning to read than conventional educational tools.
"Comics teach you to read the way kids learn to speak," he explains. "Comics act things out. You fuse balloons with illustrations. Children are hard-wired for learning from comics."
Spiegelman himself has produced Jack and the Box (Raw Junior) for Toon Books, a story that recalls a symbolic figure from Breakdowns—a clown that is at once menacing and silly. "It gets out of the box, other things come out, eventually chaos ensues, it all goes back in the box," Spiegelman summarizes.
Several reviews pronounced the book too scary for young readers. "I was annoyed when I read a review saying this is a children's book for the age of anxiety," Spiegelman said in an interview with Artnews. "But in a way it is, because the boy does not master the jack-in-the-box; the jack-in-the-box creates chaos."
Perhaps this dark angle on childhood mirrors his own uprooted, tough early years. Three years after his birth in Stockholm in 1948, his parents, Vladek and Anja Spiegelman, settled in the Rego Park section of Queens, New York. He started drawing as a child and, as he recounts in Maus I, was inspired by the comics and by the over-the-top and antiestablishment Mad magazine. "I studied Mad the way some people studied the Talmud," he recalls.
At 11, he discovered Kafka. "That's when my childhood ended," Spiegelman says. "Oh, a story about a guy who turns into a cockroach!" That is also when he decided to become a cartoonist. By 15, he was being paid for his drawings.
The year 1968 was a watershed. He enrolled at Harpur College in upstate New York, where he decided to major in art and philosophy, much to the dismay of his parents, who wanted him to study dentistry.
But Spiegelman left college before graduating (30 years later, the college, then Binghamton University, State University of New York, awarded him an honorary doctorate). He suffered a brief but serious nervous breakdown, and a few months after his release from a state mental hospital, his mother committed suicide. She left no note, which baffled him and his father. He revisited the terrible moment in Maus I, but remains at a loss for his mother's motives. Years later, his father disclosed that his mother had left a diary but that he had burned it.
For several years in the early 1970s, Spiegelman bounced around, as he put it, in a kind of psychedelic haze, from San Francisco to Vermont to a commune, writing and producing underground comics. He contributed to publications like Real Pulp,Young Lust (a popular X-rated parody of Romance genre comics) and Bizarre Sexusing pseudonyms such as Joe Cutrate, Skeeter Grant and Al Flooglebuck.
From 1965 to 1987, Spiegelman worked as a creative consultant for Topps Bubble Gum, where he helped conceive Wacky Packages, a popular series of collectible stickers in the Mad magazine satirical tradition of famous brand-name products like "Tied" detergent ("Your clothes will be fit to be tied"). While the humor was based on "dopey gags," as Spiegelman refers to them in the introduction to Topps Company's Wacky Packages (Abrams), the stickers caught on quickly as a teenage fad (223 were ultimately produced). The packages proved the perfect vehicle for many of the 1960s underground comics artists he had recruited, including Ken Deitch, Bill Griffith and Jay Lynch, who wrote the afterword to the book.
Also for Topps, Spiegelman invented Garbage Candy, candy sold in miniature plastic garbage cans; Garbage Pail Kids stickers and cards; and other novelty items.
In 1980, Spiegelman founded and coedited with Mouly Raw, a magazine of avant-garde, self-published comics. The first Maus book was serialized in Raw, which was shaped by the aesthetic and format of Breakdowns, combined with his future wife's "sense and sensibility."
In the early 1990s, Tina Brown became editor of The New Yorker with a mission to update the magazine's image. Spiegelman was one of her first choices to produce covers. He quickly earned a reputation for generating controversy. Once, during an episode of racial strife in Crown Heights, Brooklyn, Spiegelman drew a cover of a Hasidic man kissing a black woman. Another time he depicted schoolchildren with guns.
Two of the most colossal human tragedies of the last 75 years—the Holocaust and 9/11—punctuated Spiegelman's early life and publishing career, culminating inMaus and In the Shadow of No Towers, an examination of the catastrophe that occurred near his home in Lower Manhattan. David Hadju, reviewing the latter in The Times, called it a "vigorously unorthodox work probably designed to avoid comparisons with its celebrated predecessor."
Six days after 9/11, Spiegelman produced a memorable cover for The New Yorker. It was all black, a sort of memento mori. Closer examination showed the blackened buildings, a black-on-black tableau in the tradition of an Ad Reinhardt painting.
The two Maus books, which have sold almost two million copies and are subtitledMy Father Bleeds History and And Here My Troubles Began, recount the struggle of Vladek Spiegelman to survive the Holocaust as a Polish Jew caught up in intrigue, backstabbing, briberies and countless life-threatening incidents in the late 1930s, ending as prisoner 175113 at Auschwitz. Maus's people-like animals—Jews are depicted as mice, Nazis as cats—are drawn in stark black and white, providing a sharp contrast to the story line, whereas the large-format, full-color No Towers is intended as an homage to the first American newspaper comics from the turn of the 20th century.
Inasmuch as the Holocaust story he retold belonged to his parents—and all European Jewry—9/11 seared his core. "Outrunning the toxic cloud that had moments before been the north tower of the World Trade Center," he says, "left me reeling on that fault line where world history and personal history collide—the intersection my parents had warned me about when they taught me to always keep my bags packed."
Culturally, notes Spiegelman, he is totally Jewish, but "religiously not so much." His wife converted to please his father. "Secular Jewish elders are part of the mix of my life, but I have no use for Jewish ritual. I derive comfort from the discomfort of being alienated from the religious rituals. I like being inside a culture but outside of it."
His strong political feelings bubbled up after 9/11 when he resigned from The New Yorker to protest the American media's "widespread conformism," which he called "conservative and timid." He saved his harshest scorn for the Bush administration and the press. "Cheney's crooked Halliburton pals get rewarded," he writes in one strip, "the Enron gang pulls off one of the biggest heists in history…and Martha Stewart takes the rap??!"
You can be sure that Spiegelman is not through yet. "I did the most vile comics I could possibly think of because I thought that's what underground comics were about," he says unapologetically about his early years. But as he and his career have evolved, and as he remains on his mission, readers and fans can be certain of one thing: Expect the unexpected. H