Cut & Post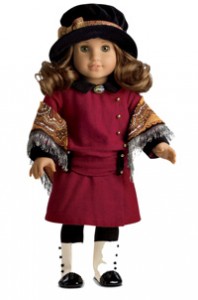 What a Doll
She's cute, smart and, best of all, Jewish. Nine-year-old Rebecca Rubin (left) is the latest in the popular—and pricey—American Girl historical doll series, whose characters are shown in key moments from America's past, from 1764 to 1974 (www.americangirl.com). Rebecca, who is of Russian Jewish descent, lives on New York's Lower East Side in 1914, the peak of the American immigration period.
"We chose for Rebecca to be the daughter of Russian Jewish immigrants because one of the largest groups of immigrants from 1880 to 1914 was Jews from Russia, and they were New York City's single largest immigrant group at the time," says Susan Jevens, American Girl's senior press associate.
The 18-inch doll has curly brown hair and brown eyes and is available with historically authentic clothing and accessories such as a mini halla, samovar and Shabbat candlesticks. Her adventures are told through a six-book series written by Jewish author Jacqueline Dembar Greene, who depicts Rebecca dealing with a new-immigrant cousin, taking part in the labor movement and spending time at Coney Island.
—Leah F. Finkelshteyn
Lots of Judaica at Auction
In 1996, the Union of American Hebrew Congregations presented retiring president Alexander Schindler with a gilded silver yad decorated with three cut diamonds and crafted in Amsterdam in 1780 as well as a Torah crown made in America (right). Due to losses from investments made with Bernard Madoff, both pieces were sold last June by Schindler's widow—for $23,000 and $9,000 respectively—at an auction run by J. Greenstein & Co (www.jgreenstein.com).
According to Jonathan Greenstein, the owner of the Brooklyn-based auction house that deals solely with antique Judaica, the 225 items up for bid represented a third more than is usual for the twice-yearly sales, an upsurge he attributes to the economic downturn. Though "nobody is parting with their father's Kiddush cups," says Greenstein, "an 88-year-old collector who offered 30 lots would have loved to give his collection to his children."
About 75 items did not sell, including a menora owned by Sammy Davis Jr. In addition to auctions, Greenstein can bring his "Jewish antique evaluation show" to synagogues and museums to educate people about their treasures and offer professional estimates. —Rahel Musleah
Israel's Just Desert
For almost two million years it has remained unchanged: A vast stretch of the Negev Desert, coated by a mosaic of stone fragments called desert pavement, was recently dated as the oldest recorded patch of ground on Earth.
In a world where the earth's surface is in constant change from burrowing animals, rains, high winds and temperature extremes, the finding of a team of Israeli geologists is something of a breakthrough.
"Previously, the fact that a place could remain stable for so long was arguable, and it's not anymore," said Ari Matmon, a Hebrew University of Jerusalem professor who led the research with Rivka Amit from the Israel Geological Survey and Ori Simhai, a master's student at Hebrew University.
In this hyper-arid region of the southern Negev, summer highs hover at 113 degrees, freezing temperatures are almost nonexistent in winter and there is usually less than one inch of rain per year.
The scientists would now like to expand their research into the neighboring deserts of Jordan and Egypt to see if the oldest-dated continuous piece of earth extends even farther. And if it does, they hope to discover what more it might tell about the history of climate change. —Dina Kraft
Shape Up: Brain Health and Aging
Aging brains need as much exercise as aging bodies, according to neuroscientist Shlomo Breznitz, founder of Israel-based CogniFit (www.cognifit.com), a Web outfit offering brain-fitness tools to improve cognitive skills, sometimes reversing the effects of aging by as much as 40 percent.
"Cognitive fitness is every bit as important as physical fitness," Breznitz notes. "Certain types of physical exercise enhance the blood flow to the brain and further contribute to cognitive well being. In the near future, baby boomers will spearhead the recognition of the need for 'total fitness,' which combines both."
The company's two most successful programs are the Personal Coach and Senior Driver applications. The "coach" technology offers subscribers individualized assessments of 14 skills ranging from awareness and response time to short-term memory, then creates a unique training curriculum to be used every other day in 20-minute sessions. The exercises—one testing divided attention appears in the photo at left—should sharpen your weakest skills, and a subscription includes ongoing progress reports.
A recipient of major road-safety awards and used by more than 100,000 motorists, Senior Driver custom tailors tasks to strengthen the 10 driving-related abilities—for instance, confidence, divided attention and coordination—that challenge aging drivers. —Libby Barnea
Fast-Forward Fashion
This Yom Kippur, make a fashion and religious statement with Elezar's Vivi collection of eco-chic, faux-leather bags and wallets (www.elezar.com). Elezar designer Julie Lazarus started producing synthetic creations in addition to her leather bags last year for Vegan and earth-conscious consumers, but it quickly dawned on her that Jews observing the mitzva of not wearing leather shoes on Yom Kippur could extend their observance to handbags.
"I was at Yom Kippur services with my sister," Lazarus recalled, "and she realized we were in the middle of the perfect market for the Elezar Vegan evening bag, which I was carrying. That is when I decided to expand upon the Vivi collection."
This fall, look for the newest Vivi bag, a tote in faux-crocodile leather.
Elezar—the Hebrew translation of the designer's surname, which she picked "because it sounded elegant yet was still reminiscent of my name and heritage"—uses Italian-made, biodegradable synthetic material as well as canvas for the Vivi collection. —L.B.
Thank Heaven for Little Girls
As simhat bat ceremonies that welcome baby girls into the community become increasingly popular, there's now an online guide for prayers, customs and rituals. ITIM: The Jewish-Life Informa tion Center, an Israeli organization whose Web site (eng.itim.org.il) offers guidance on all life-cycle events, last winter launched "The Virtual Celebration of the Birth of a Daughter." Viewers can choose texts and plan details to create individual ceremonies that are assembled and e-mailed to the parents.
Aryeh Rubin, director of Miami-based Targum Shlishi, funded the project. For the simhat bat of one of his daughters, he published a pamphlet with prayers resembling those said at a brit mila. For his eldest daughter's coming of age, he wrote the handbook Toward a Meaningful Bat Mitzvah, which offers advice on organizing women's prayer service and study opportunities.
ITIM's site reflects a trend in Israel to return to Jewish ritual and learning, Rubin said. He also believes there's "room to maneuver, improvise and invent customs for our people, providing it does not trample upon our existing codes of law, ritual and custom."
—Sara Trappler Spielman