Letter from Herzliya: Backup Plan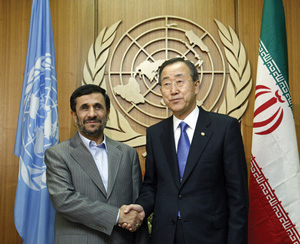 Iran has outmaneuvered the United States and its allies on the nuclear weapons' issue. Fortunately, Israel has its own secret weapon for dealing with the threat.
October 20
The United States had planned to use September's high-level G-20 meeting in Pittsburgh to launch new sanctions against Iran. Once Tehran said it would talk, however, all discussion of sanctions was postponed.
Then, during the Geneva meeting on October 1, by merely chatting a few hours with the United States and five other countries (China, England, France, Germany and Russia), the Iranian regime derailed United States strategy and seized the initiative. Iran exploited differences among the six powers, playing on the reluctance of some to do much about Iran's nuclear weapons' drive.
As if this weren't bad enough, there were many exaggerated reports in the media about successes in Geneva proving that a deal could be made with the Iranian regime. Yet the three "achievements" cited after the Geneva meeting amount to nothing more than a victory for Tehran.
The first claimed success is that the talks were polite and civil. Iranian delegates didn't shout slogans or throw shoes at the Americans. This is absurd; after all, Iran has held years of talks with the Europeans. The problem wasn't rudeness but that the Iranians used these exchanges to stall for time and divide their opponents while rushing ahead building nuclear facilities.
The second is equally hollow. Iran agreed to permit inspections of its hitherto secret Qom uranium enrichment facility. In fact, the Iranian government had already announced it would do so before the meeting. For four years, Iran had hid the enrichment plant in complete violation of its previous commitments.
In effect, Iran got caught cheating and quickly proposed keeping the facility going in exchange for allowing it to be inspected. This is a clever, self-serving maneuver, not a concession.
Finally, came the news that some in the West thought worth celebrating: Iran reportedly agreed in principle that it would send most of the nuclear material it had already produced to Russia and France for reprocessing into a different form that would be much harder to turn into weapons.
But guess what? The Iranians had, in fact, merely said they would consider the idea—and then denied ever having made such a pledge, even as it was being widely reported in the Western media. And to make matters even more ridiculous, they had made the same offer back in 2007, then also rejected doing so. In other words, Iran received credit for a concession not even made yet and one they had no intention of fulfilling.
Beyond this, one must take into context the Tehran regime's nature, history, ideology, policies and leadership, as well as its goal of consolidating its power at home against opponents while defusing pressure from abroad.
And, finally, here's the best argument of all for doubting that Iran wants to do anything except getting nuclear weapons: To believe Iran is ready to act sincerely in forgetting about building atomic weapons, one would have to conclude that the regime's goal all along has just been to build nuclear energy power plants, not weapons of mass destruction.
From Tehran's viewpoint, then, in just about seven hours of talks it made the threat of serious sanctions, which the Obama administration had been talking about for eight months, disappear without doing anything. Even if the Obama administration wants to return to a tougher policy, it will take months to do so, as Iran advances full speed ahead toward nuclear weapons.
Israel, however, has not been idle.  Having no illusions about Iran being talked into moderation, it is pursuing a three-layered strategy.
First, it is encouraging higher sanctions against Iran. Israel wants to show the United States and Europe that it supports their efforts and will give them a chance to work. This will both maintain Western support in general and ensure the maximum possible sympathy if Israel ever does attack Iranian facilities.
Second, Israel is keeping open the option of such an attack but will wait until Iran is closer to getting nuclear weapons—and the targets are better—and the United States and Europe may conclude that sanctions have failed.
Israel also knows, however, that an attack might not succeed completely in damaging Iran's nuclear weapons' capability and even the most effective attack will not keep Iran from getting weapons of mass destruction forever. Consequently, Israel also needs another option—and that is a missile defense system.
This is being developed partly in coordination with the United States. It consists of a multilayered system capable of shooting down Iranian missiles, including long-range Arrow missiles, medium-range David's Sling interceptor missiles and the short-range Iron Dome system aimed against the kind of rockets being fired by Hezbollah and Hamas. By the time Iran gets nuclear weapons, and in some cases well before, these systems will all be operational.
None of these systems is perfect. For example, Iron Dome will not protect small areas of Israel closest to the Gaza border but will shield more populated places deeper inside Israel.
For those actually facing attack by rockets or missiles, what is most important is that the number of incoming warheads—and hence both casualties and damage—be reduced to the minimum possible number.
This would undermine the strategy of Hezbollah against Israel in 2006 and Hamas from the Gaza Strip more recently of mass rocket attacks as a means of sowing terror among civilians, disrupting life in Israel and gaining strategic leverage. In addition, if Israel ever does attack Iran's nuclear installation, these systems will reduce the effectiveness of retaliation by Iran's client groups.
Obviously, of course, there is a problem with nuclear threats that doesn't exist with rockets: even if one or two get through the results would be catastrophic. Israel has a detailed answer that goes something like this: For Iran to attack Israel with nuclear missiles, even marginally rational commander know they need to knock out Israel's air force bases lest an Israeli second strike devastate Iran. To feel at all secure, Iran needs to launch a minimum of three missiles simultaneously against each airfield. Missile defenses, however, keep pushing up that number to the point where an Israeli second strike becomes unavoidable. Thus, any attack on Israel is clearly suicidal. This makes such an attack less likely.
But, it is a mistake to regard the Iranian regime as purely rational. This is far truer of the regime today than it was a year ago. And even then it is far truer of elements in the regime, including those who will have actual possession of the nuclear weapons.
How often do you see the point made in the Western media that the missiles and atomic bombs will be controlled by the Islamic Revolutionary Guard Corps, the part of the regime closest to President Mahmoud Ahmadinejad, the institution that is gaining growing power over Iran and the one with the closest ties to terrorists abroad?
True as this is, missile defense becomes all the more important by providing protection against an "irrational" attack. Combined with direct air strikes on Iranian launchers, this becomes an impressive defensive system. The maximum possible deterrent gives the maximum possible protection and the greatest possible discouragement for Iran from starting a war.
Remember, too, that the number of atomic bombs Iran can build is going to be relatively limited in number, while the number which can be launched simultaneously (especially very fast) is even fewer.
Finally, the other way to "use" nuclear weapons is flourishing rather than firing them. Much of the Iranian regime bluster about attacking Israel is designed to give Tehran greater leverage in the region. Israel can defend itself; Iran's Arab neighbors cannot and must depend on the United States—not the greatest assurance nowadays—to counter Iran's influence and power. Given their weakness and vulnerability to internal subversion, Arabic-speaking states are more likely to be the main target where the Tehran regime's threats can achieve results.
In short, while missile defense in combination with other efforts cannot necessarily provide perfect defense, it can provide the best possible defense. It is far more likely to be effective than the sadly weak diplomatic-sanction defense offered by divided and timid Western countries. Indeed, it might not be long before some of these are buying Israeli made systems, which the United States military is reportedly already planning to deploy.
Clearly, Iran poses the greatest threat for international conflict in today's world. The possibility of Tehran getting nuclear weapons and using them either militarily against Israel or strategically to advance its goal of becoming the Middle East's most powerful state poses a tremendous danger to Western interests. But Israel's determination to manage this problem is strong, even if the rest of the world remains bystanders.  H
Barry Rubin is director of the Global Research in International Affairs (GLORIA) Center and editor of the Middle East Review of International Affairs (MERIA) Journal. His blog, Rubin Reports, is at https://www.rubinreports.blogspot.com.