Letter from Jerusalem: Learning Curve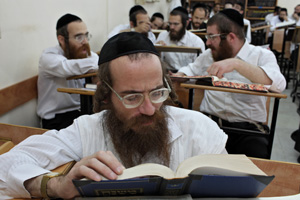 Against all odds—and thanks to state support—Israel's haredicommunity has grown in numbers. But can Israel continue to pay the price?
I'm standing in the Kerem Avraham neighborhood of Jerusalem. Across the street is the stone building where Amos Oz, Israel's most famous novelist, grew up in a small apartment. Back then, in the 1940s, Kerem Avraham was home to "petty clerks, small retailers, bank tellers or cinema ticketsellers, schoolteachers or dispensers of private lessons," as Oz writes in his memoir, A Tale of Love and Darkness (Chatto & Windus). They observed the last vestiges of Judaism—candles on Friday night, services on Yom Kippur—and avidly argued fine points of Zionist ideology.
When it was time for Amos to start school, his father faced a dilemma. Party-linked school systems educated the Jewish children of Manda­tory Palestine. One school within walk­ing distance belonged to the socialists of Labor Zionism, the other to the Orthodox Zionists of the Mizrahi movement. Oz's father, however, was a right-wing secularist. He chose the Mizrahi school because the "red tide was on the upsurge in our land" and the socialist school might turn the boy into a Bolshevik. He felt the religious school posed no parallel risk because "religious Jews…with their synagogues would disappear off the face of the earth in a few years."
While I stand on the street, a flock of teenage girls pass, all wearing blue blouses buttoned to the neck, pleated black skirts and high socks. I hear laughter and Yiddish. A poster glued to a wall tells married women they will be judged before the heavenly court for the licentious practice of wearing wigs, which makes them look as if their hair is uncovered. On a cross street, I pass a shop selling religious texts and a Hasidic kollel—a yeshiva where married men receive a stipend to study full-time.
These days, kerem avraham is an extension of the nearby ultra-Orthodox Meah She'a­rim neighborhood. It's part of the haredibelt of northern Jerusalem, a land of righteous wall posters de­nouncing television, the Internet and rival religious factions; of life-long Torah study for men and countless pregnancies for women; of piety and widespread poverty. The neighborhood began changing in the 1950s. (The rebellious young Oz had al­ready moved to a kibbutz, which he left many years later.) Socialism, not religion, is now a historical memory in Israel. Haredi parties have more seats in the Knesset than does the once dominant Labor Party.
Here's a more contemporary error about haredi society: I once attended a meeting at my daughter's high school in preparation for the standard 12th-grade tour of Poland. The headmistress told me that the students wouldn't just learn about death camps. Before their trip, she said, they'd visit Meah She'arim, to see what Jewish life was like in Poland before the Holocaust.
Her nostalgic view of Meah She'a­rim is a common one, but mistaken. It's not just that prewar Jewish Warsaw, with its Yiddish secularists, Zionists and assimilationists didn't match Jerusalem's haredi belt. Even Eastern European ultra-Orthodoxy did not look the same as today's.
Despite ultra-Orthodoxy's opposition to Zionism, Israel's version of haredi Judaism is a creation of the Jewish state. Both the common view at the time of Israel's establishment that religious Judaism was fading away and nostalgia for Eastern Eu­rope helped promote this new form of Judaism. So did some successful steps taken by haredi leaders to revive a community that was first shrunken by modernity, then devastated by the Holocaust.
Yet success has come at a rising price, for both general Israeli society and the haredi community.
When the state was established, haredi society "was entirely different," says Bar-Ilan University sociologist Mena­chem Friedman, the pioneer research­er of ultra-Orthodoxy. "It was a normal working society," similar to the rest of the Jewish population. The fertility rate was about the same. On average, haredi men married in their late twenties, similar to other Jewish men in Israel.
The population was made up of descendants of the Old Yishuv—Jews who came for religious reasons be­fore the birth of Zionism—and European refugees from before and after World War II. The community was a tiny minority in the new state. As in the diaspora, it was common for young people to abandon their parents' Orthodoxy.
The 1949 law instituting compulsory education was a turning point, Friedman explains, though few realized it. Parents could choose ultra-Orthodox schools, which now re­ceived state funding—a windfall that made it possible to open new schools and pay steady salaries. Young haredi women could finish teacher training by age 18 or 19 and get teaching jobs. Meanwhile, Jews were pouring into Israel from the Islamic world. Some chose haredi schools for their children, creating more teaching jobs.
The leading haredi religious figure in Israel, Rabbi Avraham Karelitz (1878- 1953)—known as the Hazon Ish—and key followers used the em­ployment opportunity for young women to promote a new ideal: Men would continue studying Torah inkollel after marriage, supported by their teacher-wives. Their working parents helped out. Funds to support kollel students also came from Jews in the West who saw "ha­redi society…as representing the [Jew­ish] world that had been so cruelly destroyed" in Eastern Europe, as Fried­man has written.
Another apparently minor decision had major consequences: During Israel's War of Independence, 400 ha­redi yeshiva students were exempted from the draft. The decision was a response to intense resistance from Old Yishuv rabbis to conscription. After the Knesset passed a conscription law, the exemption became a de­ferment for a similar number of students per year until they ended their religious studies. Defense officials tolerated this because they ex­pected the harediworld with its ye­shi­vot to fade away, Friedman argues. Haredi educators and parents saw military service as a dangerous exposure to secular society. The deferment encouraged staying in kollel.
During the 1950s, the haredi life­style was again transformed. Men and wom­en married and started families at a much younger age and had more children. (By the beginning of this de­cade, according to a government re­port, haredi men were marrying, on average, before their 22nd birthday, and women even earlier. The natural growth rate for the haredi community was 6 percent a year, compared to 1 percent for the rest of the Jewish population, other researchers reported.)
For men, staying in kollel for 10 years after marriage became common. Yet from their teens on, they received no general education. Years of study provided no training for work in a modern economy. Even when leaving kollel, men expected to find "Torah positions"—as yeshiva teachers; or in the state's religious establishment as rabbis, rabbinic court judges or kashrut supervisors; or in religious organizations. Meanwhile, increasingly, haredim chose to live in separate neighborhoods, where their children would be safe from secular influences. A trend developed of ever-greater stringency in religious observance. Another irony: In a society dedicated to tradition, children rejected their grandparents' standards as too lenient. But the children were staying in the fold. The haredi population burgeoned.
When Menachem Begin won the 1977 election, he needed the support of the haredi party, Agudat Yisrael, to form Israel's first right-wing governing coalition. The price included ex­tensive funding for haredi institutions and dropping the limit on the number of yeshiva draft deferments. In the 1980s, a new ultra-Orthodox party, Shas, was born. At its core were Jews with roots in the Muslim world who had studied in ultra-Orthodox institutions, creating a new Sefardi-haredi synthesis. But the party won votes from a wider pool of traditional-leaning Sefardim. Shas's success further increased haredi political leverage and, in turn, government funding for haredi institutions.
Yet that only delayed the economic crisis for haredim and Israel as a whole. Haredi parents are expected to buy apartments for children when they marry. But for parents who are products of the kollel economy and have many children, the burden is far heavier than it was for working ha­redim with smaller families. Mean­while, fewer men are finding Torah jobs. For instance, modern Orthodox yeshivot that once hired haredi teachers now employ their own graduates. "In my father's time, no one was in kollel past age 30. Now it's 40 or 50," a kollel student in his thirties told me, frustrated by the lack of jobs.
For Israel as a whole, the problem is simple: In 1960, government figures show 6.6 percent of the children in the Hebrew-speaking elementary schools were in haredi institutions. By 2008, the proportion was 27 percent. If those children follow today's haredi lifestyle, can the rest of Israel support them?
In 2003, during a rare period when no ultra-Orthodox parties were in the ruling coalition, then-finance minister Benjamin Netanyahu cut subsidies for large families, on which haredim depended. The impact was partly ameliorated by diaspora donations to yeshivot, explains Bezalel Co­hen, a former kollel student who now directs Joint Distribution Com­mittee programs to bring haredim into the workforce. The current re­ces­sion hit those donations as well.
The economic strain has brought some change. Cohen's decision to pro­m­ote employment is one example. Colleges (including Hadassah College Jerusalem) are offering professional training to ultra-Orthodox students. Cohen predicts a reversal in attitudes: "Parents want to get jobs and find that a lack of English and math stands in their way. So it's important to them to give that to their children."
To speed the shift, the state needs to spend—on remedial programs for adults who want to work, for in­stance, and on stipends to support their families while they train. It will have to require haredi schools to provide more general education. Hare­dim will have to take responsibility for their own livelihoods.
Not far from Amos Oz's childhood house is an apartment development built several years ago for better-off haredim. The buildings are built around a courtyard with a playground. Late in the afternoon it's crowded with children. Underneath is a three-level parking garage, with small storerooms along the sides. The storerooms belong to the residents who live above. But some have names on the doors and small high windows looking into the dark garage. Inside one, I hear the voices of a couple and an infant crying. Outside another is a metal rack on which laundry is drying. The rooms have been rented to young haredi families who can afford nothing else.
Aboveground is the image of a thriving community. Beneath the surface, one sees the price paid. Defying expectations, the modern Jewish state led to a blossoming of ultra-Ortho­doxy. Today, both the state and the haredi community need a new change in direction in order to flourish. H