Medicine: Where the Wild Things Are Healed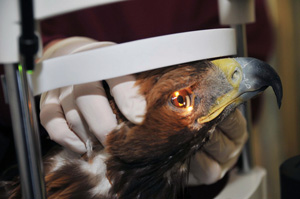 Hadassah is well-known for its skill in treating the ailments of Israel's human patients, but its doctors have also come to the aid of the country's animal population.
The patient could not read the eye chart, but it was clear his cataract surgery had succeeded when he spread his golden-brown wings to their full seven-foot span and started to fly again.
The patient, a golden eagle, is one of a number of nonhumans to be treated at the Hadassah–Hebrew University Medical Center in Jerusalem. "We see this outreach as, well, humanitarian," says Dr. Shmuel Shapira, deputy director-general of the medical center, head of the Braun School of Public Health and Community Medicine and dean of the recently opened School of Military Medicine.
"Clearly, our two hospitals are for human patients," he says. "We do nothing that abuses, jeopardizes or contaminates the equipment, facilities, time or budget dedicated to them. We do, however, see it as proper to lend our expertise and equipment to veterinary colleagues, as and when we can."
Hadassah, Dr. Shapira notes, has had practical ongoing relationships with Israeli zoos and veterinary schools that go back years. It passes on to them and to animal-support organizations expired pharmaceuticals, retired medical equipment and outdated disposables. "And, occasionally, we actually treat animals—in our laboratories, not in our patient facilities," he says.
The eagle (Aquila chrysaetos), a resident of the Tisch Family Zoological Gardens in southern Jerusalem, is one example. "The bird had a history of eye problems," says Dr. Michael Halpert, a senior ophthalmologist at Hadassah. "He had lost one eye through injury when he was a fledgling. When he stopped flying a couple of years back, the zoo's veterinary ophthalmologist diagnosed a cataract in the remaining eye, and they operated to remove it."
The veterinary ophthalmologist cut out the front of the eagle's opaque lens, leaving its back membrane in place. This is classic cataract surgery, in people as well as birds, but in one of every two patients, the back membrane clouds over in what is called a secondary cataract. When it became clear that the eagle was developing a secondary cataract, the zoo turned to Dr. Halpert.
"We already knew Dr. Halpert well," says Nili Avni-Magen, chief veterinarian of the Tisch zoo. "A few years ago, he helped us clear up a case of keratitis in one of our Asian elephants. An inflammation of the cornea, keratitis can be very painful and, if untreated, impairs eyesight. He was also involved in treating our hand-reared Sumatran tiger cub, who developed a juvenile cataract when he was 2 months old. Fortunately, we managed to resolve that problem with medication rather than surgery."
For the eagle, however, there was no nonsurgical option. "Secondary cataracts are treated by making a small opening in the middle of the opaque back membrane," explains Dr. Halpert. "It's a simple 10-minute procedure, but you need a YAG laser to do it."
So, in April the eagle was brought to Hadassah. A vet sedated the three-foot-long bird of prey, and Dr. Halpert began. "The eye was bigger than a human eye and had a deeper anterior chamber, but in principle it was very similar," he says. "There was nothing I could see that showed me the secret of 'eagle-eyed' vision."
Using the YAG's beam, Dr. Halpert cut a small hole in the center of the eagle's clouded lens capsule. Back at the zoo and fully awake, the bird shook his golden-brown plumage, looked around, spread its wings—and took to the air.
In an enclosure not far from the zoo's aviary live a mother and son, Tamar and Gabi. Although a very different species from the one-eyed eagle, they nonetheless share with it a close and very personal encounter with Hadassah. For more than a year, Hadassah played an active role in Tamar the elephant's prenatal care, contributing to the safe arrival of her calf, Gabi.
"Gabi clocked in at a birth weight of 198 pounds," says Ariel Revel, a senior physician in Hadassah's obstetrics and gynecology department and chairman of the Jerusalem branch of the Israel Society of Obstetrics and Gynecology. "We're used to thinking of an 11-pound or 12-pound infant as a big baby, so the baby elephant's birth weight was mind-blowing!"
An endangered species of Asian elephant, Tamar was a gift to then-Prime Minister Yitzhak Rabin in 1995 from the Thai government. Tamar was 20 when Gabi was conceived eight years later by artificial insemination on the fourth attempt, conducted with the help of a team from Germany's Reproduction Management Institute for Zoo Biology and Wildlife Research in Berlin. Because of her age—elephants typically start bearing children at ages 12 to 15—and because this was her first baby, Tamar's pregnancy was considered high risk from the start.
"Our role was analyzing regular blood samples from Tamar to monitor her pregnancy and predict the onset of labor," says Dr. Revel. "We did this for over a year, throughout the second half of the pregnancy. On a Wednesday in early December, we saw that her progesterone levels had plummeted. We predicted she would give birth on Shabbat."
At 8 P.M. on the following Friday evening, Tamar began an arduous 10-hour labor in her enclosure. The birth was difficult and, at one point, zoo staff thought they would lose both mother and child. But at 6 on Shabbat morning, as Hadassah's gynecologists had predicted, a healthy elephant calf dropped to the ground, still wrapped in its sac. It was the 11th birth worldwide of an Asian elephant conceived through artificial insemination. The baby was named for Gabi Eshkar, the zoo's head veterinarian, who had begun the impregnation project and had died the previous year in a road accident.
It is now four years since Gabi's birth, but Hadassah's biochemistry department continues to monitor samples from the zoo's Asian elephant herd. "The idea is to keep track of when they can breed," says Dr. Revel, "and to perform long-term research into hormone levels in their blood."
With only a small number of specialized vets in Israel, Hadassah has proven itself "a true friend of the zoo," says Avni-Magen. "When we have a complex or unusual case, when we need special equipment [such as the YAG], when we want to do research or when we need outside help, we turn to Hadassah."
One highly successful research collaboration between the zoo, Hadassah Hospital and the Hebrew University brought significant relief to the zoo's monkeys. "They had developed a stubborn fungal infection that was making their hair drop out," says Avni-Magen. "There are many antifungal ointments on the market, but all need regular application. Our animals, however, are wild, so the less we handle them the better it is for them. What we needed to treat the fungus was a slow-release ointment that required only a single application."
Together with Dr. Michael Friedman of the Hebrew University School of Pharmacy, a slow-release single-application antifungal was developed. "It has the consistency of nail polish and it worked beautifully," says Avni-Magen. "We have published the results and are optimistic that this heralds development of many other slow-release drugs across the pharmacological spectrum—for animals and for people."
Both Hadassah and the zoo see their cooperation as a win-win venture. "We are able to help our veterinary colleagues and the animals for which they're responsible," says Dr. Shapira. "And for us, it adds interest and color as well as an opportunity to learn new approaches to our own patient population." H