Profile: Milton Glaser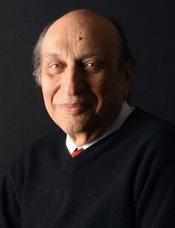 Having fathered the famous logo of New York City, his work is instantly recognizable, but fewer know the story of this graphic design legend.
Soft-spoken but opinionated, cerebral yet focused, Milton Glaser is America's preeminent graphic designer and the tall, slender 80-year-old shows no signs of slowing down.
Best known as the creator of the I♥NY logo and slogan, Glaser remains a tireless advocate of intelligent and innovative imagery, his work cutting a wide swath across countless book and magazine covers, posters, advertising campaigns, supermarket and restaurant designs, interior spaces and logos.
"The image of I♥NY is basically a little puzzle," Glaser said, explaining the essence of his approach to graphic design illustration, characterized by simplicity and bold designs. "There is a complete word, 'I.' There is a symbol for an emotion, which is the heart, and there are initials for a place. These require three little mental adjustments to understand the message. But they are so easy to achieve that there is very little possibility that somebody won't be able to figure it out."
Milton speaks this esperanto well," said Steven Heller, a former art director at The New York Times and a well-known critic, referring to the universal language. "I is a word. The heart is a symbol for feeling. And the New York abbreviation stuck in people's minds."
For New York's well-known symbol, Glaser said, he received "no money, ever." But, he added, "I feel very, very proud of making New York a better place."
Glaser and his work were already well known in the mid-1970's when New York was experiencing one of the most withering periods in its history, characterized by graffiti in the subways and uncollected garbage on the streets. The city's finances were so dire that when the mayor asked President Gerald Ford in Washington for help, the answer in the New York Daily News headline was succinct: "Ford to City: Drop Dead."
Drastic action was needed. To reverse sagging revenues and morale, New York State hired the advertising agency Wells, Rich, Green to create a tourist campaign. And to complement a catchy jingle, the agency turned to Glaser, a veteran of magazine, book and restaurant design. His solution, I♥NY, is now one of the most ubiquitous, widely imitated images in history. Together, the jingle and the slogan energized a city on the brink of disaster.
Even those who have never heard his name can instantly recognize Glaser's designs and, in 2008, his life and work were the subject of Wendy Keys's feature-length documentary Milton Glaser: To Inform and Delight.
Marc Fasanella, who curated a miniretrospective of Glaser's work at the Avram Gallery of the State University of New York at Stony Brook Southampton campus in May, noted that Glaser turned graphic design "on its head, making it more accessible, folksy and playful."
In response to a request from an old friend and client, Shirley Strum Kenny, former president of Stony Brook, who was alarmed by the deaths of 1,400 college students a year as a result of alcohol poisoning, Glaser prepared a Red Watch Band campaign with the retail chain Target. The campaign, to encourage awareness of alcohol-related injuries in colleges across the country, is similar to the "designated driver" principle, giving students comprehensive instruction and training them to respond to fellow students in danger of dying from toxic drinking. Graduates get a red watch to signify completion of the program. To date, 34 colleges and universities as well as 30 high schools have joined Stony Brook's campaign.
Glaser still runs his commercial operation in the New York townhouse that served as the initial headquarters of New York magazine. The studio's location is particularly apt since he was one of the founders of the magazine, which came to life as a freestanding periodical in 1968 after the demise of the New York Herald Tribune. Glaser, New York's first art director, served as chairman of the board for 20 years. It was there, says Walter Bernard, an art director who has worked closely with Glaser, that the graphic designer helped Gloria Steinem launch Ms. Magazine and began, with his late friend Jerome Snyder, art director of Scientific American, the iconic "Underground Gourmet" feature, in which the two sniffed out exotic fare across the city. One example: In New York's early years, when they wrote up a luncheonette in New York's Diamond District whose owner fished for and served fresh tuna, the 12-seat establishment was inundated with 600 would-be fressers.
Though Glaser doesn't research out-of-the-way restaurants anymore, he does dine out a couple of times a week with his wife, Shirley, with whom he has collaborated on the children's books The Alphazeds (Miramax) and If Apples Had Teeth, which is no longer in print. The couple, who do not have children, are noteworthy collectors of African art.
Glaser was born in the Bronx during the Great Depression. "I grew up in the coops with my sister," Glaser said, referring to a famous cooperative housing experiment of the period, a series of Tudor revival apartment buildings at the corner of Bronx Park East and Allerton Avenue. "The residents, mostly Jews from Eastern Europe, were very left wing—Marxists, Trotskyites. About 95 percent of the kids went to college. It was the beginnings of the Labor movement and the beginnings of the civil rights movement in the first integrated housing in the United States."
His parents, immigrants from Transylvania, played a pivotal role in his desire to be an artist. "My mother was extremely supportive," Glaser recalled, "but my father, a tailor who had a store in the area, resisted. He didn't think I could make a living. He wanted me to be a doctor or lawyer…. My father was a metaphor for the world because, if you can't overcome a father's resistance, you're never going to be able to overcome the world's resistance."
Years later, as he achieved renown, Glaser was able to obtain a form of vindication. His elderly father, living in a nursing home in Florida, didn't mince words: "You did the right thing."
"It was the first time he said that," Glaser said. "I was pleased."
Glaser enrolled at Manhattan's High School of Music and Art (now Fiorello H. LaGuardia High School of Music & Art and Performing Arts), where he started out wanting to be a cartoonist, but on the first day he heard a lecture on Cézanne. "And by the time I got through with music and art," he said, "I realized there was another kind of world that went beyond my dream of being a cartoonist. I didn't know exactly what it was yet, that there was such a thing called design."
He then took courses on poster and other kinds of design, as well as painting and typography. He continued his studies at Cooper Union in New York and, later, a Fulbright scholarship took him to the Academy of Fine Arts in Bologna, Italy, where he studied under Giorgio Morandi.
Back in New York in 1954, Glaser, with several of his Cooper Union classmates, founded Push Pin Studios. At the time, most graphic illustration carried no signature. But Signet Books asked Glaser to produce the covers for a series of works by Shakespeare, to be released sequentially, and his name was added to the illustration.
Soon thereafter, Glaser made a mark with a Beatles-like subway poster for a New York radio station that showed four young men strumming and singing in sharp-colored jagged images.
But it was his 1966 portrait of Bob Dylan that put Glaser on the map. In the poster, perhaps the ultimate expression of the psychedelic lifestyle in America, Dylan's face is in dark silhouettes looking down, his hair a colorful cascade of waves. The poster, Glaser's third, was a giveaway meant to encourage sales of Dylan's Greatest Hits album of that year. "Then it took on a life of its own," Glaser said, "showing up in films, magazines, whatever. It did not die, as such forms of ephemera usually do."
In fact, the Dylan poster, long out of print, is still selling as a reproduction, available on Glaser's Web site (www.miltonglaserposters.com). It is the only one of his more than 400 posters to be reissued. The Dylan poster owes its inspiration to Marcel Duchamp, a major mid-20th-century artist who created a self-portrait as a cutout silhouette.
Glaser left Push Pin in 1974 to set out on his own. "One of the great virtues of working for yourself," he said, "is that you don't work with people you don't like…. You may have to give up some work, but with clients it is a good idea to develop a sense of trust, some degree of affection."
Two of his books, Graphic Design and Art Is Work, remain in print decades after their introduction by Overlook Press. His most recent book, Drawing Is Thinking, with writer Judith Thurman, was published in 2008. In Art Is Work (the title is emblazoned over the door to his building), Glaser notes that the Dylan poster "remains one of my most iconic works." He added: "I have mixed feelings about this. I don't like to be entirely identified with a moment that has clearly passed, with the inevitable suggestion that I have as well."
Glaser still designs about six posters each year. Earlier in his career, he pointed out, there were many protest posters urging social change. "Rage is a poor instrument for persuasion," he said. "Anger is for people on your side. So you have to ask, 'What do people respond to?'"
That question is uppermost in his mind when he is involved in commercial work. "There are usually three participants" in a venture, he said. "A client, a designer and an audience…. So they're three legs of the stool."
When he isn't teaching on Wednesday nights at the School of Visual Arts (for 50 years and counting), Glaser walks around his New York neighborhood. He planned a rotating tower for the school's theater as homage, he says, to the Third Industrial Revolution. It has a moving neon sign giving the time and offering homilies like "It's one o'clock. Time to think about the meaning of your life."
Glaser frequently thinks of the meaning of his life, and his Jewish background plays a part in that. His parents were observant "up to a point," he said. He had a bar mitzva but is not observant, though he fasts on Yom Kippur and hosts an annual Passover Seder.
However, the outsider sensibility of being Jewish, he said, of "never quite feeling at home in any culture," gives him a kind of objectivity. "And part of my ideas come more from my Jewish background than my American background," he said, citing a questioning attitude that he considers part of his makeup. Furthermore, the "idea of generosity toward others comes from my Jewish heritage."
Glaser shows his works regularly in Italy and the United States, and he has had one-man shows at the Museum of Modern Art in New York and the Pompidou Center in Paris. His work is in the permanent collections of MoMA, the Israel Museum in Jerusalem, the Smithsonian in Washington, D.C., and the Cooper Hewitt in New York.
About 35 years ago in Woodstock, New York, publisher Peter Mayer introduced Glaser to Philip Roth. Roth admired a cover of The Atlantic that Glaser had designed, an outline of the author's head with hand-drawn letters spelling "Philip Roth" in place of his facial features. "One day he called and asked if I'd do a jacket for him," Glaser recalls. He has now designed the covers of 10 Roth novels, not counting various British editions.
He is famous in the design world for a puckish wit and for strong opinions. He challenges the "less is more" dictum of modernists like Mies van der Rohe. "I have an alternative to the proposition that I believe is more appropriate: 'Just enough is more.'"
Glaser has no plans to retire, constantly reinventing himself as a creative force. "I fear retirement more than death," he said. "I don't remember who said it: 'The best way to die is in the middle of your work.' So I'm hoping for that." H