Interview: Nir Barkat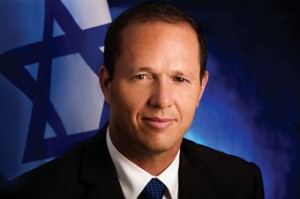 Nir Barkat, 50, the successful high-tech entrepreneur and venture capitalist, was elected mayor of Jerusalem in November 2008, pledging to improve life in the city through growth and efficient management. The controversial Jerusalem-born Barkat's efforts have brought forth both optimism and anger. Last November, Barkat, who jogs regularly from his home in Beit Hakerem—where he lives with his wife and two daughters—to his office, ran the New York City Marathon to promote Jerusalem as a top travel destination.
Q. Each year for the past decade, 5,000 to 7,000 people have moved out of Jerusalem, many for lack of affordable housing; you are looking into affordable housing solutions. What is your goal for the city? 
A. Our goal is to develop Jerusalem as an attractive destination site for tourists throughout the world, for young people to come and live here, for others to stay in the city, for investors to invest, for entrepreneurs to open new businesses. That is the vision that will enable Jerusalem to get out of its poverty, to stop the negative migration of the middle and high socioeconomic groups.
Q. Last summer there were a great many concerts and outdoor events as well as new bars and restaurants—there were even free shuttles to events. How does this fit in with your mission?
A. We want to increase tourism to 10 million a year from the current 2 million a year, [which] can mean more than 100,000 new jobs. It's a 10-year goal. And in parallel we have got to…dramatically spur demand…by expanding culture. We have shown…there is huge potential for investments. As an example, more people visited the Old City of Jerusalem [during the] summer's Light Festival than during any other time since 1967; these events were bigger and better than ever before, raising international attention.
[For the summer of 2010] we are going to start looking at the international market. We are also working on infrastructure, public transportation, and that is now in progress. Last but not least, we are working on developing the hotel industry, which has to dramatically grow, and bring a number of franchises to the city so we can deal with increased numbers of visitors.
Then, of course, we have to market Jerusalem in a different way; the world doesn't want to hear about the problems and the conflicts.
Q. How do you champion Jerusalem as a destination that is both part of ancient history and culture yet also a place of 21st-century technology and development? 
A. I have dramatically increased key budgets including the culture budget [from $2.7 million] to $5.4 million, and we hope it will be increased even further in 2010. We are opening up the city for many events, parties and festivals, integrating them all with the power of our brand. And, indeed, my vision is to open up more infrastructure, the light rail, fast-tracking buildings like the Jerusalem arena and major hotels, more physical locations that can be used for culture and tourism.
Q. You inherited a sweeping plan to bring a new light-rail system to the city. But wasn't the project behind schedule and the downtown area a construction mess?
A. I have worked hard to expedite the process since taking office and have instituted a series of incentives and penalties that did not exist before to speed up the work. We are in the process of…finalizing the first operating line by the end of 2010 and, no less important, developing the next phase of public transportation in the city. In the next few months, hopefully, we will have a contract to propose to the city and share with the public. So the next phase is going to be fundamentally different, both on the lines themselves and the way the process is managed.
Q. Is your entrepreneurial know-how helping you win the war on municipal bureaucracy?
A.  I strongly believe that the skills I have developed are strategically important in managing our city. Our budget is about a billion dollars a year. To effectively manage such sums you need the proper skills.
Q. After four years of Uri Lupolianski, the Orthodox mayor, Jerusalem now has a secular one again. Subsequently, there have been disturbances—including violent haredi demonstrations after you decided to open a public parking lot near the Old City on Shabbat. On the other hand, you put more money in the budget for haredi schools. How do you deal with such challenges?
A. The haredi community is very cooperative in developing the city and we view them as our partners. There is more of an understanding now that we have to live and let live in the city. It's true they don't always agree with all the steps we've made, but they…play their full part in the city's management. What happens in the larger picture must also happen within theharedi community. The Eida Haredit, which represents only about six percent of the haredi population in the city, will also eventually have to learn to disagree and respect other people in its own community as decisions are made.
Q. Of Jerusalem's 800,000 residents, 270,000 are Palestinians. You are a proponent of an undivided capital city and are green-lighting demolitions of illegal Palestinian houses. Yet you are also planning to add about 13,000 housing units for Arabs, which has not been done before. Will we be seeing changes in policies over the next 12 months?
A. My mandate and my vision are to strengthen the unity of the city, to improve quality of life for all sectors, honestly and openly. I believe there is a strong majority in the country, thank God, that supports strengthening the city of Jerusalem as a united city. I definitely will do everything I can to fulfill that vision and to manage the city better in this spirit. The vision is to develop the economy in ways that will benefit all areas of the city, including the Eastern part. In particular, with our planned dramatic increase in tourism, the economic benefits will rain down on all sectors so that it will create jobs and enhance opportunities for Arab residents just as it will for Jews and Christians.
Q. How are you addressing Jerusalem's internal strife?
A. We have managed to create a wall-to-wall coalition—30 out of 31 city council members are all parties [to it]. It works in developing the local economy, creating jobs, education reform and producing greater transparency in the municipality. Not everyone is happy with some of the decisions, but…long term, I believe people will understand that to create change decisions must be made.
Q. Can you describe the impact the unprecedented global recession has had on Jerusalem in terms of growth, business development and the overall local economy?
A. The city was probably hurt less than others. Even the high-tech sector in Jerusalem was less affected. The reality is that…there is positive momentum. More and more investors and others are looking to Jerusalem. You can see it by the fact that the first Gap [store] just opened here [in Jerusalem's new mall in the Alrov complex].
Q. Betar Jerusalem (soccer) and Hapoel Jerusalem (basketball) were recently saved from near bankruptcy by private-sector support. How did this happen and what is the broader message?
A. I think that sports is an exceptional way to represent the city and is an experience that Jerusalemites can engage with very proudly. It's also an educational opportunity…for the young population. The fact that it is attractive for people like world-class businessman [Brazilian-born philanthropist] Guma Aguiar to invest in these two teams is very important. There are lots of philanthropists in the city in different sectors—culture, sports, the Hebrew University. It's my duty to explain to different philanthropists how they are investing in the city…. Because we are practically the poorest city in the country, this is very strong, strategic help for the city. H