The Purim Mystery Cake: A Story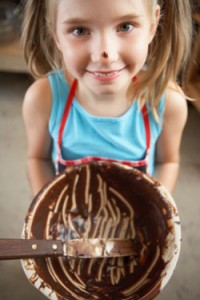 Judaism is a religion for adults—it requires a lot of work and thinking. Purim though, is different: It's a letting go. We wear costumes, have a festive meal and give out mishloah manot. In the past, my husband and I had thrown some great Purim parties, with dancing, singing and revelry. But eight years ago, after our 13-year-old son, Koby, was murdered by terrorists in a cave near our home in Tekoa, Purim was no longer high on our agenda. All that emphasis on fun seemed like something we had outgrown, almost atavistic.
Still, I have a wonderful family, three other beautiful children and a loving husband—and this year I felt ready to enjoy Purim again, at least to preparemishloah manot. I was going to bake chocolate chip muffins, though I am not much of a baker. I remember the fun we had one year when I took the easy way out, buying sports water bottles that Koby and I filled with chocolates and nuts.
This year, I wanted to do something that required more effort. I was going to bake, whizzing muffins in and out of the oven. With my kids now grown up, baking lacked that extra frisson of stress—but neither was it so much fun. In fact, it started to feel a little depressing.
All of a sudden there was a bang on the door and Talia walked in.
Talia, my neighbor Valerie's daughter, is 5 years old. The youngest of seven children, she has a bit of mischief and the look of Barbie in her face at the same time. A cute, upturned nose, blonde feathered hair and a way of standing with her hand on her hips.
She surveyed the kitchen and said: "Let me help."
Talia's father had died suddenly the previous July. Shimon had a heart attack a week after his son Zevi's bar mitzva. He was 50.
Talia put the big bowl on the floor and sat down and stirred. She put the papers in the muffin tin. Then she poured the batter into the muffin pan. It was great having a little girl with me in the kitchen.
The relay race of cooking with one muffin tin was coming to an end. I would have enough muffins for the 40 mishloah manot I was preparing.
Then Talia said, "I want to bake a cake." I wasn't so keen on it actually; I was picturing a hot bath and a cup of tea. But, fine, I said.
I found a recipe that looked easy. It was called mystery cake. Not a great name for a cake. What was the mystery after all?
But the cake had a lot of chocolate in it (who doesn't like chocolate?), and beside, I had all the ingredients. Talia and I began to mix the ingredients—but instead of sugar, I realized at the last minute that we had put in a cup of salt. We laughed and threw out the mix and began again. I noticed that the recipe didn't call for eggs. Even with my limited baking experience I realized that something seemed dubious about this recipe.
We poured the batter into the pan and put it in the oven. The batter tasted fine straight from the bowl. So far, so good. I kept checking the cake—at half an hour, then at 40 minutes—but the cake was not setting. It wasn't solid, it was goop. Finally after an hour and half we took it out. It was burned black on the sides but the sunken center was a gooey mess. "Let me taste it," said Talia. "Great," she said. "Yummy."
But the cake was not attractive, not tasty and, in fact, had no redeeming qualities. "Maybe we should toss it," I said, but Talia said, "No, it's my cake and I want to take it home."
The cake was still warm, but I didn't have oven mitts, only dishcloths, filthy from all of the baking I had done. So she took the cake home clutching it with two old, torn and filthy, chocolate-stained dishcloths.
About 10 minutes later, Valerie called me. "You know I have been lying in bed crying all day," she said. "I miss Shimon so much. And coming up to Purim without him, I didn't want to get out of bed. Talia just brought me that cake the two of you made, her cake, and she said, Mommy it's really good, and I couldn't stop laughing. I am still laughing. That cake is a mess, burned and really ugly. It's totally inedible. And those dish towels…"
I laughed, too.
"You really made me feel better," she continued. "I can't stop laughing from that cake."
Sometimes laughter comes from the most unexpected places. If I had just judged our creation with my eyes, I would have rejected it. But Talia said, no, she saw some good, some beauty in what we had created. It was hers, after all.
Sometimes it's just so clear—we can't judge with our own eyes and senses—the concoction of the world is like a mystery cake. Sometimes it seems so imperfect, untasty, filled with suffering and pain.
And then there is a surprise.
The Purim story is one of unexpected revelation and redemption: The Jews were supposed to be killed and, instead, it was our enemy who was destroyed, a reversal of bitter into sweet. And it was all engineered by Esther, who invited a king and her mortal enemy to a feast.
Sometimes the most misshapen cake, the one we reject, is the one that deserves a pedestal.