Tradition of Questioning Tradition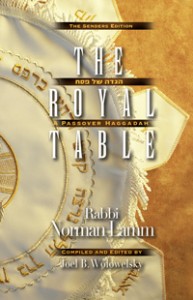 In the convulsive times in which we live, all tradition is called into question, whether religious, social, political or academic. It is therefore no surprise that this challenge affects Judaism, which places great value on tradition as such. This emphasis is especially noticeable during Passover, and most especially on the Seder night. The Seder is full of tradition; every action, every motion, manifests centuries of sacred recollection. Those who are guided by the precept "do your own thing" are probably quite unhappy with such a ceremonial meal overladen with apparently irrelevant customs. They question tradition, and they reject—or at least challenge—the entire Seder procedure and the traditionalism that it symbolizes. I have no doubt that in thousands of Jewish homes where the Seder is performed, many will participate with an inner perplexity and impatience: What does all this mean for me anyway?
How shall we react to this questioning of tradition? How shall we orient ourselves toward this phenomenon in Jewish and general life? First, let us never be perturbed by questions. They are characteristic of an alert and intelligent mind. As Jews, we welcome not only questions of inquiry, but also those of challenge. The Four Questions are known, in Yiddish, not as die fier shaylos, quests for information, but as die fier kashesfour challenges or refutations. But perhaps more important, we should remember that it is not by any means a new phenomenon. Every "new" generation questions the old and that is as it should be. Indeed, the very questioning of the tradition is itself a tradition!
If we read the Haggadah carefully, we will observe that the questioning of the tradition has become encapsulated in one of its major sections, and has become a familiar and delightful part of the Seder ritual for at least two thousand years. It is my feeling that the questioning of tradition and the traditional response to the traditional questioning are what constitutes that famous passage concerning the Four Sons, or types. The text begins with "Barukh ha-Makom, blessed is God," for the giving of Torah, the tradition of Israel—and it is challenged. We have here four attitudes to tradition, in question-and-answer form, which deserve to be remembered, and have, indeed, been perpetuated through the Haggadah.
Rabbi Norman Lamm is chancellor of Yeshiva University and Rosh HaYeshiva of its affiliated Rabbi Isaac Elchanan Theological Seminary. This essay is excerpted from The Royal Table: A Passover Haggadah, recently published by OU Press (edited by Joel Wolowelsky; 200 pages, $24.95). For more information, visit www.OUPress.org.