Who Knows One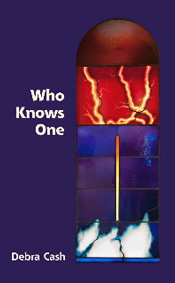 Boston-based writer Debra Cash is well known as an expert on dance; she was a dance critic for the Boston Globe for 17 years. In the following poems, from her newly published chapbook Who Knows One, Cash shows us her other great loves: Judaism and poetry.
Matzah
When there was no time for yeast
and we were running away
When there was no time for pillows and blankets
and we slept in the desert with our clothes on
When there was no conversation over the fire
just bowed heads as we looked at our bowls
Then we knew our homes were gone forever
even if we went back to them
Even if we took up our tasks
and submitted to the lash
We had learned to do without.
We had begun our redemption.
Grace After the Meal
With your permission, friends:
The seed corn of our sorrow
was allowed to germinate
bear tassels and kernels in its season;
the long harvest season stole our youth
and ground it into powder.
Let us accept this meal
in every cell strengthening.
Praise the table and praise the host
praise the merchant and praise the farmer
After that work we could not rest
for another meal was coming;
Our choices were death at the hands of familiar oppressors
or death in a wilderness of our own.
It is always too late
and as early as possible;
Build for us a home that is not slavery
even if it is not redemption.
Pour Out Your Anger
Midnight flashes with the full moon
pitching sunlight back to the planet
ricocheting through the atmosphere
like a drunk prophet on a willful mule.
This meal will not end
this night will go on and on
a vortex of history
proclaiming freedom, unimagined.
Pour out your anger
not like blood but like light
pour out the cry on the threshold
and step over the stair
The nations are floodlit
your small house glows
plants rise to moonlight
moist, willing themselves green.
Excerpts from Who Knows One by Debra Cash, Hand Over Hand Press 2010 (50 pages, paper, $7.95). Available fromwww.blurb.com. Used with permission of the author. All rights reserved.