The Jewish Traveler: Geneva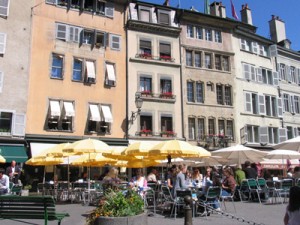 The Swiss canton, a hub of international organizations, banking and watchmaking, is home to a diverse Jewish community on the French border.
Geneva is the nerve center of the world. Home to the United Nations' European office and 22 international organizations, it is the meeting place of representatives from around the globe.
And what nicer place to meet than this city arrayed along the shores of Lake Leman, the largest lake in western Europe, surrounded by mountains and greened by parks that occupy one-fifth of its land.
This gateway to the Alps (on clear days Mont Blanc is in glorious view) is also a major center of banking and watchmaking—and Jews have played an important role in both. And despite Geneva's having once been the center of Calvinism—an austere Protestant denomination—restaurants, cafés and other places of entertainment have sprouted up in recent years, tempting visitors to enjoy a multitude of pleasures.
HISTORY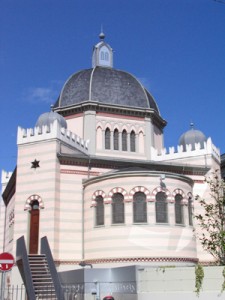 Jewish craftsmen and merchants may have settled in the Geneva area as early as the third or fourth century C.E., and others may have come after being expelled from France in 1182. The first written record, however, is from the 13th century.
At first, Jews were allowed to settle only outside the city, where they engaged in moneylending, moneychanging and medicine. In 1348, during the Black Plague, pogroms started after Jews were accused of poisoning the wells, and many were killed.
From 1428, Jews were permitted to live in the city but only in a separate quarter, where they were often attacked by non-Jews. In 1488, they were forbidden to practice medicine, and in 1490, all Jews were expelled from the country.
They were allowed back in the area around 1779, into the nearby town of Carouge, then under the jurisdiction of the Kingdom of Piedmont and Sardinia. By 1786, Carouge had 36 Jewish families.
Jews enjoyed a brief period of civic rights following the French Revolution and France's annexation of Geneva. But their situation deteriorated after 1815, when Geneva became a Swiss canton. They received civic rights only in 1841 and freedom of religious worship in 1843. Religious services were held in private homes until 1859, when the first synagogue was inaugurated.
Jews were involved in watchmaking, first in La Chaux-de-Fonds, about 85 miles northeast of Geneva, and only later in Carouge and in Geneva itself. Today, however, Raymond Weil is the only Jewish-owned watch company out of 68 in the city.
In modern times, when Geneva became the seat of the League of Nations and of many international agencies, it also became the home of international Jewish organizations. The World Jewish Congress, for example, was founded in Geneva in 1936. Also located in Geneva were the Committee for the Protection of the Rights of Jewish Minorities and the Permanent Agency of the Zionist Organization at the League of Nations.
During World War II, Switzerland admitted 22,000 Jews from Germany, Austria, Italy, Hungary, France, Belgium and Holland. Many of those admitted were then interned in forced-labor camps: Men cleared forests, repaired and built roads and worked in agriculture; women and children were sent to family camps where women were put to work mending, sewing and laundering military uniforms. Swiss authorities turned away at least another 25,000 refugees, many of them Jews—knowing what fate awaited them. Admittance was largely a matter of luck; families had a better chance than singles or childless couples. Swiss banks accepted gold looted by the Nazis and did not acknowledge or restore accounts that had belonged to Holocaust victims and survivors. In 1998, following court suits in the United States, the banks agreed to a $1.25-billion settlement of Nazi-era claims.
Immediately after the war, the Jewish population was 2,245; it rose to 2,700 in 1968 and to 4,356 in 2000. The University of Geneva, founded by theologian John Calvin, has a center of Jewish studies (011-41-22-347-9360; www.unige.ch/international).
COMMUNITY
Some 6,000 Jews live in the canton of Geneva, including the city proper and outlying areas, which has a total population of 420,000. Until the middle of the 20th century, the Jews were primarily Ashkenazim; today, the majority are Mizrahim, who began arriving after World War II, originally from countries such as Syria, Lebanon, Iraq and Egypt and, later, in 1960, from Tunisia, Morocco and Algeria. They live in the Champel, Malagnou and Florissant neighborhoods and also near Hekhal Haness Synagogue. The very wealthy live in Cologny.
Jews are engaged in banking, law, medicine and commerce. But this generally well-heeled community has been hit hard by the current global economic crisis. Macom, the community center, says its social services now have fewer donations and more people in need, including more than 300 old people who can no longer subsist on their pensions. For the first time, families with young children are seeking aid.
The community has six large congregations—five Orthodox and one Reform—plus some small independent prayer groups. It also has three day schools. The many Jewish organizations include Hadassah Switzerland (41-22-798-6788).
The United Nations office, international organizations and legations are mainly on the right bank of Lake Leman, but the sights of Jewish interest are primarily on the left. Start on the right bank at Gare de Cornavin, the main train station. This Art Deco structure completed in 1932 was designed by the Geneva-born Jewish architect Julien Flegenheimer, who also designed the Palace of the League of Nations, today the United Nations office in Geneva.
From the station, proceed down Rue des Alpes. The first side-street on your right is named for novelist Albert Cohen. As you cross the Mont Blanc Bridge to Geneva's left bank, catch a glimpse of the city's landmark attraction, Le Jet d'Eau, an audacious 459-foot-high fountain in the lake.
At the end of the bridge you will find the Jacob Safra Bank on Rue du Rhone, a popular commercial street with designer shops and about 100 banks. Turn right on Place de Longmalle and continue up Rue de la Fontaine to reach the Old Town, with its cobbled streets and narrow façades. At St. Peter's Cathedral note the austere Calvinist-inspired interior, but also the richly decorated Chapel of the Maccabees and a stained-glass window depicting Moses and the Tablets of the Law. Climb the north tower for exceptional views of the city.
Nearby is Maison Tavel, Geneva's oldest private home, built in the 14th century and today a museum with free admission. The single-tower house has a dark imitation-stone façade and is filled with period furnishings as well as works of art and 17th- and 18th-century crafts. Start in the attic, which has a model of Geneva in 1850 with its city wall.
Having explored the Old Town, from Maison Tavel turn right on Rue Henri Fazy and right again on Rue des Granges to reach Place du Grand Mezel, where the Jewish ghetto once existed.
Continue down Rue de la Cité, turn left on Rue du Stand and left again at Boulevard Georges Favon to reach Rue de la Synagogue and, just past it, Place de la Synagogue, in the heart of the financial district. This is the site of Beth Yaacov Synagogue, designed in 1857 by Jean-Henri Bachofen. Its Moorish-style exterior features gray and pink stripes, four crenellated turrets and a central dome topped by the Tablets of the Law. The interior is richly ornamented with geometric and floral patterns and has a staircase leading to a preacher's dais.
Beth Yaacov was originally called the Great Synagogue. The name was changed in 1997 to memorialize Jacob Safra. A new social hall, located below the sanctuary, is faced with Jerusalem stone (for tours and opening times, call 41-22-317-8900 or 41-22-736-9632).
From the synagogue, return to Boulevard Georges Favon and continue south, bearing right at Avenue du Mail to reach Rue des Vieux Grenadiers. The Patek Philippe Museum, at No. 7, offers a glimpse of the history of watchmaking in Geneva and its environs (41-22-807-0910; www.patekmuseum.com). The Calvinist ban on wearing jewelry forced goldsmiths and other jewelers to turn to a new craft, and by 1789, Geneva had a guild of 840 master craftsmen. But it was outside Geneva, in the villages La Chaux-de-Fonds and Le Locle, that a division of labor was introduced into watchmaking, speeding up production.
To get from the museum to Macom, the Jewish community center, continue south on Avenue du Mail and turn left on Boulevard du Pont d'Arve, bearing right on Boulevard des Tranchées and again on Route de Florissant. Turn right on Avenue Bertrand, then left on Avenue Dumas. Macom's sleek, gray stucco building with blue trim houses a sanctuary as well as the main Jewish library and Le Jardin kosher restaurant. The religious services and restaurant are open to tourists.
Macom provides social services and operates a nursery school and day school, an after-school Hebrew program and adult-education courses. It also has a program for the elderly that includes subsidized kosher meals (21 Avenue Dumas; 41-22-317-8900; www.comisra.ch).
Leave Macom and retrace your steps on Avenue Dumas and Avenue Bertrand, turning right on Route de Florissant. Turn left on Chemin Rieu and right on Route de Malagnou. Hekhal Haness Synagogue, founded by financier Nessim Gaon, is at 54 ter Route de Malagnou (41-22-736-9632). Set back from the street, this luxurious marble edifice built in 1970 has 1,200 seats and is the largest synagogue in Geneva. It is next to a Judaica shop called Librarie Menorah and is protected by gates; one entrance is through the gas station around the corner.
Retrace your steps on Route de Malagnou, turning right on Avenue Theodore Weber. Hidden behind a green gate at No. 12 is Beth Chabad, a modern concrete building with a sanctuary and a K to 12 school that teaches both secular and religious subjects.
Chabad runs a nursery school and mikve at another location and an innovative outreach program, which includes Purim carnivals, a Lag B'omer barbecue and a shofar factory for the High Holy Days (41-22-860-8613; www.habadgeneve.ch).
Continue on Weber and turn right on Rue de Chêne to reach the recently opened campus and community center of Geneva's only non-Orthodox congregation, Beit Gil (43 Route de Chêne; 41-22-732-32-45; www.gil.ch). The new sanctuary is faced with Jerusalem stone. Though the congregation is formally affiliated with the Reform movement, Rabbi François Garai describes it as "right-wing Reform, left-wing Conservative." It is also gay friendly. Of its 400 member families, 15 percent are English-speakers. Beit Gil has Judaic studies classes for grades K to 8 and for adults. It plans to publish a trilingual siddur, with prayers in Hebrew, French and English.
The old Jewish cemetery is in Carouge, a town separated from Geneva by the Arve River and formerly part of France. The cemetery, dating at least to 1780 and restored in 1996, is the sole remnant of Jewish life in Carouge. It is on Rue de la Fontanette, at the corner of Passage des Tireurs-de-Sable, opposite the Ducati garage. Many of its 720 tombstones bear Ashkenazic names. It is also the resting place of Jewish soldiers who fell during World War II and chevaliers of the Legion of Honor (41-79-202-3370).
An 1876 Swiss law banned denominational cemeteries in an attempt to preserve secular principles, so in the new Jewish cemetery in Veyrier, on the French border, the entrance is in Switzerland but the graves are in France. Here are the graves of writer Albert Cohen, banker Edmond Safra and Stefan Lux, a Jewish Czech journalist, actor and film director who, in 1936, committed suicide in the General Assembly room of the League of Nations to alert the world to the perils of German anti-Semitism. A large rough-hewn stone just inside the entrance to the cemetery memorializes the victims of the Holocaust.
The Art Deco chapel was designed by Julien Flegenheimer and has three identical arched entrances. The chapel's stained-glass window, by Zurich artist Regine Heim, incorporates a rainbow (16 Chemin de l'Arvaz, Veyrier—turn left down a narrow lane at the BP gas station; 41-22-784-1605). Two Jewish schools are nearby on Route de Veyrier.
OTHER
Whatever else you do in Geneva, don't miss the Martin Bodmer Foundation Library and Museum. It's worth a visit just for its gardens and the view of the lake and the swank Cologny neighborhood. The museum itself, housed in a beautiful underground structure designed by Mario Botta, is a repository of extremely rare texts and works of art with a literary connection. The five collections represented are the Bible, Homer, Dante and the medieval tradition, Shakespeare and the New Era , and Goethe (the special interest of collector and museum founder Martin Bodmer). Among the exhibits are Rembrandt's painting The Benediction of Isaac; a 15th-century tapestry of Esther in front of Ahasuerus; a Gutenberg Bible (1452-1454), one of 30 in the world; and an original edition of the Zohar (1558–1560). Tours should be arranged in advance (19-21 Route du Guignard, 41-22-707-4433; www.fondationbodmer.org).
PERSONALITIES
Noted composer, musical director and amateur photographer Ernest Bloch (1880-1959) was born in Geneva. Pianist Arthur Rubinstein (1887-1982) died there, though his ashes are buried in Jerusalem.
Geneva-born French poet and playwright Edmond Fleg (1874-1963) is perhaps best known for his 1929 essay, "Why I Am a Jew," an analysis of a young agnostic's return to Judaism.
In 1956, Beirut-based Jacob Safra and his son Edmond (1932-1999) made Geneva the headquarters of their banking empire. Edmond became a billionaire and a major philanthropist. His projects include École Girsa, Geneva's first and largest Jewish school. He died in a fire attributed to arson.
Kiev-born Zino Davidoff (1906-1994) opened a cigar department in his father's Geneva tobacco shop and turned it into a successful business. Some say he invented the first desktop cigar humidor. Though he sold the business in 1970, the Davidoff brand lives on in 50 shops around the world. The Geneva store is at 2 Rue de Rive (41-22-310-90-41).
BOOKS, MOVIES
"I am a Genevese." So Frankenstein, creator of the monster, begins his tale. Much of the eponymous novel, which has been published many times, most recently by the Oxford University Press, is set in Geneva, where the author, Mary Shelley, stayed during the rainy summer of 1816 when she began writing it.
Albert Cohen's Belle du Seigneur (Viking), translated by David Coward, is set mainly in Geneva during the 1930s. For this work —the third novel in a four-part romantic epic—the French Academy awarded Cohen the Grand Prix and he was considered for the Nobel Prize.
Graham Greene's Dr Fischer of Geneva or the Bomb Party (Penguin) is a satire on capitalism and the corrupting power of greed, set in and around Geneva.
Frieda Forman's Jewish Refugees in Switzerland During the Holocaust: A Memoir of Childhood and History (Mitchell Valentine) includes important information about how Jewish refugees fared in this country during World War II.
Swiss writer and director Markus Imhoof's 1981 film The Boat Is Full portrays the plight of Jews who sought refuge in Switzerland during World War II. The movie was nominated for an Oscar for Best Foreign Language Film.
Amen (2002), a World War II-era film directed by Costa-Gavras, begins with the suicide of Stefan Lux in Geneva. It tells the story of Kurt Gerstein, a German scientist recruited by the SS, who develops Zyklon-B under the impression that it will be used to kill rats and lice. When he finds out what his invention is really intended for, he attempts to expose the Holocaust by informing the Catholic Church.
RECOMMENDATIONS
Even if you don't plan to ski, take the train to Brig and then switch to the cog railway that chugs up to Zermatt. In this all-year ski resort in the Pennine Alps you will see the mighty, pyramidal Matterhorn.
A one-hour cruise on Lake Leman highlights places of interest on both banks, including the Rothschild castle at Pregny. CGN cruises leave from Quai Mont Blanc, in front of Hotel de la Paix (www.cgn.ch).
Geneva is pricey, but visitors get some breaks. Hotel guests receive a free pass for public transportation, including the yellow shuttle boats that provide a poor-man's cruise. Free bicycles are available at five locations (www.geneveroule.ch), and bikers can refuel with affordable ice cream on the lakeshore. St. Peter's Cathedral hosts free organ and carillon concerts in summer.
Step inside the Confederation Center, a mall on Rue de la Confédération, and take the escalator up to the first floor. There you can have coffee while enjoying a view of medieval buildings.
Arlette Leitenberg (s.leitenberg@bluewin.ch) is a guide who is very knowledgeable about Geneva and its Jewish sights.
Hotel Auteuil (33 Rue de Lausanne; part of the Manotel chain www.manotel.com) is well located in the city center, just a short walk from the lake and a half-hour walk from Beth Yaacov. It offers comfortable rooms and an excellent buffet breakfast. For more moderate accommodations try Gaillard and Annemasse, French towns reachable by tram, just across the border. Those towns also have kosher food shops (for example, Orencash, 102 Rue de Genève, Gaillard; 011-33-450-92-6519).
Le Jardin offers kosher meals served in its restaurant or delivered to your hotel as well as a catering service (21 Avenue Dumas; 41-22-317-8910). The Kempinski and President hotels can cater events under kashrut supervision. Kosher food products are available at the Manor department store (6 Rue Cornavin; 41-22-909-4670).
Quai 55 is a chic new kosher meat and fish restaurant with chef Aviv Levy (28 Quai Gustave Ador; 41-22-840-5555;www.quai55.ch).
On a clear day, the mountains ringing Geneva come into full view.
Bike or stroll along the shore, visiting the botanical gardens and enjoying unforgettable lake views that combine old and new, villas and parks.