College of Contention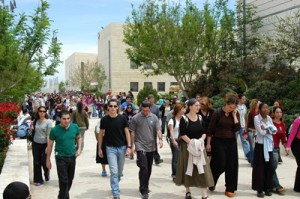 One of Israel's fastest-growing schools of higher education is situated in a West Bank city. How its future will play out remains to be seen.
Standing on the second-floor patio of the administration building at Ariel University Center of Samaria, the school's vice president for resource development, Eldad Halachmi, acts as tour guide as he points to the expansive view from the Samarian Hills. To the west, obscured by the haze, is the Tel Aviv skyline. To the north, beyond the minarets of the nearby Palestinian village of Jama'in, are settlements such as Har Brakha, where students rent houses because there is a shortage of lodging in Ariel, which is beyond the Green Line. And below is a jumble of corroded mobile homes students use as dormitories.
"You have here the largest caravan site in Israel; it's not something that we are proud of," Halachmi said and then pointed to a nearby road. "In the master plan, that street will be lined with dormitories…."
Halachmi is proud, however, of AUC's success. New dormitories are just one element of an ambitious vision for an upstart academic institution that in just 15 years has grown explosively from several hundred students to 11,000. Over the next decade, AUC hopes to almost double its enrollment to 20,000.
In some respects, the campus, which spills down a slope at the southeast end of Ariel, looks like any Israeli university: In between the modern school buildings with massive concrete façades are tree-lined grassy areas where students congregate between classes. Strolling about during a break from classes, students sport tattoos and tank tops and smoke cigarettes. The students hanging out on the commons at the engineering campus are relaxed and joking.
Beyond the campus, Ariel is a mostly secular settlement of 18,000 residents who came here to live in an affordable bedroom community. The fourth largest settlement in the West Bank, it spills over a succession of hilltops onto well-manicured streets. On display at the municipality are national awards for quality of urban life. The university is an important element in bringing income into the city. Thanks to the expanded trans-Samaria highway, the trip to Tel Aviv is about 30 minutes.
But the mobile homes are a telltale sight on any settlement. And the university is a classic example of settler "soft power," a popular concept in international relations that refers to the ability to wield influence and achieve goals through cooption and attraction rather than coercion. (China boosted its profile this way when it hosted the 2008 Summer Olympics in Beijing.)
AUC draws 85 percent of its student body from Israel proper. With its respected engineering, architecture, biochemistry, physics and design departments, the school draws students who might otherwise gravitate toward Tel Aviv. It also caters to those closed out of top universities. AUC likes to note that it has more Ethiopian students than any other Israeli school of higher education; it has also attracted Russian immigrant researchers to its staff.
Chancellor Yigal Cohen Or-Gad, a former Likud finance minister who helped found the university, described the school's two-pronged mission: to make higher education more accessible to Israel's middle and lower classes and reinforce the country's link to the area.
"[We want] to ensure our survival in the Land of Israel by strengthening our presence in Samaria and Judea," he said. "So, if we have a chance of combining those two targets in one institute, we will be happy."
At first, Ariel seemed far away to Jenny Moshkovitch, a criminology student from Netanya. "I had never been in the area, and I was certain it would take hours to travel to," she said. "Then I took a bus to the open house and it was 40 minutes."
Iddo David, an engineering student from nearby Rosh Ha'ayin, said that AUC is the only place in Israel where he could transition from vocational courses to classes toward an engineering degree without the entrance examinations required at other schools.
"Here you get a much more personal treatment," said David. "Based on what friends at other colleges tell me, here they actually know you."
To accommodate the school's growth, the master plan envisions the campus tripling in size, with clusters for different schools, a hotel and a high-tech park. The estimated investment is $150 to $200 million, but potential underwriters have been hit hard by the financial crisis.
But don't call it an expansion, because the mere mention of the words is enough to make Halachmi uneasy. Because of its location in the West Bank, controversy is inevitable. AUC grapples with a European boycott; last fall, AUC was one of 20 finalists in an environmental-architecture competition sponsored by Spain's housing ministry, but was disqualified because of its West Bank location. The campaign to discredit it was led by a pro-Palestinian group, Architects and Planners for Justice in Palestine.
Three years ago, AUC was threatened with sanctions by Israel's Council on Higher Education after it unilaterally changed its name to Ariel University Center of Samaria. "It tried to create a separate status for itself, a status that doesn't exist in Israel," said former Education Minister Yuli Tamir, since there is no such designation as "university center."
In January, the education ministry, now under Likud's Gideon Saar, again recognized the government's five-year-old decision to formally upgrade the status of Ariel from college to university, nevertheless the issue is still not completely resolved and there are other bureaucratic steps left.
Meanwhile, controversy due to the left-right divide remains: Knesset member Tzipi Hotoveli of Likud says that AUC deserves recognition due to its academic excellence, while Jamal Zahalka of the Arab Balad Party calls the decision "a violation of international law," for building on the West Bank, according to an article in Ha'aretz on January 20.
And what, eventually, will be the political fate of Ariel and the university? Architecture school head Beni Levy, a former faculty member at the Bezalel Academy of Arts and Design in Jerusalem, thinks Ariel will remain in Israel with zigzagging borders redrawn for a Palestinian state. Or-Gad doesn't anticipate Israel giving up territorial control but rather "functional" control to the Jordanians and home rule to the Palestinians.
But AUC is up against some potent political opposition: The Obama administration's tough line on building West Bank settlements leaves a question mark hovering over campus expansion. Ariel's size and location, about 11 miles east of the Green Line, will make it a problem for negotiators.
"In order to have a two-state solution, we are going to evacuate settlements," said Hagit Ofran, who monitors settlement growth for Peace Now in Israel, "and any development of institutions in the settlements is going to prevent that compromise."
The school also struggles with academic isolation. It must find private research funding because it is ineligible to apply for grants from foreign governments. And some foreign academic groups will not cooperate with it because of AUC's location in a settlement.
"It's a barrier, but we are accustomed to living with barriers," said Or-Gad. "Science doesn't have any limits, but [funding is] more difficult. You have to jump a higher hurdle. We collaborate with hundreds of top-rank researchers in the world."
Albert Pinchason, an émigré from the former Soviet Union who was a neurology researcher at Johnson & Johnson in the United States, now runs a laboratory in the biochemistry department at AUC looking for agents to block Alzheimer's disease. He is ineligible for a grant from funders such as the United States National Institutes of Health. "It's never been easy here," he said. "This is a challenge," but, he said, he is ideologically committed to building a university in territories he considers to rightly belong to Israel.
AUC is an enthusiastically nationalist institution. In a public relations film, the school is said to exist "For a better world, For a strong Israel." Israeli flags fly in every classroom, lecture hall and laboratory. Jewish heritage courses are prerequisites.
Ariel is a "Zionist university," said Halachmi, "and we are proud of it. [In contrast], the Hebrew [universities] and the Tel Aviv [universities} have opened themselves up to the New Historians and their post-Zionist…narratives," which shift more of the blame for the Arab-Israeli hostilities onto Israel.
Still, Ariel is a world apart from ideological settlements such as Kedumim. When asked about AUC having ties to settler leadership, Halachmi says the institution is independent.
One reason for the school's success, says Levy, may be that it is a "monastery for creativity." Its diverse student body and the school's remote location create a secluded academic community, he said. "It's like a Princeton, which was located in the woods." The politically incorrect location "gives good reasons to look at something differently, [to be] unconventional."
Regarding its quest to become a doctorate-granting university,  Halachmi says: "If we had to wait to decide that we're a research institute, we would have never been. We're moving ahead. We will cooperate with everyone. Eventually, they'll come around."