Medicine: Saving Lives and Livers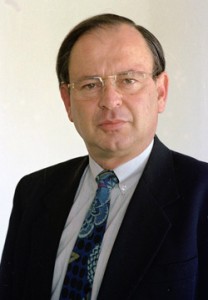 One in three people worldwide is infected with the hepatitis B virus at some point in his or her life. Most will successfully rout the virus from their bodies, but 350 million will not. They will become persistent carriers, with a vastly increased risk of developing liver cancer—making the hepatitis B virus, in terms of mortality, second only to smoking among the known causes of cancer.
In young people in Israel today, however, this risk scarcely exists. In the past 15 years, the incidence of hepatitis B infection has plummeted—a drop attributable, in great part, to the work of Dr. Daniel Shouval. Director of the liver unit at the Hadassah–Hebrew University Medical Center at Ein Kerem, Dr. Shouval considers himself "very fortunate to have had an impact on public health issues that will affect generations to come, both in Israel and globally."
It is Dr. Shouval, 67, who is largely responsible for putting Israel on the hepatology map. In 1983, he opened Israel's first liver unit. In the 27 years since, he has served as president of the European Association for the Study of the Liver and as associate editor of The Journal of Liver Transplantation andThe Journal of Hepatology. He remains a permanent adviser to the European Viral Hepatitis Prevention Board and the World Health Organization, and has won a series of national and international awards. This past April, he became the first Israeli ever to be honored with the EASL's Annual Recognition Award. In front of over 7,000 colleagues, who came together from all over the world in Copenhagen for its 44th annual conference, EASL Secretary-General Jean-Michel Pawlotzky lauded him for his "outstanding scientific contribution and continuous action in the field of liver diseases."
"[Danny Shouval] is a true global player," says friend and colleague Dr. Michael P. Manns, director of the Department of Gastroenterology, Hepatology and Endocrinology Hanover Medical School in Germany and a world expert in autoimmune liver disease. "He's helped establish hepatology as an important and distinguished academic discipline and decisively demonstrated the vast contribution of basic research in areas like cell and molecular biology, immunology and virology to the prevention, diagnosis and treatment of liver disease."
Despite more than 40 professional years behind him, Dr. Shouval, dark-haired, charismatic and youthful, acts like a man who is in midcareer. His interest in the biology of hepatitis viral infections and liver tumors and their immune response burns undiminished.
"One of my major goals is to develop a vaccine for hepatitis C, now the major cause of liver disease in Israel and other countries," he says. He fails to point out that this is because the vaccines he and his team created for hepatitis A and B have virtually wiped out these strains in countries with universal vaccination programs.
Another goal is promoting liver donation from live donors. "A common complication of liver disease is liver cancer," he says. "Even though we've all but eradicated hepatitis A and B in Israel's younger generation, we face an ever-increasing number of new liver cancers resulting from infection that occurred 20 to 40 years ago. There are new therapies for treating liver cancer, but these treatments must be followed by liver transplantation, otherwise the cancer returns. This imposes a huge burden on the pool of donors."
However, because the liver has exceptional capacity to regenerate, he explains, "we can take a lobe from the liver of a live donor and transplant it into the sick patient. Within months, both the lobe and the plundered liver will grow to full size."
A third goal, which Dr. Shouval actively pursues, is educating future generations of hepatologists. This branch of medicine, which incorporates studying and managing disorders of the liver, gallbladder and the biliary tree (the bile and bile ducts), is traditionally a subspecialty of gastroenterology, itself a subspecialty of internal medicine. This means that "to become a hepatologist, you first specialize in internal medicine, then in gastroenterology and only then in the liver," he says. "This makes liver specialization a 10- to 15-year undertaking."
It is Dr. Shouval who serves as a magnet for many aspiring Israeli hepatologists. Dedicated, meticulous, fervent and quietly compelling, he has attracted dozens of talented young Israeli physicians to the discipline and proved himself a highly successful scientific mentor.
"Hadassah was the first medical center in Israel to have full-time liver specialists, and many of the country's leading clinical and academic hepatologists began their careers in our unit," he says. "Most of those who trained with us have gone on to distinguish themselves, clinically and in research, winning multiple awards from the American Association for the Study of Liver Diseases and others."
Dr. Shouval was himself drawn to hepatology by charismatic senior physicians. One was Dr. Marcel Eliakim, his head of department when he was a young Hadassah resident in internal medicine. An internationally respected internist and an Israel Prize laureate in medicine, Dr. Eliakim was a medical leader of his generation. The second influence was Dame Sheila Shertock, the Irish-born physician who made her department at the Royal Free Hospital in London a focal point for trainees in hepatology from virtually every country. "I attended a British Council course led by Prof. Shertock in 1978 following my internal medicine board exams in Israel," says Dr. Shouval. "It was an enthralling introduction to the field of liver disease and set me on my path." Third was Dr. David Shafritz of the Albert Einstein College of Medicine in New York, who introduced Dr. Shouval to molecular hepatology.
That path has led not only into research and clinical care, but also into academe. Dr. Shouval served as dean of Hadassah's Faculty of Medicine from 2002 to 2005, and is currently a tenured professor at Hadassah and a visiting professor at Yeshiva University's Albert Einstein College of Medicine. He has held similar positions at the Harvard Medical School and Massachusetts General Hospital in Boston and the University of Paris.
The first in his family to specialize in the liver, he was far from its first doctor or the first to have close links with Hadassah. His Vienna-born father, Max Steigbuegel, qualified as a physician at the University of Heidelberg in Germany and practiced in Mannheim until 1932, when he immigrated to Mandate Palestine. From his arrival in prestate Israel until 1948, he volunteered as a physician at Hadassah—which was where his wife, Charlotte, gave birth to Daniel in 1942 in the original Hadassah Hospital on Mount Scopus. Born in Berlin, Charlotte was fluent in both German and English, and worked for Henrietta Szold as a translator from 1936 until Szold's death nine years later. "Much of her work was translating Youth Aliyah certificates for the children they were trying to get out of Germany," says Dr. Shouval.
Although the young Daniel grew up in Israel, there is much of the middle European about him. He is fluent in English and German and has a working knowledge of French and Arabic. He enjoys classical music and opera and reads world history for relaxation.
But it is medicine that characterizes the Shouval family. Dr. Shouval's wife, Rivka, directs Hadassah's pharmacy division, and both their sons have chosen careers in medicine—the elder, Dror, is a pediatrician and the younger, Roni, is in his final year of medical school. Dr. Shouval's brother and brother-in-law are also physicians.
Despite his links with American and European universities, Dr. Shouval's landmark research has been performed at Hadassah in the unit he created. (It has been cited in more than 200 published scientific papers and book chapters.) Equipped with a fellowship in cell biology, immunology and molecular biology from the Liver Research Center at Einstein and Massachusetts General, Dr. Shouval returned to Hadassah in the early 1980s, created the liver unit and embarked on research that culminated in 1992 with the introduction of universal vaccination against hepatitis B of newborn babies in Israel. One of the first 10 countries to initiate such a program, it is now practiced in 167 nations.
For those who failed to respond to this vaccine, Dr. Shouval and his team, with the Weizmann Institute of Science in Rehovot, developed an alternative hepatitis B vaccine, which is successfully used in Israel as well as in several East Asian and European countries.
By the end of the decade, the Shouval team had come up with a vaccine against hepatitis A. A program to vaccinate all Israeli children against hepatitis A at 18 months resulted in a 95-percent drop in its incidence among adults and children alike. Israel was the first nation anywhere to introduce such a program to its entire cohort of toddlers, which has now been replicated in several other countries.
"Danny Shouval is a true translational researcher," says Dr. Manns. "He integrates his research findings into preventive care and therapy," which makes him the best kind of scientist—one whose discoveries directly affect the health and well-being of hundreds of thousands of people.