Books: Can an atheist find love—and God?
FICTION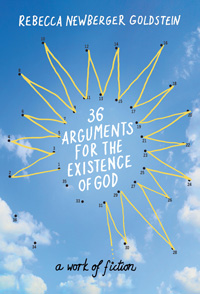 36 Arguments for the Existence of God: A Work of Fiction 
by Rebecca Newberger Goldstein. (Pantheon, 410 pp. $27.95)
36 Arguments for the Existence of God: A Work of Fiction sports a long, off-putting title and lots of difficult to read paragraphs about the latest academic fashions (game theory, the higher math and psychology of the brain), but it is also Rebecca Newberger Goldstein's most ambitious, and impressive, novel since her 1983 fictional debut The Mind-Body Problem (Penguin). It is also a realm where a character tells us "letting the imagination run wild is what fiction writers do. A piece of fiction doesn't make predictions the way a scientific theory does."
Those familiar with Goldstein's explorations into philosophy, mathematics and the sadly beautiful complications of academic life will immediately recognize her thumbprint on every page. But even readers who have not followed Goldstein's trail of satiric tears will enjoy the fireworks as her brainy characters take on the existential issues of our day: science on one side, God on the other; mathematics and game theory versus the vagaries of the human heart; and perhaps above all else, the perennial question of how a good person should live.
When protagonist Cass Seltzer's book, The Varieties of Religious Illusion, becomes a surprise best seller and Time magazine calls him an "atheist with a soul," everything in his old life is upended. He was a psychologist, atheist and pariah, pure and simple, but now he is no longer ignored by academic journals and graduate students.
Another academic might have enjoyed the new star status, but not Seltzer. Despite the amorous attention of Lucinda Mandelbaum, a beauty as well as the high priestess of game theory, Seltzer cannot quite shake what matters most: His search to understand religion—and the God he publicly denies.
Two people figure prominently in Seltzer's odd obsession. As a Harvard undergraduate, he had come under the sway of the charismatic Jonas Elijah Klapper, a literary scholar with a self-absorbed, often mean-spirited, messianic streak. Later, Seltzer visits an isolated Hasidic community and there he watches wide-eyed as Azarya Sheiner, the Rebbe's 6-year-old son, discovers prime numbers.
Goldstein's book brims over with name-dropping, elaborate academic puns and insider information. Fortunately, ordinary readers do not have to race for the aspirin bottle whenever her characters rattle on about the higher math or set out to prove (or disprove) that God exists. For all its intellectual brilliance (Goldstein teaches philosophy and is married to cutting-edge cognitive psychologist Steven Pinker), 36 Arguments is, at bottom, a love story—not only about how Seltzer finally realizes that he loves Mandelbaum but also about how an older Azarya Sheiner can, after his father's death, serve his Hasidic community by day and continue to study math long into the night.
No short review can do this extraordinary novel full justice, nor can I recommend it enthusiastically enough. But as Goldstein herself implies, I try because that is all any of us can do. —Sanford Pinsker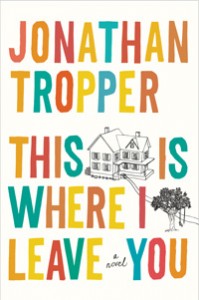 This Is Where I Leave You: A Novel 
by Jonathan Tropper. (Dutton, 339 pp. $25.95)
What more ironically appropriate occasion for the gathering of a dysfunctional family than sitting shiva. In This Is Where I Leave You, his fifth novel, Jonathan Tropper, with a fine selective eye for telling details and an ear as marvelously authentic as Philip Roth's, exploits the comic and tragic possibilities of the event, as the children of electrician-turned-sporting goods store owner Mort Foxman gather at the home of his widow, Hillary. She insists that despite her husband's known atheistic proclivities, he wanted his near, though not so dear, to mourn for him in the traditional Jewish way.
The story is narrated by the third of Mort's four flawed children, 34-year-old Judd Foxman, who just one week earlier, sneaking a lit birthday cake up the stairs for his beloved wife, Jen, discovered her in flagrante delicto with his boss, a shock-jock radio host whom she has been seeing for over a year. What Judd does with the flaming cake results in the loss of his job, home, wife and self-esteem. "I may not be old," he concludes, "but I'm too old to have this much nothing."
Sitting shiva, Judd finds no comfort in his siblings, though they all share an innate gift for mordant put-downs. He and older brother, Paul, "get along fine as long as we don't spend any time together." Sister Wendy, married to an obsessive hedge fund operator, has two mischievous young boys and a baby girl who cries nonstop. Younger brother Philip, handsome and charming, is an unregenerate screw-up, who shows up with his newest ladylove, his former therapist, 20 years his senior. Then, at the center of it all, is Mom, a successful parenting-book author—with her enhanced breasts, stiletto heels and well-intentioned psychobabble, as freewheeling as her husband was aloof. The family has not been together for at least a decade and now they must endure each other for a whole week.
The device of moving through the seven days proves ingenious, showing the Foxman boys straining against the restrictions of sitting shiva and against each other, even as they are continually drawn back to their low plastic stools. The result is an engaging tale that is at once laugh-out-loud hilarious and sardonically serious, a kind of Foxman's Complaint about the end of childhood affections and the failures of adult love. As for the title, This Is Where I Leave You—who is Judd addressing: his wife, other women in his life, his siblings, his parents, the reader? All have good claim. —Joan Baum
Grand River and Joy: A Novel 
by Susan Messer. (University of Michigan Press, 240 pp. $24)
It is the 1960s and Harry Levine believes that if he is an honest businessman and a decent human being, there is no reason he cannot continue to run his wholesale shoe business in inner-city Detroit—at Grand River, south of Joy—where Jewish stores are closing as incidents of black vandalism increase. The city's middle-class Jews are escaping to the suburbs, and it seems that Harry and his wife, Ruth, might be the last holdouts.
Susan Messer empathetically describes the struggle against the coming catastrophe—race riots. In an awkward and moving yet humorous episode, she explores the difficulty of blacks and whites, even the most well-meaning, to speak honestly to each other. On a frigid night, Harry has driven to his store to repair a broken boiler and ends up spending the night in the basement with his black superintendent, who lives in the building with his son—a pot-smoking Black Panther supporter. Drinking and sweating, they cross employer-employee boundaries to speak directly about their children, about rights and wrongs, about black and white.
Messer's characters—some of them you'd like to meet, others you hope you never do—possess both irritating quirks and noble qualities. This fine book is a reminder of confusing, painful times and their consequences. —Susan Adler
NONFICTION
I.B. Singer: A Life 
by Florence Noiville. Translated from the French by Catherine Temerson. (Northwestern University Press, 192 pp. $23)
In this splendid volume, Florence Noiville offers a succinct, objective biography of Isaac B. Singer (1904-1991), written with detail and flair. Besides drawing on Singer's own autobiographies, his son Israel Singer Zamir's memoir, published interviews and other books by people who knew Singer, Noiville also records impressions of Singer from professionals in the publishing field who were both enchanted by the great Yiddish writer and puzzled by his enigmatic persona.
Noiville went back to Poland to get the feel of the little town, Leoncin, where Singer was born—and discovered total apathy to him there. Even the street sign of a tiny dead-end lane named after him was defaced with anti-Semitic grafitti.
Singer grew up in a poor rabbinic household in Warsaw, where his boundless curiosity was nurtured by eavesdropping on the Jews who came to his father's study for judgment on marital or financial disputes. Early on, he asked existential questions and shaped his attitude to God and women. He quarreled constantly with the former (his "private war with the Almighty") and adored the latter well into old age.
Singer's success in America, with stories in The New Yorker, Playboy and other well-paying magazines, stemmed from Saul Bellow's translation from Yiddish in 1953 of "Gimpl the Fool."
Published in the prestigious Partisan Review, it was the first and only instance of one future Nobel Prize winner translating another.
Singer's dealings with Bellow are emblematic of his contradictory, even mean-spirited nature. That Singer never thanked him for his initial success infuriated Bellow. And more, Singer decided never to let Bellow translate again lest the fame of the translator overshadow the author's.
In favor with gentile America, Singer was out of favor in his own literary backyard. At the Forverts, the Yiddish daily where most of his novels were serialized, few people liked him. They felt he had betrayed Jewish culture by pandering to the goyim. To them, being a Yiddish writer meant being poor and unknown. To be famous was inexcusable and scandalous.
Singer, a confirmed vegetarian because of man's cruelty to animals, is the same man who, in 1935, on leaving Warsaw for America, promised his girlfriend, Ronya, the mother of his 5-year-old son, Israel, that he would soon send for them. Singer never contacted them again and never replied to Ronya's pleas for money. In Poland, he hadn't seen his mother and younger brother for 10 years before he left, and in America he never wrote to them either. They starved to death deep in Russia during World War II. Israel Singer Zamir visited his father in New York in 1955, but the reunion, both men report in different accounts, was awkward.
But Singer had a different kind of devotion: to his language. At the Nobel ceremonies—in the presence of the king of Sweden and other dignitaries—Singer boldly read the first part of his speech in Yiddish, the opening lines of which were published on page one of The New York Times—the only time in its history that the Times used Yiddish/Hebrew orthography.
I.B. Singer: A Life, beautifully translated by Catherine Temerson, is a cogent and sparkling introduction to the man and the writer. —Curt Leviant
Curt Leviant translated Isaac B. Singer's posthumous memoir, More Stories From My Father's Court (Farrar, Straus and Giroux).
TRADITIONAL AND ZIONIST
Israel in Our Prayers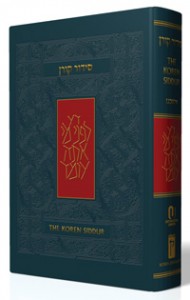 The Koren Siddur Commentary 
by Jonathan Sacks. (Koren Publishers, 1,244 pp. $31.95)
What must a new Jewish prayer book offer to be a standout? For one thing, it must renew inspiration and add meaning to the familiar. The new Koren Siddur has a beautiful layout and calligraphic type, though having the English translation on the right page and the Hebrew on the left takes getting used to (much like driving in England). Jonathan Sacks's erudite commentary is refreshing; the Orthodox chief rabbi of the United Hebrew Congregations of the British Commonwealth utilizes science (i.e., explaining Benoit Mandelbrot's concept of fractals) and poetry (William Blake: "Hold Infinity in the palm of your hand and Eternity in an hour") to clarify how the first of the "request" prayers in the daily Amida is a fractal that replicates in miniature the structure of the Amida as a whole (praise-request-thanks).
The siddur, published in collaboration with the Orthodox Union, offers a nod to feminism with the morning prayer Modeh Ani, written also in the feminine, Modah Ani. There are prayers for women after childbirth and for a zeved habat, a girl baby naming.
But perhaps most important for daveners who are both traditional and Zionist is the inclusion of several prayers that keep the Jewish country in their thoughts and hearts: These include the Prayer for the State of Israel, prayers for Yom Hazikaron (Israel's Memorial Day) and prayers for fallen Israeli soldiers.
Yom Ha'atzma'ut, Israel's Independence Day, is treated as a true holiday, with special prayers and rituals for the entire day. Writes Sacks, "Only in Israel can a Jew speak a Jewish language…walk where our ancestors walked and continue the story they began. Only in Israel have Jews been able to live as a nation shaping its own destiny, constructing a society according to its own principles…." —Zelda Shluker
Top Ten Jewish Best Sellers
FICTION
1. Sarah's Key by Tatiana de Rosnay. (St. Martin's Griffin, $13.95, paper)
2. City of Thieves by David Benioff. (Plume, $15, paper)
3. People of the Book by Geraldine Brooks. (Penguin, $15, paper)
4. Day After Night: A Novel by Anita Diament. (Scribner, $27)
5. The Defector by Daniel Silva. (Putnam, $26.95)
NONFICTION
1. Have a Little Faith: A True Story by Mitch Albom. (Hyperion, $23.99)
2. Start-Up Nation: The Story of Israel's Economic Miracle by Dan Senor and Saul Singer. (Twelve, $26.99)
3. Night by Elie Wiesel. (Hill & Wang, $9.95, paper)
4. The Zookeeper's Wife: A Story by Diane Ackerman. (Norton, $14.95, paper)
5. Anne Frank Remembered: The Story of the Woman Who Helped to Hide the Frank Family by Miep Gies and Alison Leslie Gold. (Simon & Schuster, $14, paper)
Courtesy of www.MyJewishBooks.com.