Defining Moments
Hadassah can be measured in thousands (members), millions (lives touched), even billions (dollars raised and spent on its projects since 1912). Its success can also be expressed in the way it treats and educates people or builds its grassroots movement—one by one by one. Perhaps the best way to explain Hadassah is through its universe of stories. Following are events and tales that cannot be expressed in numbers.
Titanic 
In February 1912, the same month Hadassah was founded, Isidor and Nathan Straus, owners of Macy's, sailed to Europe. Nathan traveled on to Palestine, but Isidor and his wife, Ida, booked passage to return to New York on the Titanic. Both refused seats on lifeboats, and they perished together. When Nathan returned to the United States, he declared that—inspired by the examples of his brother and sister-in-law—he would retire from business and devote his energies to philanthropy, focusing on public health and Palestine. Straus knew of Henrietta Szold's ideas on practical Zionism, and in December 1912, made her an offer: If Hadassah could find a nurse and raise $2,500—covering two-years salary—he would pay the nurse's travel expenses and fund a clinic in Jerusalem for two years. The catch? The money had to be raised and the nurse ready to travel when Straus sailed on January 18, 1913. At the time, Hadassah had $283 in its treasury. On January 18, he left with not one but two Hadassah nurses—Rachel Kaplan and Rose Landy. Hadassah's mission, which eventually built the medical infrastructure of the future State of Israel, had begun.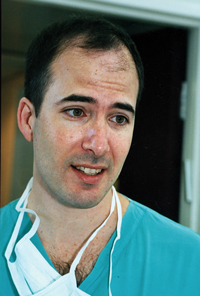 One Patient
Israeli troops were sent to capture a Hamas leader, but before he was stopped, he pumped a bullet into one soldier's neck. Blood gushing from his ruptured vertebral artery, the wounded soldier was rushed to Hadassah Hospital. With only minutes to act, neurosurgeon José Cohen (right) improvised. He inserted an endovascular coil he helped develop but had used only in slow-bleeding stroke victims into the young man's femoral artery, guiding it to the vessel in his neck. It took 16 coils to stop the bleeding. A few months later, the soldier returned to the hospital—this time to be with his wife and cradle his newborn in his arms.
Good Reception
On February 19, 1934, the first organized group of Youth Aliyah children—refugees from Nazi Germany—walked down the gangplank of the S.S. Martha Washington, docked at Haifa harbor (opposite page). There to meet them in pouring rain was 73-year-old Henrietta Szold, who greeted each of them by name. She accompanied them to Kibbutz Ein Harod, the first Youth Aliyah center, and spent that first day with them. Until the end of her life, Szold would meet every group of arrivals (33,000 youngsters were saved during this period). Her reception stamped the program with familial warmth that permeates Hadassah's work with at-risk children to this day.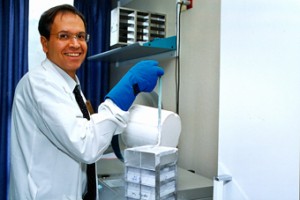 Research Front…
Futuristic therapies based on stem cells and genes are almost here, with Hadassah prominent among those bringing them to reality. Key advances in stem cell therapy to replace malfunctioning cells with healthy ones created from flexible young stem cells can be traced to Hadassah's Dr. Benjamin Reubinoff (right). After developing an all-important embryonic stem cell line, Hadassah's scientists became the first to derive primitive brain cells from embryonic stem cells and have demonstrated that they slow the pace of Parkinson's disease. More refined versions of early neural cells will, they believe, produce a cure not only for Parkinson's but for other neurodegenerative diseases, from Alzheimer's to amyotrophic lateral sclerosis and multiple sclerosis.
…Advocacy Front
Not satisfied waiting for things to happen in Washington to advance stem cell research, Hadassah members picked up their cellphones and dialed the White House to make their voices heard (opposite page, center). In one day, at the 2004 national convention, over 1,000 women called President George W. Bush to insist stem cell research not be curtailed. Furthermore, Hadassah's first fund-
raising initiative by young women for stem cell research reached its $1-million goal a year ahead of target. The campaign was $25,000 short of its mark, when several young women collected the difference in pledges during the first 20 minutes of the 2007 convention banquet. Hadassah's decade of advocacy did not go unnoticed: Last year, Hadassah representatives were invited to witness President Obama signing an executive order reversing a federal ban on human embryonic stem cell research.
It Takes a Nurse 
In 1994, four nurses from the Hadassah Nurses' Council visited war-torn Bosnia on a fact-finding mission. On their return, the council launched a grassroots effort, securing donations of medical supplies from private physicians, medical facilities and pharmaceutical distributors. The campaign collected more than 33 tons of medical supplies and warm clothing, valued at $3.5 million. In February 1995, the supplies were airlifted to Sarajevo by the United States government and accepted by La Benevolencija, the local Jewish aid society, for distribution. It was the single largest shipment of medical supplies and humanitarian relief items to Bosnia (above) from a nongovernmental organization.
Grand Central
Spring 2006: The reporter arrived at Hadassah-Neurim, the Youth Aliyah village just outside Netanya, expecting to find a feel-good story about at-risk teenagers in a nurturing environment. He found that—and more. He discovered that one of Israel's leading sculptors, Itzik Benshalom, has his studio in the village, and students assist and learn in the studio and in the adjacent foundry, which produces works by many artists. The reporter also discovered that the village's running track is one of Israel's Olympic training sites and that several of the Russian and Ethiopian residents of Neurim are on the national team. Just beyond the track, he saw a mountain of debris that turned out to be educational rubble, used by the Israeli Army and police for rescue training. In addition to their supportive environment, the kids at Hadassah-Neurim seem to be in the center of the universe.
Ahead of The Curve
The math is easy: 20 research grants were awarded by Israel's national Science Foundation last year; of those, 12 went to researchers at Hadassah– Hebrew University Medical Center at  Ein Kerem. Hadassah received more government support than all of Israel's other hospitals combined, a reasonable bias since its researchers produce about half the medical research of all Israeli hospitals. They also publish some 300 academic papers annually, almost twice as many as any other Israeli hospital and 10 times more than the output of most. And Hadassah's intellectual property, commercialized by its technology-transfer arm, Hadasit, underpins a mounting number of biotechnology companies floated on the Tel Aviv Stock Exchange.
Taking Panes
What put Hadassah on the world cultural and tourist map? The Chagall windows in the hospital's Abbell Synagogue. In 1959, Hadassah's national board approved $100,000 for stained-glass windows, a figure based on what a New Jersey firm said it would charge if it used its staff artist. Then-Hadassah national president Miriam Freund-Rosenthal (top right, sitting next to Vava Chagall, Marc Chagall's wife; the artist is at far left) wondered how she could persuade Chagall to work for that sum. Fortunately, she first spoke to his wife, who remarked that most of the world had sought her husband's work but not the Jewish world. When Freund-Rosenthal finally spoke with Chagall, she said, "I come not only on behalf of Hadassah, but on behalf of the Jewish people. This is your opportunity to create something that will live for the ages and will be an indissoluble bond between you and the Jewish people." Chagall agreed and created the 12 windows symbolizing the sons of Jacob. They were dedicated in February 1962.
Caravan
Just weeks after the levees broke in New Orleans and Hurricane Katrina devastated huge swaths of the Gulf Coast in the fall of 2005, Young Judaeans mobilized in an unprecedented campaign dubbed Caravan4Katrina. For 10 days in November, staff members drove four 24-foot trucks 6,000 miles across the Eastern United States, stopping in more than 20 cities. At each stop, local Judaeans and their families gathered to pack donations of food, blankets, toys and other necessities (above). The trucks delivered over 800 boxes of supplies to grateful evacuees in Jackson, Mississippi. Two years later, in 2008, 56 high school students headed to New Orleans to volunteer for Young Judaea's Alternative Winter Break program. They focused on urban revitalization, animal rescue and environmental awareness. Young Judaeans don't only learn about tikkun olam—they live it.
Himalayan Homeland
As the boat carrying illegal Jewish immigrants pulled up to the dock, the refugees were helped ashore by unlikely greeters—two Tibetan educators. The scene was not 1947 Palestine, but 1992 Camp Young Judaea Sprout Lake, New York. For the "illegals," the reenactment was part of their "Israel Day" observance, but for the Tibetans it was more than a game. Tenzin Sangpo and Phuntsok Namgyal, principals of Tibetan schools in India, were touring Jewish camps in the United States to learn how to preserve a culture in exile. They were on a mission from the Dalai Lama, spiritual leader of Tibetan Buddhism, to study Jewish survival. "You are fortunate to have a country to go back to whenever you want to," Sangpo told the youngsters. "We had to run away from our country and many of your activities have a lot of emotional…significance for us." One of the things that impressed the visitors was seeing how even casual play connected to Jewish culture. Young Judaea's reputation for fostering cultural continuity reached the roof of the world.
Hospital Corners
On April 13, 1948, three weeks before Israel became a nation, a 10-vehicle convoy left central Jerusalem for the two-mile ride to Hadassah Hospital on Mount Scopus. Ambushed and helpless through seven hours of gunfire, 78 doctors, nurses, patients and students were murdered. The nine-year-old hospital was isolated in Jordanian-held territory, even as Hadassah searched for places to treat the survivors and the 300 sick and injured already in its care. Its 700 staff and patients were evacuated and the up-to-date building stood empty for the next 19 years. Storefronts, libraries, factories, office buildings, a convent and even a private apartment became temporary premises. Nurses knelt on stone floors to change bandages. Shelves that once stored potatoes became emergency beds. Improvisation remained the watchword until June 6, 1961, when the new campus at Ein Kerem (above, at its groundbreaking ceremony) opened to receive patients.
Bridge to Peace…
Reaching across boundaries to treat the sick is a Hadassah hallmark. But sometimes violent hostilities complicate the delivery of care. In March 2002, at the height of the second intifada, 10-day-old Mustafa was transferred to Hadassah from a hospital in Jenin; fighting raged as Israeli soldiers waved Mustafa through military checkpoints. In April 2002, with Israeli troops surrounding Yasser Arafat in his Ramallah compound, Israeli soldiers loaded 8-year-old Christine onto an armored vehicle and escorted her through the blockade so the breathless child's pacemaker could be checked at Hadassah. In May 2007, a Gaza baby born with a severe heart defect was rushed to Hadassah for lifesaving care. And throughout last year's Operation Cast Lead in Gaza, sick and injured Palestinians clamored for treatment at Hadassah, along with hundreds more, who had regularly made the trip to Jerusalem for ongoing treatments.
…Acting Like Neighbors
Dr. Azaria J.J.T. Rein (below), Hadassah's head of pediatric cardiology, provides Palestinian cardiologists with specialized training. Dr. Eitan Kerem, head of pediatrics at Mount Scopus, has made Hadassah's medical center godfather to a new neonatal intensive-care unit at a Palestinian hospital, training its neonatologists, making regular rounds and serving as emergency consultant. Dr. Eli Milgalter, head of pediatric-cardiac surgery at Hadassah, consults on a regular basis with clinics and hospitals in the West Bank and Gaza; his department trains Palestinian colleagues to spearhead future Palestinian pediatric heart-surgery services. These are just a few among dozens of programs run from Hadassah. They were all undertaken at the initiative of individual Hadassah physicians, who also do their own fund-raising. Many are subsidized by the medical center and, because of Palestinian sensitivity, most are run with zero publicity.
Giving of Oneself
Since 1912, Hadassah's national board has had innumerable meetings to discuss our hospitals' lifesaving work. But only once was a life saved at a meeting itself. It was in January 2004 that then-national president June Walker mentioned that board member Belle Simon, of New York, was on a waiting list for a kidney transplant. During a break in the meeting, Katie Edelstein, a board member from Seattle, approached Simon and said she would like to be her donor; the transplant took place four months later. Hadassah women don't just build institutions that save lives; sometimes, they do it themselves.
The Secet
Natan Sharansky (above) often reminisces about the first time he heard of Hadassah. While imprisoned in the former Soviet Union, he briefly shared a cell with a Communist Party official accused of a crime. The man told Sharansky there was an organization of Jewish women nefariously plotting to take over the Soviet Union by marrying top leaders. The man leaned close and whispered the name of this secret society—Hadassah. While his facts were off, even behind the Iron Curtain he revealed a deep truth: Hadassah is a force to be reckoned with.
From Nurture to Nature
Inna Zusman credits Hadassah Hospital doctors for saving her life when she was seriously wounded in a terror attack. Left paralyzed from the waist down, she continues to lead an active life with her fiancé, Baruch Massami, who is also confined to a wheelchair. But there was one Israeli pastime that Zusman and Massami could not enjoy: exploring the land. Now, thanks to Hadassah and its partnership with the Jewish National Fund, more parks and recreation areas are being made accessible to those in wheelchairs or who have trouble navigating uneven terrain. "When I can enjoy [the land], I can connect to it," noted Massami on a visit to the Yokne'am walking path last year.
Making Lemonade
During the worst period in the recent financial crisis, Hadassah leaders drew inspiration from what the organization had accomplished during the Great Depression. In 1934, Hadassah broke ground for its first hospital on Mount Scopus. It was also in 1934 that Hadassah took responsibility for Youth Aliyah, the program to rescue Jewish children from Germany and, later, Nazi-occupied Europe. In 1937, Hadassah began subsidizing Young Judaea, a decision that would lead, 30 years later, to Hadassah becoming the youth movement's sole sponsor. Practical Zionism proved to be a magnet: From 1932 to 1940, Hadassah's membership more than tripled. It emerged from the Depression stronger than ever.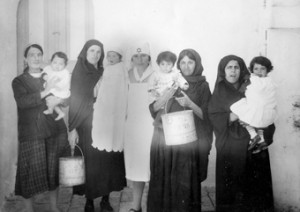 The Source
Tipat Halav (Drop of Milk) is Israel's countrywide well-baby clinic network, where children's development is monitored and expecting and new parents get advice. A revolutionary concept in 1921, when Hadassah nurse Bertha Landsman introduced it, the stations played a significant role in virtually eliminating the high infant mortality rate in the country. The name of the program is taken from the pasteurized milk that was distributed to children (above). Hadassah handed these clinics over to the government, which continues to run them.
Double Protection
The Genetic Information Nondiscrimination Act was doubly close to Hadassah's heart, both as a medical organization and a Jewish women's organization. It was scientists at the Hadassah Medical Cen- ter—working with the United States National Institutes of Health—who first discovered that BRCA1, a genetic mutation linked to breast cancer, was disproportionately found among Ashkenazic Jewish women. Follow up to this discovery, encouraging women to be tested for the gene or to volunteer for research studies, drove home to Hadassah the concerns many women have about disclosing their genetic information. Beginning in 1996, Hadassah tirelessly lobbied Congress to pass GINA, which prevents insurance companies from labeling a genetic predisposition as a dreaded "precondition" in denying coverage. And when it was signed into law in 2008, GINA's sponsor, Rep. Louise Slaughter (D-NY) publicly recognized Hadassah as a leader among the 200 organizations that supported the bill.
Home Away From Home
Fifty years after Youth Aliyah villages first served as sanctuaries, they are still providing asylum to thousands. During the Second Lebanon War, Ethiopian immigrant children under fire at the absorption center in Safed were brought to safety in Hadassah-Neurim Youth Aliyah village (above). After a rocket landed near his home, Jacob Suissa's family took refuge in Meir Shfeya Youth Village near Zikhron Yaakov. "It closes a life circle for us," said Suissa, who recalled how Hadassah's Youth Aliyah village had taken in his father and uncle when they were orphaned.
Hand Up
Tammara was a student at Hadassah College Jerusalem when she married. Soon after, her husband insisted she drop out of school. After giving birth to her second child, she left her abusive husband and escaped to her parents' home with her children. She struggled for four years in the rabbinical court before getting a divorce. Realizing she had to get on with her life, Tammara applied for readmission to HCJ and, because of both her ability and need, was accepted with a full scholarship. "The college gave me back my self-esteem when no one else would help me," Tammara said. "Now, I can get a good job and be independent. I idolize the women of Hadassah who made this possible."
School of Zionism
How did Hadassah grow from a study group? It is easy to conjecture that Hadassah's century-strong link between study and deed redounds to scholarly early leaders such as Henrietta Szold and poet Jesse E. Sampter. Sampter initiated a Zionist education program and correspondence course whose first offerings included a book on Zionism, at 75 cents a copy, and a biography of Theodor Herzl, in German ("English translation to follow"). The 1914 monthly Hadassah Bulletin informs members: "Any individual or group, paying 25 cents weekly, can receive, week by week, a copy of the syllabus, class papers, notes taken in discussion and bibliography." Since 1915, Hadassah has published books and study guides on everything from Jewish history and the Holocaust to Bible study, Hebrew literature and women's issues. In 1981, the National Jewish Education Department introduced the Hannah L. Goldberg Award to recognize the most outstanding study groups. Hadassah's educational thrust also found expression in 1997, with the establishment of the Hadassah-Brandeis Institute at Brandeis University in Waltham, Massachusetts, to support research of Jewish women's issues, and of the Hadassah Leadership Academy in 1998. If the study-action continuum remains as strong in the future as it has been in the past, there is no limit to what Hadassah can yet achieve.
Finding a Future
Danny's maternal grandparents brought him to Israel after his parents were murdered in the former Soviet Union. In Israel, they were living in a bad neighborhood and Danny was stabbed by hoodlums and nearly died. Social services directed him to Hadassah-Neurim Youth Village, where he signed up for the auto mechanics track. Village director Kobi Avital took Danny under his wing, pledging to help him with his studies as well as help his grandparents—Danny was cutting classes to work to support them. Last summer, Danny was one of 20 students who traveled to Germany to take a qualifying course as a master mechanic. "I want to pass so that my grandparents are proud of me," Danny said. For a final exam, he repaired a Mercedes in the alloted hour. After serving as a mechanic in the Army, Danny will qualify for jobs in this lucrative field.
Despite It All
The second intifada brought daily terror to Israel, and the American Embassy was advising tourists to avoid Jerusalem. But Hadassah had committed itself to hold its 2002 national convention in the city. "We never considered canceling," said Miki Schulman, convention cochair with Annette Meskin. "We were thrilled when 570 women showed up." On August 9, the last day of the gathering, during a break when most delegates went downtown to eat and shop, a bomber blew himself up in the Sbarro Pizza shop. When ambulances brought the most seriously injured to Hadassah Hospital, national president Bonnie Lipton was told, "None of your people was injured." Without missing a beat, she answered, "They're all our people." Said Schulman, "Until today, wherever I travel, I meet participants in that convention who are still proud that they were there, standing with Israel."
A Good Name
Most Jewish organizations have names that are descriptive, including words like "national," "Jewish," "conference" or "union." Hadassah was the Hebrew name of Queen Esther, and the organization's founding meeting was held a week before Purim. Hadassah's name is suffused with meaning, encompassing the women who make up the organization and their unbroken link with tradition. A group of American Jewish women who set out to rescue Jews in Palestine from poverty and poor health and rescue themselves from powerlessness became leaders in the building of Israel. Today, no name in the Jewish organizational world is so iconic, or so classy.
Firsts
Since it opened in 1961, the Hadassah Medical Center has pioneered medical innovation in Israel and in the world. It was home to:
The first computer-assisted complete hip-replacement procedure in 2004.
The first laser for clinical use in in vitro fertilization treatments.
The first method of monitoring fetus movement.
The first successful double-bypass surgery in Israel, in 1964.
The first successful kidney transplantation in Israel.
The first successful bone marrow transplantation in Israel, in 1977.
The first successful IVF treatment in Israel, in 1983.
The first successful heart transplant, and the first heart and lung transplant.
The first successful liver transplant in Israel, in 1992.
The first successful pregnancy for a woman with no ovaries.
Hadassah is also home to Israels first level-1 trauma unit and was the first in Israel to use robotic surgery for laparoscopic procedures.