Cut & Post
Only in America
Hadassah's founder, Henrietta Szold, is one of 18 distinguished Americans who will be featured in the National Museum of American Jewish History's Only in America®Gallery/ Hall of Fame. Szold was chosen from among a list of 218 possible candidates; over 209,000 votes were cast in an online poll last summer at www.nmajh.org.
The hall will be a main component of the core exhibition when the Philadelphia museum opens in November 2010. Joining Szold in the gallery are the likes of Irving Berlin, Louis Brandeis, Albert Einstein, Sandy Koufax, Estée Lauder, Golda Meir, Jonas Salk and Steven Spielberg.
"The 18 finalists represent a consensus between the public vote and the museum's historians and curatorial staff," said Michael Rosenzweig, museum president and chief executive officer. "We wanted the public's input on who should be recognized for their accomplishments…and they made excellent choices." —Rachel Schwartzberg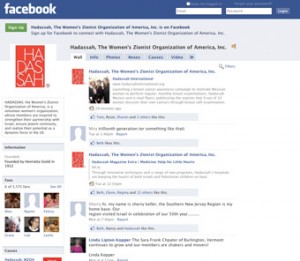 A Page of Our Own
Are you a fan of Hadassah yet?
Visit our Facebook page at www.facebook.com/hadassah.organd find out why Beth Hertzig Shifrin has "Yet one MORE reason why I LOVE HADASSAH!!!!!"
Since it started on November 1, 2009, Hadassah's Facebook page has collected over 100 new fans every week; its numbers rank it among the top 19 percent of Facebook fan pages. Hundreds of people visit the page daily to read updates, watch videos and podcasts, see the Sarah Wetsman Davidson Tower rise on the medical center's Jerusalem campus, look at photos and find out what Hadassah members around the country are saying. —Yvonne Barr
Visionary Breakthrough
Researchers at the Hadassah–Hebrew University Medical Center at Ein Kerem have shown that human embryonic stem cells can be used to stop the progress of retinal degeneration in animals.
The team—led by Dr. Benjamin Reubinoff, director of the Hadassah Human Embryonic Stem Cell Research Center, and Dr. Eyal Banin, director of the Hadassah Center for Retinal and Macular Degeneration—published its findings in the October issue of the journal Cell Stem Cell.
The researchers transplanted pigment-containing visual cells derived from stem cells into animals.
"Our findings are an important step towards the potential future use of human embryonic stem cells to support and replenish failing [retinal pigment epithelium] cells in diseases that result in blindness," Dr. Banin stated. The research is now moving forward to clinical trials; experimental treatment will not be available to patients for another two to three years. —R.S.
Swelling the Ranks
Editorials may debate the effectiveness of last year's government economic stimulus package, but no one can argue the smashing success of Hadassah's own version of a stimulus package. Over 11,500 people took advantage of Hadassah's rolled-back membership dues between September and December, including new, renewed and upgraded members.
The state with the highest number of participants was Florida, followed by New York, and many supporters used the opportunity to gift membership to friends and family. "I'm so happy that Hadassah made this offer," Sandy posted on Hadassah's Facebook page. "I have made my two granddaughters life members. We are now four generations of life members in Hadassah." —Y.B.