Generations: Still Nursing After All These Years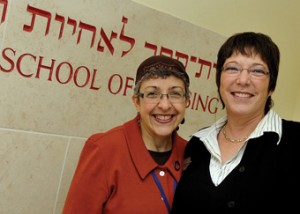 Passing on their knowledge to a new generation, two Hadassah nurses are changing the way Israel looks at the unsung heroes of the medical profession.
Nursing has spent decades shedding its image as a "woman's profession," but a compelling case can be made that, despite radical change, it is more firmly a woman's profession than ever (notwithstanding growing numbers of male nurses). It all depends on whether you view women as dutiful handmaidens or independent, accomplished multitaskers.
Miri Rom and Anna C. Woloski-Wruble dispel the former image on sight.
Both have doctorates in nursing, are motivated, determined and forward-thinking, and both are visibly empathetic and caring professionals. They are in the forefront of Israeli nursing, bearing the torch of pioneers Rose Kaplan and Rachel Landy, who launched Hadassah's medical enterprise in 1913, and Judith Steiner-Freud, who battled to emphasize the academic component of nursing in Israel 60 years later.
"Nursing equals care," says Woloski-Wruble. "There are no two ways to look at it. That's how it started and that's how it'll stay."
But, adds Rom, "while the nurse still holds hands, mops brows and gives medicine, her role today goes far beyond this." (Colleagues for over 20 years, she and Woloski-Wruble tend to finish each other's sentences.)
"And yes," Woloski-Wruble says, responding to a familiar charge. "A nurse, even if she doesn't teach or research, does need an academic degree to empty a bedpan because, in that bedpan, the educated nurse can identify stress, nutrition, the disease process and her patient's mobility."
Woloski-wruble, 51, exemplifies the advanced nurse clinician. She has a doctorate in nursing education and is a sexual health expert who chairs the undergraduate curriculum committee at Hadassah's Henrietta Szold–Hebrew University School of Nursing in Jerusalem. She also lectures and researches and is a mother of five, ages 9 to 22.
She is, in short, the type of nurse that Rom, 57, director and associate dean of the nursing school since 1997, aims to produce. "Health care has undergone a major transformation," explains Rom, a mother of three and grandmother of seven. "It has responded to a rush of new knowledge and costly technology, chronic illness morbidity, an aging population and new sophistication among patients. The role of the nurse has adapted accordingly. Today's nurse is part of a multidisciplinary health care team, responsible for coordinating patient care, managing complex services and contributing to accurate decision-making. She is recognized for her pivotal role, not least in being 24/7 at the bedside."
With these wider and more complex responsibilities, continues Rom, nursing practice must be evidence-based and rooted in the best available scientific research. A nurse needs advanced competencies in communication, critical thinking and decision-making, and she must take responsibility for continued learning.
Born at Hadassah Hospital to a Hadassah nurse, Rom never considered any other career. "I tried to enroll as a paramedic in the Israel Defense Forces, but instead they had me train young recruits," she says. "By the time I finished my service in 1973, I was married. Nurses then lived in dorms while in school, so I thought my nursing dream was dead and did the next best [thing]—a Bachelor of Science in biology at the Hebrew University."
By the time she graduated, the hebrew university of Jerusalem was offering Israel's first generic Bachelor of Nursing Science (B.S.N.), a four-year degree course introduced in 1975. Rom, who earned her B.S.N. after her B.S., was, in her words, "privileged to be a graduate of one of [Hebrew University's] first cohorts…its level of nursing education should be the gold standard for entry-level nursing."
Assigned to Hadassah's Department of Internal Medicine, the newly graduated Rom found it "incredibly challenging. There was an acute nursing shortage in Israel, and I was often the only academic nurse [a nurse with a minimum of a B.S.] on a floor of 30 patients. Even though I had more training than the [other] nurses there, I never felt I knew enough. My husband said: 'Learn more!' but there were no higher nursing studies in Israel at the time."
With her husband and two young sons, Rom went to Philadelphia, first for a Master's of Nursing (M.S.N.) at the University of Pennsylvania and later, as a Berman scholar for a doctorate in cardiac nursing, also at UPenn.
Muriel and Phillip Berman, Hadassah member and Associate, of Allentown, Pennsylvania, were friends of the nursing school and keenly aware of Israel's medical needs. They established a doctoral scholarship program for Hadas-sah nurses that would create a higher education faculty. Rom was the second Berman scholar: Sara Levi, who preceded her as Hadassah nursing school dean and today directs geriatric services for Israel's health ministry, was the first. Woloski-Wruble followed her as the third of eight Berman scholars to date.
For Rom, her time in the United States was an "eye-opener. [Such] models of practice and education didn't exist for nurses in Israel," she says. "I returned determined to give our nursing community the education and skills to upgrade our healing environment. At [Hadassah's] nursing school, I was lucky enough to find nursing leaders and colleagues who said, 'Let's do it!'"
The first challenge was to develop the school's academic profile. Nursing wasn't then considered an academic career, and the school had only three nurses with Ph.D.s.
"Miri planned for the long haul," says Woloski-Wruble. "A doctorate is just the beginning. An academic profile takes up to a decade—and great determination and stamina—to develop. Miri built a high-level cadre of researchers at the school, with credentials, visibility and self-worth."
Woloski-Wruble is a member of that cadre. She was born in Brooklyn to two Holocaust survivors and was "fed Zionism along with vitamins and borscht," she says. She made aliya in 1985, aged 27, with a master's in education from Columbia University in New York. Two years later, with a husband, a 13-month-old baby and seven months pregnant, she went back to the United States as a Berman scholar. "My parents were great," she recalls. "They'd drive the baby to the nursing school, and I'd run out to the car to [breastfeed] her."
Three key groups helped hadassah develop its nursing faculty: Hadassah and its then-president Marlene Post, herself a nurse; Hadassah Nurses' Council, created and led by Nancy Falchuk (also a nurse) and Muriel Berman; Anne Keane and Barbara Medoff-Cooper from University of Pennsylvania School of Nursing; and Barbara Heller and Barbara Resnick from the University of Maryland, who worked with Hadassah to create a state-of-the-art curriculum for a unique generic clinical master's.
Faculty members are now developing clinical nursing specialties to answer a variety of needs. Freda Dekeyeser-Ganz, for example, head of the nursing school's clinical master's program, pioneered the first generic master's degree in advanced clinical nursing practice.
Last June, the school's trailblazing vision was recognized by Israel's health ministry with the creation of nurse expert as a new professional category. Nurse experts choose an area of specialization, such as diabetes or breast cancer.
Woloski-Wruble is one of these nurse experts; her area of expertise is sexuality in medicine.
"[It is] a quintessential nursing topic, emphasizing the patient as a whole—in contrast to the medical model with its emphasis on the pathology of disease," she explains. "It addresses identity, self-esteem and couple dynamics, how you see yourself in society and the roles you take in your life as an individual or a couple, because how we feel about ourselves directly affects function and communication with a partner."
Woloski-Wruble's professional interest in sexuality began as a midwife in Jerusalem in the 1980s. "Women would come with contractions in midpregnancy. When I asked whether they'd had sex in the past 24 hours, my colleagues would say: 'You're so American!' and I realized questions about sexuality and its affect on health weren't being asked. For my doctoral thesis, I examined nurses' attitudes toward sexuality, which led to my present research agenda of family and dyadic adjustment, sexual functioning and intimacy."
Frank, friendly and a rabbi's wife, Woloski-Wruble slowly gained entry to diverse groups in Israel, secular and religious, including the ultra-Orthodox community, which rarely interfaced with the health care system in such areas.
"Soon after returning from the United States, some ultra-Orthodox women asked me for a sexual anatomy class," she says. "Our planned 90 minutes became a four-and-a-half-hour discussion as their questions poured out. Today, I lead workshops on sexuality and intimacy in a dozen Orthodox and ultra-Orthodox settings, for both men and women."
Woloski-Wruble also runs a sexual health practice at Hadassah's Russell and Patricia Fleischman Women's Health Care Center and general clinics at the Mount Scopus and Ein Kerem hospitals. These evolved from a menopause course at Hadassah–Mount Scopus, provided as a health education service by gynecologist Drorit Hochner and midwives Marian Leefsma and Varda Baron. Woloski-Wruble's sexuality component developed into half-day workshops, a hotline and Israel's first hospital nursing clinic on sexual health and intimacy.
It is, says Rom, a resounding example of what an academic nurse can bring to health care. The school's 12 Ph.D.s (the highest concentration in Israel) are investigating health inequalities, end-of-life issues, self-efficacy, pain treatment, symptom management, nursing history, health promotion and decision-making.
"Each is a burning research issue, with its agenda developed from zero by academics working alone," says Rom.
Rom and Woloski-Wruble are justifiably proud of the school's research record. "In the past five years, we've had more than 100 publications in top nursing and interdisciplinary peer-reviewed journals," says Rom. "Sixty research projects are under way and 28 papers in preparation, all by nurse–clinicians, who also have direct patient contact, heavy clinical and theoretical teaching loads in the nursing school, serve as academic advisers and on editorial boards, and who are active locally, nationally and internationally. They work very hard and I salute them all!"
Her own workload is exceptionally heavy, but its different areas feed one another, says Woloski-Wruble: "There's a perfect interface between my clinical practice and my research," she explains. "I draw topics from my practice, so my research is about what's happening in the Israeli population now, what they feel about their sexuality. My practice and research then feed into my teaching, offering real-time understanding of the issues."
Among these issues are the adjustment of couples in difficult situations (to a first baby, a preemie, a chronically ill child), the sexual functioning and dyadic adjustment of wives whose husbands undergo radical prostatectomy, and the sexual health and activity of menopausal women. Sexuality, once an elective at Hadassah's nursing school and Faculty of Medicine and School of Nursing, is being integrated into the academic curriculum.
The school's academic profile is being further developed through Hadassah's Nursing Research Center, created in 2007 at the unrelenting initiative of Rom. Chaired by Medoff-Cooper, director of the University of Penn-sylvania's Nursing School Center for Biobehavioral Research, it contributes to research funding, statistical support systems and opportunities for postdoctorates and visiting professorships.
As with much that has developed in Israeli nursing during the past decade-plus, "it wouldn't be happening without Miri," says Wolowski-Wruble. "She's the ultimate professional, with the patience of Job, enormous inner strength and determination, who never takes no for an anwer and refuses to get bogged down. She's [both] an idealist and a realist, who doesn't need much sleep, demands excellence of herself and insists on it from everyone else, too."
For Rom, her career is "a challenge and a privilege. I'm very grateful to the many people who've shared with me," she says. Both credit the help and support of their families, the Berman scholarship, nursing colleagues and Hadassah with their success.
"At the core of my being, I'm a nurse," Rom says. "It's what I've always wanted to be and it's who I am. I traded bedside nursing care for the care delivered by the school's hundreds of graduates through providing excellence in their schooling, and I'm fulfilled, both professionally and personally." —Wendy Elliman