Letter from Everywhere: Medical Light Unto Nations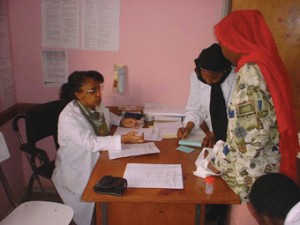 Dr. David Mankuta, head of labor and delivery in the Department of Obstetrics and Gynecology at Hadassah–Hebrew University Hospital at Ein Kerem, spent his month-long vacation last year in a remote village in East Congo in response to a call for volunteers to care for rape victims, many of whom had been forced to become sex slaves. The only OB/GYN for more than 10 million women, he saw patients ages 8 to 80.
"I knew that the women I could treat would only be a drop in the ocean of victims, but it was important for me to show we cared," he said. While he was there, he also taught local medical students to continue his work after he returned home to Israel.
Though East Congo is a long way from Jerusalem, Dr. Mankuta's journey is but one of countless examples of the far-reaching impact of Hadassah, the Women's Zionist Organization of America. Hadassah Medical Organization physicians and staff traveling to remote parts of the world to lend an experienced hand to underserved populations—both for routine medical care and in emergency situations, including tsunami relief in Sri Lanka and earthquake aid in Haiti and Turkey.
Also having a long-distance effect is Hadassah International, Hadassah's global arm, which has worked tirelessly to garner support for HMO and spread Hadassah's good name. In fact, HMO has become so well known worldwide for its humanitarian policies, that it was nominated for the Nobel Peace Prize five years ago.
Hadassah is a center of goodwill, where the benefits of medicine transcend politics and religion," said Dr. Shlomo Mor-Yosef, director-general of HMO. "We have a long history of outreach and international cooperation. For more than half a century, we have extended humanitarian aid to victims globally. The achievement of our objectives is dependent on…the medical center's generous supporters around the world."
"[Globally] Hadassah brings together people from different backgrounds, allowing them to see the world from a wider angle while bringing relief to communities and people in need," explained Susi Shaked, president of Ha-dassah Austria, part of Hadassah International.
Hadassah Hospital's first outreach beyond Israel's borders began in 1959, sending ophthalmologists to African countries to help eradicate eye diseases; more than 50 years later, this program is still going strong. Over the years, Hadassah ophthalmologists have been instrumental in opening eye clinics in Liberia, Tanzania, Malawi, Rwanda, Ethiopia, Lesotho, Swaziland and Kenya. More than 50 Hadassah ophthalmologists have spent time in Africa working on missions; in total, they have examined more than 750,000 patients and performed at least 150,000 operations—mostly cataract extractions—"bringing the highest level of patient care and medical training to the people of sub-Saharan Africa," according to Dr. Jacob Peer, head of the Department of Ophthalmology in Ein Kerem.
Another area in which hadassah has had a large impact globally has been in treating AIDS, particularly in Ethiopia. The Hadassah AIDS Center, in collaboration with the Ethiopian Health and Nutrition Research Institute and the American Centers for Disease Control and Prevention, conducted a treatment program at a hospital in Addis Ababa. A few years ago, Dr. Dan Engelhard, head of Hadassah's Department of Pediatrics, introduced an anti-HIV therapy at an Ethiopian orphanage, decreasing the mortality rate from AIDS among the children there from 25 percent to 1 percent. Also in conjunction with the CDC, Hadassah ran an advanced training course in Israel for Ethiopian doctors and nurses in 2008 and 2009.
"Our model is based on personal experience with the approximately 300 Ethiopian AIDS patients in Jerusalem under our care," noted Dr. Shlomo Maayan, director of the Hadassah AIDS Center.
Like many of his colleagues, Dr. Maayan does not view his team's work as extraordinary. "I'm fulfilling my duties as a Hadassah medical doctor," he explained. "The knowledge we gathered at Hadassah in the field of AIDS medicine stands to make a big difference in the lives of hundreds of thousands in Africa…."
As part of HMO's outreach, more than 28,000 people from 112 nations have traveled to Israel to receive training or taken courses at HMO in the past five decades—including doctors, dentists and medical personnel. The international master's in public health program at Hadassah–Hebrew University's Braun School of Public Health and Community Medicine has attracted students from around the world; most return to their home countries to do vital work in local public health systems.
"I chose the IMPH program because I felt that that training would best equip me to do what I really wanted to do: work directly with people and make a visible difference in their lives," explained Jordan Kyongo, a 2009 graduate of the program from Kenya. Kyongo, a microbiologist, hopes to use the expertise and skills he gained in Israel "to work with government programs or with NGOs that tackle control and prevention of communicable diseases, with a special interest in HIV/AIDS and malaria—both of which result in the deaths of many Kenyans every year."
At the helm of Hadassah's global outreach and its most noteworthy and far-reaching initiative is Hadassah International. The Hadassah International Medical Relief Association was created in 1983, at the request of past national president Bernice S. Tannenbaum. Over the past 27 years, it has grown into an extensive volunteer network of dedicated men and women in more than 30 countries.
"The birth of Hadassah International took Hadassah, a legendary organization of American Jewish women, on a bold and transformative journey," said Tannenbaum. "Hadassah International created the kind of outreach we had never dreamed of before, embracing men and women of different cultures and beliefs—people who would be stirred by the universality of science and the principle that advancements in medicine could transcend politics, religion and national boundaries."
True to its mission, Hadassah International and Young Hadassah International—for people ages 20 to 40—raise both critical funds for and awareness of Hadassah's lifesaving objectives. There are currently active groups in Italy, Austria, Australia, Canada, Cuba, France, Germany, Luxembourg, Mexico, the Netherlands, New Zealand, Panama, Switzerland, Gibraltar, Hong Kong and the United Kingdom.
"For me, Hadassah International is like a group of friends, all over the globe, united by a common goal," said Shaked.
Hadassah International has initiated creative and tremendously successful fund-raising projects. As just one example, in February 2008, Young Hadassah Holland hosted noted Muslim comedian Najib Amhali at the largest theater in Amsterdam—selling out all 1,700 tickets within three hours. The event raised over $90,000 for Hadassah's pediatric hemato-oncology department, and the audience—plus about one million viewers who tuned in to watch Amhali's interview about the show on Dutch national television—heard him describe HMO's important lifesaving work. Amhali performed free of charge.
From Vienna to Istanbul, Paris to Melbourne, Hadassah International has been instrumental in forging important connections between Hadassah's hospitals in Jerusalem and local hospitals and research facilities around the world, some general and some for specific projects. Thanks to Hadassah Austria, for example, the Department of Pediatrics at Hadassah–Hebrew University Medical Center and the University of Vienna Hospital launched a collaborative research project a few years ago, focusing on postnatal transmission of Hepatitis C.
Hadassah France facilitated a cooperative agreement between HMO and L'Assistance Publique-Hopitaux de Paris, in 1997. As a result, staff and researchers from both countries share knowledge in areas including palliative care, outpatient hospitalization and hospital administration.
"Each member acts as a messenger of peace through medicine and as an ambassador for Israel," explains French native Dr. Jacques Michel, a retired HMO physician. "Sharing our dreams leads to improved medical care, to diminished suffering and to new attitudes that will change the world for the better."
Adds Dr. Mor-Yosef, "Dedicated to building a better world through medicine, united in the belief that quality health care improves quality of life, [Hadassah International has] brought the global community to HMO and Hadassah's healers, teachers and scientists to places far beyond Israel's borders."
Sometimes, Hadassah's healers are called on to travel great distances at a moment's notice. Because of its worldwide reputation, HMO physicians are often involved in emergency relief. Sometimes they mobilize at the request of a foreign diplomatic mission or Israel's Ministry of Foreign Affairs, at the initiative of the HMO administration or even a single physician.
Mere hours after the tsunami hit Southeast Asia in December 2004, three senior Hadassah doctors were in the region, rolling up their sleeves to help. Drs. Engelhard; Yoel Donchin, head of critical care medicine and the patient safety unit in the Department of Anesthesiology; and Avi Rivkind, head of the Department of General Surgery and shock trauma unit, lent their expertise in assessing the needs of victims and local health authorities. Shortly thereafter, Dr. Esti Galili-Weisstub, director of Hadassah Hospital's pediatric and adolescent psychiatry unit, traveled to Sri Lanka to provide training and workshops for health care workers treating posttraumatic stress in the tsunami's aftermath. Her visit was so helpful that officials in Colombo, Sri Lanka, asked Israel to provide ongoing missions of mental health professionals to teach psychiatric courses, with an emphasis on pediatrics.
In Armenia in 1988 and northwestern Turkey in 1999, Israeli teams, including HMO doctors, set up field hospitals to treat earthquake victims until local health systems were back up and running. In Turkey, Hadassah dental forensic specialist, Dr. Zvi Schwartz, played an important role in identifying bodies with dental and maxillary remnants and records.
After the January 12th earthquake in Haiti, an Israeli rescue mission, including Hadassah doctors and a nurse, set up a field hospital in Port-au-Prince. Hadassah staff on hand included Dr. Taras Shirov from the orthopedics department, Dr. Shir Dar from the OB/GYN department, Dr. Revital Hivert from the department of prosthodontics and Reuven Gelfond, an operating room nurse from Mount Scopus.
HMO doctors and Hadassah International volunteers not only carry Hadassah's healing powers and its message far and wide, but they are ambassadors of peace, offering a glimpse of the values and achievements of the State of Israel and uniting an ever-expanding circle of supporters around a common cause.
Hadassah brings a message of hope to every person in every country it touches. "I know, rationally, that it is impossible to treat a heart torn by hatred, to find a cure for war or heal divided nations," said Dr. Rivkind. "But it is my deep belief that compassionate care by physicians, nurses and other health care providers can make this a better world. Everyone deserves to receive the medical care they need. Hadassah is there for all who enter our doors."
And for those who may never set foot on its Jerusalem campuses, Hadassah has shown, time and time again, that no location is too remote for its medical care to reach. H