Books: Luminous Lives of the Holocaust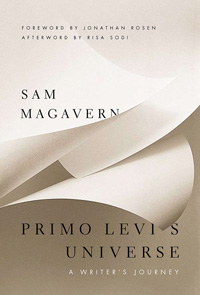 NONFICTION
Primo Levi's Universe:
A Writer's Journey 
by Sam Magavern. 
(Palgrave Macmillan,
240 pp. $24.95)
While suffering with fellow prisoners doomed to Auschwitz, Primo Levi—chemist, poet and Jew from an assimilated Italian family—looked at the "Lager" through his own special window. In turn, Sam Magavern, himself a poet and lawyer, looks through that window with almost uncanny empathy in his book Primo Levi's Universe. He unravels contradictions in the sometimes puzzling work of a sometimes puzzling man, or else leaves them in place as imprints of the atrocity of Auschwitz and of Levi's own complex personality.
Magavern calls the body of Levi's work, including Survival in Auschwitz, The Periodic Table, The Drowned and the Saved—all of it recounting his experiences in Auschwitz and the subsequent return to his home in Turin, Italy—one large bildungsroman, a novel about the development of a life.
"Making a man—himself—is in some sense Levi's lifelong project, both as a person and as a writer…," Magavern tells us, but notes, "he is constantly aware of the potential for hubris and naivete." Apart from its honesty and its spirit of sympathetic inquiry, one of the joys of this rich volume, a blend of biography and analysis, is the generosity with which Magavern embraces Levi's mind.
Almost daily mass killings occurred in the place that Levi called The Black Hole, but also individual humiliations that could destroy the spirit. The devastating story of the kapo who wiped his filthy hands on Levi's sleeve as if Levi were an inanimate object is related in Survival in Auschwitz. But, Magavern tells us, this act was experienced not by Levi but by another man. Has this altering diminished the accusing fact? No. It happened. Does it matter that Levi changed the victim's name from another's to his own? Not from Levi's point of view. Magavern says the fiction writer could not be separated from the witness: Levi labored to shape a truth that would deal the reader the hardest blow.
Levi appraised the behavior of his fellow inmates and chose his friends from the most heroic among them. He was studying and judging himself, too, trying to learn the algorithms that govern the making of a man. Primo Levi's Universe brings new understanding of Levi's struggle, sharpened by his imprisonment, to fathom what makes a whole human being—in Levi's words, "un huomo," a man. In that struggle, one feels Magavern's mind moving in tandem with Levi's: judicious, weighing, sifting and seeking the most spacious viewpoint.
Before Auschwitz, where he was taken at age 22, Levi was a shy, fastidious, cerebral boy-man with notions of cultural superiority. In The Black Hole, Levi, who had felt contempt for East European Jews, traded Italian lessons for Yiddish and chose as epigraph for his most famous work the Yiddish saying, "Troubles overcome are good to tell."
Did Levi's death from a fall at age 67 make him a Holocaust suicide? Magavern points out that Levi suffered bouts of depression before Auschwitz, but reminds us of the cruelties that Auschwitz imprinted on Levi's spirit. Like Virgil leading us through hell, Magavern movingly says of Levi's lifelong parsing of the drowned and the saved: "Organic chemistry, nature, has its own modes of survival and renewal, its own ways of reusing ash, its own forms of change beyond entropy, its own way of saving those that drown."
—Norma Rosen
Anne Frank: The Book, the Life, the Afterlife
by Francine Prose. (Harper,
322 pp. $24.99)
It is no exaggeration to state that Anne Frank's diary is, along with Elie Wiesel's Night, the most widely read book about the Holocaust. It is estimated that The Diary of Anne Frank has sold more than 10 million copies worldwide and is required reading in many schools. Yet the diary ends before Anne's arrest, followed by her deportation to Auschwitz, culminating in a death march to Bergen-Belsen, where she and her sister, Margot, died of typhus.
Because the diary ends where the Holocaust begins, a number of critics argue that the diary is less about the Holocaust than it is about a young girl going through the various stages of teenage adolescence, who only incidentally is in hiding from the Nazis. Criticism also surrounds Anne's naive optimism when she writes "that the world is going through a phase…. It'll pass, maybe not for hundreds of years, but someday.… I still believe, in spite of everything, that people are good of heart." One can only question if Anne, able to foresee the future following her arrest and having witnessed the suffering in the concentration camps, would have reaffirmed these idealistic sentiments.
Francine Prose, the author of 15 books of fiction, has written an indispensable account of not only Anne's life but also the quality of her writing. Prose also examines how, in pursuit of profit, the play and later the film distorted Anne's diary by universalizing her person at the expense of her Jewish identity. Prose also provides a fair and balanced assessment of the contentious relationship between Otto Frank, Anne's father, and Meyer Levin, who brought attention to the diary in his lead review in The New York Times and who remained obsessed with his failure to have his version of Anne's work produced on Broadway. Prose also looks at the ongoing allegations of Holocaust deniers to prove that the diary was a forgery.
If there is a point of view that Prose makes in this knowledgable and easy to read book, it is that Anne Frank's diary is not only a part of the historical record of the Holocaust, but it is also the work of a very talented young writer. Prose discloses that Anne, in her two years and one month in hiding, revised and edited her diary three times because, as someone who wished to be taken seriously as a writer, she simply did not want to record the thoughts of young adolescence. Rather, Anne crafted a work that she hoped would be read by the public after the war.
Finally, responding to the criticism of those who contend that the diary does little to help us comprehend the horror of the Shoah, Prose argues that given a proper historical context surrounding Anne's life and death, the diary is a useful tool in teaching the Holocaust:
 Why not encourage and guide young readers to imagine that they have something in common with a girl whose life, so unlike their own protected ones, ended up in Bergen-Belsen? Why should the diary not inspire people…to rid the world of hatred? Why not emphasize Anne's optimism if it means…one high school student might be more responsive to the humanity of others?
Prose concludes her comprehensive work by noting that a 1996 survey cited on the Anne Frank Web site (www.annefrank.org) showed that 50 percent of American high-school students had read The Diary of Anne Frank as a classroom assignment, whereas another survey conducted in 2008 found that only a quarter of American teenagers were able to identify Hitler. —Jack Fischel 
FICTION
Day After Night 
by Anita Diamant. (Scribner's, 304 pp. $27)
Whether Day After Night is destined to attain the groundswell popularity of Anita Diamant's perennial book club favorite, The Red Tent, remains to be seen. But there's no doubt about it: Diamant's powerful new novel finds the writer at the top of her game.
Like The Red Tent, Day After Night is a woman's-eye view of Jewish history, this time, though, thousands of years after biblical times. Nearly all the action is set in 1945 at a British internment camp outside Haifa, where we first meet a group of women as they sleep. "The twenty restless bodies rest and faces aged by hunger, grief and doubt relax to reveal the beauty and pity of their youth."
The author zooms in on four women—Shayndel, the former Polish partisan; Leonie, who paid a high price for survival in the streets of Paris; Tedi, whose years of hiding out in Holland cost her her sense of smell; and Zorah, who sealed off her emotions after living through the brutality of the concentration camp.
Day After Night won't disappoint history buffs. The characters may be fictional, but Atlit—"a perfectly forgettable compound of wooden barracks and buildings set out in rows on a scant square acre surrounded by weeds and potato fields"—was indeed an internment camp where the British warehoused "illegal immigrants." Most had managed to escape the Nazis with little more than their sanity, and sometimes not even that.
And, as with her previous books, Diamant presses a deft finger on the pulse of the moment's tragedy-miracle that is at once intensely private yet also destined for history books. Each woman's personal struggle to make some peace with the horror she survived arches into the national destiny itself in this old-new land.
And the group does become a ragtag community. At Rosh Hashana, "together, the congregation of Atlit wept…reciting the sibilant Ashkenazic Hebrew liturgy of a thousand gutted sanctuaries."
Since most of the violence here is served up in subtly rendered flashbacks, the book is inviting to young adult readers. One exception: a surprisingly violent incident that seems both warranted and inherently womanly, challenging readers to examine their own set-in-stone lines of right and wrong. The novel's denouement, a dramatic escape and rescue based on one at the real Atlit, unwinds naturally from these women's stories of grief and redemption.
Though these women view their new home differently—from longing to cynicism to wonder—the reader has no trouble imagining them becoming the backbone of the new state, one built atop a mountain of pain. Damaged as they are, they slowly learn to trust themselves and each other, taking unsteady steps back to life. They are tormented by the nagging refrain, "Why was I spared?" Still, they coalesce into a unit, and we are their witnesses as each one grieves, and heals, in her own way.
In bringing us into their stories, Diamant gives us vulnerability and heroism in equal parts. Day After Night makes an unforgettable read and is her best book yet.
—Deborah Fineblum Raub
TIME AND PLACE
Capturing the Past for the Future
Photographing the Jewish Nation: Pictures From S. An-sky's Ethnographic Expeditions
Edited by Eugene M. Avrutin, Valerii Dymshits, Alexander Ivanov, Alexander Lvov, Harriet Murav and Alla Sokolova. (Brandeis University Press/University Press of New England, 224 pp. $39.95)
Between 1912 and 1914, ethnographer S. An-sky, accompanied by photographer Solomon Iudovin (his nephew) and musicologist Iulii Engel, undertook three expeditions to the provinces of Volynia, Podolia and Kiev. His goals were manifold: to photograph the Jewish people in their homes, at work and their places of worship; to record their oral histories, legends, songs and rituals; and to write a book of their folklore. Most important, An-sky saw his project as a path to Jewish cultural renewal. He wanted to use the collection to establish a network of Jewish museums that would not only document an organic civilization but would use those cultural artifacts as a basis for new (nonreligious) forms of Jewish identity for a generation of assimilated Jews. A product of traditional life and learning, An-sky did not want to bring back religion but thought it important that children in assimilated families absorb their history and people's knowledge.
Five of the six essays accompanying Iudovin's black-and-white images are by researchers at Petersburg Judaica, an institute for Jewish studies in Saint Petersburg, Russia, that continued An-sky's ethnographic work; the photos are based on albums published by Petersburg Judaica between 2005 and 2007. They include an appraisal of Iudovin's photos; a look at An-sky as populist (he had Iudovin take more pictures of workers than the more abundant traders and tavern keepers); and An-sky's ideas for educating the next generation Jewishly. There are also images of the sometimes simple, sometimes magnificent Jewish spaces, from synagogues to gravestones.
An-sky did not accomplish all he set out to, but these expressive photos of families, workers, weddings and ornate Arks at the very least give us an album of once-vibrant communities. —Zelda Shluker
Top Ten Jewish Best Sellers
FICTION
1. The Three Weissmanns of Westport: A Novel by Cathleen Schine. (Farrar, Straus & Giroux, $25)
2. Sarah's Key: A Novel by Tatiana de Rosnay. (St. Martin's Griffin, $13.95, paper)
3. City of Thieves: A Novel by David Benioff. (Plume, $15, paper)
4. People of the Book: A  Novel by Geraldine Brooks. (Penguin, $15, paper)
5. The Defector: A Novel by Daniel Silva. (Putnam, $26.95)
NONFICTION
1. Son of Hamas: A Gripping Account of Terror, Betrayal, Political Intrigue and Unthinkable Choices by Mosab Hassan Yousef with Ron Brackin. (SaltRiver/Tyndale, $26.99)
2. Have a Little Faith: A True Story by Mitch Albom. (Hyperion, $23.99)
3. Start-Up Nation: The Story of Israel's Economic Miracle by Dan Senor and Saul Singer. (Twelve, $26.99)
4. Night by Elie Wiesel. (Hill & Wang, $9.95, paper)
5. The Zookeeper's Wife: A War Story by Diane Ackerman. (Norton, $14.95, paper)