Brief Reviews: A Doctor of Mercy in Ethiopia
RECORDINGS
Dancing in the Glory
The Jewish Renewal Nava Tehila synagogue in Jerusalem has produced a recording of the original music used at their Friday night services. The disc spans a gamut of styles, from rock 'n' roll to gospel, reggae, klezmer, flamenco, an Irish jig and even a polka for "L'cha Dodi." The 13-member band includes oud, cello and darbuka players (www.navatehila.org). —Brian Blum 
Sherele Klezmer Jazz Band
Innovators: Oy Mame Shein, Pickles, Chiles and Jrein 
Just your average klezmer band from Guadalajara, Mexico, and why not? It would be tempting to look at the list of warhorses on this CD (seven traditional tunes, including "Lebedik un Freylekh" and "Chossn Kalah Mazel Tov") and the clarinet-guitar-bass-drums lineup and expect something conventional and hackneyed. But Nathalie Braux's edgy reeds and Sibila Knobel-Oizerovich's slippery guitar lines bring something tart and biting to the party. Must be those chiles. Sonidos y Sabores del Mundo (www.sherele.com). —George Robinson
Like a Rushing Spring
Alternately delicate and energetic, American-born Israeli soprano Nomi Teplow's captivating and soulful music offers liturgically based pieces of meditative beauty ("Lo Gava Libi"), spirited Hebrew adaptations of English songs ("Proud" and "The Prayer") and uplifting messages set to her own original melodies and lyrics ("Da"). Self-produced (www.nomiteplow.co.il). —Rahel Musleah

DVD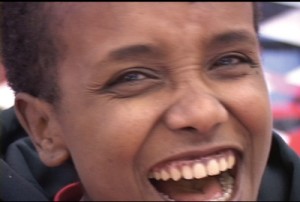 Bewoket
Bewoket (right) is an Ethiopian child whose will to live is equaled only by American-born Dr. Rick Hodes's desire to heal. Filmmakers Andrea Mydlarz Zeller and Sam Shnider tell the inspiring story of the youngster who was sent to America for heart surgery and returned to live with Dr. Hodes, a father figure to many: Dr. Hodes came to Ethiopia 20 years ago and cannot leave because there are so many, of all faiths, who desperately need his help. The National Center for Jewish Film (www.brandeis.edu/jewishfilm). —Susan Adler
An Education
Oxford applicant Jenny learns valuable lessons about life, love and 1961 London anti-Semitic academia in Danish director Lone Scherfig's stunning British film. Relative newcomer Carey Mulligan proves wonderfully spirited as Christian freethinker Jenny, and Peter Sarsgaard is smartly enigmatic as her older Jewish boyfriend, David, an art dealer-property developer and associate of a notorious slumlord. Emma Thompson is a memorably nasty headmistress in this Oscar-nominated film. Sony Classics (www.sonyclassics.com). —Jules Becker

EXHIBITS
Luc Tuymans
Contemporary Belgian painter Luc Tuymans's subjects range from an orchid, to a partial view of a woman's leg—to the inside of a Nazi gas chamber. Painted in minimalist style and in an almost colorless palette, his works demand the viewer contribute a certain knowledge and sensitivity: There are no victims in his eerie Gaskamer (Gas Chamber, above), only a drain in the floor, a door and ceiling outlets for gas. KZ (Konzentrazionslager, or concentration camp) depicts a gray-and-white wall with doorways and a driveway; nothing indicates the crimes committed there. The four-part series "Die Zeit" (Time) has a painted-over portrait of SS Deputy Chief Reinhard Heydrich, taken from a Nazi magazine. Some 75 of Tuymans's works will be at San Francisco's Museum of Modern Art (www.sfmoma.org) until May 2 before traveling to the Dallas Museum of Art (www.dm-art.org) June 6 to September 5 and Chicago's Museum of Contemporary Art (www.mcachicago.org) October 2 to January 9, 2011). —Renata Polt
Our Struggle
When Paris-based artist Linda Ellia came upon a copy of Hitler's Mein Kampf (My Struggle), she began transforming pages of the notorious book with paint, collage and other media, trying to understand the book's role today. She made it a communal project, handing out some 600 pages to artists, friends and people in the street. The powerful result includes cartoons, images painted in lipstick and nail polish, barbed wire, a gold tooth, pages torn or burned. Through June 8 at the Contemporary Jewish Museum in San Francisco (www.thecjm.org). —R.P.€
FILMS

Ajami
The codirectors of Ajami, Israel's official entry to the 2010 Academy Awards for Best Foreign Language Film, comprise an unlikely duo: thirtysomethings—one Jewish, one Palestinian. The language of the film is Arabic. The setting is unlikely, too: Ajami is an ethnically mixed neighborhood in Jaffa where, according to one resident, "every boy lives under threat." The screenplay intertwines a number of stories, focusing on religious prejudice between Christian and Muslim Arabs, tension between illegal Palestinian workers from the territories and Israeli Arabs, and, yes, conflict between Arabs and Jews, to collide in one final scene that underscores the thrust of the film:  When people view reality solely from their own perspective, the result is bound to be tragic.
The aim of directors Yaron Shani and Scandar Copti was to photocopy reality as the citizens of Ajami experience it, without victimizing, beatifying, patronizing or judging anyone. Shani provided the script, which he had written as a film student at Tel Aviv University, but Copti's knowledge of Ajami and its residents allowed them to capture the place, as well as the emotional lives of its inhabitants.
To heighten the film's sense of reality, Shani and Copti used Ajami locals rather than professional actors, choosing them for their similarities to the characters they portrayed—a film cop was played by a real-life cop, for instance—and training them during a 10-month-long improv without ever showing them the script. Even when it came time to shoot, the cast was never given a script, nor were they told how a scene was to end. "We wanted it to become alive without us directing it," says Shani. "The actors reacted spontaneously to what happened to them like it was really happening to them. And that is why the film is fictional, but it's much closer to reality than any other fiction film."
One scene in particular stands out. It depicts a sulha, an Arab court of law—an alternative justice system that is still accepted in Israeli courts when they cannot rule on a case. In the film, the sulha was called to settle a Bedouin blood feud. Out of a cast of 20, only three actors knew what the final verdict had to be in order to keep the story going. The judge—one of those three—is in fact a sulha judge. Though he knew what verdict he had to impose, he had not been given a dollar amount; he ultimately ruled as if he had been in a real court, basing his decision on the adjutants' behavior and the precepts of sulha.
For Jewish Israeli Shani, the idea for the film grew out of what he sees as Israel's greatest problem: segregation. "People in Israel are disconnected—not only Arabs and Jews but also Orthodox Jews and secular Jews, and immigrants from here and there," he explains. "Ajami is about a narrow reality, but it's also a story about the human conflict, which is never between the just side and the wrong side, between evil and good—it's always between people who are devoted to their own truth, their own justice, their own people, but they perceive reality in a different way."
For Palestinian Copti, the movie represented a chance to hold a mirror up to his community—"to see ourselves from the outside without trying to put the blame on others; to take responsibility."  He says that in Jaffa and other mixed towns there is discussion on the street that simply wasn't there a year or two ago. "People are asking questions that were never asked," he says, "questions that used to have the answer, 'It's occupation. It's racism.' But now people are saying, 'Let's not forget the big problem, but how do we solve the small problems between us,' questions that we raised in the movie, like the relations between the Israeli police and the Arabs. Nobody has the answers, but now people are asking the questions."
The film, produced by Moshe Dano, Thanassis Karathanos and Talia Kleinhendler, isn't perfect. It's not on my top-10 list. Its inherent structure—leaping from story to story as well as time shifts within the stories themselves—creates a Brechtean emotional distancing from material that should have more resonance. If, however, it's getting the next generation on the streets of Jaffa to start asking the right questions, then it will have historical significance that supercedes making it onto my top-ten list, even if it didn't win an Academy Award (www.facebook.com/pages/ajami-the-movie-2009). —Judith Gelman Myers
Who Do You Love
Leonard Chess is a legendary Jewish promoter of black performers. This film depicts how an immigrant boy growing up in Chicago was drawn to the new blues sound, opened a club with his brother, Phil, and created Chess Records. He helped popularize Muddy Waters, Bo Diddley and others during the 1950s and 1960s. A story of personal and professional ups and downs well told. Directed by Jerry Zaks. International Film Circuit Releasing. —Zelda Shluker

Off and Running
Avery, an African-American teenager adopted by two white Jewish Brooklyn moms, chants Hebrew prayers and celebrates Jewish holidays. After contacting her birth mother (without getting a satisfactory response), Avery questions her identity, causing a rift in the family, eventually moves out to live with black friends and explore her black heritage. The track athlete faces heavy decisions—whether to stay in high school, to keep an unplanned pregnancy and, ultimately, whether to return home to her mothers. This tender documentary explores the diverse character of an interesting and likeable girl on the brink of womanhood. First Run Features (www.offandruningthefilm.com). —Sara Trappler Spielman
Web Sighting
A new digital project unites 10 institutions from London's British Library to the Goethe University Library in Frankfurt in providing access to Europe's Jewish cultural heritage. Judaica-Europeana, www.judaica-europeana.eu is part of Europeana,www.europeana.eu, an online library created by the European Union to promote its cultural resources. Millions of photos, recordings and books will be collected over the next two years and made available at the Europeana site. "Jews are the oldest minority in Europe," says the Judaica-Europeana site. "The presence of Jews through the centuries has been…bound up with the development of European cities."—Leah F. Finkelshteyn