Family Matters: Riding in Noah's Ark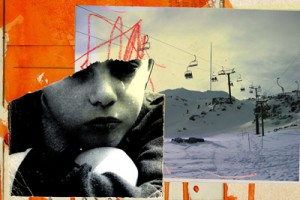 Raising a special child takes parents on a journey full of ups and downs, joy and heartbreak.
The air was crisp and clean. The snow fell from a cloud-filled sky, so the only missing element was sun. Mercifully, it was not cold, and the wind held off. Noah seemed so pleased to be going up the lift again, anticipating his ritual search for powder on the sides of the slopes and the chance to wend his way through some trees.
An average skiing day for many, I suppose, but not for us. Instead, this was an experience of joy that only the natural surroundings could adequately complement.
For me, skiing is a nice way to be outdoors, exercising during the winter; for my husband, Len, skiing is akin to breathing, and aside from family, his greatest love in life. With an autistic child like Noah in the mix, however, the prospect of family ski trips was never guaranteed. Len grieved for some time over whether Noah's disability would prevent us from skiing together as a family. We finally put that concern to rest when we enrolled Noah in an adaptive ski program in Colorado five winters ago. He is now an old pro at a similar program in Utah. He enthusiastically goes off with his instructor for the day. Sometimes, I go along in the morning; other times, Len and I join Noah and his instructor for lunch and ski with them for the afternoon.
This day, we stopped for lunch up on the mountain. A light snow was falling when Len, Noah and I, along with Noah's instructor, Eli, sat down outside for lunch. Eli is young, only 25, but already the father of an 18-month-old son named Elijah. Eli asked why we chose the name Noah. I explained that in our tradition, we name children for beloved, deceased relatives, and that Noah was named for my husband's grandfather Nathan. I also explained that I take the meaning of names seriously and it turned out that the names we gave our children suit them quite well: Samuel is sober and wise, and Ariel is a lioness for sure. The biblical Noah, thought by many to be a crazed drunk who heard voices, to some degree seems to approximate the ways in which our Noah is different. Our son's brain is wired in a unique pattern that sets him apart. Noah hears, sees and processes things in ways we often cannot understand. We sometimes tell ourselves that Noah is like a being from another world.
With lunch finished, we buckled our boots, snapped ourselves into our skis and headed down the mountain. I marveled at the way Noah comfortably navigated the slope, following close behind Eli, always finding excuses to glide along the sides of the slope where the good powder is, or leading Eli through a small stand of trees, where the tracks of other skiers could be found.
On our next ride up on the chairlift, I sat admiring the view and breathing in the cleansing air. Suddenly, Noah turned toward me and started singing, "This little Shabbat light of mine, I'm gonna let it shine. This little Shabbat light of mine, I'm gonna let it shine. This little Shabbat light of mine, I'm gonna let it shine, let it shine, let it shine, all the time."
"Quiet voice, Noah," I admonished him, feeling some embarrassment over the fact that we were riding the lift with three strangers, a father and his two sons.
Noah sang more quietly, continuing the second and third sections of the song that my now 12-year-old remembered from his days attending our synagogue's tot Shabbat services. "Put it in my pocket?"
"Noooo!" I replied. "I'm gonna let it shine. Put it in my pocket?"
"Noooo!" came my turn again. "I'm gonna let it shine. Let it shine, let it shine, all the time."
As Noah sang, I could hear in the back of my head the autism consultant in Noah's school reminding us of the importance of extinguishing behaviors that set Noah apart from his peers. If we want him to fit in, Noah's talking to himself, singing out loud and other inappropriate behaviors have to be cut off. Intellectually, I get that. But in my heart, as I rode the chairlift with my son, I did not care much for her advice. I know she is right about how the world works, but I often think the world would be better off if it had a lot more of Noah in it and a lot less of what we "neurotypicals" bring to it. After all, how could the world be worse off with a child singing a joyful song on his way up a snow-covered mountain, as he looked forward to confronting his next downward-facing challenge?
My dream of a Kumbaya universe, in which we all embrace each other's quirks and challenges, was shattered on the plane ride home. About two-thirds of the way into the flight, the battery on our portable DVD player died. Noah was distraught. He simply could not understand that we could not fix the machine then and there. No amount of explaining brought him out of his despair. He whined, he cajoled and then he started screaming. It wasn't a high pitched, someone's-trying-to-kill-me kind of screaming. It was the sound I imagine an animal caught in a trap might make. It was a mournful sound, full of physical wounding and psychic pain. And we couldn't make it stop.
When we told Noah that people on the plane were going to be angry if he didn't stop screaming—and that his mom and dad were going to get in trouble—he insisted the opposite.
"They're not going to be angry." And then, to us, "Are you angry? Are you disappointed?"
At first I said "No," because I knew Noah couldn't help what he was doing, but then I did feign anger, thinking it would make him stop. It didn't.
Finally, a man across the aisle offered to lend us his laptop. I told Len to explain to him why Noah was behaving as he was. I also apologized to a flight attendant, explaining that Noah is autistic and can't help himself. She came back a few minutes later with a granola bar and a cookie.
We inserted a Blues Clues DVD into the borrowed laptop. Noah seemed mollified, but also suddenly less interested in watching. I slumped in my seat and cried. I wasn't embarrassed; I was just spent. In those 10 or so minutes—which seemed like hours—the gravity of Noah's disability washed over me. Yes, he can sing on a chairlift, and I can feel rebellious and loving by letting him do that. But he can also scream uncontrollably in a confined space and nothing is ever going to make that okay