Books: Brief Reviews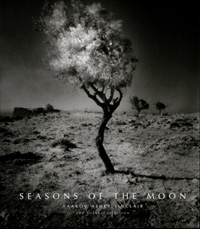 Seasons of the Moon: Photographs, Essays and Poems
by Yaakov Asher Sinclair. (Focus Publishing, 167 pp. $64.99 or go to www.seasonsofthemoon.com for $49.95)
This book not only features artistic photographs in shades of black and white; it is a book of religious and spiritual essays and poetry, too. Together, they richly demonstrate love of the Land of Israel and a mystical appreciation of the Divine in the earthly.
British-born Yaakov Asher Sinclair, a lecturer in Talmud and Jewish philosophy at the Ohr Somayach/Tanenbaum College of Judaic studies in Jerusalem, divides his book according to seasons, astrological signs and Hebrew months.
His subjects–found in the Galilee, Ein Gedi and Masada–are tombs of sages and prophets; the interior of a Talmud class, a Mea Shearim courtyard; cylindrical remains of an ancient synagogue in Caesaria and a moonrise over wooden train tracks in Yad Vashem. Broad landscapes of wheat fields and a close-up of an earthbound, fossil-like pinecone are both dramatic and dreamy.
Sinclair's exciting, spectacular use of lighting–as stark, contrasting negatives and bright diffusion–give the images unearthly, magical effect; Rabbi Yehuda Ha-Nasi's tomb in Beit Shearim appears to have a burning bush at the center of an arch. The mountains of Ein Gedi are nestled in low-lying white clouds set against a dark sky and above a bushy spread of white grass. The leaves of a spindly olive tree are like long tresses of hair blowing in the wind.
Sinclair's intellectually probing essays question, interpret and affirm belief a wide array of topics, the differences between hearing and seeing, book burnings, the hidden-ness of God–as well as a different kind of a peace process: the meaning of shalom.
Here is one of his poems:
Feeling the Knowing
there!
all the war-torn clichés
are born again unspeaking
all the unstill words
still tingling from the spine
electric.
there!
a New Moon over Jerusalem!
there!
feeling the knowing
that this beautiful silver sliver
is the shining under the door
of a great palace of Light.
There!
—Zelda Shluker

Subversive Sequels in the Bible: How Biblical Stories Mine and Undermine Each Other by Judy Klitsner. (Jewish Publication Society, 173 pp. $35)
Judy Klitsner's award-winning first book challenges her readers to take a fresh look at familiar biblical characters. Klitsner's refusal to gloss over the Bible's complexity and ambiguity lends to rich readings of the text. Her literary approach examines repeated Hebrew roots to unearth hidden meaning, and extensive textual references engage masters and novices alike. Quoting Abraham Joshua Heschel, who says the Bible "speaks in every language and in every age," Klitsner addresses head-on the challenges of finding modern-day relevance in the Bible, especially in relation to women's issues. She analyzes without apologizing, leaving the reader with much to consider. —Aliza Libman
Far From Zion: In Search of a Global Jewish Community
by Charles London. (William Morrow, 310 pp. $25.99)
A twenty-something assimilated Jew sets out to explore the meaning of faith and community by visiting other Jews in exotic locales like Bosnia, Myanmar, Cuba and even Iran. But the journey is really about author Charles London's attitudes toward the Jewish state and the diaspora. At the start, he views Israel as a colonialist and oppressive enterprise; his attitude modifies somewhat by the end. It's not great travel literature, but the work offers tremendous insight into the psyche of many young Jewish adults who feel ambivalence toward Israel and the whole Jewish label, yet are still searching for connections. While some of his conclusions may be misguided, London does ask important questions. —Bryan Schwartzman

Unlocked: A Journey From Prison to Proust
by Louis Ferrante. (Harper, 320 pp. $25.95, cloth; $14.99 paper)
From Ghetto to Ghetto: An African American Journey to Judaism
by Ernest H. Adams. (iUniverse 272 pp. $20.95, paper)
How many paths are there to Judaism? From the very different transformative life stories of Louis Ferrante, a one-time hoodlum who worked for the Gambino mob, to the tale of Ernest H. Adams, a Harlem-born black Christian, there are obviously many more than we can imagine.
Ferrante, born in Queens, New York, became a working thief when he was 17. Eventually, he was betrayed by mob "friends" and sentenced to prison. His incarceration was harsh. He was inside long enough to question what he was doing with his life, what his purpose was and to decide to educate himself, reading and studying everything from literature to law to theology. He learned enough law to appeal his sentence and, even before he was set free, his queries had brought him to Judaism as "the path he now wanted to follow."
Adams grew up in a basement apartment with a mother who became a devout Jehovah's Witness. Until he was 18, he writes, he was "Confined to Harlem, handcuffed to the Basement." And from the time he was 9, his mother had him give theological talks in the Witness's Kingdom Hall; yet his mother's religion made him feel "coerced and burdened."
Adams's talk is straight and eloquent as he describes the complexity of being the child of parents born in the South not long after slavery was abolished; his lack of academic guidance or aspiration, of wrong turns taken. He tells how he went from being a white-hating man with a sense of inferiority to finding friendships with traditionally observant Jews. After much struggle, he acquired a law degree, a doctorate in clinical psychology—and a religious, spiritual and intellectual home in Judaism. —Z.S.