Books: Rashi Redux, a Chronicle
Rav Shlomo Yitzchaki, the revered 11th-century commentator on the Bible and the Babylonian Talmud, has suddenly emerged, in an odd confluence of events, as the subject of three books in distinctly different genres. To some degree, this can be traced to a proliferation of study groups whose participants are deeply involved in a search for nuances that offer insights and meaning into Jewish texts. Rashi, with his admixture of midrashic tales and his piercing psychological and linguistic perspective, is the go-to source for such students. Clearly there is an interest in the background of a scholar whose words intrigue and enlighten centuries after his death. To satisfy that interest, fortunate readers now have Elie Wiesel's slender volume, Rashi (Nextbook/Schocken, 128 pp. $22), which focuses on the commentator's life and times as well as the impact of his interpretive method.
The Nobel Peace Prize winner escorts us into the world of the great scholar, the explicator he consulted as a chederstudent, poignantly observing that Rashi "had been sent to earth primarily to help Jewish children overcome loneliness. And fear." It was, indeed, Rashi who helped the young Wiesel overcome his loneliness and fear, a debt he has now repaid in kind.
The author re-creates that wine-growing world of medieval France during the Crusader period, a time of persecution and martyrdom that claimed the lives of countless Jews. It was during such a time of darkness that Rashi, living in Troyes, wrote both his commentaries and his extensive responsa, which he sent to querying Jewish communities throughout the world, offering them hope and inspiration. Wiesel offers examples of his explication, utilizing both the biblical text and Rashi's profound interpretations of the Bible and the Talmud.
Interestingly, many of the texts Wiesel selects indicate a sympathy for women. The commentator explains that when Sarah learned of the Akeda (the sacrifice of her son Isaac), her soul left her. Rachel, ever the loving sister, reveals Jacob's secret sign of recognition to Leah. Such insights, whether intuitive or gleaned from midrashic tales, demonstrate that Rashi, the father of daughters, had a deep and compassionate understanding of women.
It is perhaps that understanding that ignited the curiosity of Maggie Anton. In contrast to Wiesel's insight into the preeminent scholar, Anton has creation a fictional narrative in three volumes, based on the lives of Rashi's three daughters, Jocheved, Miriam and Rachel. Building on the allegation that, because he had no sons, Rashi studied with his daughters, Anton imagines a community of learned and loving women. They each married intellectually gifted men and, in concert with their husbands, enriched and perpetuated their father's work. Anton's writing is fluid and her research and knowledge of text, history and ritual impressive. Each sister emerges as a unique, vividly portrayed individual.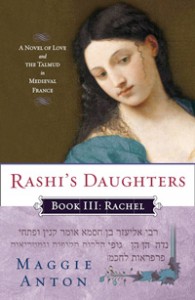 The final volume, Rashi's Daughters, Book III: Rachel (Plume, 448 pp, $15), is the story of the youngest and most beautiful of the three sisters, a skillful businesswoman torn between her feelings for her husband, who travels to markets throughout Europe and wants her to join him, and her deep commitment to her family in Troyes. Anton's intricate plot includes Rachel's determination to save her father's yeshiva, even as the venerable Rashi suffers a debilitating stroke and the marauding Crusaders decimate similar yeshivot and massacre almost the entire Jewish community of Germany. Ultimately, Rachel resolves her conflicts and is reassured by the knowledge that "Wherever there were Jews in the world there would be Torah study…. No matter where she ended up living, Papa's spirit would watch over her."
In her introduction, Anton claims that she has no plans for writing "Rashi's Granddaughters," so it is just as well that Sylvie Weil has undertaken that task with the award-winning Elvina's Mirror (Jewish Publication Society, 150 pp. $14 paper) for ages 10 and up. A follow up to My Guardian Angel (Scholastic/Arthur A. Levine), Elvina is, indeed, Rashi's 14-year-old granddaughter, gifted with spirit, charm, courage and an inquiring mind, invaluable qualities that stand her in good stead as she confronts the cruelty of the Crusaders, the superstitions of her own community and the complex demands of her family. She shares her adventures with her mazal, the guardian angel to whom she confides her affection for Obadiah, the gifted young cheder teacher, and her handsome Christian friend, Gaultier. Elvina has many mirrors, seeing herself reflected in her mother's eyes, in the silver Sabbath plate and the clear waters of the river as well as the looking glass, a gift from her learned aunt.
Like Anton, Weil weaves a colorful tapestry, threading the story of Rashi's family and his community with Jewish knowledge and historic accuracy.
Hopefully, this is but the vanguard of books that will increase our knowledge of the life and work of the insightful scholar, the much beloved dean of commentary who continues to help Jewish children and adults overcome their loneliness.