Brief Reviews: Theater
David Mamet's Race, Donald Margulies's Collected Stories, and Mike Burtsyn in the National Yiddish Theatre-Folksbiene's The Adventures of Hershele Ostropolyer.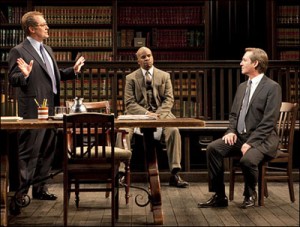 Race
Is race still the most incendiary topic in America? The cynical white lawyer in David Mamet's latest play clearly thinks so. Race, in its Broadway premiere, examines charges of rape brought against a white man by a black woman.
The play gets off to a promising start. Jack Lawson (James Spader) and his black law partner Henry Brown (David Alan Grier) question their potential client, Charles Strickland, who is married, about his relationship to his accuser. Then the young legal assistant, Susan (Kerry Washington), unexpectedly commits them to the case by accepting a retainer and directing the district attorney to send documents from the case to their firm. Why did Strickland (Richard Thomas) leave his previous lawyer, whom Lawson describes as "one smart Jew"? Mamet shrewdly keeps the lawyers and the audience guessing about the events. The instructive second act reveals contrasts between Henry and Susan, who is also black, that sheds key light on Susan's actions through her idealistic tirades.
Meanwhile, the alleged, unseen victim tells the press that Strickland invoked the N word as part of a strange romantic endearment—thus intertwining the case's sexual and racial aspects. Detracting from such thematic virtues, however, are underdeveloped characters. Brown comes off best as a fair-minded lawyer, Grier capturing his authority and individuality; Spader's Lawson mixes acidity and vulnerability but spouts platitudes. The wealthy Strickland is lacking in dimension; only Thomas's abject body language expresses his character.
Still, audiences should enjoy Mamet's vivid depiction of lawyers more concerned with persuading juries of their scenarios than with pursuing the truth. There are memorable observations about the differences between legal and emotional crimes and insight about non-court atonement on Yom Kippur for Jews and confession for Catholics.
Some Mamet fans may find Race satisfyingly candid as it explores moral issues. Others, though, will be disappointed that compelling drama is not more in evidence, though the action is effectively paced.
In mid-June, Eddie Izzard assumes the Lawson role; Dennis Haysbert takes over Brown; and Afton C. Williamson moves into the character of Susan.
Through August 21 at the Ethel Barrymore Theatre, New York (www.raceonbroadway.com; 212-239-6200 orwww.telecharge.com). —Jules Becker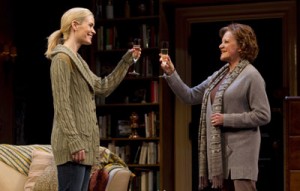 Collected Stories
Intellectual property is a hot topic nowadays, as ideas circulate increasingly freely in an electronic age. But as Donald Margulies's provocative 1996 play, Collected Stories, now being revived by the Manhattan Theatre Club, reminds us, the emotional issues raised by the borrowing of ideas can be just as significant as the legal and technological ones. Directed by Lynne Meadow, Collected Stories stars Linda Lavin as Ruth Steiner, a sarcastic middle-aged Jewish short-story writer whose non-Jewish protégée, 26-year-old Lisa Morrison, played by Sarah Paulson, uses Steiner's long-ago affair with an older Jewish poet as the germ of her first novel. While the plot about their evolving relationship is too schematic and unconvincing to put the play on par with Margulies's best works such as Sight Unseen and the Pulitzer-Prize winning Dinner With Friends, the battle between the two fine actresses makes the production worth seeing. Lavin was nominated for a best actress Tony Award for her role. Through June 13 at the Samuel J. Friedman Theatre, New York (www.manhattantheatreclub.com). —Ted Merwin.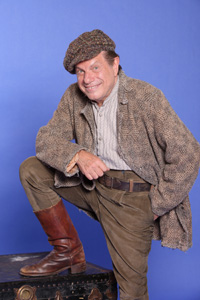 The Adventures of Hershele Ostropolyer
Veteran actor Mike Burstyn is Hershele, the letz (poor bum) who wanders into the town where a young couple (Berl and Tsipke) cannot marry because the rich miser (Kalmen) will not return Tsipke's grandmother's ring. While the couple sings of their love for each other, Kalmen sings: "Hub ich a geleibte/ ihr numen iz geltl (I have a beloved/ her name is money)."
Enter Hershele, who is used to taking the burden of the poor onto his shoulders: He will use cunning to make things right and bring about a happy ending.
Through 17 old and new Yiddish songs—easily understood because of the supertitles in English and Russian—accompanied by a four-piece band, this folk/morality tale is rich in humor and righteous satisfaction. The story is based on a legendary Jewish Robin Hood in 19th-century Ukraine. The musical, adapted, directed and choreographed by Eleanor Reissa, is based on a Yiddish play by Moshe Gershonson and later adapted by Joseph Glicksman.
The National Yiddish Theatre Folksbiene production runs through June 27 at the Baruch Performing Arts Center in New York (www.folksbiene.org; or call 866-811-4111 for tickets). —Zelda Shluker