A Chronicle of Jewish Crime Books: Figuring Out Who the Bad Guys Are
This season's stack of mystery books with either Jewish sleuths or Jewish stories is big enough to keep you reading through the rest of the summer. There are three Mossad-trained assassins—all of whom have tried to distance themselves from their past deeds. Rome is prominent in two stories: One is set in the past when Jews were restricted to the ghetto, while the other is a modern-day, action-packed quest for an ancient treasure. Another prominent Jewish ghetto, Prague's, is filled with both superstition and scholarship. Others story locales are Silicon Valley, Brooklyn and San Francisco—and prewar Berlin. Whether or not you believe in reincarnation, are drawn to stories of terror, Arab or Russian, or the merely complicated stories of fathers and sons, there is a lot to choose from.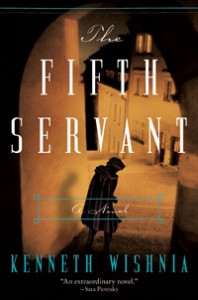 The Fifth Servant: A Novel
by Kenneth Wishnia (William Morrow, 387 pp. $25.99)
This is a rollicking good story despite the misery and tragedy of its setting and era: Prague's Jewish ghetto under Emperor Rudolph II. It is right before Pesah and a young Christian girl has been murdered, her body deposited in a Jewish shop. This is a Jewish nightmare come to pass; the anxious Jewish community knows it will be accused of using the blood of the dead Christian in matza.
The emperor may be the Jews' protector, but local police and church inquisitors are out to torture the truth out of the innocent shopkeeper and generally harass the rest of the community and confiscate the "treasures" they believe are hidden in the ghetto. Burning and looting threaten to destroy the locked-down ghetto. At one point, all the Jews are herded together to listen to a sermon meant to convert them. There is also a religious disputation between the famous Rabbi Judah Loew and a priest.
Meanwhile, the Jews have three days to prove their innocence. And taking the lead in the investigation is the newly hired fifth shames, The Fifth Servant of the book's title, Benjamin Ben-Akiva. His activism and directness bring him to the attention of the famous Rabbi Loew, and together they brainstorm how to save the Yidnshtot (the Jewish town).
And as the shames becomes a shamus to discover the true killer, a golem also makes an appearance.
Ben-Akiva is a witty fellow who moves the story along with his astute observations of both Jews and Christians (both are supremely superstitious; the Jewish community is also contentious, with divisions between purists and freethinkers), and the way they treat their women (some intelligent Christian women like Jewish men who treat them with respect). He is also erudite, and the entire book is peppered with his quotations from the Bible and other Jewish sources.
This is a full-bodied story with delicious dialogue.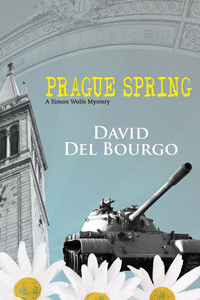 Prague Spring: A Simon Wolfe Mystery
by David Del Bourgo (Mystére Press, 276 pp. $14.95, paper)
San Francisco police inspector Simon Wolfe is a Holocaust survivor who, as a Haganah avenger, assassinated Nazis in Europe. He originally came to the United States in 1952 as a Mossad agent sent to kill a former German mayor who had burned his town's Jews in a synagogue. That mission was aborted, but now, years later, current events bring the past into the present: Why does a congressional candidate whose son died suspiciously want the boy's death ruled an accident? And why is he using an ex-Nazi strongman to blackmail Wolfe about his past—he was a ghetto guard in Theresienstadt and originally entered the United States illegally—to stop the investigation?
When Wolfe consults with the dead boy's psychiatrist—who happens to run an oral survivor history project—they find points of commonality, especially the moral dilemma they have both faced: When is it permissible to take a life? This is an intelligent novel that has humor as well as pain.
Poison: A Novel of the Renaissance
by Sara Poole. (St. Martin's Griffin, 400 pp. $14.99, paper)
It is Rome in the summer of 1492. The fear in the city's crowded Jewish ghetto is that the ailing pope, following Spain's example, will expel the Jews. For their part, the Jews are giving their treasure to Cardinal Rodrigo Borgia to support his candidacy for the throne of St. Peter. But since the current, corrupt pope still lives, the problem of preventing the enactment of such an edict remains. The one man who may have been working on the problem (figuring out a natural, quick demise for the old pope) was Borgia's poisoner. But he has been murdered, and his 19-year-old daughter, Francesca Giordano, has ruthlessly finagled her way into her father's job. She is schooled in the poisoner's trade and must keep Borgia and his household safe; discover what potion her father was researching (which might aid in the election of Borgia to the papacy) and keep the Jewish community safe. But what she most wants is to find her father's killer.
Giordano is one of several strong women in this book of intrigue, which takes us into the Jewish ghetto where another woman, who was a friend of her father, will be her ally in her battles. It is an age that pits knowledge against belief and the pursuit of power against compassion.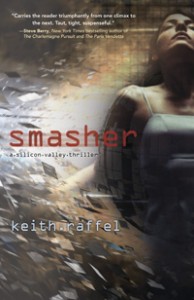 Smasher: A Silicon Valley Thriller
by Keith Raffel. (Midnight Ink, 302 pp. $14.95, paper)
Keith Raffel's second Silicon Valley mystery picks up where his first, Dot Dead, left off. Ian Michaels's sister-in-law has been killed, and his mentor and chief executive officer of the computer company Accelenet has disappeared. Accelenet needs an infusion of cash—but the only offer Ian gets is from a ruthless billionaire who want to "smash and grab" it; he is intimidating the competition and undervaluing the company to buy it at a low price. Bad things multiply as Michaels tries to figure out how to save the company: a car deliberately runs down Ian and his wife, Rowena, leaving her brain damaged and comatose.
At the same time, Ian's mother insists he must redeem her dead Aunt Isobel's reputation; she was a physicist who discovered the quark but her colleagues got the credit and rewards for her discovery.
In this cleverly written mystery, Jewish actions are an innate part of Ian's life: His mother-in-law sits shiva for her husband; his own mother takes a trip to Israel to visit his sister, who lives there; when Rowena is in a coma, her mother sits and prays at her bedside; their cerebral female rabbi comes to the hospital as well, offering sensible advice and hope.
At first the culprits in this story seem obvious—they are the people acting badly— but there are a few surprises amid the strides and setbacks. Will Rowena recover? Can Accelenet be saved? Did someone purposely kill Aunt Isobel?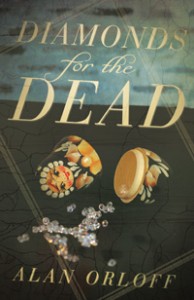 Diamonds for the Dead
by Alan Orloff. (Midnight Ink, 327 pp. $14.99)
Diamonds for the Dead begins with a shiva, as Josh Handleman tries to figure out whether his father's death was an accident or something more sinister; he was found dead at the foot of the stairs at home. He's astonished to find that his father—universally praised as a kind man—has donated the majority of his estate to the local Hebrew home to build a Russian unit, a welcoming social environment for the Russian clientele; he's already built the home's library. He had also been giving financial assistance to various entrepreneurs to help them get their businesses off the ground. Most perplexing is finding an elderly Russian, Mr. Kassian, living in his father's basement. While Josh graciously understands his father's bequests—they had not been that close and he wanted to be independent of his father—he does not understand who the mysterious Kassian is and why his father took him in. Is he really a relative? Or is the boarder his father's murderer?
Even more troubling is that his Aunt Shel tells him that his father left him diamonds. But when he looks in the safe deposit box, it is empty. These puzzles—who killed his father, who Kassian is and what happened to the diamonds—are Josh's duty to solve. As he does so, he recovers the man his father was: a man with great business acumen, modesty and generosity.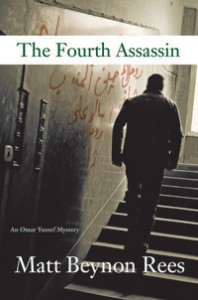 The Fourth Assassin: An Omar Yussef Mystery
by Matt Beynon Rees. (Soho Crime, 281 pp. $24)
In his fourth Omar Yussef mystery, the author has brought the anxious, melancholy school administrator from Bethlehem to the United States. He is to speak at a conference on education at the United Nations as well as visit his son, Ala, who is living in a Palestinian community in Bay Ridge, Brooklyn. Though one would hope that this Western interlude would bring Yussef relief from the violence, tension and misery he contends with back home, it does not. On his first trip to Brooklyn, Yussef finds one of his son's roommates—also a former student of his—dead; he fears the killer is another roommate. Later, he learns of a planned assassination of a Palestinian official at the United Nations.
His son is arrested as a suspect in the crime and Yussef resolves to clear his son's name.
The author has the elements conspire to aggravate the situation. As Yussef travels on the subway between Manhattan and Brooklyn, he is not dressed for the cold and rainy February weather. He is pained by the anti-Arab bias he encounters. He must also endure his contentious, unproductive, power-grabbing Arab colleagues at the United Nations.
As in all Yussef's escapades, by dint of his innate decency, commitment to truth and belief in the goodness of those he loves, this uncommon hero extends himself to shield the innocent and prevent violence. He may be a kvetch, but for all the right reasons.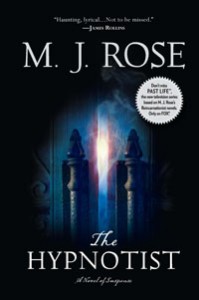 The Hypnotist: A Novel of Suspense
by M.J. Rose. (MIRA, 416 pp. $24.95)
The third installment in the Reincarnationist series by M.J. Rose has some of the usual suspects. Dr. Malachai Samuels is a preeminent past-life therapist at the Phoenix Club on the Upper West Side of New York, who desperately wants ancient memory tools—and will go to any length to acquire them. Special Agent Lucian Glass, our hero, is a wounded man whose girlfriend was killed during a robbery at her father's frame shop 20 years ago; he lives with a perpetual headache and endures nightmares that compel him every day to draw faces he has seen in his dreams. To keep track of Samuels, whom he suspects of involvement in the murder of a colleague in Vienna, Glass insinuates a librarian into the Phoenix Club, then he himself becomes a client there, though he does not believe in reincarnation.
The action revolves around a 2,000-year-old Greek sculpture of the god Hypnos, used for healing but believed to give its owner control over the world. It is being readied for display at the Metropolitan Museum of Art while dark forces are setting plans in motion to steal it. Those pursuing it include the Iranian government, which asserts that it is one of their ancient treasures, and a Hollywood filmmaker.
When a destroyed Matisse is delivered to the museum with the threat that four additional treasures will be destroyed unless Hypnos is turned over, puzzles arise: Is this the same painting that was stolen from the frame shop so long ago? Who is behind this, and why?
Meanwhile, both Glass and a child client of Samuels are experiencing the same nightmare, reliving an incident in ancient Shush, Persia, where a Jewish couple guarding their family's ancient treasure (that includes Hypnos) was killed by an archaeologist who claimed it.
This story has many twists and turns, with characters seedy, dangerous and disingenuous. Both the near and distant past have bearing on the present. And though there is skepticism and treachery aplenty, there are also hints of redemption.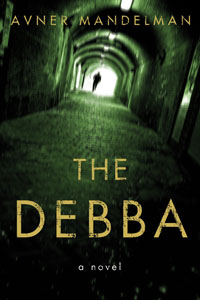 The Debba: A Novel
by Avner Mandelman. (Other, 368 pp. $14.95, paper)
David Starkman is living in Canada. He has given up his Israeli citizenship and cut himself off from his family there, but his black dreams drag him back to his old life. In the Israeli Army, he was an assassin and it is the memories of those awful deeds (dreck, he calls it) that he struggles to leave behind.
But then his father is murdered and his body mutilated, and David must return to Israel to bury him and find his murderer. David must also choose whether to fulfill the stipulation in his father's will: to produce a play he wrote, The Debba.
The debba is an Arab hyena, which in the Arab mythology turns into a man. The theme reverberates not only in the play—in which a man befriends the debba but then must choose between giving the debba his rights to the land or taking care of the needs of his own family—but in his father's (and his own) life too. Hidden in the story's mythology are truths as well as analogies, and those secrets must be uncovered before his father's life and death can be understood.
Against his will, David decides to stage the play only to find that deadly opposition to a play—which shows the love and compassion of Jew for Arab, who share the same land—is putting him, his friends and actors at mortal risk. He is pursued and nearly killed, but by whom and why? He doesn't know who to trust or who will tell him the truth: the police, the military, his father's Arab partner and translator, old neighbors, friends and relatives. Every truth uncovered may be a lie.
The theme and plot follow the bitter Israeli who loyally performs all that his country asks of him, yet despises himself for what he's done. He must somehow come to terms with who he is and with his father's legacy. In this fast-paced thriller, the philosophical wrestling matches the action blow for blow.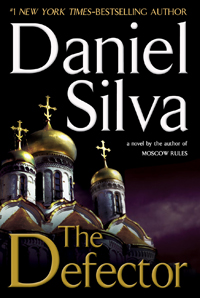 The Defector
by Daniel Silva. (Putnam, 469 pp. $26.95)
Another assassin who has done his country's bidding and continues to suffer for it is Gabriel Allon. In Daniel Silva's book, our stoic Israel mossadnik would love to stay in Italy and finish his latest art restoration project, but his mentor and father figure, Ari Shamron, has set bait before him that he cannot refuse. It seems the killer of Israel's ambassador to France is the same one who destroyed Allon's family—a child dead and a wife irreparably damaged mentally. At the same time, the killer has also abducted a Russian defector, former intelligence office Grigori Bulganov, who was living in the United Kingdom. That act is compounded when Allon's second wife, Chiara, is also kidnapped.
To help him accomplish the impossible—rescue Grigori and Chiara from a remote, frozen area in a well-guarded dacha north of Moscow where they are being held by Ivan Kharkov, the ruthless oligarch and indiscriminate seller of nuclear weapons—Allon must execute a bold and risky plan. Kharkov's children are in protective custody in the United States and their return is the only enticement that might convince him to release his prisoners.
Silva's books are a barometer of current events: In this one, he equates the current Russian intelligence agency with the old KGB, and finds that democracy has no roots growing in the country. Instead, there are reversion to antidemocratic impulses and policies, machinations and deceptions and the murder of journalists. Of course, in combating the evil, Allon resorts to Jack Bauer-like interrogations himself.
Silva's new release (in late July) is The Rembrandt Affair (Putnam). In it, Gabriel Allon's peaceful interlude is once more interrupted as he seeks the thief of a long-lost portrait by Rembrandt.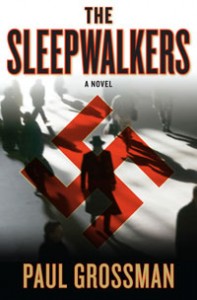 The Sleepwalkers: A Novel
by Paul Grossman (St. Martin's Press, 320 pp. $24.99)
This debut novel (which won't be available until October) takes place in 1932 Berlin just as Hitler is vying for power; he has rabid supporters, but most people think he will be gone before long and sanity will reassert itself. Despite the ever-increasing anti-Semitism, Jewish Herr Inspektor-Detectiv Willi Kraus finds that flashing his badge still gets him recognition and respect.
As Kraus hunts for the murderer of a beautiful young woman whose feet were mutilated, he find that other women are sleepwalking and disappearing after being hypnotized during an evening of entertainment at Klub Hell. Kraus also discovers that gruesome medical experiments are being carried out in secret and on a large scale.
Kraus, a loyal German citizen, is angered by the suggestion that Jews should leave the country because of the chaos spread by the arrogant and ruthless S.A., the private paramilitary army that supports Hitler. Meanwhile, his children are being harassed at school because of their Jewishness and his in-laws talk of leaving the country.
The author gives Germany's historical background and introduces major characters such as Gen. Paul von Hindenburg, who appears to be holding the country together even as he withholds the truth about his country's role in the Great War. Outside there is the "stench of Brownshirts," and culturally, the new standard is decadent and depraved: naughty floorshows and cabaret acts.
Willi Kraus is a protagonist with integrity and courage. Accompanying him through moments of discovery, one feels the weight of his decisions and feels one is in good hands.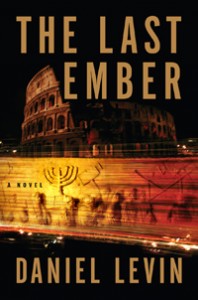 The Last Ember
by Daniel Levin. (Riverhead, 480 pp. $16, paper)
This is an action- and history-filled story that will take you beneath Rome's colosseum and Jerusalem's Dome of the Rock in search of the massive gold menora that was taken from Herod's Temple when the Jews were taken into exile.
American Jonathan Marcus, a legal expert with a background in the classics and archaeology, is in Rome to testify for a client regarding an ancient stone fragment of a map of Rome carved in late 2nd century C.E. His opposing expert is Dr. Emili Travia, a former girlfriend, testifying for the Italian Cultural Ministry. It doesn't take long before they collaborate to find out the truth about the message on the stone fragment as well as the ongoing and illegal excavations both in Rome and in Jerusalem, where there is callous destruction of antiquities and historical information.
The man perpetrating the massive wreckage is a brilliant but devious chameleon, Sheikh Salah ad-Din, grandson of the notorious Haj Amin al-Husseini, grand mufti of Jerusalem's Waqf in the 1930s and close friend of Hitler. Like his grandfather, Salah ad-Din is seeking to defeat any power greater than he—by finding and destroying the 8-foot menora. He is following the trail laid by Flavius Josephus, a renegade Jew, in his The Jewish War, to find the hidden treasure.
The chase is intriguing, crammed with encrypted messages, hidden inscriptions—What is meant by "Titus's mistake"?—and the possibility that Josephus was not what he appeared to be.
A House Divided: A Novel
By Noah S. Friedland. (CreateSpace, 232 pp. $14.99)
This is a story of two American-born Israeli brothers. Both have been damaged during their Israeli army service. One, Jonathan Geller, has been living in the United States to escape from a catastrophic accident for which he felt he was to blame. But now his brother, Danny, has been killed in artillery training school.
When Jonathan returns to Israel for the funeral he meets his brother's girlfriend and his own old friend and starts to dig into the incident that killed his brother. He discovers not only a dangerous, divided society but also learns the truth about the earlier incident that drove him from the country.
Author Friedland has written a good story that shows an intimate knowledge of the military, the landscape of Israel and the effect of the ongoing conflict on the country's citizens.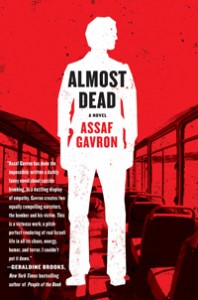 Almost Dead: A Novel
by Assaf Gavron. (Harper Perennial, 328 pp. $14.99, paper)
Assaf Gavron's well-written novel may make you uncomfortable. It has two protagonists—a young Palestinian (Fahmi) and a thirty-something Israeli businessman—whose lives may or may not intersect. Although Fahmi is lying comatose in a hospital bed, his mind is actively reviewing his life—his father's hopes for him, the woman he loves, his sister and most importantly, the brother who inspired him to become a bomb expert, willing to take vengeance on Israelis.
The Israeli, Eitan "Croc" Einoch, on the other hand, has walked away from several bombings unscathed, becoming a media hero. His good luck, however, has changed his life and he pursues the mysterious identity of a man who was blown up on one of the buses from which he has escaped.
Gavron's energetic telling takes us into an Israel that struggles to live, with humor, with the everyday fear of suicide bombers. Yet there is also sympathy in this narrative of life and death for those whom circumstances and history have arrived at a black, twisted path.