Cut & Post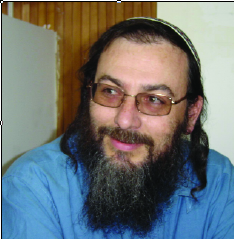 Return Trip 
Centuries after the dark days of the Spanish Inquisition, a descendant of a family forcibly converted to Catholicism has returned to the country not only as a Jew but as a rabbi.
Nissan Ben-Avraham formally converted to Judaism over 30 years ago after moving to Israel. He is now spending half of every month in Spain reaching out to a growing community of people descended from Jews who were forcibly converted—known as Bnei Anousim in Hebrew—and who are now looking to reconnect with their Jewish roots.
"It is a very big responsibility, but it's also very exciting," said Ben-Avraham. "I know there are many people with Jewish origins who want to come back to Am Yisrael, and I am thrilled to be part of that process."
In Spain, he represents Shavei Israel (www.shavei.org), an organization that reaches out to descendents of Jews around the world. Ben-Avraham teaches Jewish culture and practices to fellow Bnei Anousim, many of whose families managed to secretly keep some Jewish traditions alive in their homes since the Inquisition. —Dina Kraft

Summer Stock: Touring Productions in Israel
He has produced all of Neil Simon's plays on Broadway, but Manny Azenberg is just as proud of something else he has produced—good will toward Israel in the theatrical community.
For the last two decades, Azenberg has brought more than 400 actors, directors, playwrights and other entertainers to Israel. Jason Alexander, the late Wendy Wasserstein, Mary Rodgers and Bradley Whitford are just a few of the stars who have discovered Israel with him.
Azenberg has been a Zionist his whole life: His father worked for Chaim Weizmann, and Azenberg vividly remembers meeting Weizmann two days before his famous visit with President Harry Truman in 1948.
After Woody Allen published an op-ed in The New York Times lambasting Israel during the first intifada, Azenberg began organizing the tours, which include visits with everyone from prime ministers and supreme court judges to fighter pilots and farmers. His missions "shatter the preconceptions that both Jews and non-Jews have about Jews being weak," he said.
Alexander became a committed Zionist after visiting Israel with Azenberg in 1991. On that same trip was Wasserstein, who later wrote that it was "overwhelmingly moving" for her to be in the Jewish homeland; the playwright noted that the Western Wall was the "best set" she had ever seen.
Jerome Kane is the executive vice president of Broadway.com. A lapsed Catholic, Kane has already been to Israel twice with Azenberg and is planning to return this month.
"Manny's passion just sucks me in," Kane said. "I would go 10 more times with him." —Ted Merwin
L'Chaim!
Kashrut observers can refresh themselves with a gulp of Gatorade this summer now that two of its products, Gatorade Thirst Quencher and G2, are newly certified kosher by the Orthodox Union. Thirst Quencher, available in a rainbow of colors and flavors—citrus cooler, fruit punch and cool blue, to name a few—has been marketed for years by famous athletes like Michael Jordan and Serena Williams. But it is a high-carbohydrate drink, so beware of calories. G2 is a lighter offering, with half the calories of the original and also sold in an array of flavors. —Libby Barnea

A 'Ruin' No More 
In late February, Palestinian riots erupted after Israel announced plans to restore a list of "Israeli national heritage sites," including two West Bank sites also sacred to Muslims. So when the long-planned dedication of the restored Hurva (ruin) Synagogue in Jerusalem's Old City took place on March 15, tensions escalated.
A Hamas leader described the synagogue's dedication as signifying "the destruction of the Al Aksa Mosque and the building of the temple," according to Agence France-Presse.
And there is more controversy. A group of Israelis wanted the synagogue to double as a historical museum. But the site is in the hands of the haredi Western Wall Foundation, which plans to operate it only as a synagogue and house of learning. Visitors can enter (through separate entrances for men and women) only between prayer services.
The synagogue—with its frescoes, stained-glass windows, splendid Ark and enormous dome visible from several vantage points—has a long history. Its last previous incarnation was completed in 1864; the Jordanian Arab Legion destroyed it in 1948 during Israel's War of Independence. After 1967, Israel rebuilt only a single memorial arch. —Esther Hecht
Click, Click, Hi Dad!
Emanuel "Yami" Glick lives in Tel Aviv, but his 7-year-old son, Ira, lives in South Africa. Skype and instant messaging have allowed the two to connect—but an adult always had to be present to help. Now, through Vikido.com, an Internet-based video-messaging service Glick developed with colleague Amit Knaani, communication is easier than ever, not just for father and child but for families all over Israel.
The no-reading-required Web site allows children ages 3 and up to record a video and send it by clicking on uploaded pictures of parents, grandparents or others. Adults then receive the videos on their cell phones.
"My son will tell me about a karate lesson or about school. My 3-year-old daughter sends made-up stories, like, 'An apricot went on a hike and met an apple…," said Knaani, a single mother who previously managed a medical Web site and wanted to create a communication tool for children in hospitals.
Glick and Knaani are also developing an expanded Vikido so parents can initiate contact—as if their children had a real phone. —Rahel Musleah
Kosher Southern Charm
When the Orthodox Jewish community in East Memphis, Tennessee, gathers for a simcha, they cook the food themselves; they have no choice, with no local kosher restaurants.
So when Tracy Rapp and Dena Wruble were looking to fund-raise for Margolin Hebrew Academy, the only Orthodox day school in the area, they turned to what they know best: food and entertaining, in the form of a cookbook. And the community agreed, submitting 1,500 recipes for possible inclusion.
The result is Simply Southern With a Dash of Kosher
Soul(www.simplysoutherncookbook.net)–a collection of almost 300 of those recipes—that makes the quintessential Southern foods (fried chicken, seafood chowder, ribs and more) accessible to the kosher chef, with narratives of living life kosher in the South interspersed throughout. Included are Southern Jewish dishes such as Mini Matzo Ball Gumbo Soup and Caesar Salad with Challah Y'all Croutons.
Southern comfort food is "easy, entertaining, family-pleasing," explained Rapp. "Southern hospitality is a cliché, but it is what you get in the South…. It's our way."
The cookbook debuted last December and has sold more than 2,000 copies. —Randi Sherman