Family Matters: Steel Drum Hora
On a cold February day in 2008, my husband, Sid, and I heard the words we had long anticipated. a "Dad, Michele, Leslie and I are engaged!" Avi, my stepson, declared during a long-distance phone call from New Jersey to Jerusalem, our home of many years. We were thrilled. a Avi and Leslie had been dating for four years. Avi, who is as big-hearted as they come, had been waiting for the perfect moment to propose.Leslie—smart, sassy and with an equally big heart—did not hesitate.While the engagement had come as no surprise, the wedding destination sure did. "We want to get married on Tobago," Avi said excitedly. "It'll be great."

Tobago?!!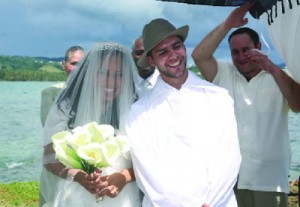 The idea was not all that outrageous, actually, given that Leslie was born and raised on Trinidad, the larger, more populated half of the Caribbean island Republic of Trinidad and Tobago, located northeast of Venezuela.
Leslie, who was raised in a devout Christian home, discovered Judaism after moving to the United States and working for an Orthodox Jewish family. Eventually, she underwent a stringent Orthodox conversion.
We Googled "Tobago" as soon as we got off the phone and were awed by images of pristine beaches, the rain forest, the exotic wildlife. This is going to be amazing, Sid and I said, grinning, contemplating a wintertime vacation in paradise.
Then we got down to tachlis: Was there a Jewish community in Trinidad and Tobago and, if so, could they help us plan a kosher wedding?
An Internet search directed us to the Jewish Virtual Library, www.jewishvirtuallibrary.org, which said that only a few hundred Jews, most of them European refugees, have called Trinidad home at various times during the past two centuries.
Some arrived in the late 1700s; others, most of them Portuguese Jews, arrived a century later. Their ranks swelled during the 1930s when refugees fleeing the Nazis landed in Trinidad. They formed a close-knit community until later in the war, when the authorities classified many of the Jews as enemy aliens and interned them.
Of the 700-plus Jews who lived on Trinidad in the 1950s, the vast majority of them secular, only a few dozen remain. They have intermarried and keep an extremely low profile.
With no official Jewish community to consult, we were on our own. The task of organizing an Orthodox wedding—the first wedding of its kind in Tobago—suddenly seemed daunting. Maybe too daunting.
Yet instead of giving up on the idea, Leslie's family and ours pulled together across the miles and worked on logistics. To do so we had to overcome not only time zones but cultural and religious differences.
First, Leslie flew down to Trinidad to explain to her family why this wedding would be like no other island wedding they had ever attended; that a kitchen would have to be kashered and kosher food imported. This meant that a hotel-based wedding would not be an option.
As if that were not enough, Leslie told her parents that a makeshift synagogue would have to be established and that Sabbath-observing guests needed to be housed within easy walking distance.
Our future machatonim took a deep, deep breath and promised Leslie it would all work out.
As Bible-loving people, they never questioned why we, Avi's American Jewish family, couldn't just eat vegetarian or permit a non-Jew to drive us to shul (not that the island has one). They simply pulled up their sleeves and, with great love, got to work planning their only daughter's Orthodox Jewish wedding.
Not long afterward, Leslie and Avi made a reconnaissance mission to the island to find a place that all the guests—from Trinidad, the United States, Canada and Israel—could afford and where all would feel welcome. It wasn't going to be easy, since the pristine island is beloved by wealthy European tourists in search of warm weather.
When they had all but given up hope of finding appropriate accommodations that would second as the island's first synagogue, Leslie and Avi discovered the Tobago Plantations Beach and Golf Resort. There were beautiful condos, villas with little private pools to fit almost every budget (even ours!) in an idyllic setting, and most were next door to each other.
Leslie's parents graciously offered to rent one of the resort's loveliest beachfront villas and to host (literally and financially) the wedding. Sid, an Orthodox rabbi by training, would kasher the kitchen and perform the wedding.
Avi's mother and stepfather, who are based in Massachusetts, took on the task of bringing large quantities of precooked kosher food (the government does not permit the entry of uncooked meat), a Torah scroll, benchers and kippot to the island, no small feat since there are no direct flights from the United States to Tobago.
Deciding not to trust a shipping company, a handful of family members volunteered to carry the boxes of carefully packed food onto the plane where, it was hoped, it would remain edible. After working out the logistics, we and other family members finally had the time to contemplate what it would be like to spend up to a week together. As an already blended family we had our own internal dynamics to deal with. How would we relate to Leslie's family, and how would they relate to us?
Despite Leslie and Avi's reassurances, Sid and I worried that Leslie's family might harbor negative feelings over Leslie's conversion. I know how we would feel if one of our children left the faith.
We had already met Leslie's mother the previous winter, and she was as bubbly and welcoming as Leslie is. But we also knew that Leslie's parents live an almost haredi Christian lifestyle. Her mother does not hug or even shake the hands of men outside her immediate family and wears long, modest skirts.
Would Leslie's father, who did not want loud music at the wedding, resemble a prim fundamentalist preacher intent on converting us?
Time would tell.
A week before the early-November wedding we flew from Israel to New York and then, a few days later, from New York to Miami, then Miami to Trinidad.
Leslie's father met us at the airport and bowled us over with his gregariousness and warmth. Trim and athletic—he is a former Olympic cyclist—he scooped up our suitcases as if they weighed nothing.
At the small apartment they keep for guests, Leslie's parents and three brothers hovered over us like mother hens. Did we remember to bring our toothbrushes and toothpaste? Did we need shampoo? Insect repellant? Our then 6-year-old twins played with toys borrowed from Leslie's nephews.
By the next afternoon, when we boarded a puddle-jumper to nearby Tobago, we had discussed everything from the Caribbean economy to the security situation in Israel. And there were a couple of lively discussions on the Hebrew Bible.
With seemingly little effort on either of our parts, we had embraced what we have in common and respected the differences.
Following a couple of days to ourselves in magnificent Tobago, it was time for the big pre-wedding family reunion. My parents, brother and niece, who feel very close to Avi and Leslie, shared adjoining suites in our luxurious condo. Avi's mom, Leah, and her side of the family settled in as well.
Sid, Leslie and some of her relatives spent Wednesday kashering the villa's kitchen (they insisted on doing it themselves) while Leah prepared to host up to 40 people in her villa for all Shabbat meals.
Following Friday night service, Leah invited us to a feast replete with chicken soup and kugel served around the pool. Halfway through, Leslie's family arrived and we spontaneously burst into song. Women and men formed respective circles around Leslie and Avi, and her family and ours danced the hora together under the star-filled sky.
The next morning we held a traditional Shabbat hatan, and that afternoon, following a brief rainstorm, two brilliant rainbows formed a double arc in the sky.
It seemed auspicious.
On Sunday, the day of the wedding, we knew we had arrived at the right villa because Leslie's father had placed an Israeli flag in the driveway.
The villa was stately but it was the garden and ocean lapping at the rocks that made the wedding unique. That and the fact that Leslie's family had erected a bamboo huppa on the waterfront. The scorching sun shone through in spots, rendering thehuppa technically unkosher (the wedding's only minor glitch), so Avi's friends held his talit over the couple.
The food, which was supplemented by a famed local chef under Sid's supervision, was delicious. There was Jewish folk dancing and a Caribbean steel band and, at the end, Leslie and some guests jumped into the swimming pool, much to the consternation of Leslie's father.
The wedding brought together two families who, under other circumstances, would never have met. Today we are one family. A unique family.
Avi admits that if he had known how much work it would be to throw a halakhic Jewish wedding in Tobago, he might have opted for something more conventional.
Not Leslie.
"Somehow the magic of the experience washed over everyone and friendships were formed," she says, recalling the experience. "Something in the air, I think."
Michele Chabin is an award-winning journalist based in Israel.