Profile: Yasmin Levy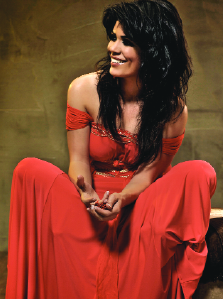 Yasmin Levy is only 34 years old, but she carries with her a 500-year-old sadness rooted in expulsion and exile. The Jerusalem-born singer, who traces her background to the Jews who fled Spain over five centuries ago, has made it her cause to recast and transmit the disappearing musical legacy of the language they took with them—Ladino.
In a concert last fall at New York's Symphony Space sponsored by the World Music Institute, she unpacked a repertoire of mournful folk songs and stirring ballads about love, desperation and longing, reinterpreted in her arresting signature style that crosses Sefardic, flamenco and Middle Eastern music.
Dressed dramatically in a flowing, belted, off-shoulder black dress and long, dangling earrings, her eyes expressively outlined in smoky dark pencil, she took the spotlight with one syllable: "Si…." She colored the traditional Ladino romance "La Serena" (the mermaid) with a piercing, undulating lament. "Si la mar era de leche/ Los barquitos de canela/ Yo me mancharia entera/ Por salvar la mi bandera." (If the ocean was made of milk, I would be a fisherman, fishing my pains with words of love.)
Though levy has released four albums in israel, Europe, Australia and New Zealand and has toured extensively in those areas, her exposure in the United States has been limited until now. A 10-city tour last year coinciding with the North American release of her third CD (Mano Suave; all of Levy's albums were produced by Adama) introduced audiences to a mix of Ladino classics and original compositions. The album sold 60,000 copies in Europe, Australia, New Zealand and Israel.
In a sweet, almost shy speaking voice that contrasts with her strong performance style, Levy explained to the New York audience the difference between Ladino and Latino, shared the history of the Jews of Spain and even admitted that in the early days of her career the Sefardic community in Israel thought she had damaged their musical treasury by superimposing flamenco on it. (They have now embraced her.) "I have no right to change the words or the melody," she said, but infusing passion into the songs is a different matter, "and flamenco is all passion."
Unapologetically, she unveiled the traditional "Noches"—the story of three young sisters walking in the night and singing to each other that "nights are made for love"—in the flamenco style known as solea, almost crying the words and punctuating them with soft rhythmic clapping.
Ladino is listed by UNESCO as an endangered language, spoken only by 150,000 (mostly older) people worldwide. Even Levy does not speak it—she only sings it. "If you don't live a language, the language will not live," she said. "The only thing that will survive are the songs." Though anyone can sing the songs, "it is not just the words on the page," she explained. "It's the food you eat, it's the furniture in your family home, it's your mother shouting at you."
Levy gives the songs life on stage, where, ironically, they were never meant to be performed. "My father would never have believed these songs would be sung in Carnegie Hall or in the Sydney Opera House," says Levy in an interview at the offices of her American agent, IMG Artists, next door to Carnegie Hall. Her father, Turkish-born composer, cantor and noted ethnomusicologist Yitzhak Levy, spent his lifetime documenting the songs, recording machine in hand. "He knew they had to be preserved," she says. "He went from one Sefardic family to another and recorded lyrics and melodies. The women sang the secular songs at home to their daughters. They had a great role in preserving the Ladino tradition. The fathers sang the religious songs to their sons in the synagogue."
Though many of the songs transmit the trauma of expulsion, Levy adds her own personal darkness to them: Her father died when she was just a year old. "I always sing sad and dramatic songs. I can't change," she admits. "I'm the happiest of people with a big sadness in my heart." Her mother, Kochava Levy, who had married at 19 (her husband was 27 years older than she), had given up a career as a Ladino singer to raise her family; she became both mother and father to her four children, all under the age of 10. Yasmin, the youngest, learned the songs in her mother's kitchen in the Baka section of Jerusalem. She also absorbed much of her mother's pain and unfulfilled aspirations and says that now her mother is "living her dream through me."
Former Israeli President Yitzhak Navon, current chair of the National Authority for Ladino in Israel, was Yitzhak Levy's closest friend and has known Yasmin all her life. "Yasmin is considered the most impressive singer of Ladino songs in Israel and the world at large," Navon says. "She combines brains with emotions, with natural beauty."
The home Levy shares with her husband, Ishay Amir (also her record label manager and current percussionist), in the Jerusalem suburb of Mevaseret Tzion has a garden with a huge pomelo tree and seven stray cats. "It's like a Spanish movie inside," says Levy. "All red and earth colors, and flowers. You can feel that musicians live there. There is a piano and many other instruments, and pictures of sad women on the walls." Levy has played the piano since the age of 6 and also studied flute, guitar and harmonica.
Had her father lived, she says, he might have tried to stop her from becoming a singer. "He wanted us to have music in our lives but not professionally," she says. "He knew it was a difficult life." Her two brothers, Yehuda and Yuval, are engineers; her sister, Smadar, is a lawyer; they all live in Jerusalem. Levy first studied reflexology, deciding against a music career. But while counting the minutes during her second session with a client, she realized she was deceiving herself.
Though her brothers encouraged her to "go be a famous singer," they urged her to sing something besides Ladino. Levy clung to her dream and found that in contrast to the commercial world of pop and rock, "people want something deep, real, honest, something they can identify with. Even people who have nothing to do with Sefardic music come to my concerts."
Rina Papish, Israeli director of Ladino: 500 Years Young, a documentary featuring Levy, says that "she has all the qualities of a star while maintaining her humility. She is good-hearted and considerate. [She] gives a lot of honor to the past but updates it so others can connect to the music." While shooting a scene in the synagogue in Toledo, Spain, Papish recalls that Levy stood in front of the wall where the Ark had stood—and wept quietly. "She felt she was somehow connected to her ancient roots." In Madrid, Levy insisted they stop filming before Shabbat began and lit candles in her hotel room.
Levy describes herself as a "simple woman from Jerusalem" and an "ambassador of tolerance and Sefardic culture."
"Jerusalem is who I am," she observes. "My mother says we are a Jerusalem stone. You can say the stones cry because of what they saw: wars, tears, blood. But it is the most beautiful place because people came from all over the world to live there: Jews, Christians, Muslims, secular, religious, Ashkenazic, Sefardic. I grew up listening to all kinds of music, smelling all kinds of smells. I saw many traditions and the mixture made me who I am today. I bring all this to my music."
To understand the song "Irme Kero," she says, is to understand the history of a centuries-old longing for Jerusalem. The title song of her album, the Bedouin-inflected "Mano Suave," reminds her of the desert and the beauty of Islam. On the album, she performs it in a duet with the Egyptian singer Natacha Atlas. "We wanted to send a message of mutual respect," Levy says. Atlas had never performed with an Israeli or a Jew, but agreed when Levy approached her.
In addition to Amir, who has Persian roots, Levy's band includes Israeli guitarist Yechiel Hasson; Armenian musician Vardan Hovanissian, who plays duduk, clarinet and zurna; and upright bassist Miles Danso, with a background that spans France, Ghana and England. "My legacy is tolerance," she notes. "This is my religion—accepting people the way they are and not trying to change them. Music is the only language with which you can open people's hearts."
Levy has received the Anna Lindh award for promoting cross-cultural dialogue and is a goodwill ambassador for Children of Peace, a charity based in the United Kingdom that works to alleviate the plight of children caught in the Middle East conflict. Last December, she gave a workshop in Jerusalem to children from all sides of the conflict, talking about her career and trying to imbue the youngsters with hope to accomplish their dreams.
Hope and survival for her own people often came through humor, she says. Levy dedicates a song to all the mothers-in-law in the audience, noting that the mother-in-law is "stronger than death herself. Very soon, I hope… she will rest in peace." Her favorite song is one she and Hasson wrote together: "Una Noche Mas" tells of the sad ending to a loving relationship between a mature woman and a younger man. (All of Levy's original song lyrics are written in Spanish.)
Australian critics have called Levy a "world music pin-up girl" (The Sydney Magazine) and a "sultry siren" (Daily Telegraph). "If you're looking to plunge into a deep pool of exquisite yearning and heartbreak, then just dust off your trunks and dive right in," wrote critic Jamie Renton in fRoots, a British music magazine.
Each of her albums expresses an "epoch" in Levy's life. Her first, Romance and Yasmin, features pure, innocent, almost fragile Sefardic songs recorded with a Turkish influence for the first time; it was nominated for a BBC World Music Award.
Inspired by flamenco classes she took in Jerusalem, Levy applied for and received a three-year scholarship to study the art form in Spain. She discovered Calle Levy (Levy Street) in the Jewish district of Seville and, in one class, was startled to hear a flamenco melody that was identical to a Ladino one. After the Expulsion, she explains, "the Jews left behind the voice of the cantor, while the Muslims contributed the muezzin's call. When the Gypsies arrived, they merged the two forms to create flamenco. It is rooted in religious Jewish song."
After three months, Levy abandoned her studies and began writing the arrangements for her second album, La Juderia, kickstarting the soft Ladino sound with a raspy, chesty flamenco. But singing flamenco in Spain was "like selling ice to the Eskimos," she says. With so many flamenco singers and so few Ladino ones, she realized her "duty" to Ladino song.
Levy's original composition, "Me Voy," won the 2008 USA Songwriting Competition for the best world music song. Her fourth album, Sentir, returns to a jazzy flamenco with a Cuban feel. "Always I will change things," Levy says. "It's a journey you do."
That journey wells up from deep inside her. "I always sing," she says. "I don't only sing onstage. I sing at home alone. I sing with my mom. I sing after rehearsals and concerts. I wish I could stop." H