Israeli Life: Day of As One-ment
It is the night of Yom Kippur. After Kol Nidrei services, busy, bustling Emek Refaim Street in Jerusalem's upscale German Colony, famous for its trendy cafés, is filled with traffic. Not the four-wheeled kind, however. Instead of cars, the street is packed with hundreds of people. Most are coming from synagogue services, but others, in off-the-shoulder dresses and trendy outfits, are just enjoying an evening stroll. A few children on bicycles weave daringly in and out of the crowds. English, Russian, French and Hebrew fill the night air as groups of people slowly walk home. An Ethiopian family stands on the sidewalk, silently enjoying the vibrant holiday scene.
This is Israel, kibbutz galuyot, the ingathering of the Jewish people, predicted by our prophets thousands of years ago; it is a continuous process that has defined the Jewish people and Jewish history.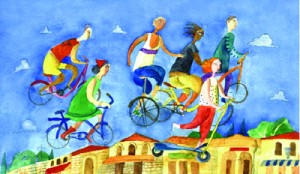 The following afternoon, during the customary break in prayer services, the street is still devoid of cars; instead, scores of bicycles and scooters whoosh by, some of the riders performing tricks like acrobats. Yom Kippur is referred to as Bicycle Day by secular Israelis, when main streets in cities, even predominantly secular Tel Aviv and Haifa, turn into pedestrian and bicycle pathways.
Every Israeli observes Yom Kippur in his or her own way. There are no laws governing what can and cannot be done on this day. While religious and traditional Jews fast and pray in synagogue, most secular Jews also refrain from eating and drinking and do not drive or, if they do, avoid inner city streets, not wishing to offend others. Restaurants, businesses and places of entertainment are all closed. It is a family day.
And as a family, it is a day we all share. It is what Israel is all about as a country and as a nation.
For 25 hours, on this slow fast day—no matter who we are, what we believe or where we live—sinat hinam, the baseless hatred that creates rifts between Jew and Jew, is put aside.
Yom Kippur also brings tragic memories of the country's 1973 war, when Egypt and Syria, backed by the Soviet Union, launched a devastating surprise attack that cost thousands of Israeli lives.
Despite failed leaders, corruption and continuing terrorist attacks, life goes on, and Emek Refaim on Yom Kippur is why: This most sacred day is embedded within every Jew, a bond of holiness. For all our many differences, we share a tradition, a culture, an identity, and we have come home.
Yom Kippur changes our lives. Sharing this day as a national experience is the essence of what it means to be an Israeli Jew. And that is something worth celebrating throughout the year.
A final blast of the shofar is sounded in synagogues throughout the country when Yom Kippur ends. The notes echo of freedom and redemption. After hearing the shofar, we sing out: "Next year in Jerusalem!" And this year, too, forever. God willing.
As soon as the holiday is over, cars, buses and motorcycles once again clog the streets. Waiters wipe tables, coffee machines perk, customers wait for snacks and pizza delivery boys begin loading up their motor scooters.
We are back in business…until next Yom Kippur.