Books: Anti-Semitism and It's Tentacles
New books are shedding light on our understanding of Jew hatred and the Holocaust. Here is a selection that looks at anti-Semitism in England as well as in the United States, and how Nazi persecution and Jewish survival were complex affairs.
Holocaust: The Nazi Persecution and Murder of the Jews
 by Peter Longerich. (Oxford University Press, 645 pp. $34.95)
Remembering Survival: Inside a Nazi Slave-Labor Camp
 by Christopher Browning. (Norton, 375 pp. $27.95)
Rezso Kasztner: The Daring Rescue of Hungarian Jews: A Survivor's Account (Pimlico)
 by Ladislaus Löb. (Pimlico Press, 338 pp. $22.95)
The Third Reich in the Ivory Tower: Complicity and Conflict on American Campuses
 by Stephen H. Norwood. (Cambridge University Press, 352 pp. $29)
Trials of the Diaspora: A History of Anti-Semitism in England
 by Anthony Julius. (Oxford University Press, 864 pp. $45)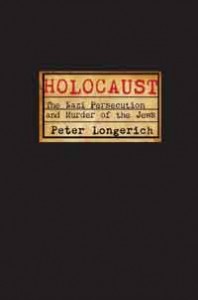 Holocaust by Peter Longerich, director of the Research Center for the Holocaust and Twentieth-Century History at the University of London, argues that Judenpolitik, or anti-Jewish policy, was at the center of the Nazis' strategy to realize their utopian dream of a racially homogeneous national community, first in Germany and subsequently throughout Nazi-occupied Europe. To rid Europe of its Jews, states Longerich, was not only central to the whole National Socialist movement, but was what gave it its distinctiveness. Therefore, he says, it is pointless to select a single order for a Final Solution, but rather to understand that the escalation from persecution to genocide involved a highly complicated series of decisions that emanated from the Nazi leadership, but whose implementation was left to the interpretation, if not imagination, of the actual perpetrators.
Longerich notes that the reliability of those countries allied with the Nazis following the invasion of the Soviet Union in June 1941 was determined by their participation in the mass killings of Jews, or willingness to deport their Jews to the death camps.
Ever since the publication of Hannah Arendt's Eichmann in Jerusalem (Penguin) in 1963, the role of the Judenräte, or Jewish councils, has been a subject of controversy. Did the councils in the ghettos make the deportation easier for the Nazis by implementing their demands for the roundup of Jews to be shipped to Treblinka and the other death camps? The charge of Jewish collaboration with the Nazis in their own demise, however, did not relate only to the Jewish councils.
The most controversial case of this kind was also part of the Adolf Eichmann trial in 1961, charging that Rezso Kasztner, one of the leaders of the Zionist Vaad council in Hungary, had betrayed Hungarian Jewry by not warning them that the Nazis were bent on deporting them to Auschwitz.
Others, however, view Kasztner as a hero who saved 1,620 Jews by bargaining with Nazis, such as Eichmann and Kurt Becher, as part of a larger plan to trade money and goods to the Nazis for the lives of Hungarian Jews. Such negotiation, however, was doomed to fail because the Allies were bent on the policy of unconditional surrender, which excluded the possibility of bartering with the Nazis.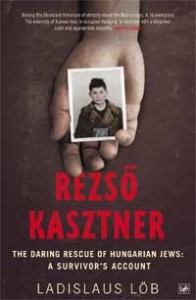 This tragic story is told in 
Rezso Kasztner
 by Ladislaus Löb, an emeritus professor of German at the University of Essex in England who, at age 11, was among the 1,620 Hungarian Jews on the so-called Kasztner train, which spent five months at Bergen-Belsen before Eichmann allowed it to depart to Switzerland and freedom. Löb is sympathetic to Kasztner, but attempts to relate fairly the events both in Hungary and in Israel, where Kasztner eventually immigrated. There he was labeled a traitor who collaborated with the Nazis as well as accused of choosing only those close to him as passengers on the train. In a 1954 trial, the judge ruled against Kasztner; soon after his assassination in 1957, the verdict was overturned by an Israeli appeals court.
Kasztner remains a controversial figure, but Löb's book should help rehabilitate his place among those who tried to save Hungarian Jewry.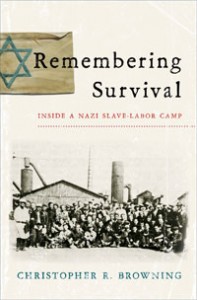 Christopher Browning's new book, 
Remembering Survival
, adds to his reputation as one of the preeminent scholars of the Holocaust. His book focuses on the factory slave-labor camp, one of the most understudied and least-known phenomena of the Holocaust. Browning examines the Starachowice labor camp from the perspective of its 292 survivors. A small, obscure camp located in the Radom district of the General Government in Poland, Starachowice was critical to munitions production for the German war effort. Thus the Jews employed for slave labor were able to survive so long as they were able to work, despite the ever-present threat of arbitrary killing. Browning not only unsparingly depicts the arbitrary cruelty of Nazi camp leaders but also relates the testimony of survivors who expressed their condemnation of fellow Jews who were seen as receiving preferential treatment in the camps or who held positions of authority first in the Wierzbnik ghetto and later at Starachowice.
Jews killing Jews? This may have occurred when camp survivors were deported to Auschwitz following the dissolution of Starachowice. Based on inconclusive survivor accounts, Browning describes the brutal revenge murder against the Jewish head of the Starachowicze camp and his son in a crowded cattle car headed for the death camp.
Browning concludes his invaluable study by noting that the Jewish prisoners at Starachowice, rather than abandoning any notion of moral obligation to their fellow Jews, substituted a hierarchy of mutual obligation: first, loyalty to one's own family members; secondly, obligations to friends and neighbors; thirdly, to one's own townspeople; and, fourth, to Jews.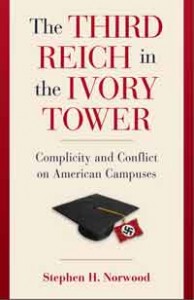 If anti-Semitism was the distinctive characteristic that propelled Nazi Germany, what was the attitude toward Jews in the Allied countries? Stephen Norwood looks at anti-Semitism in the United States in 
The Third Reich in the Ivory Tower
 and Anthony Julius examines it in Britain in his 
Trials of the Diaspora
. The Norwood book chronicles the pro-Nazi attitudes on the part of administrators of the Ivy league colleges, elite women's colleges and a number of Catholic universities, such as Notre Dame, between 1933 and 1940. More than just placing quotas against Jewish students, many top academic institutions displayed their pro-Nazi affinities by encouraging their students to visit Nazi Germany on exchange programs, refusing to hire Jewish refugee scholars fleeing Hitler and punishing both faculty and students who protested the school's friendly relations with the Nazi regime. Norwood concludes that academic leaders such as James Conant of Harvard University in Cambridge, Massachusetts, and Nicholas Murray Butler of Columbia University in New York embraced Nazi Germany partly because they associated Jews with Bolshevism and partly by viewing Hitler's Germany and Mussolini's Italy as bulwarks against the spread of Communism.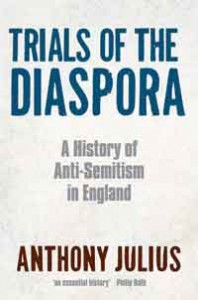 Norwood's tome, which shows how influential many American universities were in creating sympathy for Nazi Germany, helps explain the shocking survey among incoming freshmen at Princeton University in New Jersey in 1938 in which Hitler polled as the "greatest living person."
Anthony Julius, best known in the United States as Deborah Lipstadt's attorney in the David Irving libel suit, has written an indispensable history of anti-Semitism in England, and in his chapter on Great Britain's response to the Holocaust finds that, although anti-Semitism was prevalent among a number of Great Britain's elite, its policy toward aiding the Jews was based on a wartime strategy to do nothing that would impede victory over Nazi Germany, and that meant not diverting resources to any other end. This policy included refusing to bomb Auschwitz, because any such raid would represent a diversion of military equipment and personnel to nonmilitary purposes. Other officials made the argument that the Jews should not be treated as a special case, lest the British public conclude that the war was being fought on behalf of Jewish interests, thus increasing domestic anti-Semitism.
Great Britain's worst nightmare, however, was that negotiating with the enemy on behalf of saving Jewish lives might lead the Nazis to allow millions of Jews to be free and demand entry to the one place that would accept them, Jewish Palestine. From the Evian Conference in 1938 to the White Paper of 1939 to the Bermuda Conference of 1943, this was always an unacceptable alternative, lest it alienate the Arabs. It was not only the Nazis, therefore, but also Allies, such as Great Britain, that prevented those, like Kasztner, from successfully negotiating the rescue of European Jewry. —Jack Fischel 
FICTION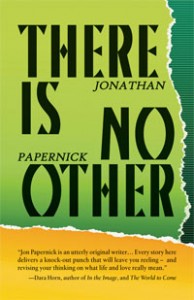 Jonathan Papernick had worked as a journalist in Israel, and those experiences, transformed into short stories, turned The Ascent of Eli (Arcade) into an impressive first collection. A novel, Who By Fire, Who By Blood (Exile Editions), followed in 2007, and Papernick soon joined the ranks of Dara Horn, Nathan Englander and Jonathan Safran Foer as a young Jewish writer worth watching.
The nine stories in Papernick's latest collection are set in America and Israel, and they explore the fragile territory between dream and reality, life and death and, perhaps most of all, between faith and doubt. Papernick's fiction takes no prisoners; it forces us to look at the most outlandish juxtapositions life can serve up. Papernick's stories grab our attention and keep us glued to the page until it is too late—and the  "unthinkable" has already happened. Sometimes, darkness falls, sometimes transcendence lifts, but in each case, tenderness always lurks just around the edges.
Take "The Engines of Sodom." Its opening sentence seems predictable enough given the history of Jewish American family squabbles: "Hershlag's mother hit him over the head with a loaf of rye bread when he told her he was going to catch a show at Ildiko's rather than joining her at synagogue to mark his grandfather's yahrzeit." This is funny enough but nothing compared to the stark way in which this very short short story ends. Hershlag seems for all the world to be a slacker, a teenager who knows more about dope, punk rock and skinhead culture than Jewish history—all of which makes the story's final tableau so disturbing: As he approaches a tattoo parlor, he remembers his grandfather's concentration camp numbers and "was determined to become a living monument to Poppa Hershlag so that Hershlag himself would never forget."
The image disturbs me on a number of levels, the most important being that it comes close to trivializing the Holocaust, and I would prefer that contemporary Jewish writers resist elbowing gratuitous Holocaust detail into their stories.
In "The Madonna of Temple Beth Elohim," Papernick tests out the limits of well-meaning, liberal ecumenicalism. A shell-shocked Catholic war vet takes on a job at a Reform synagogue, helping to prepare the sanctuary for the High Holidays. While polishing the lectern, he uncovers (or thinks he has uncovered) an image of the Virgin Mary. Word spreads and soon the synagogue is inundated by Catholic worshipers eager to pray at the site of a shrine.
Papernick largely plays this story for laughs but that is not the case in "There Is No Other," a chilling tale in which a biracial Jewish student arrives at his school's Purim party dressed as the prophet Muhammad. Sporting a suicide belt stuffed with explosives, he demands to know who, in fact, the true God is. His hapless teacher tries to explain but his words fall on deaf, deeply tormented ears. More than 50 years ago, Philip Roth's "The Conversion of the Jews" chronicled a similar Hebrew school showdown between a smart-aleck student and a befuddled rabbi, but Papernick raises the ante—with catastrophic results.
Papernick's stories sometimes seem overly schematized or too insistent, but they remain unforgettable nonetheless—and that, after all, is how the best short stories are supposed to feel. —Sanford Pinsker
by Yoel Hoffmann. Translated from the Hebrew by Peter Cole. (New Directions, 128 pp. $14.95, paper)
Toward the end of Curriculum Vitae, author Yoel Hoffmann describes a dream he had of a string of pearls. Suddenly, the string breaks, dropping an "infinity" of pearls on the floor. At most, he says, he will be able to gather up a hundred of these pearls. Since his dream is recounted in the 99th of the book's 100 brief sections, we are invited to think of these fragments not as the new tales of a Hebrew Hoffmann, nor as pensées à la Pascal, but as "pearls."
A straightforward biography of Yoel Hoffmann would tell us that he was born in 1937 in Hungary and came to prestate Israel at the age of 1, when his family fled the advancing Nazi menace. He is the author of nine books, six of which have been published in English by New Directions, and his name has been mentioned in connection with the Nobel Prize as an avant-garde Israeli alternative to mainstream authors such as Amos Oz and David Grossman. Adding to his outside-the-box persona, he is currently a professor of Japanese poetry, Buddhism and philosophy at Haifa University.
This book, written in an impressionistic style, will likely frustrate the casual reader. And yet, there is a story line. As in Hoffmann's Katschen & the Book of Joseph (1999), which describes Hungarian Jewish life in Berlin before he was born, and The Shunra and the Schmetterling (2004), which recalls Hoffmann's childhood in Palestine, Curriculum Vitae may be seen as a memoir that picks up in 1949, at the beginning of puberty, and takes us through to the 1990s, where sexuality is still in play, although no longer the main thing.
In between, we learn of Hoffmann's first wife, whose name may be Yolanda or Varda; his current wife, whose name may be Nurit (or not); and his three children called, perhaps, Yasmin, Tomer and Yotam—or maybe the girl, born in a taxicab, is named Sivan, and one of the boys, born prematurely, is called Mikha'el? Suffice it to say that in this curriculum vitae, neither the facts nor the chronology nor the geography is clearly delineated. We travel with Hoffmann to Paris and Amsterdam and are told of trips to Copenhagen, Lisbon and Katmandu (one of his other books is entitled The Heart Is Katmandu). We go to live with Hoffmann in Safed, where a neighbor announces "the Messiah has come," and where the narrator recalls memories whose ordinariness can be of no interest to anyone but himself: "I remember a man who, on the way to the office, along the main road, fell to his knees."
It is when the narrative turns surreal—"large fish came out of the mouth of the Jordan River and walked by foot all the way to Safed"—that we come to the realization that Hoffmann the writer lives very much within his own spacious mind. (This desire to expand the space of the narrative by contracting it may explain the over 350 sets of parentheses in the book.) The narrator also speaks of Hoffmann in the third person, as one "who eludes me continuously and whose nature it is hard to grasp." And there is a time when he speaks of the necessity of the "de-Hoffmannization" of the narrative.
Although Hoffmann states that "the setting of the book…is the world," much of that world is situated in Japan. After studying Japanese in Israel under the tutorship of the unlikely named Mrs. Piatelli, and after studying Zen Buddhism with a Japanese monk living in East Jerusalem, Hoffmann goes off in 1970 with his family to study Japanese philosophy in Osaka (or is it Kyoto?) for six months. Somehow, he returns to Israel, his "beloved land," in 1974 and makes a second sojourn to Japan in 1980.
For Hoffmann, writing cannot take place without the ubiquity of the Holocaust in every word he writes. "There isn't a single page," he asserts, "from which the smoke does not ascend." His dedication to the memory of those murdered in the Holocaust (which he, of course, did not live through) is made manifest when he blurts out without transition or introduction the complete Mourner's Kaddish, in both Aramaic and, in this translation, English.
If, as Hoffmann avers further, "it's possible to write only by means of non-writing," it is also possible to write by doodling. There are more than 30 line drawings—indecipherable without the author's help or a better graphic imagination than most—sprinkled throughout the book. Many of these puzzling squiggly images also appear on the book's cover, proving that you can sometimes tell a book by its cover, just as, for adepts at Zen Buddhism, you can sometimes hear the sound of one hand clapping. —Joseph Lowin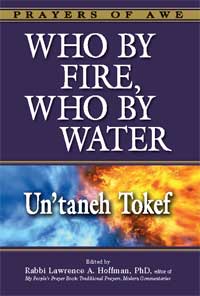 Readers of this collection of more than 41 essays will either learn more than they ever wanted to know about the piyyut, liturgical poem, "Un'taneh Tokef," recited on the High Holidays (for instance, it is not recited in many Reform synagogues because they are troubled by its theology of God standing in judgment and deciding "who will live and who will die"). Or they will be amazed by the varying attitudes toward the poem's 39 verses.
Editor Lawrence A. Hoffman gives the poem's background and translation, traditionally thought to have been written by Rabbi Amnon of Mainz. Though his authorship is challenged, the story of his dying from wounds inflicted when he refused to convert is compelling, and the poem is beautiful.
In Rabbi Lawrence Kushner's interpretation, he does not see a correlation between righteousness and mortality—since good people often die young. So why claim, as the poem does, that teshuva,tefila and tzedaka (repentance, prayer and charity) can avert a decree "that cannot be averted?" His Hasidic-based explanation reveals that the three acts all involve a deliberate loss of ego: When Rabbi Amnon dies, he is returning his self to its source (teshuva), pouring out his self before God (tefila) and making himself the gift to God (tzedaka).
Wendy Zierler, associate professor of modern Jewish literature and feminist studies, takes the piyyut personally, finding meaning in its different adaptations by singer Leonard Cohen ("Who by Fire?") and Israeli Eran Tzelgov ("Piyyut Layamim Hanora'im"). The focus, she writes, should be on reordering our thinking, since we cannot change the inevitability of death, but we "can help determine the way we live." —Zelda Shluker
Books in Brief
Sharing Chagall: A Memoir by Vivian Jacobson.
An insightful, often amusing mini-memoir, Sharing Chagall chronicles Vivian Jacobson's relationship with the artist during the last decade of his life. As the president of the American Association of the Chagall Biblical Message Museum, she was a frequent visitor to his home in Nice. She observed him at work, noting his artistic discipline and exactitude as well as his whimsical talent for friendship—to say nothing of his passion for chocolates. A veteran lecturer on Chagall, she lists a valuable chronology of his works and an extensive bibliography. —Gloria Goldreich