Cultivating Agricultural History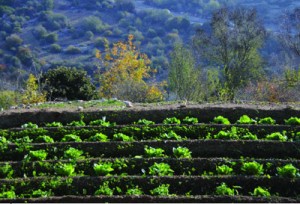 It is a hot summer morning in the hills of Jerusalem. The sun has barely arched over the horizon and already the heat is stultifying. On my shoulders is a 66-pound bag of fertilizer and I am trudging down a narrow, winding stone path on Mount Eitan, fighting the weight of the bag. Every fiber of my 50-year-old body is protesting. My legs are not my best friend and are probably considering mutiny.
Halfway down the mountain, ancient stone terraces supporting brilliant green plots of land are visible. Varieties of herbs and vegetables, such as corn, lettuce and carrots, grow here, as do trees, mostly olive and some lemon: a veritable nature's pantry. Owned and developed by the Jewish National Fund, this is Sataf, a 250-acre park and eco-farm on Mount Eitan, 20 minutes west of Israel's capital (www.kkl.org.il; search under "Sataf").
The gardens, on a magical hill and valley, lush, green and misty in the mornings, pulled me in as a volunteer. They have scant mechanization, no automation and no computerized irrigation. Instead, a quaint natural well spreads its water via rudimentary hand-dug channels to the fields below. Blood, sweat and tears—and ripped muscle tissue—are its driving force.
Sataf is an ecological treasure where agricultural methods have been reconstructed just as the Israelites practiced them thousands of years ago. Once used as a training ground for the Israel Defense Forces, in the 1980s, JNF bought and decided to reconstruct a portion of the land and return it to its rich biblical agricultural past. JNF has refurbished the terraces, the tunnels that were hewn into the water-bearing strata to increase water flow and the channels that carried the water to the storage pools.
In addition to the gardens, where all work is done by hand or with farm animals, the site includes five hiking trails; two springs—Ein Sataf and Ein Bikura, which flow into the Sorek River; ruins from several eras of settlement; and a small visitors center.
Forester Gidi Bashan is the site manager and community coordinator. Large, sunburned and muscular, he loves the land and his mission; he is committed to Sataf's success. A creased smile spreads over his face and his eyes sparkle as he talks about it. He scoops up some soil, examines it critically, plays with its texture and nods to himself. Then he watches it fall back to the ground as it sifts through his fingers.
"We brought biblical farming techniques back to life," says Bashan about the restoration project. "The result demonstrates how a population of people living in Jerusalem worked the land to meet their own needs for five to six thousand years."
Much has been learned about ancient agricultural systems. With some 200 methods identified and cataloged over the years, one might say that the process by which earlier civilizations grew crops is nothing less than food for thought. Without the use of chemical fertilizers, sprinklers and tractors, the ancient systems produced truly organic fruits, vegetables and spices.
The oldest remains on the site is that of a 4,000 B.C.E. indigenous village with some of the earliest agricultural traces in the region. (There are also ruins from a pre-1948 Arab village, which was probably formed as a satellite to nearby Ein Kerem.)
Sataf's system of terraces dates back 4,500 years. The construction of agricultural terraces is described in the Bible as "clearing the rocks" and "transferring them." The cleared stones were placed at the edge of natural terraces and became part of the retaining walls, providing the necessary support for the terraces into which new fertile soil was placed. An ingenious system of channels (some of it is clearly visible) conducted the water, stored in large pools, to the terraced plots.
Sataf is a magnet for day-trippers and nature lovers, and approximately half a million people come annually. They visit the two springs; pick fruit in the Eretz Israel Tree Garden, where indigenous fruit trees are cultivated; see an ancient wine press; or tackle one of the hiking trails, which range in length from less than a mile to over four miles and provide scenic views, including of the Sataf spring, the area's main water supply.
Cyclists pit themselves against the area's merciless hills. Students and off-duty soldiers walk through its narrow, dusty paths.
Bashan ambles down a rock-strewn path to oversee planting on lower terraces. A gaggle of schoolchildren on a class trip scrambles past him, their teacher in close pursuit.
They dash for an ancient well, part of a natural spring that spouts on the hillside. There, cool air and clear water beckon in the wilting heat. Some of the timid dip a toe into a tiny channel. The more adventurous want to hurl themselves into the massive well.
''Not a chance," yelps the teacher. Moans and protests almost drown out her instructions. They have to content themselves with peering longingly over the high stone wall into the cool waters below.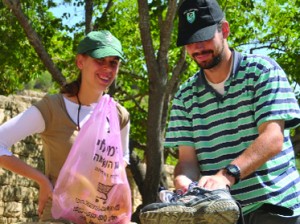 An exhausted young couple are also at the well. They sink tired feet into the cool water. They have just traversed rocks and tall hills and meandered tracks angled at 30 degrees on a demanding tiyul (hike) through the valley.
They are joined by another couple that has also finished one of Sataf's trails. "We love it here," the young woman chirps. "So close to the claustrophobia and traffic of Jerusalem, yet it is so isolated—this place is a tonic." Her husband is too tired to even talk. He sits down and splashes water on his face.
Eric Midvidyt, a 32-year-old realtor and Sataf volunteer, agrees. He is taking a break while helping repair one of the crumbling terraces. He takes a taxi from Jerusalem once a week to help out on the farm. "This place has a majesty and tranquillity about it," says Midvidyt, a recent oleh from Toronto. "It is calming and energizing all at the same time."
His work varies. One day he will plant carrots or cabbages, the next he hauls rocks and stones to repair terraces. Other times, he may be sent to patrol paths and clear garbage strewn about by messy hikers. By noontime, he is exhausted, and he and the small contingent of permanent workers collapse in the shade of clumps of trees.
A bit further down the valley is Omri Yehoshafat, a tour guide from Jerusalem. In the late 1980s, he and his father began renting a patch on one of the terraces as a way of helping out in the Sataf project. (Sataf rents a number of plots to Jerusalem residents.) For years, his father tended the small area, growing corn, lettuce and any crop that he fancied for the season. Recently, Omri has taken over.
"For us it's a hobby," he says, "a way to keep our fingers green." He makes the trip from Jerusalem about twice a week to maintain his plot. Yehoshafat has even carved out a small enclave in some overhanging rocks and built a stone stove.
Decorated with colorful mats and strange pots, the little space also has makeshift cooking gear.
"It's my chill joint,'' Yehoshafat declares. ''I love coming here from the city. I have my pots, some coffee and can rustle up simple meals on this homemade stove."
He is a keen hiker and some years ago took off for a holiday in the United States to discover the country's remote trails. Now he welcomes weary hikers with cool water, food and shade.
Because Israel is plagued with periods of drought, notes Bashan, agricultural kibbutzim focus on less water-intensive crops, such as eggplants, melons, onions and beans. Although Sataf is not an agricultural training center, "we do have groups and individuals who come to learn and better understand how we do things here," he says.
Though the ancient agriculture has been researched, not much is known about the settlements of Sataf's early biblical period, and most remains found in Sataf are from the Byzantine period. They form part of the area dotted with terraces around Jerusalem. During that period, the two streams emanating from the slopes of Mount Eitan were used to channel water to crops. Other terraced plots with olives, figs, almonds, pomegranate trees and grape vines relied on seasonal rains. The remaining stones that were cleared from the plots were used to build watchtowers from which the farmers could keep an eye on their harvest.
Asked to sum up Sataf in a few words, Bashan says, beaming: "We are probably the only agricultural site of this type in the world. We are a visitors center, a historical center and an agricultural center all wrapped in one.
"If nothing else," he adds, "the place evokes a great deal of pride."
Wallace Karbe is a photographer and writer based in Israel. Gayle Danis Rinot is a journalist and writer currently based in Israel.