Letter from Jerusalem: Toward a Two-Leader Solution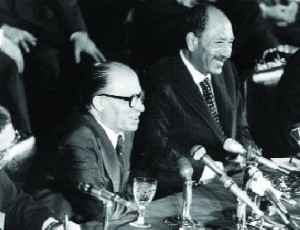 Perceptions drive politics—and so do misperceptions. A good case study, one loaded with irony, is Vice President Joseph Biden's speech at Tel Aviv University last March.
Biden stressed continued American military aid and diplomatic backing for Israel. First, though, he told a homey story about his first visit to Israel as a senator, when he met then-Prime Minister Golda Meir, "who I admired from afar as millions of Americans did." His portrayal of Meir fit the standard perception of her among Americans, especially a key Democratic constituency, American Jews: Meir was a mix of superwoman and Yiddishe mama. By presenting that picture, Biden was assuring an audience back in America of the current administration's emotional tie to Israel.
Yet Biden's hosts in the university hall surely squirmed in their seats. Among Israelis, especially educated Israelis, Golda Meir's rating as a national leader is equivalent to that of Herbert Hoover or James Buchanan among Americans. Politically indecisive and militarily overconfident, she failed to foresee, prevent or prepare for the Egyptian-Syrian surprise attack of Yom Kippur 1973. That misreading of the strategic balance cost over 2,600 Israeli lives. Public outrage forced her into retirement.
The irony in Biden's faux pas is that he had come to Israel to dispel the opposite kind of mistaken perception about another leader: President Obama. Of late, among both American Jews and Israelis, the view has spread that Obama is less committed to Israel than his predecessors, or even that he is anti-Israel. While Biden's mistake about Meir is merely historical, the misreading of Obama can have direct political consequences.
Controversy about Obama's stand on Israel began with his election campaign, amplified by the ease of pushing the "forward" button to pass on rumors in the Internet age. Post-inauguration, the first criticism of Obama's attitude may have come from Anti-Defamation League National Director Abraham Foxman. Responding to Obama's quick appointment of George Mitchell as his special Middle East envoy, Foxman told James Besser of the New York Jewish Week that he was "concerned" precisely because the former senator and renowned peace negotiator was "meticulously even-handed." Foxman worried that the appointment meant a shift away from support for Israel. Experienced diplomats, in contrast, describe the lack of even-handedness during the George W. Bush years as crippling America's ability to advance peace. A facilitator, they say, has to have the trust of both sides, and Bush had lost Arab trust.
Shortly afterward, in 2009, Benjamin Netanyahu was elected Israel's prime minister. Since then, there have been a series of tense episodes between the two leaders. Obama wanted (and finally got) an affirmation from Netanyahu of support for a two-state solution. The administration demanded a freeze on West Bank settlement; Netanyahu at last agreed to a 10-month stoppage, with a large loophole for projects already under way. While Biden was in Israel to patch things up in March, an Israeli planning board announced approval of 1,600 new homes for Jews in the East Jerusalem neighborhood of Ramat Shlomo. Though Netanyahu probably didn't know in advance about the announcement, it underlined the United States-Israel disagreement about East Jerusalem's status. For the Obama team, the approval was considered a violation of the West Bank settlement freeze, designed to embarrass Biden. So much for making up.
In June, Israeli Ambassador to the United States Michael Oren gave a briefing at the Foreign Ministry in Jerusalem where, according to Israeli papers, he described a "tectonic rift" between Israel and the United States. Oren diplomatically disputed the leaks from the briefing, saying he had spoken of a "shift" rather than a "rift." (It's worth noting that in Hebrew, the usual language of Foreign Ministry briefings, the two words sound nothing alike.)
But do the tensions really reflect an inexorable, geological shift, or even coolness on Obama's behalf toward Israel? Certainly not. The evidence goes far beyond the smiles for the cameras when the president met Netanyahu in July.
First, some basic information that has received too little media play: The only change in United States military aid to Israel under Obama is upward. In May, the White House asked Congress for $205 million for Israel to finance the Iron Dome project, above and beyond regular defense aid. Iron Dome is an Israeli-produced high-tech system designed to intercept short-range rockets of the type that have been fired at Israel from Gaza and Lebanon. It should make Israelis living in border areas significantly safer.
On the diplomatic front, the Obama administration's intense lobbying recently gained Israel acceptance to the Organization for Economic Cooperation and Development, the elite organization of the world's most advanced economies. "It's an economic security matter of highest order," says Daniel Kurtzer, former United States ambassador to Israel and now a professor at Princeton University's Woodrow Wilson School of Public and International Affairs. "You can either be an object or a subject, and Israel is now a subject. They're part of the rule-making body."
Israel had sought membership for years—and its acceptance now breaks a pattern of increased international isolation.
And in June, the administration won United Nations' Security Council approval for a new round of sanctions against Iran—an unexpected diplomatic accomplishment that required getting Russia and China onboard. Piggybacking on that move, both America and Europe have added their own, tougher economic steps against Iran. American lobbying is also the apparent reason the United Arab Emirates agreed to enforce the United Nations sanctions. Till now, Iran has reportedly used the Emirates as a base for sanction-busting trade.
The common denominator is Obama's activist commitment to Israel's security—not just talking the talk but "walking the walk," as Kurtzer says.
At the same time, Kurtzer adds, Obama believes that "the United States and Israel can differ on issues related to the peace process…as long as they don't touch security." The tensions during Obama's watch have all been around the classic peace-making issues: settlements, Jerusalem, the future of the West Bank, progress in negotiations.
But that's absolutely nothing new to the Obama era. Obama's stance on those issues fits American positions since the Six-Day War. A secret memo written in July 1967 by McGeorge Bundy—at the time President Lyndon Johnson's special adviser on the Middle East—lays out parameters for United States policy toward the Arab-Israeli conflict. America, Bundy said, seeks Israeli withdrawal from its conquests during the war and believes Israel should receive peace in return. This is a core American interest, Bundy implied, because it would resolve the tension between America's commitment to Israel security and its need to maintain good relations with moderate Arab states. "Fortunately…the real interest of Israel, as distinct from short-term emotional feelings, is fully consistent with our preferences," Bundy wrote.
Those principles have been the subtext of United States diplomacy ever since. The United States strongly opposed Israel's unilateral unification of Jerusalem; it has objected to settlements in the West Bank since the first one was established in 1967. More recently, both Bill Clinton and Bush backed establishment of a Palestinian state alongside Israel. In 2008, then-Secretary of State Condoleezza Rice labeled the East Jerusalem neighborhood of Har Homah a settlement and reiterated that "the United States doesn't make a distinction" between settlement in East Jerusalem and the rest of the West Bank.
Between Bush's watch and Obama's, though, at least three things changed. The first is the return of Netanyahu to the prime minister's office. As Itamar Rabinovich, former Israeli ambassador to Washington (1993-1996), notes, Bush enjoyed a strong personal relationship and close cooperation with Prime Ministers Ariel Sharon and Ehud Olmert; Clinton enjoyed similar ties with three of the four Israeli prime ministers who served while he was president. The exception was Netanyahu.
The issue is political, not personal. "The moment an Israeli prime minister decides, on his own, that he wants to move forward on the peace process and only recruits the U.S. to help, that's one kind of relationship," Rabinovich posits. "The moment the prime minister stops the process and the United States finds itself having to pressure [Israel] to make progress, it's a different kind of relationship."
Netanyahu and Obama have the second kind of relationship, the fraught kind.
The second change is that Obama is a diplomatic activist, in sharp contrast to his predecessor. As another former United States ambassador to Israel, Martin Indyk, told me midway into George W. Bush's presidency, "Bush gives great Mideast speeches…. The problem is in implementation. It's words…with no follow-through." Alon Liel, former director general of Israel's Foreign Ministry, describes the Bush years as the "eight missing years in the peace process." Obama has pushed for results, starting just two days after his inauguration by appointing Mitchell.
But the most important difference is that further delay has become too obviously dangerous to Israel itself. "If you follow the option of doing nothing, what really happens is that you get to the point where Israel can't give up land," says Liel. "[And then], in three years or five, the Palestinians say, 'If you won't give the land, give us our individual rights. Make us citizens.'" Israel will face immense international pressure to accede, and once it does, "That's the end of the Jewish state." Liel adds: "I believe that Obama understands this, strongly, in his guts." If he doesn't, his advisers do, says the veteran diplomat.
So it's a mistake to focus on superficial tensions and read Obama's behavior as antipathy. Doing so ignores the Obama administration's effort to increase Israeli security, to insure Israel's future as a Jewish state and to prevent its international isolation. If translated into political behavior, misreading Obama's position could lead supporters of Israel in the United States to abandon their real allies and to back candidates who would let Israel continue slipping toward disaster. This would be much worse than a faux pas; it would be a tragedy. To support Israel wisely, it is essential to sweep away the misperceptions.