Profile: Caryl Stern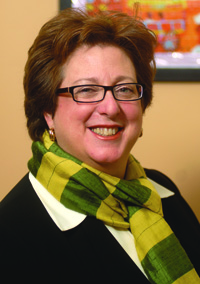 Caryl Stern heard two iconic stories growing up, one from her mother, the other from her grandfather. She learned that her mother had escaped Vienna by ship with her brother at age 6, entrusted to the care of a woman whose first name her mother never knew and whom she never saw again upon disembarking in New York. Her grandfather recalled his passage on the S.S. St. Louis, whose 937 passengers were turned away from safe haven in Cuba and the United States. He was among the refugees later accepted by the United Kingdom.
"The message I absorbed was, 'You can be the woman on the boat or the world watching the St. Louis,'" explains Stern. "The choice was mine to make."
Stern's career as a child advocate, anti-bias educator and civil-rights activist is steeped in her belief in the talmudic adage that if you save one life, you save an entire world. Currently president and chief executive officer of the United States Fund for UNICEF, she previously served as senior associate national director, chief operator and director of education for the Anti-Defamation League. She was one of the founders of the ADL's A World of Difference Institute, a provider of anti-bias education and diversity training programs and resources.
Pinned to stern's top is a button for the unicef International campaign Believe in Zero, which encapsulates the organization's goal to reduce the preventable daily mortality rate of children around the world from 24,000 to 0. To prevent these deaths—caused by malaria, measles, unclean water, malnutrition—UNICEF provides solutions from immunizations to insecticide-treated bed nets and vitamin-A supplements. The United States fund supports UNICEF's work in 157 developing nations through fund-raising, advocacy and education. UNICEF has already helped cut the child mortality rate from 13 million in 1990 to 8.8 million in 2008.
"I am with moms every day who give birth at home," says Stern, 53. "Even if there is a medical facility, there may be no doctors, no ambulance, no road. When my youngest child was born, I hemorrhaged and was in surgery for four hours. We were saved only because I was lucky enough to be born here."
To those who object to UNICEF's work with Palestinian children in Gaza and the West Bank, designated third-world areas, she says, "Our only cause is children. Their basic rights should never be denied."
UNICEF's work is not one-sided, Stern says. In 2006, it funded psychosocial care for traumatized children in Sderot. Its history in Israel stretches back to the state's beginnings, when it provided food, blankets, medicines, vaccines, hospital equipment and milk. Zena Harmon, Israel's UNICEF representative in the 1950s and 1960s, delivered the lecture when the organization received the Nobel Peace Prize in 1965. The Israeli Fund for UNICEF, which Harmon established in 1969, is still active today. "I'm a Zionist through and through," says Stern, a former Young Judaean. "Sometimes the politics of my worlds collide."
In the four years she has been at UNICEF, the boundaries of her world have expanded from her Queens, New York, home to Malawi, Mozambique, Haiti and beyond. In Haiti, UNICEF is the lead agency coordinating water and sanitation services to displaced persons camps; providing health and nutrition interventions to women and children; and keeping vigil over kids who have lost their protectors. In the Darfur refugee camps, Stern thought about her own family members who had suffered in the Holocaust. And when she traveled with actor Salma Hayek to promote a tetanus campaign in Sierra Leone, she sat with a 19-year-old mother who had watched her 6-day-old baby die. "She gave birth at home and cut the cord with a piece of metal," Stern recalls. "The vaccine costs 70 cents. We could have saved that child."
Artifacts, gifts and figurines from her travels line a table in her New York office. A framed red, white and black New Jersey Devils jersey graces the wall, a gift from the team's owner. Its number, 26, is that of Devils center, top scorer and Stanley Cup winner Patrik Elias, the Czech Republic's Goodwill Ambassador to UNICEF. Alongside a guitar signed by the participants of the We Are Family DVD she helped coordinate in the wake of 9/11 hangs a gold-plated shovel from the groundbreaking of the Martin Luther King Jr. National Memorial in Washington. She serves on the boards of both the Martin Luther King and We Are Family foundations, which foster respect, tolerance and diversity.
Wherever she travels, she adds, "kids are kids. If they have a ball they kick it. No matter where I go a kid will sit on my lap. If you are open to it they will come." She tries to be the voice of those children, telling their stories to the media, schools and government agencies and fighting for their needs. She downplays the larger-than-life role. "I'm like any other mom," she says. "My kids like what I do but they think I travel too much." She relishes her job as mother to Brian, 37; Lee, 15; and James, 10, addressing career days and serving on the board of the United Nations International School, which the younger two attend, and substitute teaching at their Hebrew school at Reform Temple Beth Sholom in Flushing. And Stern is a grandma to Annabelle, 2.
"Caryl is first and foremost a mother from Queens," says longtime friend Harry Wall. "Her child orientation is not something abstract. She grew up with it and lives it day to day."
ADL National Director Abraham Foxman praises Stern's commitment to fighting prejudice—especially among children. "She is a devoted, exceptional professional," Foxman notes. "I know she has carried that dedication to her current assignment, which shows her caring for the well-being of children in distress."
Stern lauds her husband, real estate developer Donald LaRosa, for his patience, support and encouragement. "He's often introduced as Mr. Stern," she says of LaRosa, who is not Jewish. "He tolerates the empty seat next to him at dinners when I am making rounds of the room. I don't think I could be that kind of wife." Dressed in conservative attire—black glasses, dark top brightened by a patterned white scarf, black skirt, black stockings and black flats—she looks the serious executive. What does she do for fun? "I sleep," she says, joking. She paints occasionally and enjoys boating on the Hudson from her country house in upstate Columbia County, New York.
Raised in Peekskill, New York, Stern hated Hebrew school and refused a bat mitzva. Through Young Judaea, she found a cultural appreciation for Judaism and, at 15, studied with a cantor for her bat mitzva ceremony. She did not tell her parents until the week before. "I still remember Friday night in white at Tel Yehudah every time I go to synagogue today," says Stern. She lights Shabbat candles in heirloom silver candlesticks that were smuggled out of Vienna.
Her mother, Manuela, lived in an orphanage until her aunt and uncle took her to live with them. She later married Bronx-born Edwin Stern, a podiatrist, and became a real estate broker. "My parents took great pride in being American," says Stern. Politically and civically active, they inculcated their daughter and son, Mitch (now a doctor in Florida), with the understanding that "you had to be involved in protecting the country, the world, freedom. They took us to every peace rally in Westchester during the Vietnam War."
Stern recalls her childhood home serving as a haven for kids in trouble, and has patterned her own home similarly. Brian, who is not her biological child, left his family of origin at 12, lived with a friend's grandmother (who worked for LaRosa) and moved to the Stern-LaRosa home after she died. He adopted the LaRosa name legally before he married three years ago.
Stern received her B.A. in studio art from the State University of New York at Oneonta and later pursued a master's degree in student affairs; she is a dissertation short of completing her doctorate. She worked for 10 years in administration at college campuses.
In the past few years, she has interviewed 500 women leaders and intends to compile their stories into book form. "The commonality is that each has an early failure story," she explains. "We got over it and learned valuable lessons." She also hopes to write a book about her mother, who tops her list of role models. "She lost her childhood but her attitude was how lucky she was to be alive. She is fearless."
During her 18 years at the ADL, Stern helped to create hate crime legislation, implement anti-bias and anti-bullying education programs in all 50 states as well as training for police departments, the Federal Bureau of Investigation, Central Intelligence Agency and corporations across the country. She also designed anti-bias programs at the invitation of the German and Austrian governments.
At the pinnacle of her career at the ADL, Stern decided to look for a new challenge, and moved on to the United States Fund for UNICEF. "I led a team that raised $470 million last year," she says. "Previously, I didn't even know what that amount of money meant. Learning new languages and cultures, understanding what it means to live in a third-world nation—it's been like going back to college."
Everyone should change jobs in their fifties, she advises, though she sometimes can't believe where she finds herself. "When I was in a tent in Haiti, I thought about the fact that the last time I had pitched a tent was with my boyfriend at 25," she muses. "Now I was in the middle of a disaster zone with one shower and one toilet for 170 people."
Stern has become adept at combining tikkun olam with intellectual stimulation. "It's my responsibility as a Jew to leave the world better than I found it," she says. "It doesn't hurt that I'm having the time of my life."
Rahel Musleah's Web site is www.rahelsjewishindia.com.