Cut & Post
A Dreidel 'Round Your Wrist
In a rainbow of colors and designs—from the alef-bet to Noah's Ark and its pairs of animals—Biblical Bandz are sweeping the tween-to-teen Jewish world.
Launched over the summer, these Jewish takes on the international Silly Bandz phenomenon were the first Jewish-themed rubber-band bracelets. Check out www.biblicalbandz.com for additional designs and information on customizing bandz for your school, camp
or group.
The newest options are the Israeli tie-dye bandz—with bracelets spelling shalom and in the shape of a soldier at arms—Chabad designs and a collection of Jewish symbols, such as a siddur and mezuza, that glow in the dark. —Libby Barnea

Israelis—Overall, Satisfied
Despite fighting two wars over the last five years, Israelis are a happy bunch. Indeed, the nation ranks 8th in a Gallup poll of the world's happiest countries, sharing the spot with Canada, Australia and Switzerland. Only the four Scandinavian countries and the Netherlands, Costa Rica and New Zealand rank higher than the Jewish state in the survey, conducted between 2005 and 2009. Researchers at Gallup (www.gallup.com), polling thousands of participants in 155 countries, measured two types of happiness: overall satisfaction and daily experience. The percentage of thriving individuals determined the rankings. According to Gallup, 62 percent of Israelis are thriving, 35 percent struggling and 3 percent suffering. By comparison, the United States ranked 14th—tied with Austria—with 57 percent thriving, 40 percent struggling and 3 percent suffering. —L.B.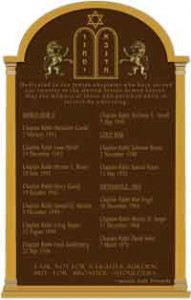 Remembering Jewish Chaplains
Three out of the four chaplains who heroically gave up their life vests and went down with the United States Army transport ship Dorchester in 1943 are memorialized in Arlington National Cemetery in Virginia. One is missing: Rabbi Alexander Goode.
This October, that oversight will be corrected with the dedication of the Jewish Chaplains Memorial on the cemetery's Chaplains Hill. The monument will honor 13 Jewish chaplains who died during their service in the Armed Forces, from World War II through the Vietnam War.
"I discovered there were memorials on Chaplains Hill to Protestant chaplains and Catholic chaplains, and I said 'What about the Jewish ones?' There was nothing for them," said Sol Moglen, a New Jersey businessman, who, together with the Association of Jewish Chaplains of New York, raised $40,000 in private donations to build the monument.
The memorial (right) features the emblem of the Jewish chaplains flanked by Lions of Judah and lists the chaplains' names; its unveiling will be accompanied by the distribution of a booklet about Jewish chaplains to Jewish youth across the country. —Rachel Schwartzberg
Tracing, Salvaging and Preserving History
In the Internet age, playing Jewish genealogy has never been easier—or more popular. And now two Web sites are combining forces to make tracing family trees and tracking down long-lost relatives even simpler.
An Israel-based site called MyHeritage.com, considered the world's leading online social networking site for families and the second-largest family history site with 50 million users, is sharing its technology for building family trees withJewishGen.org, a nonprofit organization affiliated with the Museum of Jewish Heritage–A Living Memorial to the Holocaust in New York. JewishGen.org currently helps connect people researching their Jewish family histories with databases and search tools.
Under the new arrangement, MyHeritage.com subscribers who consent to the collaboration will see their family trees posted and periodically updated to Jewish Gen.org's Family Tree of the Jewish People project, helping store more information for this and the next generation.
"Especially after the Holocaust, there is a profound interest in Jews worldwide to trace, salvage and preserve history," said Gilad Japhet, founder and chief executive officer of MyHeritage.com, whose fascination with family history led him to quit his previous job in technology.
Japhet, who runs MyHeritage.com from Bnei Atarot, near Tel Aviv, eagerly notes that his grandfather, Chaim Japhet, was Henrietta Szold's long-time deputy in Jerusalem. —Dina Kraft
As visitors descend the front staircase to the Museum of Tolerance New York, scrolling LED panels urge them to confront injustice and promote dialogue. The museum (www.tolerancecenter.org), which opened in the Simon Weisenthal Center in August, was created to "get this message out to as many people as possible, to get more individuals coming through," said Andrea Hance, project coordinator.
Dehumanizing cartoons aimed at everyone from Jews to African-Americans, Mexicans, Asians and women are displayed. "Digital Terrorism and Hate," an interactive installation (right), exposes Web sites promoting bigotry, from online games like Border Patrol to white supremacist record labels. There are videos about civil, children's and women's rights with quizzes at the "Millennium Machine" and the "Point of View Diner," where videos on topics like bullying and hate speech become real as guests "interview" people involved with the push of a button and share their related experience through an audience poll.
The exhibit is recommended for ages 12 and over, with self-guided and group tours available. —Randi Sherman
Grave Discoveries
Jewish burials have taken place for nearly 2,000 years on or near the Mount of Olives, the resting place in modern times of Hadassah founder Henrietta Szold and Israeli Prime Minister Menahem Begin. Now an online search for graves in the giant necropolis is possible on a site (www.mountofolives.co.il) of the Ir David [City of David] Foundation, also known by its Hebrew acronym, Elad.
So far, 27,000 of more than 100,000 graves have been mapped, at a cost of more than $1 million provided by private donations, said Udi Ragones, the foundation's public relations director. Ragones said the work would be completed in about a year.
But the mapping, like the foundation's other activities, including funding settlement in the Arab village of Silwan, is controversial.
"The state should be running this project. You can't privatize everything," said Yonathan Mizrachi of Emek Shaveh, a group of archaeologists and activists who are concerned with the effect of archaeology on the Israeli-Palestinian conflict.
Meanwhile, the Religious Affairs Ministry and Elad are uncovering graves that were damaged or paved over between 1948 and 1967, when the cemetery was in Jordanian hands. Among recent finds was the tombstone of Rabbi Sa'adia Mishkelov, a student of the Gaon of Vilna. The graves of Eliezer Ben-Yehuda, S.Y. Agnon and other notables have also been mapped. —Esther Hecht