Profile: Werner Sonne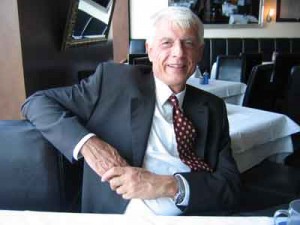 The scene is Hadassah Hospital on Mount Scopus in Jerusalem; the year is 1947. Judith, a distraught Holocaust survivor, is close to death after a suicide attempt. The only person who can save her is an Arab woman, Hana, who has the same rare blood type.
It is a key moment early in the 2008 novel by German author Werner Sonne, a longtime television journalist with ARD, the German public-service broadcaster. Wenn Ich Dich Vergesse, Jerusalem (If I forget you, Jerusalem) may well be the first historical fiction to feature this hospital as scene and symbol.
Set during the struggle for Israeli independence, the novel (so far published in German and Dutch) features two tragic events that took place within one week of each other: the April 9, 1948, massacre of about 100 civilians in the Arab village of Deir Yassin by Jewish fighters; and the April 13 attack by Arabs on a Hadassah Hospital convoy, in which about 80 civilians were murdered.
For Sonne, the two events provided an opportunity to immerse himself in the viewpoints of both Jews and Arabs. The author and journalist, who today is a correspondent for the ARD morning show, combines struggle, despair, hope, irony and passion in a story that declares, We are all human, the bonds between us should be able to heal all wounds.
What business does a German non-Jew born in 1947 have in meddling with this history? And being starry-eyed? But Sonne is far from naïve. And far from shy about his political views.
"There is always hope and there is always despair in the Middle East," says Sonne, a ruggedly handsome, distinguished-looking man with white hair, a ready smile and a polite but direct manner. "Who would have thought that Anwar Sadat would come to Jerusalem and give a speech in the Knesset and then make peace with Israel only a few years after the Yom Kippur War? Who would have thought that the father of the settlements, Ariel Sharon, would…withdraw from the Gaza Strip?
"There are a lot of other examples of things that you thought would never happen," adds Sonne, who likes to cite David Ben-Gurion: "In Israel, in order to be a realist you have to believe in miracles."
In his novel, his fifth since 1998 (two of them with coauthors), Sonne weaves a complicated web of fates, entwining German Jews, former Nazis, Jews fighting for an independent Israel and Arabs vowing to take back their land.
His language is spare and evocative—of landscape and climate, of emotions and characters. He puts his journalistic powers of observation to excellent use in this page-turner adventure story. Only rarely is his outsider status jarring—such as when two long-lost relatives greet each other with "mazal tov." It doesn't sound right to the ears of an Ashkenazic Jew. But never mind, we all know what the characters mean.
The mingling of Arab and Jewish blood in Judith's veins is the first of many dramatic turns. Judith, looking for the one relative she thinks has survived the Holocaust, unexpectedly finds another. Hana, promised in marriage to Jousseff, a man she never loved, loses her heart instead to David, a Jewish doctor at Hadassah. Jousseff, spurned, takes out his hatred against all Jews. When fighting breaks out after the United Nations partition plan is rejected, the characters get caught up in the struggle.
Hadassah Hospital—which was nominated for a Nobel Peace Prize in 2005—proved the ideal backdrop for his story. "In all the bitter confrontations in the 60 years since the founding of the State of Israel, one institution has shown that it really is possible to see the human being first, and all other questions about nationality, religion and ethnicity second," Sonne comments in the book's afterword.
Sonne's generation of postwar Germans is marked by an obsession with Israel and Jews.
"I come from a very 'normal' German family," he says. Some of his relatives were opposed to the Nazis, but his father was an active soldier for six years. "So my family participated in this war. I can't say 'We didn't do it.'"
And though Sonne bears no personal guilt for the Holocaust, "nevertheless [it] always is with me. In my generation, we always ask the same question again and again: How could this happen?
"There are a zillion answers but they do not really add up to a complete picture," says Sonne. And so "my generation…is dealing with it constantly. At least, I am."
In Wenn Ich Dich Vergesse, Jerusalem, he tackles another unanswerable question—Why does the Middle East conflict seem intractable? He may not be able to answer this himself but, he says, "I try to do justice to both sides.
"What I am trying to say is that you have perpetrators and victims on both sides, and that massacres happen," he continues. "There are radicals and moderates [in both camps], people who love peace and people who do not want peace."
But he also wants to say that coexistence is possible. And Hadassah Hospital, which he visited several times while working on the novel, is where those two sides come together. "There are stories about terrorists on one floor of the hospital and victims on another floor," he says. "It is quite impressive."
His lifelong fascination with Israel was cemented in 1973, when he covered the Yom Kippur War. Sonne saw the rusted trucks from the 1948 War of Independence along the road from Jerusalem to Tel Aviv and "wondered what the story was behind them," he recalls over coffee in the restaurant of the ARD building in Berlin. His search for answers led him to the dramatic story of the 1948 siege of Jerusalem. The trucks—relics of the struggle to bring supplies and food to the city—were only part of the story.
One friend who filled in the details was Israeli journalist Ron Ben-Yishai, who met Sonne in Bonn in 1972; they crossed paths again while covering the Yom Kippur War and then the Turkish attack on Cyprus in 1974, and then on two stints as correspondents in Washington. "I was there when Werner got married, and when his son was born in Washington," says Ben-Yishai, today a commentator for Ynet News and correspondent for the Israel daily Yedioth Ahronoth.
Their bond was very unusual at the time, he adds: It used to be, "whenever I met a [German] guy who looked over 50, automatically I asked what did he do in 'those days,'" Ben-Yishai admits. A real friendship such as theirs "was not so easy to find."
Ben-Yishai's personal history may also have influenced Sonne: He was born at Hadassah Hospital in 1943, and his father, Baruch Ben-Yishai—coordinator of Hadassah's youth programs—was killed defending the Hadassah convoy in 1948.
"I think somehow Werner was influenced" by these stories, Ben-Yishai relates.
Sonne knows that not all will be pleased with his approach. He originally expected more resistance from Jewish audiences than Arab ones. But during two readings in Jerusalem and Ramallah, he found the opposite to be true.
"I was afraid to be confronted by all these yekkes in Jerusalem," says Sonne, using a slang term for German Jews that used to be derogatory but has been reclaimed with pride. He thought the yekkes might tell him, "Ah, your book has nothing to do with reality, you were not there."
"But that did not happen," Sonne says.
More intense was the discussion with a small Arab audience in Ramallah. There, listeners rejected his view that they must forget about returning to their former homes and learn to live in a Palestinian state alongside Israel in peace.
Sonne entered touchy territory: Speaking to his Arab audience with help from interpreters, he compared the millions of ethnic Germans pushed out of former Nazi-occupied lands after World War II with the Palestinians who fled their homes in 1948. "I don't want to compare the reasons" why you left, he told them. "But the results are the same. You have lost your homes and you will not go back—forget it.
"Listen," he added, "it was extremely hard for these Germans for many, many years to accept that this was for good, that they would not come back. And it was a very difficult political process here in Germany to tell these people 'Listen, it is over.' Your leaders have to tell you also: 'It's over, you will not go back to your old homes in what is today Israel. Period.' And you have to accept this. And it takes a lot of courage for your leaders to tell you that.
"They were not willing to listen to this argument," he finishes.
Sonne, who has written about the Israeli-Palestinian conflict before, spells out some of his arguments in the afterword. After going over the basic historical facts, he allows himself to hold forth a bit: He empathizes with the Jewish longing for a homeland and points out both the political and moral conditions that propelled the United Nations to make its historic decision for partition.
After briefly weighing the conflicting accounts of history, Sonne sides with modern Israeli and Palestinian historians who conclude that the flight of Palestinians from the region during those years—which led to today's unresolved conflict—was triggered by "a mix of fear, terror propaganda, false promises and active expulsion."
"Both sides used all their available tools to achieve their goals," he writes. "[The Jews] consciously chose military conflict in order to implement the U.N. decision and realize the dream of having their own, Jewish state," while the Arab leaders tried to use their superiority in numbers to quash that dream.
Sonne wanted his book to "show the many facets of the human countenance of this historical drama."
He also admits another motivation. Sonne admires "the American tradition of writing novels. In Germany, it is not so popular to say this, but I want to entertain."
Meanwhile, the unanswered questions still haunt him, and he knows that younger Germans are haunted as well. Germany's ongoing, close relationship with Israel is increasingly put to the test by those who would blame Israel for every setback. And the memory of the Holocaust, a driving factor in forging relations between the two countries, is fading.
But even as history begins to recede, connections between young Germans and Israelis remain "surprisingly intense," Sonne adds. "If you go and talk to young Israelis, they will say that Germans are our best friends," he says.
"Relations between the nations will always bear this scar, a deep scar," adds Ben-Yishai. "Whenever something happens in Germany, we [Israelis] ask ourselves if it is proof that they have changed, or is it proof that they are the same Germans as ever."
But as for his friend Werner, "he is an optimist," Ben-Yishai says.
To boost his optimism, Sonne has only to look at Hadassah Hospital, the heart and soul of his novel. It is "a great symbol of the struggle between the Jews and Palestinians," he says. "And it symbolizes at the same time a ray of hope—a little island of hope in a sea of hopelessness."