From Sand to Museums
When Holon mayor Motti Sasson and city manager Hana Hertsman commissioned star architect Ron Arad in 2004 to plan a design museum for their city, they asked for an iconic building. "We wanted it to be an icon so people would identify it with Holon," Hertsman explained at the museum's opening in January 2010.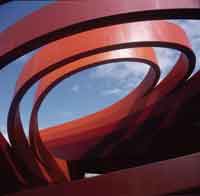 Arad came through with an eye-catching plan in which five massive, horizontal steel ribbons—bright orange, deep red and rust brown—swirl around the two main galleries like a Brobdingnagian Möbius strip, wrapping the building, holding it up and creating shaded outdoor spaces.
Holon might seem an unlikely location for Israel's only design museum. This 70-year-old city with a population of about 180,000 takes its unimaginative name from hol, the Hebrew word for the sand on which it was built, and from the Book of Joshua. And though it is just two and a half miles southeast of Tel Aviv—the city that never stops—most Israelis think of Holon as the city that never got going.
But for more than 10 years, Sasson and Hertsman have dreamed of transforming their city into a center of culture and education, with an emphasis on children. They have opened museums, launched cultural festivals, added urban art installations and declared 2010 as Design Year, with special exhibitions throughout the city. Last spring, Holon invited leading architectural firms, including the New York-based Diller Scofidio and Renfro, to participate in a competition for the design of the city's main square, next door to the design museum, that will incorporate a new city hall, more cultural venues, residences and commerce.
At last, it seems, Holon is becoming a go-to place. Enough so that it attracted Israeli-born Arad and led him to give an indirect compliment to the city. "What architects lack are good clients," he said. "Most ambitious, idealistic projects never get built." Design Museum Holon is one of the few design museums in the world housed in a purpose-built structure.
The greatest challenge was reconciling the city's desire that the 38,000-square-foot building be iconic with the architect's wish that it not overshadow the exhibits, said Asa Bruno, codirector of the London-based Ron Arad Architects. Thus the galleries are simple rectangles suffused with natural light.
The $17-million, two-story museum—which displays both Israeli and international design and aims to engage the public in learning about design—is set on a gentle slope, next door to a culture complex.
The upcoming exhibition, "Designing Machines: Fashioning a New Order," which will run from October 13 through January 1, 2011, will focus on the connection between the machine and haute couture, emphasizing the machine's role. Issey Miyake and Ying Gao are among the designers participating, as is Marloes ten Bhömer, who uses a laser to fuse powdered plastic into wildly new shapes for shoes, and Hussein Chalayan, who pioneered the use of Swarovski crystals together with LEDs (light-emitting diodes) in spring and summer dresses to display an abstract film representing the arrival of the season.
Though the design museum is, as Sasson calls it, "the cherry on the cake," the city's other museums are well worth a visit.I-MATTER Materials Library is part of Design Museum Holon but is located in the neighboring Mediatheque building, which has a large public library, a story hour for children, a theater for young dramatists and occasional art exhibitions. I-MATTER is one of only 12 such libraries in the world. Here, architecture and design professionals as well as laypeople can find information on some 800 materials. For example, the Swiss company Designtoproduction, inspired by the humble zipper, has developed a method of "zipping together" wood panels to form elegant curved shapes such as that of ZipChaise, a sleek chaise longue. There is Delight Cloth, a light-emitting textile that can emit a variety of colors and can be made into clothing, banners, tapestries, curtains and more. Husque is a silky material invented in Australia from milled macadamia shells mixed with a polymer to create a variety of objects and surfaces.
On a light table, visitors can examine samples of the newest forms of metal, wood, plastic, marble and more. An Internet site in Hebrew and in English provides further information on the materials and their suppliers as well as the latest news. The library is a noncommercial and nonprofit organization: It does not sell items or list prices.
Holon's museums—three of the best are housed in former school buildings—are aligned roughly in a circle. Exit the design museum's parking lot to Golda Meir Street and turn left. The street becomes Elazar Hofein. Turn left at the second light onto Aharonowitz, then right at the first light onto David Remez to reach the red-and-gray former school building that houses theIsrael Puppet Center.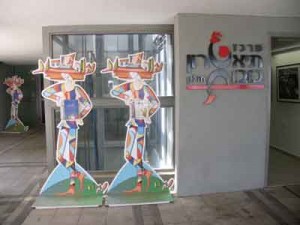 Everyone knows Pinocchio, whose story originated in Italy, but few are aware that many artists who immigrated to Israel, especially from Eastern Europe, brought the art of puppet-making with them and through it expressed their yearning for home and hope for the future.
Puppet theater in Palestine began in the 1920s with Grete Krakauer, from Vienna; in the 1930s, Kaete and Albert Ber brought biblical figures from Berlin. In 1959, sculptor and Holocaust survivor Andre Reves arrived from Targu Mures in Transylvania, bringing his large stick puppets with movable heads and arms with which he presented the playAladdin and His Magic Lamp.
Visitors can see these artists' creations in the center's museum, where they will also find puppets from around the world. One is the familiar (British) Punch, a slightly clownlike and brightly colored figure. Another is a nearly life-size, kimono-clad Bunraku puppet, which requires three skilled puppeteers to operate it. This one was built by Israeli puppeteer Hadas Ofrat while in Japan. "She was about to commit hara-kiri because she [the puppet] wasn't allowed to marry her beloved, and we saved her," says the center's Lise Messika.
The museum incorporates video and animation, and the guides are puppeteers who put on miniperformances for visitors. For the city's Adloyada, the traditional Purim parade, the center runs a two-year course in carnival art, training people to work with families in building the giant puppets that make Holon's parade so distinctive.
The center is unique in the Middle East and the Mediterranean basin in that it has a school (teaching artistic puppetry and puppetry as a therapeutic and educational tool), a museum with exhibitions that change quarterly and an international festival as well as doctoral candidates conducting research, Messika says.
"The little puppet has created an empire," says Messika, whose alter ego is a forest sprite who hibernates in a corner of her office and comes to life to greet visitors. With puppetry, she says, "everything becomes legitimate. You don't know where it will take you."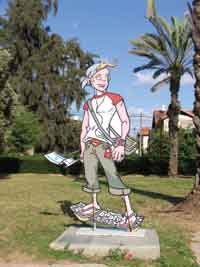 Return to Aharonowitz and turn left, driving north. At the light, the street becomes Weizmann. The Israeli Museum of Caricature and Comics will be at No. 61. Its modest home is on the second floor of a former school, but there is nothing modest about the talent on display. One of the permanent exhibits presents a history of caricature, from the walls of Pompeii to the sketches of Leonardo da Vinci to modern newspapers and television.
The other permanent exhibit highlights the work of six pioneering cartoonists in Israel, including two Hungarian-born Holocaust survivors who were close friends, whose work appeared in Israeli dailies for decades: Dosh (Kariel Gardosh, 1921-2000) and his gentle colleague, Ze'ev (Ze'ev Yaacov Farkas, 1923-2002), who saw his work as journalism rather than as art or entertainment. In 1956, Dosh created Srulik, the Zionist pioneer who in his short pants and kova tembel (brimless cap) represented Israel and was an antithesis to anti-Semitic depictions of the Jew.
Ze'ev's own favorite cartoon, following the assassination of John F. Kennedy, compressed the cold war and the balance of power in a few deft lines and was reprinted in Time magazine.
The texts are in Hebrew only; an audio guide in English is planned. In December, the museum will exhibit the Israel Cartoonists Association's annual selection of political cartoons of the past year and will feature the recipient of  the association's Golden Pencil award.
Continue north on Weizmann, which becomes Kugel, passing a total of four traffic lights. On your left, opposite the Holon Theater, is the Israel Jubilee Outdoor Museum, which has a series of sculptures that reflect the history of the first five decades of the state, created by Siona Shimshi.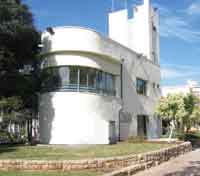 Return on Kugel, which becomes Weizmann, and turn left at the fifth light onto Elazar Hofein, passing the Mediatheque. At the fourth light, turn right onto David Elazar. A short distance after the first light, the museum known as 
Hosmasa
 will be on your left. Among old trees, in a small building that, with its clean lines, ribbon windows and rounded end looks like a postcard for the International Style of architecture (also called Bauhaus), visitors can step into Israel's past.
Hosmasa takes its name from a thin layer of soil under the sand that blocks the passage of water, making the land unsuitable for agriculture.
In the 1930s, developers bought the land from Arabs and planned to erect the nascent city's third neighborhood on it. It was so far from the other neighborhoods that the Haganah—the Jewish underground military organization in Palestine—used the land as a secret training ground for its members living in the Tel Aviv area.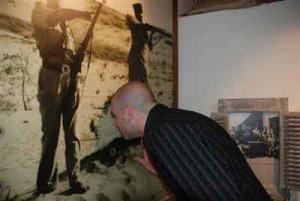 The Haganah erected the building that now houses the museum to protect an existing well that still supplies water to the city. In 1948, the building became a way station on the Security Road; convoys en route from Tel Aviv to besieged Jerusalem and the Negev would stop there to pick up arms and information.
The museum's interior has double walls with "slicks," as the hiding places of Haganah weapons were called. Visitors search for the slicks and discover in them secrets related to the Haganah and Israel's War of Independence. Outside, visitors can see a Davidka, the homemade mortar that was effective mainly because of the horrific noise it made.
A plaque at the entrance tells the building's history in English; inside, texts are in Hebrew. A written English guide to the museum is being prepared.
Continue south on David Elazar; turn left at the first light onto Mifratz Shlomo. After the fourth light turn right into Peres Park, pass the parking lots of Yamit 2000 water park and continue to the parking lot of the Israel Children's Museum.
Close your mouth, open your eyes and step into the world of the deaf at An Invitation to Silence, one of two main attractions at the museum. How can you communicate when you can't speak or hear words? Quite effectively, it seems.
The deaf guides, who seem to be master pantomimists although they have no training in mime, demonstrate with great charm and humor by giving small groups of visitors instructions to do something, and the instructions are generally understood. Gestures, body language and facial expressions are all part of the communication repertoire even for hearing people, visitors quickly realize. And then, of course, there is sign language—which is different for every language people speak.
On the tour, visitors may order snacks and beverages from a deaf server. At tour's end, with the help of an interpreter, they may ask the guide questions and receive frank answers about what it is like to be deaf.
The second attraction at the museum is Dialogue in the Dark, an experience of the world of the blind. Visitors are divided into small groups and make their way in total darkness in the footsteps of a blind guide, using all their other senses to understand where they are: in a house, in an open-air market, in a park, and more. The simplest actions, such as walking in a straight line or getting a cup of coffee in the café, turn out to be challenges.
This tour, too, ends with an opportunity to ask questions of the guide and discuss the experience of being sightless.
Both tours are for adults and children who are at least 9 years old. The museum has other activities for younger children, in Hebrew only.
Exit to Mifratz Shlomo and turn right, then left onto Yerushalayim. At the fourth light, turn right onto Moshe Shor and right onto Yirmeyahu. Just after Yirmeyahu crosses Yael, on the right at No. 16 is a former school that is home to two very different museums: One is a hands-on science museum and the other a museum of contemporary art.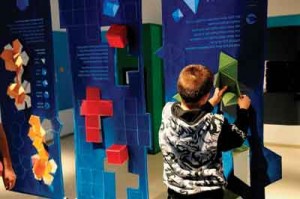 Havayeda Teva is one of nine centers in Israel established by the Perach tutoring and mentoring organization to make learning about science a fun experience. The center has a science amusement park that focuses on communication, optics, electromagnetics and illusions and includes a giant kaleidoscope with a mirrored tunnel through which visitors can crawl. The permanent exhibitions consist of games related to motion, mirrors, thinking and strategy, and a math display that shows connections to everyday life.
In the same complex, The Israeli Center for Digital Art displays video art and photography and is committed to a sociopolitical agenda. "If art can't change reality, we must be part of that reality," says Ran Kasmy Ilan, curator and head of education.
In late November, the center will participate in Video-zone, Israel's fifth biennale of video art, in conjunction with the Center for Contemporary Art in Tel Aviv and the Herzliya Museum of Contemporary Art.
The center has an archive of 2,000 videos, samples of which can be seen on its Web site, and an online radio station (
www.halas.am
), broadcasting music from around the world and programs in several languages.
Most of all, the center, which charges no admission, is geared toward education, Kasmy Ilan says. It runs a video workshop for youngsters ages 13 to 25. It also has a five-day workshop for Holocaust survivors, each of whom creates a one-minute video.
"We are a catalyzer" in the community, says Kasmy Ilan, echoing the city's dream of combining culture and education, "not [merely a place for] artistic tourism."
Holon Museums
Holon Municipality's Web site has a plethora of information
Most of the following Web sites have an English option.
Design Museum Holon
8 Pinchas Eylon
Audio guides available in English
Havayeda Teva
Interactive science center
16 Yirmeyahu
Tours take about three hours
Prebook for groups of at least 10 at 972-3-558-2394
Hosmasa 53 David Elazar
Prebook tours at 972-3-505-0425
I-MATTER Materials Library
in Mediatheque, 6 Golda Meir
Prebook tours at 972-3-502-1553 or contact lea@mediatheque.org.il
Israel Children's Museum
Mifratz Shlomo Street; Peres Park
Prebook tours and all visits at
972-3-650-3010
Israel Puppet Center
13 David Remez
Prebook tours at 972-3-651-6848
Israel Jubilee
Outdoor Museum
Opposite 11 Kugel Boulevard
The Israeli Center for
Digital Art 16 Yirmeyahu
972-3-556-8792
The Israeli Museum of Caricature and Comics
61 Weizmann
Prebook tours in English at 972-3-652-1849
www.cartoon.org.il/eng