Saying "Ave Maria" in Hebrew
Overcome with excitement, Shula Apple stood at the altar in the chapel of Our Lady of Sion convent in the Ein Kerem neighborhood of Jerusalem. The Israeli granddaughter of a Polish Catholic woman who rescued Jews during the Holocaust, Apple was fulfilling her dream of seeing her three daughters baptized in Jerusalem.
Like their mother, the girls were born and raised in Israel as members of the tiny Hebrew-speaking Catholic vicariate. Now they were to be baptized on the second day of Rosh Hashana 5770 (2009).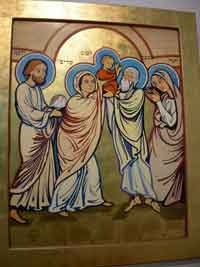 They hugged their mother affectionately, then watched as members of their community filled up the wooden pews. A baptism of three members of the same family is not an everyday occurrence at Our Lady of Sion.
"It is very moving for me to have been able to follow in the path of my grandmother," says Apple, 39, speaking in fluent Hebrew. "I am very happy I have reached this day."
Apple's grandmother, Anyela (Kowaja) Apple, had married Vladislav Apple, one of the Jews she rescued, at the end of World War II, The couple came to Israel, integrated into Jewish Israeli society and raised a family. But Anyela remained faithful to Catholic tradition and was one of the early members of the fledgling Hebrew-speaking Catholic community—which has active branches in Jerusalem, Tel Aviv-Jaffa, Haifa and Beersheba—and passed on her faith to her daughter and granddaughters.
A rarity, the Apple family represents several generations belonging to the community, founded in 1955 by the Association of Saint James, a vicariate within the Latin Patriarchate of Jerusalem that fulfills the pastoral needs of the several thousands Christians who lived in Israel in the early years of statehood. Today, there are only between 200 and 400, comprising a mixture of the elderly original founders; Catholics from the former Soviet Union and other countries who emigrated with their Jewish spouses; Catholic foreign workers and students studying at Israeli universities; and Catholics of Jewish origin.
Many of the founding Catholic pioneers, or halutzim, as they call themselves, were monks and nuns who felt the need to unite as Catholics with the Jewish people in response to the horrors of the Holocaust that they had witnessed. Others, like Anyela Apple, accompanied their Jewish spouses, the majority from Poland, to Israel but retained their own religion.
The community's aim was to serve as a bridge between the Catholic Church and the people of Israel by strengthening the relationship of Jews and Christians and sharpening the church's awareness of its Jewish roots and the Jewish identity of Jesus and the apostles.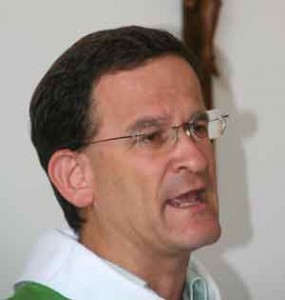 The dwindling numbers are not surprising; since the association's earliest days, there have always been members leaving Israel for other countries, where it is easier to raise children as Catholics, says Jesuit Father David Neuhaus, vicar for the community and priest in Haifa. Of those who remain, most assimilate into secular Israeli society, some ultimately converting to Judaism.
With their long, dark wavy tresses and perfect Hebrew, the three Apple sisters, Danielle, 15; Elinor, 13; and Hadas, 11, look like Jewish Israelis. But they know their Israeli identity is distinctive—and not always positive—so they prefer to be discreet about their religious affiliation with their friends and in their schools; some of their neighbors and friends stopped talking to them after learning they were Catholic.
"This is where I was born and sometimes I feel I have a connection here," says Danielle. "But I want to go abroad where it will be easier for me to be a Catholic."
One Catholic who feels very much at home in Israel is Sister Anne-Catherine, 74. A young girl during the Holocaust, she came to Israel from France 40 years ago for what was to be two years of study at Our Lady of Sion. "I am not Israeli but I feel like I belong to this land. It is my vocation," she says.
The order, Sister of Our Lady of Sion, was founded in France in the 19th century by Théodore Ratisbonne, a Jew who converted and was called Father Marie; www.sion-ein-karem.org. Its main mission is to create a positive attitude toward Christianity's Jewish roots.
Sister Anne-Catherine became aware of the horrors of the Nazi concentration camps after the war from a Jewish friend whose father died in Auschwitz. It was then, she says, that she began to develop a love for and powerful connection to the Jewish people.
"It is a good experience to be a minority [where] you are not always triumphant," notes Sister Anne-Catherine contemplatively, sitting in the shaded garden of the convent. Nearby, a group of Jewish Israelis are led through the grounds by a tour guide, giving them a glimpse of the Christian life within their midst. "The Hebrew-speaking Catholic community is a minority within [the Christian] minority here. We live what so many Jews have lived in Europe."
Christians make up 2 percent of the overall population in Israel. Most are Arabs, with the majority belonging to the Greek Orthodox Church and the Melkite Church, an Eastern order that is in communion with the Roman Catholic Church (known here as the Latin Catholic Church). Though smaller in numbers, the Catholic community in Israel and the Palestinian territories is more visible because of its ties to the Vatican and Western Christians. There are also some Protestant churches here, including the Lutheran and Anglican and, in more recent years, a growing presence of Baptist and other evangelical churches. Regarding themselves as an integral part of the local Arab society, Christians are employed in all walks of life including in churches, monasteries and professional, academic and tourism sectors.
In general, the Hebrew-speaking community maintains a low profile and is relatively unknown among Jews and even in the larger Arab Catholic church. Still, their presence is growing in the general church family, partially thanks to the appointment of the community's former Jerusalem parish priest, Father Pierbattista Pizzaballa, in 2004 to the prominent leadership position of Franciscan custodian of the Holy Land, the institution that has overseen church property for seven centuries.
Neuhaus, too, is an active and recognized figure in church and academic circles. The son of Jewish German refugees who escaped to South Africa during World War II, he teaches Judaism and Bible at Bethlehem University to Palestinians, and to Palestinian and Jordanian candidates for the priesthood at the 150-year-old Latin Patriarchate Seminary in the city of Beit Jala, outside Bethlehem, introducing them to the Jewish roots of their religion.
Pizzaballa, 45, served as vicar general for the community for almost three years following the death in 2005 of their first vicar, Bishop Jean-Baptiste Gourion, who was born into an Algerian Jewish family.
Though his role as Franciscan custodian of the Holy Land precludes him from being active in the Hebrew-speaking community, Pizzaballa still maintains strong emotional and personal ties to it, often referring to the community as "we" and sprinkling his English with Hebrew words and phrases during a conversation.
He travels freely to Palestinian Catholic churches and enclaves throughout the region in his capacity as custodian. And through those contacts, Pizzaballa says he endeavors to show that Israelis are "not all monsters" and that their own Jewish roots are important to Christians, says the tall, soft-spoken Italian whose appointment as custodian ends this year.
Many Israeli Jews have had no personal contact with Christians and know very little about the religion, which allows for prejudices and misperceptions about Christianity to flourish. Simply by being an active part of Israeli society, Hebrew-speaking Catholics allow Israelis to see a different side of Christianity and to nurture reconciliation and understanding between Christians and Jews, Pizzaballa says.
Indeed, a study last year sponsored by the Jerusalem Center for Jewish-Christian Relations showed that 52 percent of Israeli respondents had no Christian friends.
Conversely, when members of the community attend a religious celebration or mass together with Palestinian Catholics, as they have started to do, they help show a different face of Israeli society, in contrast with the armed soldiers most Palestinians associate with Israel.
On their new Web site, www.catholic.co.il, the Hebrew-speaking Catholic community explains that one of their missions is "to bear witness, as an integral part of the Church in the Holy Land, to the values of peace and justice, pardon and reconciliation within a context of violence and war."
"We are so [small in numbers] and fragile, we cannot pretend to do more than that," Pizzaballa says, referring to these efforts.
In the years following the death of Gourion, the community has slowly adapted to a generational change, notes Pizzaballa. Several years ago the community launched its Web site, began to hold retreats to create a greater sense of unity and initiated summer and holiday camps for children to help nurture their religious identity.
"The old generation, the pioneers, are leaving this world and the new generation will be of Russians and Israelis, no longer ex-Europeans," says Pizzaballa.
Sylvia Ardilez-Barcan, 47, who moved to Israel from Argentina with her Jewish husband and their three sons in 2003, has found the community to be a safe haven as she adjusts to life in a new country and a new language.
Though there is a Catholic community in the city of Ramleh where Ardilez-Barcan lives, it is Arabic-speaking. Initially Ardilez-Barcan attended Mass at the parish church there but she did not feel she belonged, though the members tried to be friendly with her.
"I couldn't communicate with anyone," she says. "The Mass and all the prayers were in Arabic and I couldn't understand. For four years, I searched for a place like the one I have found in Jerusalem where I would feel comfortable. I Here the people are mainly European or American, it's a culture I am used to….. I am struggling with Hebrew, but I am learning."
Her oldest son, Jonathan, 20, will soon be joining the Army after completing a university degree in practical engineering, paid for by the Israel Defense Forces as part of his service. "I am totally secular, neither Catholic nor Jewish," he says in a phone conversation, with the nonchalance of a young sabra. "I feel Israeli."
And so, every Sunday, Sylvia Ardilez-Barcan takes a bus to a Mass in downtown Jerusalem. Last year, she was among the worshipers for the evening Mass one unseasonably warm Sunday evening during the holiday of Sukkot. Father Apolinary Szwed invoked the Trinity and the traditional prayers begin—all in Hebrew. Because members live according to the Israeli calendar, the Mass is held on Sunday evenings rather than in the morning.
There is no outward sign that this two-story Jerusalem-stone building, with its small picturesque stone courtyard, is a church. Rather, a festively decorated sukka stands in the back, where the congregation will gather for refreshments and fellowship.
Neuhaus explains that he and other members who have Jewish backgrounds still consider themselves to be Jews. In their spiritual life, they respect the Jewish liturgical calendar, integrating elements of it and marking such holidays as Rosh Hashana, Sukkot and Pesah with either a short prayer for the New Year, a symbolic gathering in the sukka or a communal Seder.
Aware of the sensitivity around the issue of proselytizing, Neuhaus is careful to distance the Hebrew-speaking Catholic community from missionary groups. "We are not missionaries. We don't promote intermarriage or conversion," he says, noting that their small, diminishing numbers attest to that. However, he adds, neither do they feel the need to hide themselves.
And in modern Israel, where intermarriage and conversion do exist, "[we] allow people to manage their double allegiance as Israelis and as Catholics," he says. "We need a structure where we can deal humanely [with this need]."
"I believe our main task," says Pizzaballa, "is to be…a little sea within Israel that prays with love and passion. All other things will come."