The Jewish Traveler: Jeremiah's Neighbors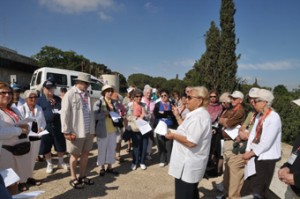 A Hadassah mission is not just about beautiful scenery, good food and great fun; at its core, it is about connecting with Israel and the marvelous works Hadassah has built there.
Stand with me for a moment on the summit of Mount Scopus. As in Avigdor Hameiri's lyrics to "Jerusalem": "From the summit of Mount Scopus…peace to you, Jerusalem." a If the day is clear, we will see all the way to the Dead Sea. But even when mist obscures part of the landscape, we can make out Anatot, the village of Jeremiah. a Jeremiah, I say, as if he is someone we all know. And, indeed, everyone in the group knows Jeremiah is someone they are supposed to recognize. Maybe they are not quite sure who he is. So I remind them that Jeremiah was the prophet from Anatot, a city of kohanim. He lived there, I say, pointing northeast, 2,600 years ago. Many of his prophesies were gloomy—after all, he witnessed the destruction of Jerusalem in 586 B.C.E. Asked Jeremiah (8:19-23), "Is there no balm in Gilead? Is there no physician there? Why then has not the health of the daughter of my people been restored?" This became the motto of Hadassah, the Women's Zionist Organization of America. Henrietta Szold—scholar, editor, builder and activist—chose it herself; she knew Jeremiah's words by heart.
Our hadassah founder lived her final years right here on Mount Scopus, in the eponymous nursing school she founded, attached to Hadassah Hospital, for which she laid the foundation stone. From the beginning, Hadassah revolutionized medicine in prestate Israel when, in 1918, it sent over the American Zionist Medical Unit of 45 doctors and nurses and 400 tons of medical supplies.
But medicine wasn't all "Miss Szold" was interested in. She was already 73 when she undertook the job of facilitating Youth Aliyah in 1934, bringing teens and children out of Nazi Europe.
Today, we can sit at her desk in the Henrietta Szold Museum, on the hospital's lower level, which showcases her office and displays her mementos. Imagine her reading letters from the children she rescued—they called her "Ima," Hebrew for mother.
Have I mentioned that the hospital building is designed in Bauhaus style? The architect, Erich Mendelsohn (1887-1953), has been enjoying a revival recently, with exhibits and articles on his work. Let's order cappuccino and hot chocolate croissants at the Mendelsohn Café on the sixth floor, where we can hear visitors just down the corridor exclaiming over the newborns.
Even before I meet a group of Hadassah travelers at Ben-Gurion International Airport, I know this trip will be different for them from a vacation in Aruba or the Galapagos. Those destinations have tours, but Hadassah's is closer to the Hebrew word la-tur, which describes a personal encounter with the land. Sure, we have warm Mediterranean beaches and one of the world's great bird sanctuaries, but visiting Israel is not only about beautiful sights, it is also about feeling.
I guarantee that this country is going to touch your heart—and it might even change your life. After all these decades, I still get emotional when I see the El Al logo on a plane and know that we are privileged to be walking the land of our ancestors, a 61-year-old sovereign state. When you deplane, I am so happy to share with you this country we have all helped foster. Because of Hadassah, every one of us has the right to feel that satisfaction deep within us.
Every trip is different because each of us is different each trip we take. Back in California, Peg Shainberg can look out the window at the redwood forests, but she dreams of Jerusalem. She has been on half a dozen Hadassah tours, and keeps coming back.
"Every time I see a Hadassah tour advertised I know that not only will it be fascinating, but it's going to add a new dimension to my life," she notes. "Besides, I love connecting with the people on the tour who share my values and love of Israel."
Just recently Eileen Bormel, a Hadassah national board member, invited her brother to come along on the Baltimore Mission. "All these years…I humored [my sister] when she raved about what Hadassah did," says Steven Grebow. "Seeing it myself, I stand in awe."
Many of you have been here and yearn to come back. Others are still planning that first trip. When you get here, there is so much you will want to see. In Tel Aviv, which celebrated its 100th birthday in 2009, we will walk along Rothschild Boulevard—the heart of the International Style architecture; its modern, minimalist buildings gave Tel Aviv the name "the White City" and a World Heritage Site designation from UNESCO. And we'll go to the Hall of Independence, where David Ben-Gurion declared the Jewish state. Our favorite guide, Felicita Motro, is from Albania; our other guides are from Spain and Ukraine—imagine such an ingathering of nations. Motro says the establishment of Israel "took the word refugee" out of the Jewish vocabulary.
One of my favorite places to show off is the red-roofed Meir Shfeya Youth Village on the Carmel coast, near the town of Zikhron Yaakov. The Rothschilds gave the village, originally an orphanage, to Henrietta Szold in 1923—today, it boasts a prize-winning 7th- to 12th-grade agricultural residential school that serves 300 troubled youth,but also attracts 200 students from neighboring communities. There are a dairy, chicken farm, orchards and a vineyard—as well as a music conservatory. And Israeli soldiers who are youth village graduates have a home on army furloughs in an attractive, renovated bungalow called the Altura Lone Soldiers Home.
I can also share some of my personal history. As a teen leader of Junior Hadassah, the youth auxiliary of Hadassah formed in 1920 (it merged with Youth Judaea in 1967), I went to Israel to volunteer at Meir Shfeya, which was supported by Junior Hadassah. I was supposed to work in the cowshed. But I didn't like cows, and the chickens smelled even worse. I was a failure as a pioneer. Instead of arguing with me, my counselor made me a driver. Every day I drove into nearby towns, distributing watermelons raised at the village and picking up supplies. Today, I still don't love cowsheds, but I do appreciate how expertly the youngsters run not only a dairy but, since 2005, a winery, too.
To this day, I love the villages south of Haifa. I share that love with Hadassah visitors. We go to the port in Caesarea, and visit Zikhron Yaakov with its quaint shops and fragrant cafés. We stop at the Aaronsohn family's home, which was converted into a museum. A wheat-growing family, the Aaronsohns were part of Nili, a pro-British, anti-Ottoman spy ring. In 1959, I used to see Rivka Aaronsohn walking in town in her white dress.
Some of what you see on these trips is serious. We bring you to meet immigrant teenagers from Russia, Ethiopia and Cuba who have come here with Youth Aliyah, and to hear about medical miracles such as the story of Ronit Elchayani, now back at work after brain surgery at Hadassah to remove shrapnel embedded during a bus bombing. But we have a fun and frivolous side, too. We will go belly dancing on the tables of a winery in Zikhron Yaakov, an industry that goes back 2,000 years (That's old wine!) or sample chocolate—or make our own on Kibbutz Degania, south of Tiberias. Or watch three generations of Hadassah life members rappel down a Dead Sea cliff (That's bonding!).
What do you want from a vacation? We have exotic adventures and gourmet dining. But we will also go to an Ashkelon suburb to eat pita hot off an ancient oven in the backyard of a grandmother who came from Yemen on Operation Magic Carpet in the 1950s. It looks like a giant oil barrel with a fire on the bottom; she slaps on the dough, and in three minutes, you have pita.
Want to hear more? You're going to have to get on our tour bus to hear it. And with 15 missions a year—for families and young leaders, physicians and nurses, Associates and local and regional groups—you can be one of the hundreds who enjoy taking this trip with us.
Sounds like a commercial? It is! Take Hadassah's hand and walk this land with me. When you get off that plane, I'm already waiting for you. H
Barbara Goldstein served on Hadassah's national board for 22 years before listening to her own speeches and making aliya. Today, she is deputy director of Hadassah's Offices in Israel and leads Hadassah missions.
For missions information, go to www.ayelet.com/hadassah; e-mail missions@hadassah.org; or call 800-237-1517 or 212-303-8031.