Children Reading Our Stories
Thankfully, paper and hardcover books with Jewish content for young readers remain unthreatened by digital versions. Children love to turn actual pages, and this season there are many to be joyfully turned and an impressive variety of content to engage the interest and imagination of toddlers as well as young adults.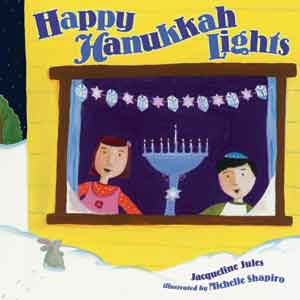 Youngest Readers
Board books are practically indestructible and eminently chewable and this year's sturdy collection does not disappoint. They include two by Jacqueline Jules, published by Kar-Ben (both 12 pp. $5.95): Happy Hanukkah Lights
 explains the joyous festival of lights in catchy rhyme accompanied by Michelle Shapiro's lively pictures. Before We Eat: A Thank You Prayer
, illustrated by Melissa Iwai, is a sweet introduction to the Ha-motzi prayer on bread so that the youngest children learn that it is important to offer thanks for the blessings of "food, a home, a family."
In Ruchy Schon's WHERE AM I ?
 (Feldheim, 24 pp. $15.99), Chanie and her friends invite readers to guess where they are but offer lots of friendly hints. If Levi is surrounded by a Torah and holy books, where else would he be but "in shul to daven and to learn" with a bonus of "mitzvos that he will earn."
Utilizing AniMotion technology, Hanukkah
, by the creative team of Kate Ohrt, Paula Hannigan, Heather Brown, Jeffrey Charles Cole and Bob Goldberg (Accord/Andrew McMeel, 12 pp. $9.99), delights with its animated windows revealing blazing menoras, whirling dreidels and glittering gelt. This is a beautifully designed book.
Although not a board book, the charming paperback geared to very young children Modeh Ani: A Good Morning Book
, adapted by Sarah Gershman and illustrated by Kristina Swarner (EKS, 32 pp. $10.95), offers the traditional morning prayer of hope and gratitude, rephrased with simplicity and illustrated with charm and reverence.
Ages 3-8
Dr. Seuss may have had a grinch but now young Jewish readers have The Kvetch Who Stole Hanukkah
 by Bill Berlin and Susan Isakoff Berlin (illustrated by Peter J. Welling; Pelican Books, 32 pp. $16.99). Intent on stealing all the menoras of Oyville, happily the Kvetch is no match for Vicki, Max and Monica (rhymes conveniently with Hanukka), who convince him that "he's got it all wrong—the Hanukkah spirit is joyous and strong." To which we say, "Amen."
Sammy Spider envies his friend Josh's fun as he learns about Simhat Torah and decides to join Josh at the synagogue celebration. In Sylvia A. Rouss's 
Sammy Spider's First Simchat Torah
 (illustrated by Katherine Janus Kahn; Kar-Ben, 32 pp. $15.95), Sammy leans too close and falls into the sticky apple atop Josh's holiday flag. But he has a spider's-eye view of the Torah parade, which he describes to his mother on his return to the family web. "The Torah is the Jewish people's favorite story," he tells her. "That's why they like to read it again and again."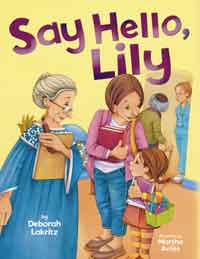 In Say Hello, Lily 
by Deborah Lakritz (illustrated by Martha Avilés; Kar-Ben, 32 pp. $17.95), Lily's mother volunteers at Shalom House and Lily slowly makes friends with the elderly residents who admire her new shoes, invite her to exercise with them and include her in their monthly birthday celebrations. Lily, in turn, holds her own birthday party at Shalom House with a cake, balloons and a special surprise gift. This lovely tale is an excellent introduction to the building of bridges between generations.
The title 
Remarkable Park
 (Feldheim, 27 pp. $12.99) well describes the park found within the book's pages, which reveal all the beauty of nature and the lessons that can be learned from trees and flowers, birds and animals. The illustrations by Patti Argoff on the glossy pages of Bracha Goetz's story reveal the wonderful world created for the children who rest in the shade and observe swiftly running deer and gentle doves.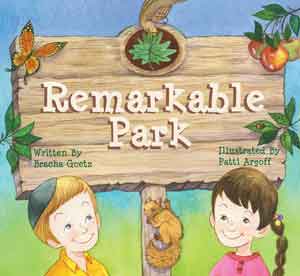 The Remarkable Journey of Josh's Kippah
 by Barbara Elissa (illustrated by Farida Zaman; Kar-Ben, 32 pp. $17.95) follows the odyssey of Josh's bar mitzva kippa as it travels from New York to a Yom Kippur service in Australia, then to a sukka in Tel Aviv and finally back onto Josh's head. A not improbable tale whimsically told.
Eric A. Kimmel has adapted the beloved tale of the Rabbi of Nemirov by I.L. Peretz in Even Higher!: A Rosh Hashanah Story
 (illustrated by Jill Weber; Holiday House, 32 pp. $16.95). Each year before Rosh Hashana, the rabbi mysteriously disappears. His secret—the performance of an act of lovingkindness for a poor widow—is discovered by a cynical Litvak, but the charm and wisdom of the original story is marred by absurd lyrics that would have caused the Yiddish writer of the original tale to cringe. The illustrations, however, are delightful despite the depiction of a rather dubious dance.
Claire A. Nivola's dignified paintings re-create the privileged world of Emma Lazarus in Emma's Poem: The Voice of the Statue of Liberty
 (Houghton Mifflin, 32 pp. $17), written sensitively by Linda Glaser. The poet's encounter with the influx of poor Jewish immigrants from Eastern Europe and her determination to help them culminated in the poem, "The New Colossus," inscribed on the base of the Statue of Liberty. She understood that the great statue, the "mother of exiles," would signify welcome to new arrivals "yearning to breathe free." This beautiful book captures the spirit of a woman whose words will endure forever.
Benny the Big Shot
 by Tehilla Deutsch (illustrated by Vitaliy Romanenko; Feldheim, 25 pp. $12.99) is a guide to friendship and a warning against foolish jealousy. Tzvi is jealous of Benny, who is new in school but is already at the top of the class, but comes to understand him, and Benny demonstrates his own generosity to his classmate. Although the school is an Orthodox yeshiva, their story will be relevant to all children who surely experience similar feelings and dilemmas.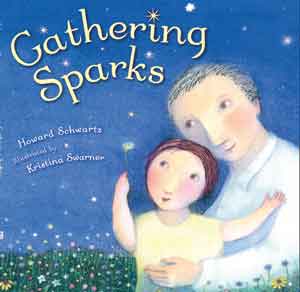 Gathering Sparks 
by Howard Schwartz (Roaring Brook Press, 32 pp. $16.99) gently tells how the stars, "sparks of light throughout the heavens," symbolize the good deeds that bring about
tikkun olam
, repairing the world. Kristina Swarner's lovely illustrations augment the appealing text.
Laurel Snyder's tale, Baxter, the Pig Who Wanted to Be Kosher
 (illustrated by David Goldin; Tricycle Press, 32 pp. $15.99), is foolish and only mildly amusing. Having learned about the joys of Shabbat, Baxter decides to make himself kosher with the aid of kosher pickles and an inordinate amount of halla. Of course kashrut eludes him, but a kind rabbi invites him to be a guest at her Shabbat table. Surely, there must be a simpler and more attractive way to teach the mitzva of welcoming guests, and its too-cute glossary that advises that Shabbat may be a day to do "fun things, like bowling" is hardly helpful.
Kathryn Mitter's bright and cheerful illustrations in First Rain
 by Charlotte Herman (Albert Whitman and Company, 32 pp. $16.99) emphasize that while loved ones may be separated they remain together in heart and mind. When Abby and her family make aliya, her beloved grandmother knows only one Hebrew word—shalom. Abby's exuberant letters describing her new and happy life increase Grandma's vocabulary, and digital photos and thoughtful gifts help them to share each other's experiences. When the first rain begins to fall in Israel, Grandma arrives for a long-awaited visit. Herman's text will comfort the many families who endure painful separations.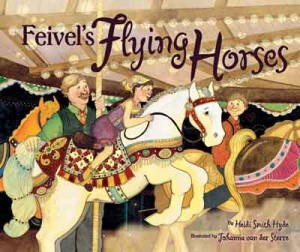 Ages 5-9
Feivel—in Feivel's Flying Horses
 by Heidi Smith Hyde (Kar-Ben, 32 pp. $17.95)—was a skilled craftsman in his native village who created Torah holders and synagogue pews. In America, though, he works as a simple carpenter to earn enough money to send for his family. Luckily, he visits Coney Island and becomes a master carver of carousel horses. When his family arrives at last, they ride the carousel together. This tale is charmingly illustrated by Johanna van der Sterre.
In Jacqueline Jules's Miriam in the Desert
 (illustrated by Natascia Ugliano; Kar-Ben, 32 pp. $17.95), young Bezalel is told about his grandmother Miriam and her compassionate leadership during her people's long trek from slavery to freedom.
Engineer Ari is back, and in this addition to the series he celebrates Sukkot as he chug-a-lugs along the tracks of Israel collecting branches and grapevines. In Engineer Ari and the Sukkah Express
 by Deborah Bodin Cohen (illustrated by Shahar Kober; Kar-Ben, 32 pp. $17.95), our hero hoists a sukka onto his train and speeds across the Jewish state to the delight oflulav-waving children.
Ages 7-12
Benno, the cat in Benno and the Night of Broken Glass
 by Meg Wiviott (Kar-Ben, 32 pp. $17.95), lives in Berlin and witnesses the horror of Kristallnacht. The story is hardly age appropriate—the book's jacket says it is for age 5 and up—and Benno is an ill-chosen protagonist. Would that the talented Josée Bisaillon had a more sympathetic text to illustrate.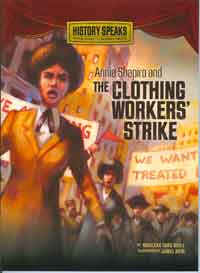 The young protaganist in 
Annie Shapiro and the Clothing Workers' Strike
 by Marlene Targ Brill (illustrated by Jamel Akib; History Speaks Picture Books/Millbrook Press, 48 pp. $20.95) helps support her immigrant family by manning a sewing machine at a factory. When the workers' wages are arbitrarily reduced, brave Annie initiates a strike that spreads throughout the Chicago garment industry and wins justice for her fellow workers.
History Speaks is a new series based on important events in the American experience. In addition to the narrative, there is a script for a reader's theater performance, a bibliography and a helpful glossary. This slender paperback is an excellent teaching and learning tool.
Tomek Bogacki recounts with tenderness and restraint the moving true story of the heroic director of Warsaw's Orphanage for Jewish Children who chose to accompany his small charges to Treblinka where he perished with them. The Champion of Children: The Story of Janusz Korczak
(Farrar, Straus & Giroux, 40 pp. $17.99) will also comfort young readers with Korczak's creative legacy of fairy tales as well as his inspiring example of a life so bravely lived.
Is It Night or Day? 
by Fern Schumer Chapman (Farrar, Straus & Giroux, 224 pp. $17.99) is a moving work of historical fiction based on the little-known One Thousand Children program endorsed by Eleanor Roosevelt, which rescued Jewish youngsters from Nazi Germany and placed them in American foster homes. Twelve-year-old Edith, her story based on the experience of the author's own mother, was rescued through the program and traveled alone from her small German village to Chicago.
Schumer Chapman skillfully chronicles the bewildering trans-Atlantic journey, the chaotic arrival in New York and at the home of unwelcoming relatives. Despite her sadness and sense of alienation, she bravely attempts to raise money to help her parents escape from Germany. She takes comfort from the achievements of Hank Greenberg, an American hero who proudly proclaims his Jewishness. Her grief when she learns of her parents' deaths is somewhat mitigated by her recognition that while one part of her life was ending, another was beginning. Schumer Chapman's narrative both engages and instructs.
Like her namesake, the biblical Queen Esther, Essie Green is the Queen of Secrets
 (Farrar, Straus & Giroux, 240 pp. $16.99). Jenny Meyerhoff's protagonist is a beautiful orphan, reluctant to reveal her Jewishness to her cheerleader friends and her non-Jewish football-player boyfriend. As in the Purim story, she has a relative, a cousin, who is a committed Jew, also a football player, who wears a kippa and is Sabbath observant. Just as calumny and cruelty abounded in the Persian court, so, too, is Essie's high school infected with prejudice and brutal hazing. Essie must make difficult choices and, in the end, she opts for honesty. While she does not save her people, she does save herself. The author's insights into the angst of suburban adolescence are perceptive and nuanced.
Ages 12-15
Dini Braverman, the discerning protagonist of Tzipi Caton's well-told story, Invisible Me
 (Targum Press, 271 pp. $22.99), is actually the "unheard me" because Dini does not speak—at least she hasn't since a traumatic experience four years ago. Her silence is a meshegas, according to her harsh grandmother; a pretense, according to her rigid teachers at an Orthodox girls' yeshiva; or an embarrassing disability, according to her rejecting classmates and even her own married sister. Caton skillfully introduces the reader to the insular world of the Orthodox community and describes the impact of its customs and observances on a girl who can sing but cannot speak. That Dini's humor and intellect shine through in the notes she writes, that she gets recognition from a small group of friends and support from her brother and his wife, that she is able to recognize her mother's tenderness and her therapist's commitment is a tribute to the author's skill. Caton's insights into a painful adolescence and her intimate knowledge of this complex community are important dimensions of this engrossing book.
Once
—the single word that gives Morris Gleitzman's book its title (Henry Holt, 176 pp. $16.99)—also introduces every chapter in the sad chronicle of Felix. A Jewish child in Nazi-occupied Poland, Felix escapes a sheltering Catholic orphanage determined to find and save his parents. Instead, he saves a small girl named Zelda, who joins him on his dangerous flight. When the two children are miraculously rescued by Barney, a saintly dentist clearly modeled on Janusz Korczak, Felix uses his storytelling skills to calm and comfort the other children Barney is protecting. This is an important and painful narrative, but its tragic sequences are strengthened by its message of hope, courage and altruism.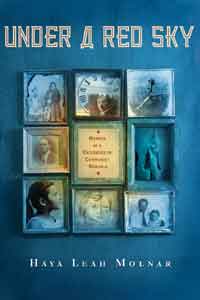 Like 
The Book Thief
, 
Under a Red Sky: Memoir of a Childhood in Communist Romania
 by Haya Leah Molnar (Farrar, Straus & Giroux, 320 pp. $17.99) is listed as a novel for young readers, but Molnar's story of her childhood in postwar Communist Romania will be engrossing to adults as well. Eva, 8, and her ballet mistress mother, photographer father and unharmonious extended family (grandparents, uncles and an aunt) share both an apartment and their resources to support their meager necessities.
Covert Jews who live in fear of the regime's anti-Semitism, they do not speak of their religion to Eva and evade her challenging questions. When reference is made to shochet, the word puzzles her and she wonders why their trusted maid, Sabina, and her friend Andrei are Catholics while her own family claims no religion. When her family applies for exit visas to Israel, she is confronted with her Jewish identity and she must lead a dual life; at state school she is a Communist named Eva and at home she is a Jewish girl named Leah.
The consequences of the family's registration are dire: Jobs are lost and basic survival becomes a problem. Molnar writes, "Virtually overnight, the entire Jewish population in Bucharest became unemployed." But Eva's family remains resolute, and manages to scavenge moments of joy as they await their passports. Eva visits a rabbi for clandestine Hebrew lessons; her Uncle Natan wins a radio quiz show; Uncle Max takes her to a Purim party. When they are at last granted passports, their escape is tenuous and fraught with danger. They reach Israel and the red sky of Romania is replaced by the clear blue heavens of the State of Israel.
Molnar writes honestly, sharing her family's warts as well as virtues. Her narrative is marred, however, by an incipient ingratitude to the government of Israel. Although the welcoming Jewish state provided them with an escape from the harsh life in Romania, there is the hint of a complaint that they received only enough spending money to sustain them in Istanbul as they awaited the ship that would carry them to Haifa; that their quarters on the ship were inadequate and the apartment assigned to them in Israel was not up to standard. That they moved to the United States is not surprising, but the reader, who has been so engaged by the family, would appreciate knowing more: Did the aunt and uncle left behind in Bucharest ever escape? How did Eva, now Haya Leah, adjust to her new life; and did her father, a survivor of concentration and labor camps, ever reconcile with "the burden" of his Jewishness? That so many questions abound is, of course, testimony to the author's compelling story.
Linda R. Silver's Best Jewish Books for Children and Teens: A JPS Guide
 (Jewish Publication Society, 375 pp. $20) is a guide to notable books, particularly valuable for librarians and teachers. Divided into categories with indexes that include subject, author and title as well as suggested reading levels and summaries of titles, it can be used to design curricula and create age-appropriate bibliographies.
 Nonfiction: Finding a New Life

The Hidden Girl: A True Story of the Holocaust
 by Lola Rein Kaufman with Lois Metzger. (Scholastic, 97 pp. $5.99; ages 7-12)
Eight-year-old Lola's happy childhood is catapulted to a tragic end when the Nazis invade her native Poland. Within months, her father falls ill and dies, her mother is shot and her other relatives flee or are deported to concentration camps. Her enterprising grandmother arranged for her to be hidden by a Ukrainian woman. When that hiding place becomes dangerous, she is taken, dressed in her favorite white dress, lovingly embroidered with bright flowers by her mother, to a new hiding place, a hole beneath the root cellar of a farmhouse owned by Anna, a righteous gentile. This "haven" is shared with three unwelcoming Jews. Lola wears her white dress for the nine months she spends there—hungry, exhausted and covered with lice.
Her suffering continues after the war ends: She is alone, a wandering refugee until she is rescued by an uncle and accompanies his family to America. In her new country, the hidden girl becomes a strong woman, a wife and mother with a home she can call her own, "full of light and surrounded by leafy trees." —G.G.