An Israeli on the Road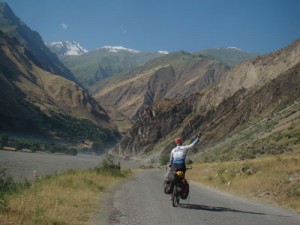 The people he has met across the world have called him Don Quixote on Wheels, Buns of Steel and Crazy With Dream. "Sometimes they call me Jesus, because I'm going around the world and I spread the word," says Roei "Jinji" Sadan with a laugh ("Jinji" refers to his red hair). The 28-year-old Israeli is in the midst of a four-year, 80,000-mile bicycle journey that traverses continents and mountain ranges, acting as an informal Israeli ambassador to far-flung corners of the globe.
"To get to people's hearts with a bicycle is very easy," Sadan explains over the phone during a July rest day in Tashkent, Uzbekistan. "There are not many differences between me and the locals because I have a bicycle and they can also afford to cycle, so they know we have something in common."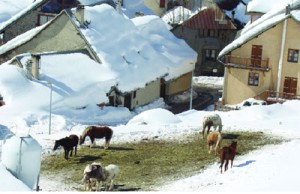 Sadan started his trip in 2007 as a two-year personal journey after his time in the Army. Though a typical around-the-world trip covers four continents and 18,000 miles (the record: 174 days), Sadan insisted on taking the trip "Jinji style," passing through each continent the longest way possible. Sponsored by Israeli water company Eden Springs, Sadan calls his journey Dream With Open Eyes and has a cheesy but earnest goal: inspiring people around the world to follow their own dreams.
Sadan knows the logistics of his trip are interesting, so he will patiently answer those questions: His gear weighs 75 pounds, he carries clothing for cycling in climates from zero to 135 degrees Fahrenheit, he tries to eat 4,000 calories a day and bikes between 25 and 110 miles every 24 hours. His best friend on the journey is Emunah (faith, or trust, in Hebrew), a blue-and-white steel-frame hybrid Thorn touring bike. So far, his favorite area to cycle through was Patagonia, while the most challenging was over 600 miles of empty desert in Kazakhstan and Uzbekistan. He blogs about his experiences on the Web site www.dreamwithopeneyes.com, where he also posts the pictures he and those he meets take of his travels.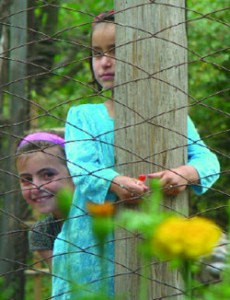 But what Sadan really wants to talk about is the impact of his trip. "I just bring myself, Emunah and my story, it's very simple," he says. "Whether I'm talking to a tribal chief or a small farmer, I change their reaction, what they think about Israel. They're not used to seeing Israelis…. They think we're all walking around with M-16s.
"When I come on a bicycle, a white guy with a crazy red beard, they change."
In December 2009, during his only break at home in Israel, Sadan met with Yuli-Yoel Edelstein, minister for Public Diplomacy and Diaspora Affairs. Edelstein's involvement helped Sadan set up more lectures at Israeli embassies in countries he bikes through, though he usually needs to borrow a suit for the presentations.
Traveling in Central Asia, specifically parts of Turkey and Azerbaijan, Sadan had to lie about being Israeli—a first for him. While the virulent anti-Israel sentiment he encountered was no surprise, Sadan happened to be cycling through those areas during the Gaza flotilla raid of May 31. "Everyone who had a TV started to talk about [it]. It was really big," he recalls.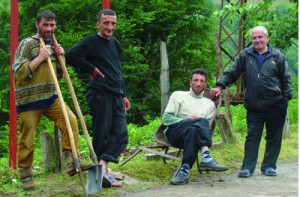 "Some of the Turkish really hate Israel, but I try not to get into these situations. What can I do with the stupidity of other people?" he asks. Others were more understanding when Sadan's cover was blown after he was identified as Israeli during interviews on Turkish CNN. "Some of them say, 'The problems we have are high-up political problems, it doesn't involve regular people,'" Sadan explains.
His journey has been filled with emotional highs: cycling through glaciers in South America, meeting his father in Istanbul, sharing a meal in Lesotho with a village chief. "I asked him, 'Is this moo, moo?' He said, 'No, meow, meow.'"
The lengthy journey means that there are lows as well. While in Turkey, Sadan traveled for a week with a German cyclist named Malte. "It's not like he's a childhood friend, but in my world a friend that you meet along the journey will stay with you many years," Sadan says. Three days after they parted ways, Malte was killed in a truck accident. "I felt emptiness…the situation made me think about what I'm doing…. It was a mental low point, but I can say now that I'm O.K. Life goes on."
"That's life" is perhaps Sadan's favorite expression, sprinkled throughout his stories as he talks about his challenges. When he fell ill in Uzbekistan and barely made it out before his visa expired, well, that's life. He was hit by a car twice—in Bodega Bay, California, and in a hit-and-run in La Paz, Bolivia, but that's the life of a cyclist. He fell in love in Peru and chose his journey over the woman—but that's the life of someone following his dreams.
"It was the first time I felt like I lost something on the road," he says.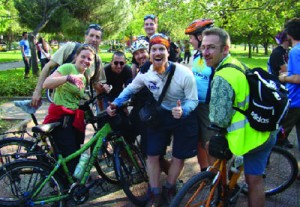 Though he still has to finish cycling through China (the long way, of course), Southeast Asia and circumnavigate Australia, Sadan feels close to the end of his journey. He plans to finish in May 2011 and invites everyone to join him for the last leg, when he pedals to the Kotel and the culmination of his dream.
"Most of us don't know what our dream is—society is like a cage of everyone saying, 'You need to do this and that,'" Sadan says. "And then one day you wake up and ask yourself, 'Where is my dream?'
"I don't want to show off, saying 'See me, I'm dreaming [and fulfilling my dream] and you're not.' I'm saying, 'See me, I'm dreaming, and you can do that, too.'"