A Prophet's Prophet
A Prophet and His Wife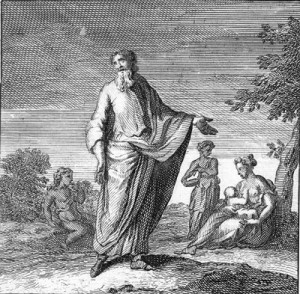 For 60 years, Milton Steinberg's unfinished novel, Prophet's Wife
, lay forgotten in an archive at Behrman House publishers. Steinberg is perhaps best remembered for his 1939 masterpiece As a Driven Leaf
 (Behrman House), a historical novel about Elisha ben Abuyah—a brilliant scholar of the early rabbinic period—and his crisis of faith.
Like that earlier work, the recently published Prophet's Wife
 also fleshes out a historical character, Hosea, the prophet who lived in the 8th-century B.C.E. As in the original biblical text, God directs Hosea to marry a prostitute named Gomer, who commits infidelities. Despite his anger, God orders Hosea to take her back. The text is usually understood to be a metaphor of God's love for Israel: No matter how much Israel sins, writes Ari Goldman in the book's forward, God's heart is always open to take his betrothed back.
Goldman writes about trying and failing to write an ending to the book. He then helped convince Behrman House to publish the book as is. To help give sense to the book's focus, commentaries by Harold S. Kushner and Norma Rosen would be included with the incomplete text.
Why rescue this work? Because the brilliant Steinberg's first work, which created real sympathetic characters, is a classic, and it was time to give readers access to his only other work of fiction.
In her essay, which follows, Rosen interprets the decade's-old story and shows how Steinberg's tale is truly a modern midrash.

Unfinished Lives
Deprived as we are of whatever ending Milton Steinberg might have put to his great imagining of the Gomer-Hosea relationship, its unfinished state gives us a way into a number of profound questions. Those questions—they are theological and feminist—concern us today as urgently as when the writing of the novel was interrupted sixty years ago. There are also other, equally interesting questions about the art of novel writing and the nature of midrash.
We know that Steinberg's life was tragically cut short, and that during his last years multiple projects occupied his mind. He had to let Prophet's Wife
 languish for a while, and then it was too late. One can't help wondering whether there was a schism developing for him between the novel in progress and the unyielding biblical text. From the novel fragment we have, it appears that Steinberg was undertaking nothing less than adapting God's ancient biblical ways to modernity and expressing a feminist viewpoint daringly ahead of its time.
Steinberg's philosophic mind had a strong dramatic side. The novel does not lean on summarized action: Events are presented as scenes, in a "you are there" technique. Because of the Vermeer-like detail, the novel seems to move at a stately pace, as if all moments are holy and require equal attention. Yet the swiftness of events yields the excitement of an action novel.
Consider that the biblical text is one of the cruelest in the Bible. In it, God commands Hosea, "Go and marry a harlot." The implication is: let her symbolize the harlotry of Israel and the punishment I will visit upon her; you, Hosea, be as swift to punish Gomer.
This text Steinberg turns on its head. His Gomer is no harlot. His astonishing midrashic innovation is to make her a woman who is as independent minded as she is beautiful. She is embittered by the injustice of her woman's lot, sold in marriage to someone not of her choice, and in rebellion against her uncle's efforts to wring money from her marriage to Hosea. The Gomer of The Prophet's Wife is born into mean circumstances and the iron-hard social subjugation of women of her time.
Steinberg's Gomer has the misfortune, before meeting Hosea, to fall in love with Iddo, Hosea's hell-raising older brother (he is the novelist's invention). The pious Hosea's marriage to Gomer is arranged to his delight but not to hers. It is after her marriage to Hosea and her seduction by the returned brother that Gomer becomes an adulterer and earns the biblical epithet "harlot."
Steinberg exerts a mighty novelistic force against the text. He gives a sensibility and a compassion to Hosea that in the novel he laments is too soft, "too like a woman's." Hosea could have the adulterous lovers killed, but he cannot bear to do it. If biblical Gomer equals the Hebrew people, then, against the Bible text that sometimes insists on unpitying punishment for the people's sins, Steinberg's novel poses understanding and protective love.
With the outbreak of a rebellion into which Hosea throws himself, the novel fragment ends. Hosea has not yet become a prophet, and Gomer's third child (which brother's will it be?) is not yet conceived, adding still more questions: Why does Steinberg suddenly present us with this unlikely warrior side to Hosea? Was he looking for some novelistic way to launch Hosea into action as a wandering prophet? Was he preparing Hosea to emerge from war with pacifist words?
Steinberg the novelist went even further in humanizing both Hosea and Gomer. Biblical Gomer the harlot is transformed into Steinberg's Gomer the valorous woman, expressing her full sensual nature and her own sense of justice. (After all, who, except for biblical Tamar, who had her own marriage agenda, would choose to be a harlot anyway? Runaway teenagers from abusive homes or poverty-driven girls from third-world countries fill today's brothels. Destitution leads to prostitution, now as then.)
As Steinberg makes plain in Prophet's Wife
, it is the absence of marital support that leads to harlotry. Nothing is lost on Steinberg's novelistic vigilance: the only employment Gomer can find after she is cast out is as a prostitute in a place called the "Left Shoulder" where, Steinberg's novel tells us with exquisite irony, married men seek sexual diversion.
With the remarkable sensitivity of his writing, his painting of detail to infuse life into his scenes, his sympathy for the sufferings of his characters, and his daring darts into their souls when they are most in crisis, Steinberg creates a Gomer who is torn between her admiration for the reflective, pious scribe, Hosea, and passionate attraction to his unbridled brother, Iddo.
The Bible text itself reels between opposites. God, like an enraged Othello, ricochets from poles of terrifying threat to tender promises of comfort. In Hosea 13:8: "I will devour them like a lion, the wild beasts shall tear them." In 14:6: "I will be as the dew unto Israel, he shall blossom as the lily." Midrashic commentary adds a layer of parable. What God is really saying is this: you, betrayed by your faithless wife, won't cast her off; how then should I separate myself from my people?
The beautiful parable doesn't erase the fact that biblical Gomer is used as a means to an end, a symbol without dignity of personhood, a character who utters no word.
What in fact is the difference between an eishet hayil, a woman of valor whose price is above rubies, and a harlot whose price is whatever the market will bear? The answer is that there is less difference than likeness, since both are abstractions, the perfect and the tainted alike—dehumanized, denatured, dead. Steinberg's Gomer, in her agonized entrapment, summons such questions.
Milton Steinberg, a modern rabbi and theologian, turned to fiction as the ancient rabbis turned to midrash. Prophet's Wife
 was created immediately post-Holocaust, when the word "theology" had lost its meaning. Out there was a vast expanse of dark matter—God's inscrutable inaction in the face of radical evil and suffering—against which a handful of phrases have been flung: "the turning away of God's face," "God sits at the gates of Auschwitz and weeps," "flickering moments of belief." Theology works best when the other side of it is poetry. Milton Steinberg turned to the poetry of midrash, of fiction, to question this blaming, punishing Hosea Bible text and alter our perception of it and God.
How far from the original Bible text may a midrash depart? That question, too, is raised by Steinberg's text. It vexes the writing of every midrash, which may be as detailed and inventive as it likes about what is not known, what is left open or left out of the original text, but it should not traduce the boundaries of the known. Writing midrash is a bit like writing historical fiction. If you know from history that King Henry VIII had Anne Boleyn's head cut off so he could marry Jane Seymour, you can't very well write that Boleyn escaped the palace at midnight, evading the headsman's hatchet (much as you would love to save her), in order to return in triumph to take her place as queen. Because then you would have played dice upon the dais of the actual, the real, the historical. And where, then, would you find places for the Queens Elizabeth I and II? Where do you put Churchill and the victory of the Second World War? We have endless space to dilate upon what is, but we cannot move the stars in their courses.
Gomer respects and loves her husband, Hosea, though without the passion she feels for Iddo, the pagan brother. Did Steinberg, steeped in literature, model Gomer in part on the unhappy heroine of Emily Brontë's Wuthering Heights, caught between passionate love for the wildness of Heathcliff and her yearning for a safe marriage household? Brontë wrote about the lure of unfettered freedom and the bitterness of life's limitations, by extension a kind of theology. Steinberg is writing a direct theological response to God's voice as it appears in the biblical Hosea text.
Maybe Isaac Bashevis Singer was also thinking of Hosea in his renowned story, "Gimpel the Fool," in which a virtuous simpleton is tricked into marrying the town whore. The deceptions of Gimpel's wife multiply along with his children, until at last his wife dies and confesses everything to him in a dream. Filled with awe at life's mysteries, Gimpel sets off on his travels, a fool whose gift for forgiveness has made him holy.
Is this the way Steinberg intended his Hosea to go?
In Prophet's Wife
, Hosea is more merciful than God. And this, perhaps, is the point of Steinberg's midrash-novel.
In endowing Gomer and Hosea with warm hearts and deep feelings, Steinberg has run full tilt against the hardness of the Bible text. In place of abstraction he has substituted affecting portraits of personal response; for the puppets of a morality play he has created flesh-and-blood fiction.
A look at Steinberg's earlier novel, As a Driven Leaf, may yield a few clues about his intended direction in this unfinished one. For his hero, he chose one of religion's most indefensible characters, an apostate. The brilliant Elisha ben Abuyah drives himself deep into isolation, holding to a proud independence of mind, rebelling against the reigning religious leaders, unwilling to renounce the doubts of a seeker. At novel's end, ben Abuyah's life is that of a pilgrim, pursuing the quest that leads to more questions and greater alienation.
How could Steinberg have completed Prophet's Wife
, this novel about a woman whose sin earns her the contempt of her society—how could anyone? How can a sexually transgressing woman be vaulted beyond the censure of the ancient world? Steinberg has already, with astonishing prescience, brought the consciousness of his Gomer centuries forward, toward the idea of physical and spiritual freeing of women.
Hasn't Steinberg's Gomer felt the scourgings of the multitude, the lashings of God? Does she not have a tongue of fire, a despair and hope equal to the world's? Something in Steinberg's story seems to be saying, "Let Gomer prophecy!"
We are asked to engage with this amazing fragment, however inadequately, because to engage with it is to keep it alive. Here's a try:
As Steinberg gives Hosea a brother, Iddo, let us give Gomer a sister, Maluti. (Bible characters often come in pairs, opposite in nature: Isaac and Ishmael, Jacob and Esau, Rachel and Leah, Sarah and Hagar.) Gomer is proud, headstrong, impetuous; Maluti, the youngest of the children left in a grasping uncle's care, is thoughtful and prudent. She faithfully carries out her assigned female tasks but longs to study as men do, as Beruriah, the learned wife of Elisha ben Abuyah's friend Meir, had done. Whenever she can, she contrives to take her weaving to the neighborhood of the study house, where she listens to the chanting (and gossip). Learning of Gomer's disgrace and divorce by Hosea, Maluti seeks him out and pleads for her sister.
"If you leave Gomer with Iddo," Maluti says, "she will fall lower and lower. Before your brother returned, was she not a faithful wife to you?"
"But then she was not."
"Take her away with you. Why does God require the destruction of Baal's shrines? If they are left, they tempt. So with Iddo, if left in sight of Gomer. Take her away."
"I am a scribe. My livelihood is here. And for now I am a soldier in the rebellion."
"People will not allow you to starve. You will feed them wisdom; they will give you food."
"But with a wife? Children? Do you know what that would be for them?"
"Gomer longs to prove her worth to you. Isn't that what God intended—that you and Gomer and your children would be a living example to the people? When did a prophet stay shut up in his workroom and talk to the flies?"
"And if my children starve?"
"As you take pity on Gomer, God will pity the children. God will call them, 'My People,' and 'Love.'"
Hosea now looked at Maluti more carefully than he had ever done before. He felt sympathy stir between them. They were so alike, and he had never noticed!
"If I travel the land, it would be far better for me to have a woman like you at my side," he said, "not Gomer."
But Maluti answered, "You and I are fashioned too much alike, Hosea. How would we make one another grow? Even the Holy One must bring the opposites of God's nature together to elevate God's being to One."
Hosea was able to recognize wisdom when he heard it. That day he plucked Gomer from the house of Iddo. She willingly departed, after hearing what Hosea said to his brother: "Through you my father's name has fallen to the dust. But Gomer and I will set out to labor for the Lord."
To which Gomer, in her strong woman's voice, and lifting her children's faces to heaven, added, "Amen!"
But what, after all, have we accomplished here? The heaviness of the text is so great that if we try to lift it in one place, it sinks in another, and then more questions sprout. What has happened to the idea of Gomer's (Israel's) sin? To the idea of the redemption of Gomer and the Jewish people through the forgiveness and mercy of God? When Gomer (in the guise of Israel) becomes the agent of her own rescue, she loses the drama of a sinner's redemption, and she and we lose the text's explanation of the miseries of Jewish history as a punishment for sin.
Is it really for us, in our own lives, to complete Steinberg's story of love and pain, both human and transcendent, and, however broken our world, to look for God's mercy and justice in it?
Who is the driven leaf here? Is it Hosea, or is it Gomer, who is never really given a chance to choose her fate, neither in Bible text or in Steinberg's version. Elisha ben Abuyah's is a quest story and can embrace the open-endedness of lifelong wandering. But Gomer and Hosea are (divorce or no divorce) a married couple with children—what is more rooted than that? Can they, too, go about the land arguing with God and forging new God-concepts?
In portraying the tormented marriage of Hosea and Gomer, Steinberg reveals the darkness at the heart of the God-human relationship, as well as its lovers' tenderness. God cannot live without the lov0e of the people, however betrayed by them, nor can the people ever love God as much as God requires them to (however many interpretations of that there may be).
If we keep our eyes on Gomer and Hosea, and disregard for now the talk about harlots, then we see that they are a pair who cannot live with one another and cannot live without one another, a recipe for both torment and connectedness without end. Gomer will never love the pious Hosea as much as she loves the pagan Iddo; Hosea cannot live without her all the same. (Read: The Jewish people can never live up to God's standards; God cannot live without forgiving them and then raging anew at each disappointment.) Can such a marriage endure? Apparently not without this painful and improbable pursuit of one another. With it, Gomer and Hosea—and we and God, it seems—can go on.
One thinks of another pair of anguished lovers in another book of the Bible—the beautiful Song of Songs—who are forever pursuing, forever losing, forever finding one another. Theologically speaking, the pursuit is understood to be all about seeking God.
Steinberg's lovers are like that, and so are we. Like them, we sometimes sing love lyrics, as in the Song of Songs, and sometimes we are tormented, as in the book of Hosea. But Steinberg's Gomer and Hosea bring the passion and the struggle closer to our modern sensibilities and enliven our imaginations about the quest for human love and the search for an elusive God.
© Behrman House, Inc. reprinted with permission (www.behrmanhouse.com).
For Book Clubs
If reading Norma Rosen's essay persuades you to read the Milton Steinberg's Prophet's Wife
, Behrman House provides the following questions for your book club discussions.

1.    Betrayal, wrestling with conscience, a woman's struggle for a voice—how do the concerns and struggles of the characters in this biblical tale resonate for us in modern times? How does the author succeed in bringing the world of ancient Israel to life?
2.    The prophet Hosea, who lived in the Northern Kingdom of Israel prior to its conquest by Assyria in the eighth century B.C.E., was an important critic of his time. He rebuked the kings of Israel, as well as the people, for their religious and moral transgressions, their idolatry and corruption. Does the Hosea in Prophet's Wife
seem like a likely candidate to be called for this work? Why or why not?
3.    Hosea and Gomer's marriage is presented in the Bible as a metaphor for Israel's Covenant with God. What kind of marriage do the characters have in this novel? Why did their marriage fail? Under what circumstances could you see Hosea and Gomer reconciling in the unwritten conclusion to this novel? In what ways does the metaphor inform us about Israel's covenant with God?
4.    The relationships within the House of Beeri have an important influence on Hosea's childhood—Beeri and Ophra's marriage, Gadiel and Iddo's attitudes towards both parents, the older brothers' treatment of Hosea, the ever-present servants in their lives. What effect do these family dynamics have on Hosea's outlook on God, community, and family?
5.    Why do you think the author imagined the young Hosea with artistic talents? How might an artistic disposition inform his view of the world?
6.    In her commentary on this unfinished novel, Norma Rosen writes that the author turned the harlot story on its head. In what ways might Gomer be seen as a valorous woman? Do you agree that she is valorous, on the whole? Why or why not?
7.    The biblical prophets are often seen as harsh and unforgiving in their words and deeds, even though they were charged by God to deliver them. In his essay, Rabbi Harold Kushner remarks that Hosea is the only Hebrew prophet who "sees God as vulnerable, hurt by betrayal." How does Milton Steinberg's depiction of a gentler Hosea get this point across? Do we see God today as vulnerable, hurt by betrayal?
8.    Many Israelites during this time of this novel are less than mindful of God's commandments. They are callous to the suffering of those among them, they celebrate Canaanite fertility rituals, and they tolerate corruption among their leaders. What was the role of biblical prophets in attempting to warn their people away from self-destruction? Who or what are some modern parallels t these prophets?
9.    As Ari Goldman points out in his essay, Steinberg wrote Prophet's Wife
at a critical juncture in the history of the Jewish people. The full horrors of the Holocaust were just becoming known. In the Middle East, the modern State of Israel was emerging. In what ways could this novel be seen as a response to world events at this time?
10.    How do you think Steinberg intended to finish the novel? How might you have finished it? In what ways do the commentaries by Ari Goldman, Rabbi Harold Kushner and Norma Rosen contribute to the experience of reading an unfinished work?