Brief Reviews: In Fiction, as in Life, Becoming a Mensch
Films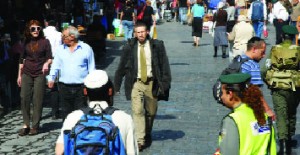 The Human Resources Manager
Central to this humorous Israeli film, based on A.B. Yehoshua's novel A Woman in Jerusalem, is the transformation of the unnamed title character from detached bureaucrat to involved human being as he accompanies the body of an employee, a Christian foreign worker killed by a suicide bomber, to her native Romanian village for burial. Under Eran Riklis's direction, the manager represents a kind of Everyman. Pyramide International (www.pyramidefilms.com/pyramideinternational). —Tom Tugend
Grace Paley: Collected Shorts
Short-story writer, poet, feminist, antiwar activist, wife, mother—the Bronx-born daughter of immigrants fit it all into her long life. Lilly Rivlin's film vividly re-creates the remarkable Paley's life in the mid- and late-20th century, using footage from her readings and interviews with writers such as Alice Walker, all punctuated by lively watercolor illustrations. Women Make Movies (www.gracepaleythefilm.com).  —Renata Polt
The Klezmatics: On Holy Ground
It's not easy being a Klezmatic, whose six members—not always the same six—have been playing together for two decades. The money is poor and the travel strenuous. Using concert footage and interviews with the musicians and fans, director Erik Greenberg Anjou probes the group's lives and art. The film is overlong, but the music is rousing. Roots First Production (www.7thart.com). —R.P.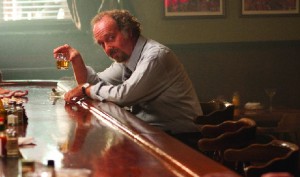 Barney's Version
Based on Canadian writer Mordecai Richler's book of the same name, this comedy stars Paul Giamatti as the unlikely likable protagonist: He runs Unnecessary Productions, creating cheesy television programs; his father is played by Dustin Hoffman in a small but fine turn. Wickedly witty as it skewers the self-importance of the insular Montreal Jewish community, Giamatti makes this film a surprisingly affecting romance. Sony Pictures Classics (www.sonyclassics.com). —Zelda Shluker

Television
Triangle Fire
March 25 marks the 100th anniversary of the tragic fire in the Triangle Shirtwaist Factory that killed 146 mostly immigrant women workers. It took that horrific event to bring about far-reaching labor legislation for shorter hours, safer shops, higher wages and, especially, unions. Director-producer Jamila Wignot interviews historians and uses reenactments as well as archival photos and film clips to show how factories exploited workers and endangered their lives. February 28 on PBS (www.pbs.org). —Z.S.
Recordings

Dos Amantes: Kat Parra & the Sephardic Music Experience

In a proud nod to her roots, vocalist Kat Parra (https://katparra.com) joins Ladino songs of longing with sensuous rhythms of Latin jazz. "Los Bilbilicos" throbs with a habanera/rumba beat; "La Vida Do Por El Raki" becomes a lively Afro-Cuban dance. —R.M.
The Mother of All Comedy
Mom and Dad, beware—your children are sharing your messages in weird ways. (Justin Halpern repackaged his father's rants into a popular book and television show.) Amy Borkowsky has 10 years' worth of her mother's phone messages. The results are hilarious—and familiar—reminders about how to dress for the weather, upcoming birthdays, the single state, warnings not to get a cat, financial advice and the danger of kidney stones (www.mothercd.com). —Susan Adler
Exhibits
Reclaimed: Paintings From the Collection of Jacques Goudstikker
The Nazis looted about 1,400 artworks belonging to the Dutch Goudstikker, one of Europe's premier art dealers. In the 1990s, his heirs were able to track down and recover some 200 of them, of which 40—including Italian and Dutch Renaissance landscapes, still lifes and portraits—are on view. Through March 29 at the Contemporary Jewish Museum, San Francisco (www.thecjm.org). —R.P.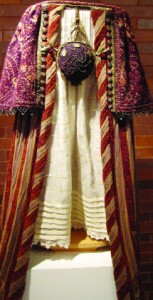 A Stitch in Jewish Time: Provocative Textiles
Forty artists reshape humble textiles into fine art: weaving, stitching, embroidering and collaging their audacious, personal explorations of memory, history, ritual, injustice and feminism. Judy Chicago's tapestry The Creation reimagines the world's birth from the loins of a female creator; Carol Hamoy embroiders an updated Ten Plagues onto vintage nurse uniforms; Laura Wohl's Peace Like a Riverunweaves canvas to form flowing pastel waves of biblical texts; Temma Gentles dresses a Torah in magnificent robes in She Is a Tree of Life (right). Until June 30 at Hebrew Union College–Jewish Institute of Religion Museum, New York (www.huc.edu/museums/ny). —Rahel Musleah
Arthur Szyk: Miniature Paintings and Modern Illuminations
Arthur Szyk created covers for Collier's Magazine (Hitler and Stalin playing poker) and book illustrations: Han Christian Andersen's Fairy Tales and Geoffrey Chaucer's Canterbury Tales to the books of Esther and Job and, perhaps his masterpiece, a 1940 Passover Haggadah. Created in the exquisite style of medieval illuminated manuscripts, Szyk's small paintings are filled with details derived from the folk art of his native Poland, Jewish legend and contemporary experience. Through March 27 at the San Francisco Legion of Honor (www.legionofhonor.org)


DVD
The Esrog
Tales from the Baal Shem Tov unfold in clay figures in two visually stunning stop-motion short films that feature beautiful soundtracks of Hasidic melodies. In The Esrog, destitute Dovid saves a coin each day to purchase the most expensive esrog for Sukkot, but his plan unravels when his wife finds out. In Yaakov and Eliyahu, a devout Hasid is intent on seeing the prophet Elijah through prayers and good deeds. Holy World Productions (www.holyworldproductions.com). —Sara Trappler-Spielman
Web Sighting
The founders of Jewcology, www.jewcology.com, know about pooling resources: The goal of the new online hub and database for all things Jewish and green is, according to the site, to "build a multidenominational, multigenerational, regionally diverse community of Jewish environmental activists." And with its active Blogs, Idea Box and Campaign & Events sections—with postings by well over 50 organizations, from Israel, the United States, even Mexico—Jewcology has become a meeting ground for timely discussions and concerns. For example, popular postings include ideas for sustainable Purim gifts and placing environmental concerns in the Jewish curriculum. —Leah F. Finkelshteyn