Inside Hadassah
It is the season of Purim, which reminds us of the founding of Hadassah and our namesake, Esther, whose courageous effort, along with her uncle, Mordecai, persuaded King Ahasuerus to save the Jewish people in ancient Persia. We celebrate the power of strong and visionary women—Hadassah members and the Hadassah Foundation and their grantees, who strive to encourage women and girls to participate fully in society and build skills and self-esteem, here and in Israel. We highlight, too, Young Hadassah International's Vienna conference and the promise of recent Hadassah medical milestones. There is much to cheer about as we say Hag Purim Sameah! —Ruth G. Cole
What's Cooking
Offering everything a Jewish cook needs to know to create simple, satisfying and delicious kosher meals for everyday and special occasions, the new Hadassah Everyday Cookbook: Daily Meals for the Contemporary Jewish Kitchen
 (Universe) will be available in stores and online on March 8. Author Leah Koenig, a noted food writer, offers more than 160 recipes—accompanied by 75 color photographs by Lucy Schaeffer and a foreword written by Joan Nathan—that span the culinary globe, combining American and Jewish tastes with Mexican, Italian, French, Asian and Middle Eastern-inspired cuisines. Recipes range from breakfast, lunch and dinner dishes to desserts, snacks and cocktails.
A must-have for any Jewish cook, The Hadassah Everyday Cookbook
 follows the popularHadassah Jewish Holiday Cookbook: Traditional Recipes from Contemporary Kosher Kitchens
(Universe). Preorder
 your copy today!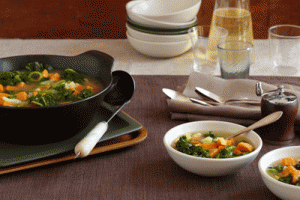 And for a tasty tease, try Sweet Potato Kale Soup with White Beans
1 head garlic
3 tablespoons olive oil, divided
2 leeks, thinly sliced
1 sprig fresh thyme
4 medium-sized sweet potatoes, peeled and cut into 1/2-inch pieces
6 cups vegetable or pareve chicken broth
1 small bunch kale, stems removed, chopped
1 14-ounce can white beans (e.g. cannellini), rinsed and drained
1 teaspoon salt
1/2 teaspoon freshly ground black pepper
1. Preheat oven to 400 degrees. Slice the top off the garlic head, exposing the tops of the cloves. Drizzle with 1 tablespoon oil, wrap lightly with aluminum foil and bake for 30 minutes. Remove from the oven and let cool. Squeeze the cloves out of their shells into a small bowl and set aside.
2. While garlic is roasting, heat remaining oil in a large stockpot or Dutch oven over medium heat. Saute leeks and thyme sprig until leeks become translucent, about 8 minutes. Add sweet potatoes and continue cooking, stirring frequently, until potatoes begin to soften, 10 minutes.
3. Add roasted garlic and broth; bring to a boil, cooking until potatotes are tender, about 12 minutes. Add kale and white beans and cook just until kale begins to wilt, about 4 minutes. Remove thyme sprig, season with salt and pepper and serve immediately.
And here are two Passover-friendly recipes from the new cookbook: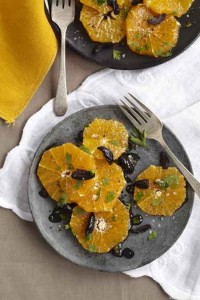 Moroccan Orange and Olive Salad (Serves 4)
Claudia Roden writes in The Book of Jewish Food
 (Knopf) that orange and olive salads are a Moroccan specialty. If you can find them, blood oranges make an especially striking presentation.
4 oranges (Valencia or blood oranges)
1/4 cup oil-cured black olives, pitted and halved
2 tablespoons red wine vinegar
2 tablespoons honey
1 clove garlic, minced
1/4 cup chopped flat-leaf parsley
1 teaspoon paprika
1/2 teaspoon cumin (optional)
3 tablespoons olive oil
Sea salt and freshly ground black pepper to taste
1. Peel oranges, removing as much of the pith as possible, then slice horizontally into 1/4-inch rounds. Arrange orange slices on a serving platter and scatter with olives.
2. In a medium bowl, whisk together vinegar, honey, garlic, parsley, paprika, cumin (if using) and oil; drizzle over oranges and olives, then sprinkle with sea salt and pepper to taste.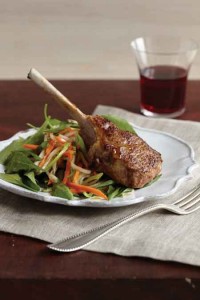 Cucumber and Mint-Spiced Lamb Salad (Serves 4-6)
Prepare this filling dinner salad as an entrée for a quick and satisfying midweek meal.
For Salad:
2 tablespoons white wine vinegar
1 tablespoon olive oil
8 mint leaves, roughly chopped
Sea salt and freshly ground black pepper
1 English cucumber, julienned
2 carrots, julienned
4 scallions, thinly sliced
1/2 pound arugula
For lamb:
1 teaspoon cumin
1 teaspoon chili powder
Sea salt and freshly ground black pepper to taste
6 lamb chops
1 tablespoon olive oil
1. In a small bowl, whisk together vinegar, oil, mint leaves and salt and pepper to taste; set vinaigrette aside. Combine cucumber, carrots and scallions in a medium bowl and set aside.
2. Make the lamb: Preheat outdoor grill or grill pan over medium-high heat. Combine cumin, chili powder and salt and pepper to taste in a small bowl. Brush lamb chops with oil and season with spice mixture. Place lamb on preheated grill and sear on one side until browned, 3-4 minutes; flip and cook on second side another 3-4 minutes, until cooked through.
3. Spread arugula onto a serving platter and top evenly with cucumber-carrot mixture. Lay lamb chops on top of salad and drizzle with vinaigrette.
Viennese Vacation
"If you want to know that Israel is more than just conflict, think Hadassah," declared Avi Shir-On, Israel's ambassador to Austria, addressing the 30 Young Hadassah International leaders gathered in Vienna for its annual weekend conference last November.
Participants arrived from Jerusalem; Manchester, England; Paris; New York; Amsterdam; and Zurich. The goal of the conference was to build leadership skills to equip delegates to spread awareness about the work of the Hadassah Medical Organization when they return home.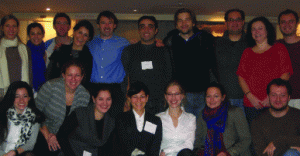 Vienna became the playground for the young leaders to contemplate their roles in promoting quality health care in a global context. In addition to exploring the city, they heard from Dr. Yael Goldberg, who shared her work as a genetic oncologist at the Hadassah–Hebrew University Medical Center. Dr. Daniela Zaknun, a local Viennese professor and pediatrician, gave an intriguing presentation on the challenges and pitfalls of various health care systems around the world.
The weekend ended with an address by Ambassador Shir-On, who confessed that "Hadassah makes my work easier when I represent Israel abroad."
The conference also marked the launch of Young Hadassah International's Say Hi to Life fundraising initiative, a grass-roots matching gift campaign that was conducted through social media in the month of December. The campaign raised $4,000 in the first hour alone.
The next YHI conference will take place in March in Mexico City. For more information, contact Young Hadassah International at info@yhadassah.org.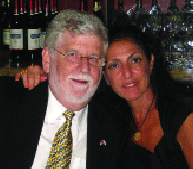 Magazine Inspired
Houston couple Linda Jayaram and David Barish were about to set out on a mission to Israel last year when Barish saw an article in Hadassah Magazine, "Medicine: Back on Course" (January 2009 issue), describing phase 1 clinical trials at the Hadassah Medical Center. Conducted by Dr. Dimitrios Karussis, the trials were to harvest adult stem cells from a patient to be used to reverse the effects of multiple sclerosis.
Though unsure whether Jayaram, 56, who was diagnosed with MS at age 24, would be a candidate for treatment, they managed to schedule an appointment with Dr. Karussis. The couple was delighted to hear the doctor say that he might be able to help Jayaram and that she would be the first person outside the clinical trials to benefit.
Initial skepticism has proved unfounded: Jayaram has returned to Israel three times to receive treatment. After the third visit, she began feeling much better, which she credits to the cumulative effect of the procedures.
"I'm exercising more, I'm feeling better," Jayaram said. "And people tell me I'm walking better and looking better. I have more energy."
"We have been to Israel many times," Barish noted, "but this trip would, for us, be the 'miracle mission' in the 'land of miracles.'"
Jayaram plans to return to Jerusalem to receive further treatments. Unfortunately, she notes, the department is overwhelmed with requests and does not have the manpower or the funding to treat more patients. She is hopeful others with MS will benefit from this breakthrough procedure in the future.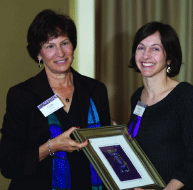 Changing Lives
Shalom Bayit, Northern California's center for Jewish domestic violence prevention and support services, honored the Hadassah Foundation with its 2010 Changing Lives Award in October "for its vision of improving the health and well-being of Jewish women and girls, making dating violence prevention a Jewish communal priority," according to Zephira Derblich-Milea, Shalom Bayit's youth program coordinator.
The Hadassah Foundation has provided funding to Shalom Bayit since 2005 for its teen program and its nationally recognized dating-violence prevention program, Love Shouldn't Hurt. The curricula have reached 30 communities and more than 5,000 individuals.
The Hadassah Foundation funds projects that foster economic security for low-income Israeli women and leadership and self-esteem programs for Jewish adolescent girls in the United States. Abuse prevention is a priority.
The Hadassah Foundation received this recognition alongside Jewish Women International and the National Council of Jewish Women.
For more information about Love Shouldn't Hurt, e-mail info@shalom-bayit.org or call 510-451-8874.
For Women, by Women
As part of their training, student nurses from the Hadassah–Henrietta Szold School of Nursing regularly spend clinical hours at Bishvilaych (www.bishvilaych.org), a Jerusalem-based women's health services organization providing direct medical care and community and professional education.
"Our care is comprehensive—prevention-based, rather than disease-based," said Elisheva Langner, director of research and education at Bishvilaych. Both nurses and doctors at the clinic—all female—spend more time than average with patients, learning the "whole picture" of each woman they see.
The relationship between Hadassah and Bishvilaych is a natural one. "[Bishvilaych's] comprehensive perspective on women's health throughout the life cycle encompasses the philosophy of prevention and treatment that is taught in our nursing school," said Miri Rom, director and associate dean. "This partnership between academia and clinical practice will bear many fruit that will greatly impact the health of women in Israel."
Bishvilaych also partnered with the Hadassah–Hebrew University Family Physicians' Continuing Education Program to train family doctors to perform breast examinations; in Israel, these exams are traditionally only done by breast surgeons, which means that many busy women simply do not schedule appointments.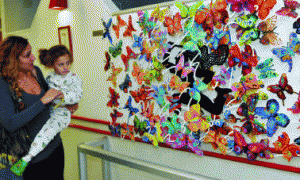 Bringing Cheer to Children
What child is not enthralled by colorful butterflies? In the 34-bed Pediatric Internal Medicine Department on the third floor of the Charlotte R. Bloomberg Mother and Child Center, butterflies are everywhere. They decorate the cloth that conceals a life-saving machine and seem to flutter along the wall opposite the nurses' station, where Israeli sculptor Dudu Gerstein's fanciful creation hangs—the gift of a generous donor.
Butterflies have also been painted on the ceilings over patients' beds. "Sometimes, when children have to return for treatment, they ask to go back to 'their' butterfly and be put in 'their' bed," notes head nurse Emanuelle Picard, 38, who is known simply as Mano by parents and patients, staff and strangers. "I do my best to fulfill their wish."
Picard, a native of France who came to Hadassah in 2003, is the driving force behind these cheerful touches. "My goal was to make the department feel like home," she explained. Believing that sick children need something familiar during the long hours they lie in bed, she enlisted artists to paint not only the butterflies overhead but also murals on the walls of the patients' rooms. Now each child sees familiar characters such as Dora the Explorer, Winnie the Pooh or The Little Prince on the wall in his or her double-occupancy room.
When Picard heard about an art competition called "Children of the World Paint Peace," a project of Dvorah and Eli Fischer of Fischer Pharmaceuticals, she approached the head of the large Israeli corporation and asked him to donate some of the prize-winning drawings. The artistic expressions of children from around the world now decorate the corridor walls.
Inspired by this example, she decided to hold a similar contest within the department last year. The sight of Israeli, Palestinian and foreign children "painting peace" said more than their pictures could ever convey. Fischer came to judge the final competition and presented the prizes to the young artists.
It is the energy, creativity and personal touch of staff members like Picard that make Hadassah stand out. "When children tell us they don't want to leave," Picard said, "we know something good is happening here."