Interview: Henry Cisneros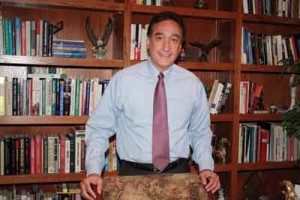 Following four terms as mayor of San Antonio, Texas, Henry Cisneros served as secretary of housing and urban development from 1993 to 1997, under President Bill Clinton. Today, Cisneros, 63, heads CityView, an urban development company that works to ensure affordable housing in 40 communities spanning 12 states. Long involved in Latino-Jewish dialogue, he is hosting a Latino-Jewish conference in San Antonio in March, in support of Israel.
Q. There are points of convergence between American Latinos and Jews—traditional support of Democrats, liberal values, strong family orientation. Are these two communities marching together or separately?
A. There are in fact many things that bring us together. It starts with Latino respect for biblical tradition and readings of the Old Testament that define a place for Israel in the biblical narrative. This resonates deeply with many Latinos who tend to be very religious. Add to that the many traditions that are family centered in the Jewish faith, and that also resonates with Latinos as things to be respected. Over several decades, the American Jewish community, also at one time marginalized, always related to other minority communities and reached out to them as merchants, lawyers, political supporters and financiers. In a number of neighborhoods it was Jewish businesses and families that provided the financial support for Latino ambition.
Q. Do you speak from personal experience?
A. The first banker I ever dealt with was from one of the prominent Jewish families in San Antonio, very helpful, also very politically active. He was exceptionally supportive of me when I went into politics. There is great interaction that goes back in old classic neighborhoods like East Los Angeles, which was once Jewish and then transitioned to Latino, with many lifetime friendships and family bonds created in that period. In the more modern period, where the Jewish community tends to be progressive and inclusive of immigrants, you will also see a natural alliance. Were you to do a poll of Latinos, you would find that they start with a deep understanding of the significance of Israel and are more inclined than other sectors in the American population to be solidly supportive of Israel.
Q. Is there any issue on which this natural affinity does not exist, where there might be division?
A. A few years ago, there were some threats to the alliance on issues of affirmative action. Some in the Jewish community were supporting ethnically blind admission at universities, and Latinos—who are vastly underrepresented in that arena—felt it was too early to phase out affirmative action programs…. Remember, the Latino community is one with high aspirations starting from a low point within just about every industry, presence on university campuses, creation of and leadership in small businesses. We come from a very low point of jobs, wages, wealth creation, and to the degree that the Jewish community might ever be engaged in shutting the door of opportunity, then that's a place where tensions can occur. It is clear that this is not a mainstream position inside the Jewish community but the position does exist.
Q. The Jewish community is active in American foreign policy. One of the big motivators is its interest and concerns related to Israel. Are Latinos solely focused on domestic issues and, if so, do you think they will open up in coming years to activity in the international arena?
A. It is opening up more already because of the daily barrage of concerns related to Mexico and the nations to our south. First, there is Mexico with its urgent problems of drug violence, border-related violence, implications for trade issues. There is no question that even those of us who would rather not be involved in international issues have no choice but to be. And by extension, the problems of Mexico bleed over into Central America. To Central Americans, Mexico is the colossus of the north and there are issues there that seep through to the U.S.
Q. Do interests end in Central America?
A. Of course not. We cannot be blind to the problems posed by Venezuela today or those stirring in Colombia or the opportunities present in a strong Brazil and Argentina. Yes, there will be an increasing openness and focus on diplomacy in the short term, at least as this relates to Mexico and Latin America.
Q. You will soon be chairing a Latino-Jewish conference in Texas about trends within your community. Why such a gathering at this time?
A. I have had a long-lasting…interest in aligning the Latino community with Israel and the American Jewish community. Several dimensions come into play. One of them is the recognition that Latinos have much to learn from the American Jewish community, for example, its facilitation of its immigrants over the last century, the upward progression in American life, including a heavy investment in education at the family level and philanthropic strategies built around the concept oftzedaka…. The Latino community would do well to learn from that.
Q. And how does Israel fit into this picture?
A. Again, [there are] many lessons to be learned from Israel's domestic policies regarding immigrants and education of newcomers, to economic investment in psychology and biosciences, and encouragement of talent needed to build the economy there. The ingrained ethic of unity and progress is to be admired. That's why our conference [sponsored by San Antonio's] Bridges and Pathways Latino-Jewish Dialogue group, together with our partners at the S. Daniel Abraham Center of Netanya Academic College, is such a timely, relevant discussion.
Q. So you're confident the Latino-Jewish partnership will continue well into the future?
A. I am certain of it. We [share] domestic interests on issues…and, no less significantly, international interests such as support for Israel. The strengthening of ties to the Jewish community and Israel is essential as we educate Latino civic leaders and the community in general from which future leaders will come. These individuals will be the future [members of] Congress, senators and governors and, hopefully, one day a president. If they [understand] the significance of Israel and the American Jewish domestic agenda, we have a much greater chance for alliances, progress and understanding.
Q. Some say that the Latino community is solidly Democratic, now and forever. Is this a premise you accept?
A. Even though I personally am a staunch Democrat and for years have nurtured Latino involvement in the Democratic Party, the truth is that the diversity of the community and its prominence in American life assures that it will participate politically in both parties. The fact that the community is made up of so many people from different nations and backgrounds virtually guarantees they think about political problems in different ways….
Q. When will we start seeing the fruit of such diversity?
A. You can already see more involvement with Republicans and other parties…. Both major parties tailor some of their positions on issues like immigration, language training, education and child development, entrepreneurship and small business, relating to the Latino interests. As the Republicans increase that effort they will attract more interest from Latinos.
Q. How much of the Latino community's perspective comes from ethnic nurturing and how much from the younger generation's assimilation into broader American society?
A. You will definitely see more young people looking at things not through a prism of tradition but on the basis of calculating their own interest and ambitions. Some recognize appealing things for them about the Republican Party. For example, there is more room for them to advance quickly there, the doors are open wide for the newcomers. Some very bright young talents will be rewarded by taking their chances on the Republican side. The new senator from Florida, Marco Rubio, is a prime example. The first Latina ever elected as a state governor, New Mexico's Susana Martinez, and the new governor of Nevada, Brian Sandoval, are excellent examples of the opportunity track that will be opened up on the Republican side. I expect that this will not become a 50/50 proposition in the short run, and most Latinos will remain supportive of the Democrats.