Profile: Michael Tucker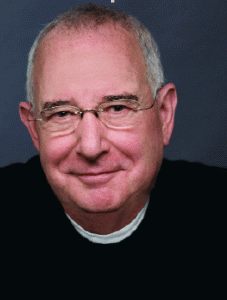 At home in the kitchen of his New York apartment, Michael Tucker points to a painting of a stout Italian matron extending a huge, inviting bowl of sunny yellow tortellini in broth. "That's my inspiration," he says.
Tucker is a trim, 5-foot-5 Baltimore-born Jew of Lithuanian descent, but the story he tells in his new book, Family Meals: Coming Together to Care for an Aging Parent(Atlantic), parallels the painting with its real-life portrait of family, food and love. In it, Tucker traces his mother-in-law's plunge into dementia and how her family rallied to care for her—and for each other.
Perhaps best known for his role as Stuart Markowitz in the television series L.A. Law, acting opposite his real-life wife, Jill Eikenberry (as Ann Kelsey), Tucker, 66, has made the rounds of libraries, bookstores and Jewish book fairs to promote the book. "The whole aspect of family resonates with Jewish audiences," he says.
He sketches the past two decades of his life in broad strokes: L.A. Law ended its eight-year run in 1994, earning him three Emmy and two Golden Globes nominations. He and Eikenberry moved back to New York after 18 years in California, returned to the theater, downsized to a small Upper West Side apartment and traveled often to their "dream home," a 350-year-old stone farmhouse surrounded by a grove of 125 olive trees in Umbria, Italy. "It was the perfect plan for semiretirement," he says, until his father-in-law died; his mother-in-law, Lora, sank rapidly; and the family moved her to New York. Eikenberry and he found a private caregiver and a team of aides, and when the apartment across the hall from theirs became vacant, they rented it for Lora.
The Tuckerberry family—as they have dubbed themselves—began to "Italianize," says Tucker. "The Italian constitution states that the basic unit is the family—not the individual. In the U.S., when a parent fails we send them someplace. In Italy, they bring them in." Despite the psychological and logistical pulls and tugs of changing dynamics, the family came together "like a nice Italian minestrone," he writes. Their daughter, Alison, 40, a private chef and caterer, also returned to New York and began cooking for her grandmother in her parents' kitchen, which doubles as Tucker's office and writing space. (Alison is actually the daughter of Tucker's first marriage, but Eikenberry brought her up since she was a year and a half). Their son, Max, 28, a drummer, moved in with Alison.
Ironically, the Italian influence caused Tucker to rethink his Jewish roots as part of a large extended family. His father, Henry, a fur buyer for the Hochschild-Kohn Department Store in Baltimore, was one of 15 children; his mother, Helen, who also worked there part-time, was one of 7. "My generation of Jewish men and women let go of family," says Tucker. "We were the great mover-outers and assimilators."
A self-described "bagels-and-cream-cheese Jew," Tucker takes pride in his cultural Jewish identity. Though he celebrated his bar mitzva in an Orthodox synagogue, his religious commitment ended there. But he feels a kinship to his East European ancestors who "sat and discussed Talmud. I think there is just a little bit of that in me. I love to discuss the various interpretations of things and to quietly read and write." That quiet part of himself is rising more and more to the fore, notes Tucker.
"I'm actually very shy," he admits in his soft-spoken voice. "Acting is an overcompensation."
As a child, he accompanied his father on buying trips to New York; they went to see Rosalind Russell in Auntie Mame and Ethel Merman in Gypsy. "It made a big impression on me," he recalls. His first role, at 14, was as a Lost Boy in Peter Pan. "I sang a song with a two-line solo in a big, big theater, Fords Theater. There I was in the light and all these people were sitting in the dark watching me. You know that feeling when time slows down and you can do anything? I felt that feeling and I knew: This is what I want to do." He describes acting as therapeutic. "Often, it's expressing extreme emotion, which you don't get a chance to do in real life. You get to yell and scream, to act bitter or gleefully happy."
"Mike is warm, loving, funny and profoundly intelligent," says Eikenberry, who is not Jewish. "People often say after they've seen Mike in a play or a movie that he didn't seem to be acting at all.  They say he was just being himself…. It takes a lot of talent to do that. As Mike gets older he gets better and better at being himself on and off stage, and that's what makes him so appealing."
John Lithgow, who shared the Broadway stage with Tucker and Meryl Streep in Trelawney of the Wells, describes Tucker on the back cover of I Never Forget a Meal as an "exuberant raconteur, great cook and self-mocking sensualist, with his heart hanging on one sleeve and a saucepan on the other."
Tucker studied drama at Carnegie Tech (now Carnegie Mellon Universtiy) in Pittsburgh (Steven Bochco, L.A. Law cocreator and producer, was a classmate). His extensive stage and film credits include The Merry Wives of Windsor, Comedy of Errors and Measure for Measure; Woody Allen's Radio Days and The Purple Rose of Cairo; Barry Levinson's Diner and For Love or Money with Michael J. Fox.
The role of Estragon in Waiting for Godot taught him the most about what life means. "We fill up our lives…with games—the relationship game, the religion game, the power game, the money game…. One game after another to avoid thinking about death and confronting the truth," he says.
Man Jumping Rope, a Godot-like painting by Israeli artist Benjamin Levy of a solitary man passing time against a black background, is among the numerous works of art that he and Eikenberry collect and that cover the walls of their apartment. When they moved back to New York, they divested themselves of their "fancy stuff"—paintings by Edouard Vuillard and Rufino Tamayo, a Picasso drawing—and kept the more meaningful pieces by friends like Kathryn Jacobi and Graziolina Rotunno (she painted Lola, the Italian matron). An Emile Norman sculpture of two birds, crafted of thousands of pieces of rare woods, graces a wall in the den. The Tuckerberrys were so inspired by Norman's life and work that they produced the documentary Emile Norman: By His Own Design (which was shown on PBS). Norman died last year at age 91.
When Tucker is intent, he often crosses his arms across his body and pitches his eyebrows steeply above his rimless wire glasses. He tears up easily when he describes a touching gesture from his daughter, when a song moves him or when he talks about Eikenberry's breast cancer, diagnosed during the first season of L.A. Law. "The moment of our success coincided with the moment of her cancer," he says. Two years ago, the cancer recurred and was treated successfully. "The word 'recurrence' was very hard to hear." He poured his emotions into a novel, as yet unpublished. "The book is about losing her and who I would be—or if I would be—without her," he adds.
The collaborative process of acting contrasts with the solitary writing life. But in both disciplines, Tucker says, characterization is key. "If I'm anything, I'm a storyteller," he says.
He has found a way to fuse his love of writing with his passion for food and cooking. Family Meals follows two other books: I Never Forget a Meal: An Indulgent Reminiscence (Little, Brown) andLiving in a Foreign Language: A Memoir of Food, Wine, and Love in Italy (Grove Press). His blog,Notes from the Culinary Wasteland, covers his thoughts on just about anything.
Tucker's laptop rests on the counter of the open kitchen, near a jar of homemade pesto, which he often combines with pasta and green beans. Cooking was one of his earliest outlets for creativity. He recalls perfecting the grilled cheese sandwich while waiting for his parents to come home from a party. "I played with different colors. Textures and tastes…. I was an artist, flying on inspiration," he writes in I Never Forget a Meal. Going out to dinner with his parents and his brother Ed (now an accountant in Baltimore) were the happiest of times. In college, he connected with a relative by marriage, the composer Phillip Glass. From him, Tucker learned not only how to make a good spaghetti sauce and how to tell if the pasta was done ("He flipped it against the wall. If it stuck, it was done"), but also that "the act of cooking was a way to clear your head and reacquaint yourself with your senses…."
Tucker is active in the fight against breast cancer, Alzheimer's and osteoporosis, even receiving the Good Guys Award from the National Women's Political Caucus for speaking out about causes affecting women. He and Eikenberry have been telling the story of her cancer to audiences for 24 years, and have now added a talk on Alzheimer's, dementia and aging. His mother, too, suffered from dementia before her death nine years ago. "One of our messages is that [caregivers] worry that they will lose their life as they know it…even if their life is not that good. I tell the truth of the situation. I was worried about me and my life with Jill. When I talk about this people start nodding. It's refreshing for them."
Tucker strongly believes that it is possible to balance caring for a parent and having one's own life. "Anyone who does one thing or the other is making a mistake," he observes. "'Would you still need me, would you still feed me?'" he quotes a Beatles song. "That's the question for our generation. Will we take care of them and how?"
An avid crossword fan, he looks forward to the Saturday New York Times puzzle—the most challenging of the week because it has no theme. He is also a "real estate junkie," takes long walks, reads The New Yorker and enjoys televised golf and napping—often simultaneously. He continues to act, often with Eikenberry: They recently performed in A.R. Gurney's Love Letters and Enter Laughing, a musical based on Carl Reiner's autobiography.
He counts his friends and his marriage of 37 years as his major accomplishments. "I looked at Jill the day I met her," he says, "and my heart went pitter-patter. It still does…."
"Mike shows me every day by example that if you're comfortable in your own skin people are drawn to you," says Eikenberry.
At one time, Tucker and Eikenberry toured the country performing Life Is a Duet, a show they created about their relationship, complete with songs and clips from television and film.
Lora's crisis forced Tucker to confront his own aging. "People tend to be in denial that they're going to go through this," he acknowledges. "We all are, one way or another." He is proactive about the present. "I'm adamant about living life the way we want it. We don't waste time anymore. It's not about where we're going. It's about where we are."