Cut & Post: Yad Vashem and Google
Google This! Yad Vashem Archives Going Online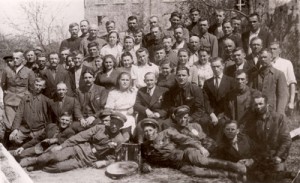 Children in the Warsaw Ghetto, women awaiting selection at a concentration camp and families before and after World War II are among the images from the archive of Yad Vashem—the Jerusalem-based Holocaust Martyrs' and Heroes' Remembrance Authority—that can now be found through a simple Google search.
A partnership between Yad Vashem and Google has made some 130,000 captioned photos viewable in full resolution online, either through Google Images or through Yad Vashem's site (www.yadvashem.org). Viewers may add their own comments to the photo pages. To donate a photograph, send a scan to holocaust.resources@yadvashem.org.il with as much information as possible and full contact information. —Esther Hecht


Sefardic Jewish soldiers who fought in the American Revolution lie in a historic cemetery in the shadow of the towering skyscrapers of New York's financial district. Each Memorial Day—this year May 30—their graves are decorated with American flags by members of Congregation Shearith Israel dressed in period costume.
Buried in the first cemetery of the Spanish and Portuguese synagogue, consecrated in 1682 and closed in 1828, are Jews such as Hayman Levy; Jonas Phillips; and Gershom Mendes Seixas, rabbi of the oldest congregation in the 13 Colonies, who closed the synagogue and removed the Torah scrolls to Stamford, Connecticut, when British forces occupied New York. The earliest tombstone is that of Benjamin Bueno de Mesquita, who died in 1683.
The cemetery, located in Chatham Square in Chinatown, was fortified by colonists as one of the city's defense points.
Except for the ubiquitous urban litter and nearby neon lights in Chinese characters, the shady site—protected by a fieldstone wall and wrought-iron fence—still belongs to another century. —Gil Zohar
Number of Jews in America on the Rise?
The United States Jewish population is larger than previously thought. So says the Steinhardt Social Research Institute at Brandeis University after crunching the numbers from some 150 studies surveying more than 400,000 Americans—and conducting its own survey of 1,400 more.
Investigators reported 20 percent more self-identifying American Jews—6.5 million—than in 1990 (5.5 million). Although most of them say they are Jewish by religion (5.5 million), 1 million claim a secular or cultural Jewish identity. There are, not surprisingly, differences between those who claim Judaism as their religion and those who do not: The odds of marrying someone Jewish are far greater for Jews who identify religiously; these Jews are also more likely to participate in Jewish life-cycle events or belong to a synagogue.
Although the Brandeis researchers say the numbers reflect "good news," they also maintain their findings issue a serious challenge to the Jewish community. —Deborah Fineblum Raub